Winter mornings can be quite annoying, especially when it comes to using your cold bathroom.
However, this unpleasant experience can be made significantly better by installing high-quality bathroom heaters. Bathroom heaters provide a safe, comfortable and soothing experience during cold weather.
A bathroom heater allows you to set specific temperatures for your different bathroom activities, from taking a shower, to brushing your teeth among others.
But what are the essential features you should look for in a bathroom heater?
This guide recommends the 10 best bathroom heaters and how to select the right one.
👉 Get Good Deals on electric and gas heaters at The Good Guys
Benefits of a bathroom heater
Apart from heating your bathroom, heaters offer a range of other benefits, much needed for the bathroom. The most essential benefits of a bathroom heater include:
Steam Control: Using a bathroom heater coupled with an extraction ceiling fan is a great way of controlling steam in your bathroom.
Moisture Control: A bathroom heater is great at controlling the moisture in your bathroom. Its operation results in less moisture accumulation in your lighting fixtures, faucets, rugs, walls, and baseboards among other items.
Health Benefits: A bathroom heater improves your overall cardiovascular circulation and the heat eliminates sore muscles, joints and aches.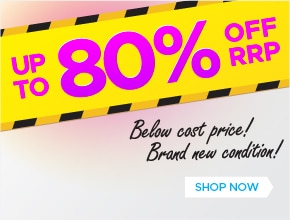 Best bathroom heaters quick summary
---
---
Best bathroom heaters reviews
Make your cold mornings enjoyable with these amazing bathroom heaters. Below is a detailed review of each type to guide you on the specifications and features.
1.

Ventair Sahara Bathroom 4 in 1 Heater

– Best Modern Design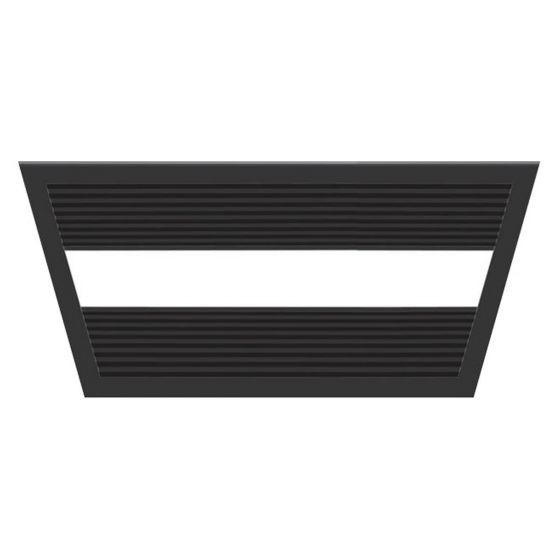 This bathroom heater has a low-profile design that compliments your bathroom lines.
The heater is fitted with a powerful fan which circulates warm air to all the corners of your bathroom. It can also maintain a uniform heat level, even after you switch it off.
The heater has a fan cooling feature which allows cool air into the space during hot summer days.
At the center of the unit is a 20W LED light panel that emits a bright light output up to 1500 lumens, at 4000K natural color temperature.
The heater has a powerful motor which makes it a good option for medium-sized bathrooms.
Key Features
Fan cooling function
4000K white natural color temperature
High extraction of air
Ultra-slim design
2

. Brilliant Solace Bathroom Heater

– Best Infrared heater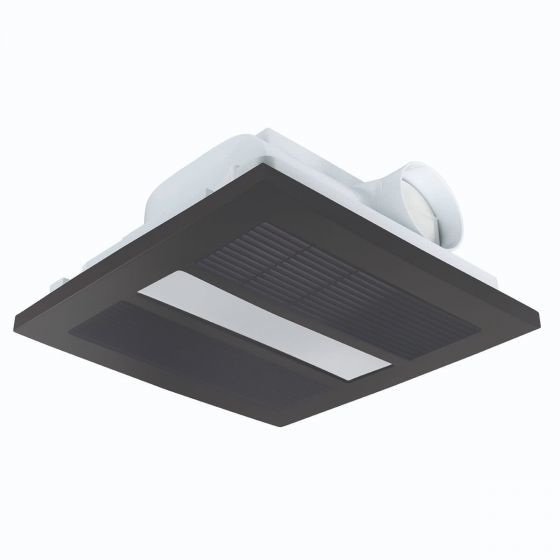 Keep your bathroom warm and comfortable with the Brilliant Solace heater. It has a minimalist design, with a slim appearance that makes it ideal for most bathrooms.
This heater is equipped with a powerful heat fan that can warm your bathroom instantly.
It is also quite useful during summers to make use of outdoor cool breezes, in order to cool the space.
The heater has a compact and low profile design which guarantees a simple installation process. It is equipped with a strong 35W durable motor with a ball bearing.
Key Features
900lm brightness output
4200K cool white color temperature
12W LED
1000W/2140W twin heat settings
35W motor
3.

Brilliant Marvel LED Premium Bathroom Heater

– Best Brightness output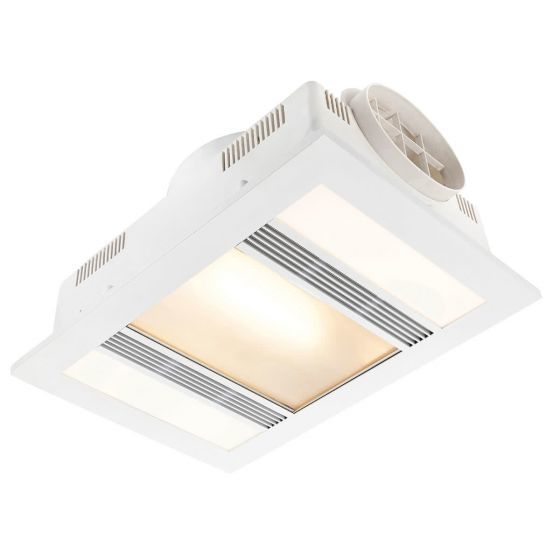 If you love heaters with minimalist designs, this option is great for you. It has a modern slimline appearance that perfectly matches modern bathrooms.
The heater uses an instant-heat infrared lamp to heat the bathroom and has a quiet and powerful motor with a ball bearing.
Its high lumen output light with tri-color technology brightly illuminates the bathroom.
This heater is equipped with a high-quality exhaust fan. For safety purposes, the heater is fitted with overheating protection and thermal cutout.
It is recommended to hire a licensed electrician to install this heater.
Key Features
55W powerful motor
Slimline design
Overheat protection
2x8W LED panels
500 m³/hr maximum airflow
4.

Eglo Inferno LED Premium Bathroom Heater

– Best For Ceiling Mount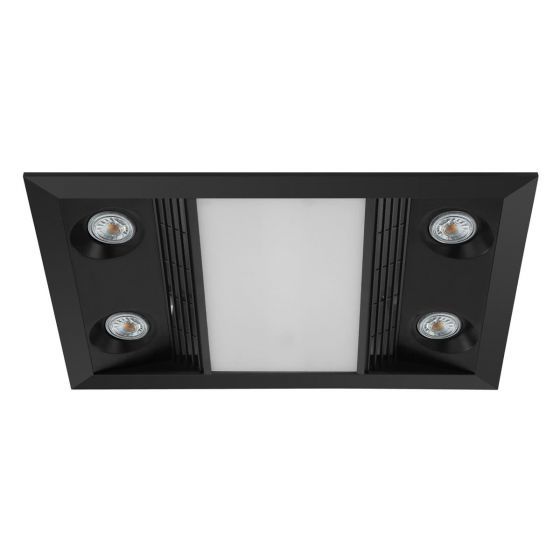 This is another top-mounted bathroom heater with a minimalist design.
The ceiling-mounted heater has a 1000W heat lamp that provides instant heat for your bathroom. Its extraction fan has an impressive flow rate of approximately 500 m³/hr to ensure your bathroom stays well-aerated and fresh.
It operates on a high-performance motor rated at 55W to ensure a powerful and reliable performance.
The package also includes side ducting and a wall controller module with three switches.
Key Features
500 m³/hr extraction capacity
1000W heat lamp
55W DC motor
Modern slimline design
1600 lumen outpu
5.

Ventair Steampro Bathroom Heater

– With Light and Fan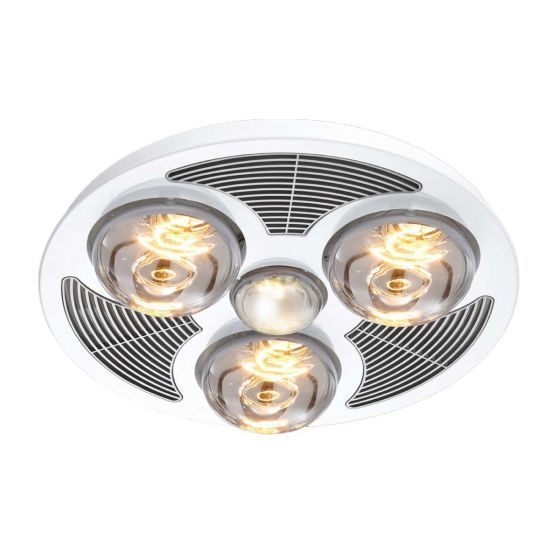 This is a 3-in-1-bathroom heater with a maximum airflow of 500 m³/hr. The heater has a powerful axial fan that ensures rapid steam removal.
It is equipped with three heat lamps, in addition to an LED light at the center of the device.
The unit provides a bright light output of 660lm, has a durable ball-bearing motor and a thermal switch for safety reasons.
You can choose between the silver and white color options to match your preference and bathroom interior.
Key Features
Durable motor
660lm brightness output
4000K natural white
Powerful axial fan
500 m³/hr maximum airflow
6.

Brilliant Newton Duo Bathroom Heater

– Best Budget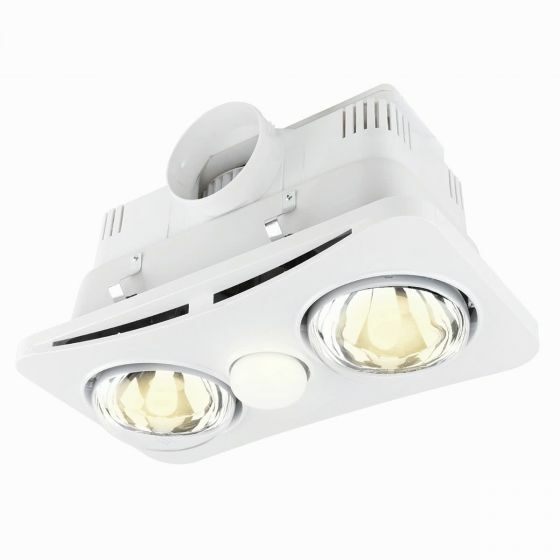 The Newton heater is not only a very affordable heating solution for your bathroom, but it's also energy efficient.
The body has a durable construction that is long-lasting, and the unit is equipped with a 35W powerful ball bearing motor that guarantees excellent performance.
The heater has a brightness output of 860lm and is great for small to medium bathrooms with a total ceiling height of 2400mm.
It is equipped with a thermostat switch which automatically turns the unit on, when its internal temperature crosses 80 degrees C.
The heater is supplied with a 1500mm ducting, 3 gang wall switches, and an exterior vent.
Key Features
Brightness output of 860lm
Durable construction
35W motor with ball bearing
240 m³/hr maximum airflow
7.

Brilliant Supernova Heater

– Best Energy Effeciency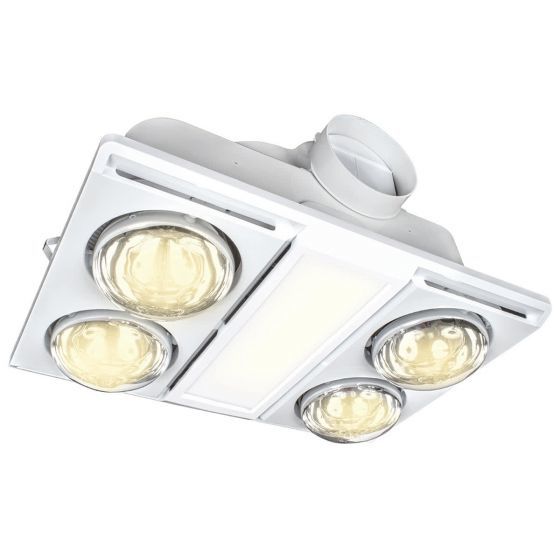 The Supernova bathroom heater is fitted with a central LED light that has an adjustable color temperature, and a light output up to 1000 lumens.
The energy-efficient heater has a low ceiling profile which fits very conveniently in your bathroom ceiling.
You can install the heater in medium to large bathrooms with a ceiling of 2.7 m.
The heater is equipped with a thermostat that automatically switches the unit on when the internal temperature crosses 90 degrees C.
The heater has a low noise operation at less than 45 dB. It is available with 3m aluminum ducting, clamps, and an exterior grille.
Key Features
500 m³/hr maximum airflow
Low ceiling profile
Thermostat switch
Noise rating of ≤ 45 dB
8.

Brilliant Velocity Bathroom Heater

– Best For Small Bathroom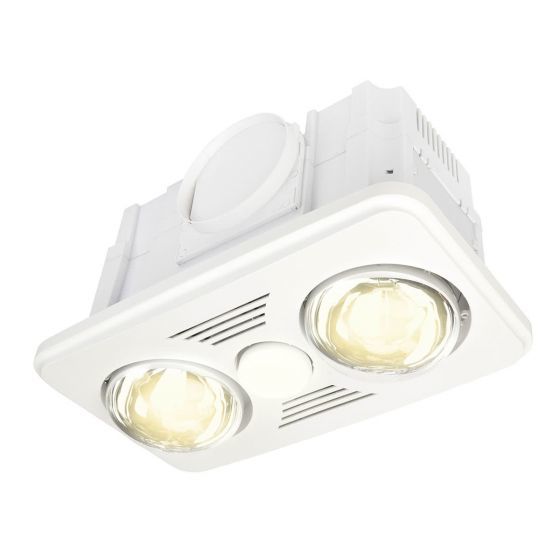 This heater is an improved version of the Velocity range. It offers maximum airflow and has a quality energy efficient LED reflector globe.
This heater is a great option for small and medium bathrooms with a maximum ceiling height of 2400mm.
The heater is equipped with a thermostat that automatically switches the unit on when its internal temperature crosses 80 degrees C.
The LED fitted with the heater has a color temperature of 4200K and provides a bright light output of 860lm.
Key Features
275W infra-red heat globes
330 m³/hr maximum airflow
Improved design
Brightness output of 860lm
70W ball bearing fun
9.

Fanforce Hurricane LED Premium Bathroom Heater

– Best Wall Mounted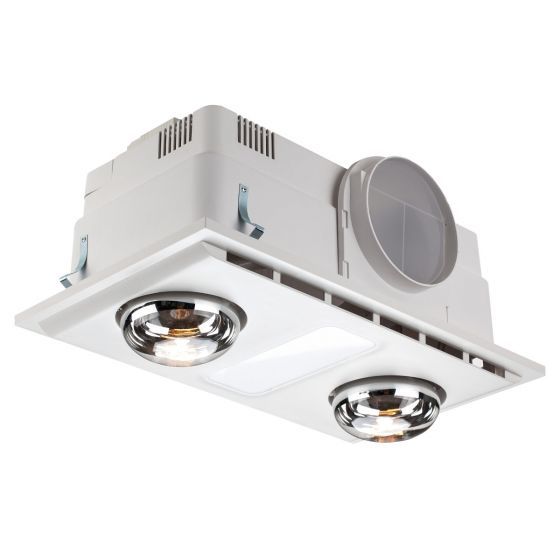 This bathroom heater is specifically designed to suit the shifting Australian climate.
It provides the required warmth for chilly morning winters and has an output exhaust fan that keeps your bathroom smelling fresh.
The high-quality exhaust fan has a 40W motor and the heater is fitted with a 12W LED panel.
This item operates on 275W infrared heat lamps to provide sufficient heat to keep you warm.
The LED light has a 4000K white color temperature and emits more than 900 lumens that brightly illuminate your bathroom.
It is fitted with a thermal override capability device that switches the fan on automatically to keep the unit cool.
Key Features
12W LED panel 4000K light
500 m³/hr maximum airflow
900lm brightness output
44dB fan noise
Thermal override function
10.

Heller 2000W Ceramic Heater

– Best Portable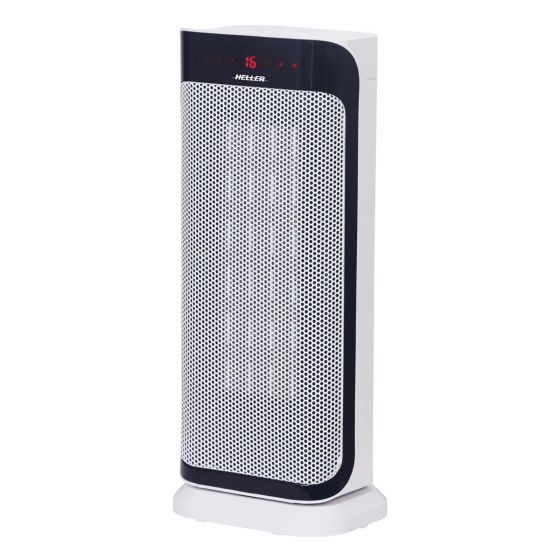 If you need a bathroom heater that can be picked up and transferred to other rooms, this portable heater is a great option.
The 2000W heater has a ceramic plate that provides even heat distribution and protects the heating element.
The heater is energy-efficient and ensures long-lasting operation.
The heater has several power options to control its operation, including a remote control feature, which guarantees easy control, and a timer that can be programmed for comfortable and safe operation.
Additionally, the heater has an oscillating base that ensures heat circulation within the entire space.
Key Features
Adjustable thermostat control
Automatic oscillation
Remote control and timer
1000W and 2000W heat power settings
Safety tip-over switch
Overheat protection
---
Things to consider when choosing a bathroom heater
There are plenty of considerations to keep in mind when selecting a bathroom heater. This buying guide outlines the essential features that are important to look for in a bathroom heater.
➡ Power output
The power output determines how fast the heater can heat the bathroom, but also affects the amount of energy that the heater consumes.
Bathroom heaters have a power output between 400-2000 watts, and the more common types fall in the range between 1500-2000W.
A smaller heater with a minimal output is a great option if your bathroom is not very spacious, and is essential to maximize the space between the heater and the water sources.
➡ Size
Another important feature to consider is the size of the heater with respect to its functionality. A portable heater is the most practical and easiest to install, and its small size makes it ideal for any washroom.
Depending on your requirements and interior space, you can choose between a wall-mounted or ceiling-mounted heater.
Regardless of the type of heater you choose, make sure it's easy to install and operate.
➡ Auto-on & auto-off
Water conducts electricity, so ensure that the unit and the wiring can be installed at a safe distance from any water source.
Since steam can also find its way into crevices, it is always a safe option to get a heater with a safety mode. Select a heater that has an automatic shutoff in case it detects wet wires or a power surge.
The feature should be internal to the unit since the bathroom is generally moist.
➡ Energy efficiency
It is advisable to choose an energy-efficient bathroom heater that keeps your electricity bills low, and provides you with a comfortable bathroom experience without over-consuming energy and spending more than necessary on power bills.
➡ Timer
Some bathroom heaters are fitted with timers that control their start and shut off at pre-programmed times.
This feature can allow you to properly schedule your morning routines, and to enjoy a properly heated space when needed.
➡ Heater technology
Portable and wall-mounted heaters use different types of heating technologies such as infrared, radiation, and convection heating. Choose the ideal heating technology for your bathroom heater.
➡ Budget
If you have a small space that needs heating or you're staying in a rental apartment, investing in a portable bathroom heater is advantageous.
Large families and homeowners should consider ceiling-recessed or wall-mounted heaters as longer-term options.
OFFER ➡ Upgrade your entire household with LED downlights for just a one off payment of $33! Under the Government's Energy Savings Scheme we are offering NSW residents to get their old halogen downlights upgraded with new LED downlights for just $33. CHECK IT NOW. CHECK IT NOW
Frequently Asked Questions
---
Q. Which bathroom heater is the most efficient?
➡ The best heaters for a bathroom are those that use radiation instead of convection. In convection, the heat is transferred through the air. Radiation heats surfaces and objects, making it more efficient.
Q. Which bathroom heater is the most stylish?
➡ There are different styles of bathroom heaters to choose from. The most stylish ones include radiators, towel rails, portable heaters, quartz heaters, and infrared heaters.
Q. Which bathroom heater is the safest?
➡ You should pay particular attention to safety features on bathroom heaters. Select a bathroom heater with efficient protection and ensure it complies with the electrical safety regulations.
Q. What are the essential things to look for in a bathroom heater?
➡ When choosing a bathroom heater for your space, check the fuel type, energy efficiency, size, safety and cost.


---
Conclusion
Bathroom heaters provide a high level of comfort by keeping you and your space warm. They also keep the bathroom air dry, preventing unpleasant odors and the development of mold.
This guide tackles the essential features and specifications that need to be addressed when looking for a bathroom heater. The reviews can help you make more informed choices that suit your space.
The right bathroom heater should offer a comfortable experience while at the same time, maintaining an energy efficient operation.
Consider all the listed features to ensure the heater you get will satisfy all your requirements, and will ensure a comfortable experience.