What is a bollard light?
A bollard light is a type of outdoor lighting used to illuminate specific areas. It works by highlighting light in a particular direction. This makes it perfect for gardens, balconies as well as pathways. In addition, it produces a subtle light.
Bollard lights get their name from the word 'bole' due to the fact they are similar to the posts used to tie up ships. Today these lights come in different shapes, sizes, and designs.
How does a bollard light differ from a post light?
Bollard lights and post lights are pretty similar. It is hard to tell the two apart, especially if you are a first-time purchaser. However, there exist two noticeable differences between them:
➡ Shape
The most apparent difference between the two is the shape, of course. Post lights are sleeker compared to bollards.
Their sleekness makes them ideal for driveways and highways and effective in establishing a perimeter on space.
As for bollard lights, their thickness makes them good markers.
Not to forget, bollards are no longer limited to the traditional cylindrical shape. Manufacturers have come up with a vast range of vertical bollard lights.
➡ Height
Also Read: 10 Best post lights to buy in Australia
Where can you use a bollard light?
---
If you're wondering where you can use your bollard light, they can be useful in commercial, residential, hospitality, and municipal spaces…
Commercial Places
➡Pathways
A pathway is a footpath or paved area that leads to a home or a village. Bollard lights are excellent for pathways.
They help people see their way through by offering gentle illumination. Moreover, they provide an impressive ambience.
Thanks to the materials used to create them, these lights can withstand seasonal changes. Bollards used for pathways are more durable. They are usually embedded in concrete and metal.
➡ Parking lots
Bollard lights are more suitable for parking lots than other lights. This is because of the amount of light they produce. We all know you can't have full blazing lights in a parking lot as they would irritate your eyes.
Bollards also establish perimeters, and boundaries and act as markers. Hence, people can park their cars accordingly.
Also Read: Complete guide to parking lights
Residential places
➡ Gardens
If you are looking for a way to showcase your garden, try out bollards. They subtly highlight your plants. Their brightness is on point, neither too much nor too little.
Bollards give warm temperature to make your atmosphere cozier. These fixtures are indeed perfect for your garden area.
Generally, there are two main types of bollard lights. We have the Path lighting bollards and Beacon lighting bollards. Both are incredible and serve different purposes.
You may also want to read: Residential LED Downlight in Sydney
What are the advantages of using an LED bollard light?
Bollard lights can utilize mercury vapour lamps, high-intensity discharge lamps, compact fluorescent lamps, light-emitting diode lamps, etc.
Those with LED lamps are the newest and most modern. People love with them for their multiple benefits; some of which include:
➡ Energy-efficient
LED bollard lights consume less energy; thus, 90% of their production is light. The semiconductor aids in this by converting electricity to light. Overall there is less energy consumption and less power usage. This cuts a massive chunk of the cost.
➡ High durability.
LED bulbs are highly durable. Did you know they can function for 40,000 hours?
It is similar to 27 years when utilized for 4 hours per day. With LED bollards, you don't have to worry about replacement costs.
➡ Environmentally friendly.
LED bollards are eco-friendly; they don't contaminate the environment at all. They don't emit mercury, fluorescent or toxic gases.
There is also no emission of blue light or ultraviolet rays. Blue light damages the eyes, while ultraviolet rays damage the skin.
➡ LED bollards produce minimal heat.
These bollards emit minimal heat as most energy is converted to light. It makes them less susceptible to overheating and burnout.
Four things to consider when buying a bollard light
---
Style
Bollard lights come in different spectacular designs. This makes them fit for any decor ranging from classic to modern.
You can choose the material of your bollard that compliments your décor.
For example, modern looks tend to look beautiful with metal bollards. On the other hand, wooden poles are perfect for mid-century and classic themes.
The shape of the bollard, either round, square, or rectangle, affects style as well. Always make sure you buy a bollard light that blends with your style.
Energy Consumption
Check out the energy consumption level. Bollards have different consumption rates depending on their making. Confirm the amount of energy produced and consumed to produce light. This will help you measure efficiency.
It is best to select a bollard with a high-efficiency level in order to reduce power costs and, in turn, increase your savings.
Optics
This is an essential aspect to consider. Optics determine how the bollard will distribute light. These lightings can have louvers, prismatic glasses, cone reflectors, etc.
Louvers emit light downwards, while prismatic glasses emit soft light.
Cone reflectors, on the other hand, are known to provide good illumination. There are several optics to choose from. Find the one you deem fit for your area.
Cost and the manufacturer
It would help if you tried to stick within your cost range. Purchase a proper bollard that won't strain your pocket.
Also, find a certified manufacturer who delivers durable and weatherproof bollards.
Ten best bollard lights to buy in Australia
---
Bollards are very popular in Australia, where many homeowners use them as décor to light up their patios. Make sure you check out the gorgeous bollards listed below.

This bollard light has a beautiful silver finish that complements any modern décor.
Its height is 1000mm, while the post base and top width are 203mm. Elite utilizes LED super effective lamps which can be dimmed if needed.
The bollard is made from die-cast aluminium and Polycarb clear diffuser. These materials permit it to be installed on a concrete or a solid base in case additional casing is required.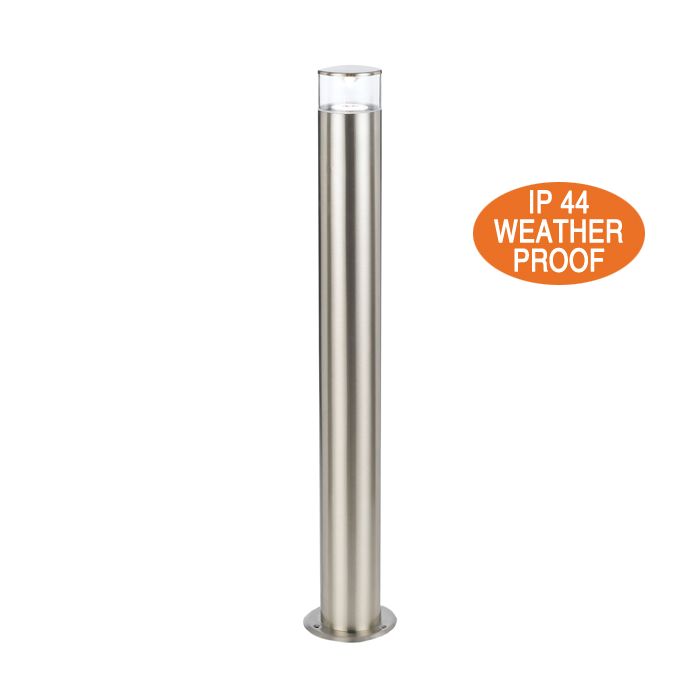 Benton is a super robust bollard with a height of 800mm, a post width of 125mm, and a top width of 90mm.
It has a power rating of 240V and LED dimmable lamps rated at 25,000 hours of usage. Not to mention, the stainless steel forms a clear shade that's compatible with any décor.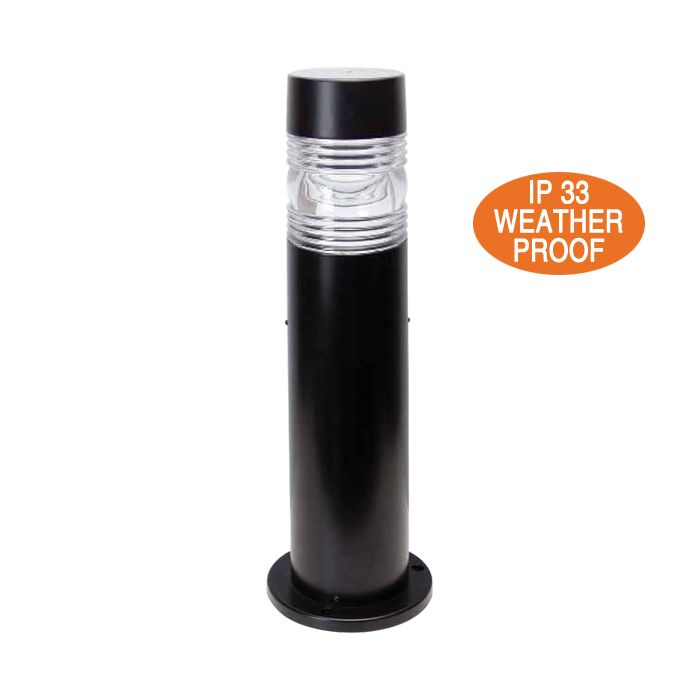 Pillar 600mm is a two-piece black bollard light. It consists of a sturdy aluminium head and a post made from polycarbonate.
The height of this bollard is 600mm, the width at the base is 150mm, and the top width is 122mm.
It also comes with a dimmable 75W LED lamp. If you upgrade the lamp, you can choose between warm and cool white LEDs. In terms of power, Pillar 600 mm has a rating of 240V, and that's pretty impressive.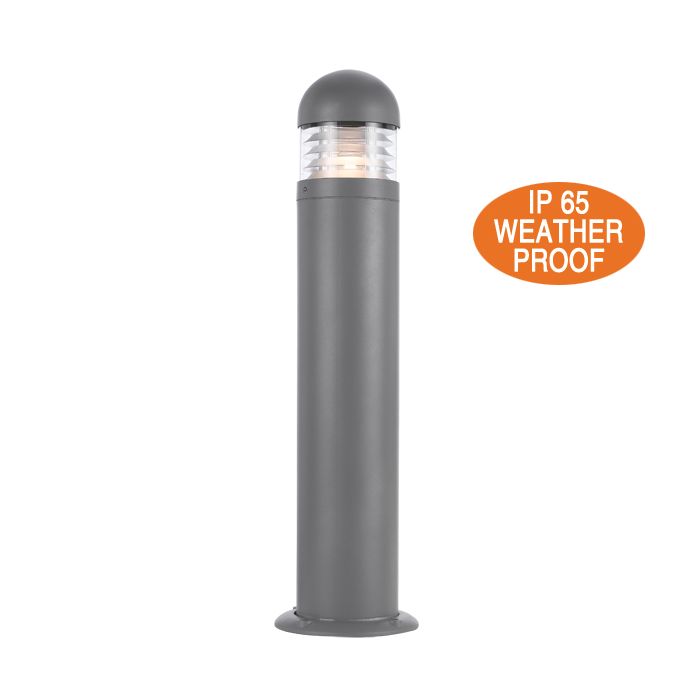 If you are looking for lighting that's elegant and serene, Harbor is just perfect. Not to forget the silver finish is on point.
This bollard light is made from die-cast aluminium with a clear acrylic shade.
Its height is 900mm, post base width 230mm, and top width 170mm. It also comes with a dimmable LED lamp that is upgradable.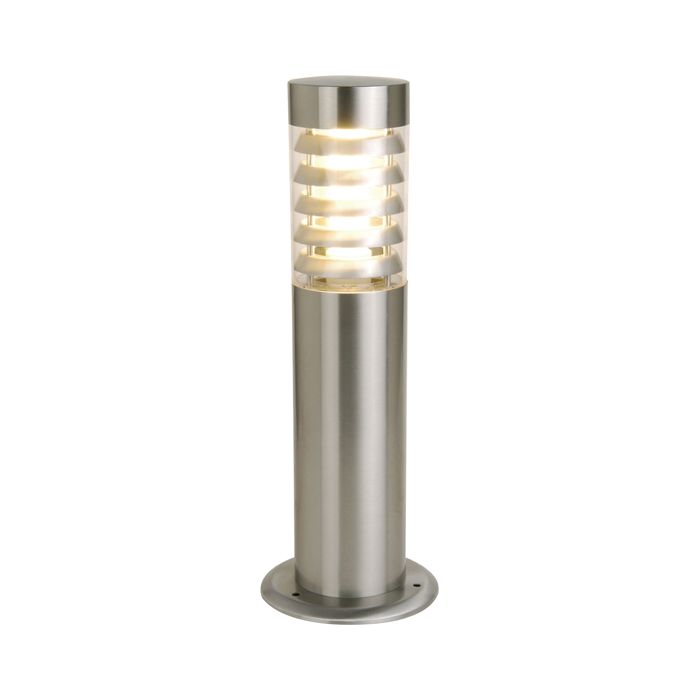 This is an exquisite bollard with a high weatherproof rating. It is made of stainless steel and a polycarbonate diffuser.
Swan 55cm features a 550mm height and a diameter of 162mm. You can install it on a solid base or concrete for extra support.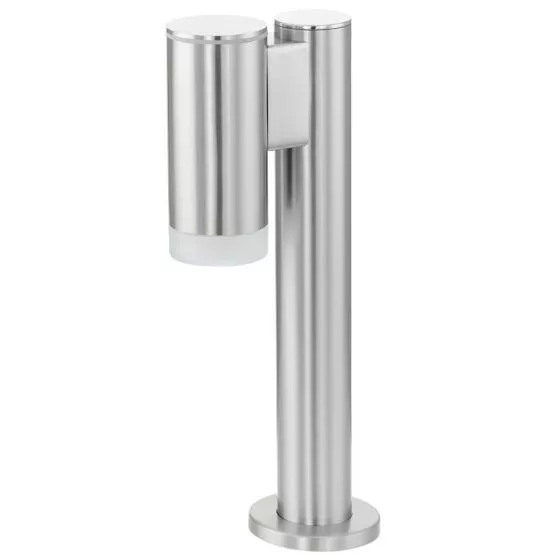 Eglo Riga outdoor bollard light is made from opal acrylic diffusers embedded in stainless steel.
This bollard features a modern design with a height of 355mm, a diameter of 65mm, and a depth of 130mm.
It also comes with replaceable GU10 LED lamps to select colour temperature. The IP rating of Eglo is 44 while the wattage is 3W.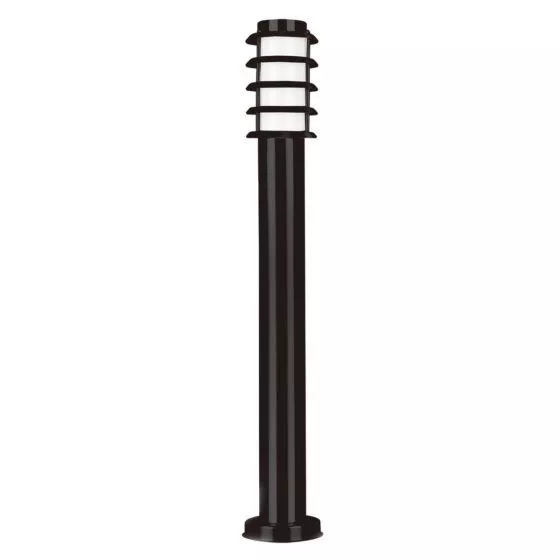 SAL Murray Cage is a chic product from Sunny Lighting. The company is well known for its quality bollards in Australia.
Sal Murray features a 304 stainless steel body and an opal acrylic diffuser. It has a height of 1100mm and a diameter of 116mm.
As for the voltage, this fabulous bollard is 240V.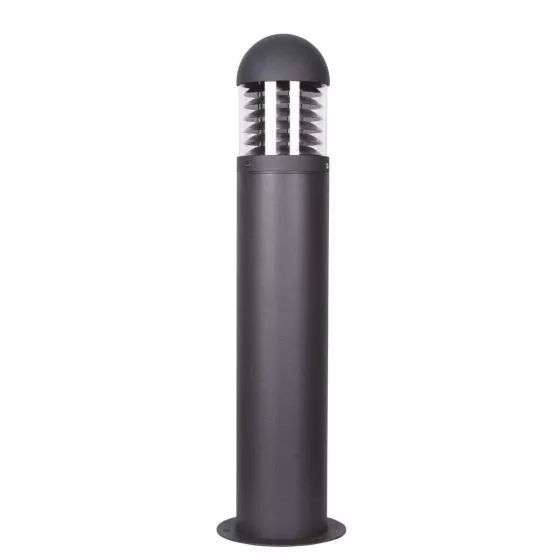 This black bollard is designed to fit in both traditional and modern setups. With a height of 650mm, Oriel Terzo is perfect for outdoor undercover areas.
It has a diameter of 170mm and a flat base that allows installation on solid surfaces. Graphite powder-coated aluminum and clear polycarbonate lens are used in the bollard. This makes Oriel Terzo highly durable.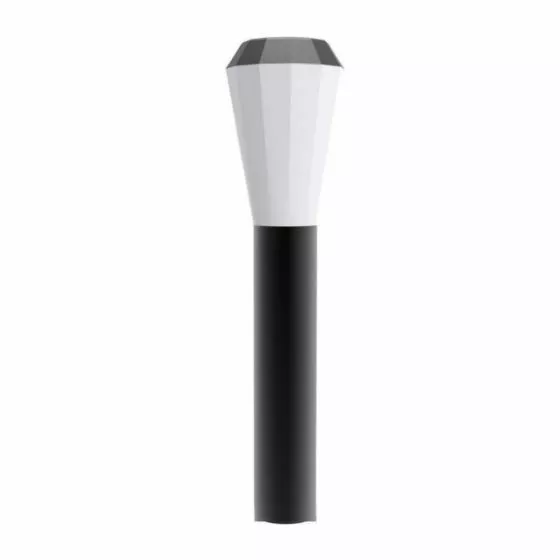 The Geb 13W has intriguing features. It has an integrated LED, 12pcs Osram LED chip array, color rendering index of 80, 327-degree beam angle, etc.
The bollard also features a die-cast polycarbonate and aluminum.
It has a wattage of 13W that produces 580 lumens at a 3000K color temperature. How much cooler can this bollard get?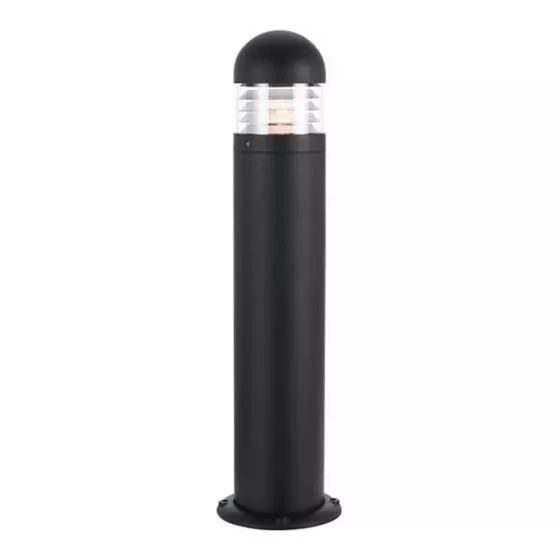 Telbix Harbor is a simple yet fancy outdoor bollard light. It has a height of 900mm, a diameter of 170mm, and a voltage of 240V.
The bollard is made out of durable metal and a clear diffuser. This makes it ideal for all seasonal elements.
Frequently asked questions
---
Q. Are bollard lights popular?
➡ The answer is yes.
Over the years, supply and demand for these lights has consistently risen. They can be found nearly anywhere, in homes, commercial areas, and even in the hospitality sector.
Q. What is the difference between a solar bollard and an LED bollard?
➡ A solar bollard utilizes solar energy. An LED bollard on the other end utilizes a semiconductor to light up an area.
Q. Why are bollards necessary for landscapes?
➡ Bollard lights improve the aesthetics of an area. They also provide security and light to illuminate the place which helps increase safety.
Q. What are the disadvantages of HID bollard lights?
➡ High-intensity discharge bulbs tend to lose a lot of energy which makes them costly. Furthermore, they have a poor colour that's poorly rendered.
Q. How much space is needed between bollard lights?
➡ The amount of space needed between bollards depends on a lot of factors. You should check on the space available, requirements, bollard size, and personal preferences.