Everyone desires a residential and workplace area that welcomes people and visitors with a beautiful and appealing design and interior decoration.
In order to achieve this effect, you need to source, purchase and install one of the top rated glass lamp shades available on the market.
These glass lampshades provide a great setting, by providing a well-lit and comfortable environment for work and leisure.
Glass lamp shades serve different purposes, and this article recommends different solutions to help you find a suitable option for your space.
What is a glass lampshade?
A glass lampshade is a decorative item that enhances the interior decoration of a room, while distributing light from a point source, either uniformly throughout the space or in a specific direction.
Since their large-scale production in the 90s, people have invested in glass lampshades, and their popularity has grown exponentially to become an all-time favorite accessory of both home and office spaces.
People love the effect these lampshades give to rooms, brightening up specific spaces and entire rooms in the house or office. Multiple types of lampshades offer a variety of solutions and light effects; dark-colored glass lamp shades, for example, provide a dim light effect ensuring a comfortable setting.
5 places to use glass lampshades
Deciding on where and how to install glass lampshades can be a complex and confusing process to ensure a unique and appealing outcome in the house or office.
This section proposes a few great locations to install your glass lamp shades and enjoy a smooth and comfortable outcome.
Study rooms
For reading, writing or studying, good levels of uniform lighting are essential to help you view the material better, concentrate more and interact and grasp the content more thoroughly.
Poor levels of lighting, or levels that are non-uniform can make you lose your concentration or demotivate you from completing your task. Installing glass lampshades in the study room allows you to enjoy a smooth studying or reading session, and protects your eyes from direct bright light.
Bedrooms
Lampshades in the bedroom area can improve the interior decoration of the space. Proper bedroom lighting gives an overall pleasant atmosphere, and makes the room comfortable for unwinding, relaxing and sleeping.
Colored glass lampshades can dim the light output produced by the bulb which can ensure a comfortable sleeping experience. The dim light will also adjust the eyes to some light when waking up in the night to visit the washroom, reducing the discomfort and eye squinting from sudden high levels of light.
When choosing a glass lamp shade for the bedroom, select types that have a dimming option to ensure a comfortable environment.
Offices
With a wide and growing variety in the designs and types of lampshades in the market, their use has expanded to include illuminating work and office areas.
Unique, custom-design and stylish glass lampshades can make a great first impression on your visitors and customers. The ambiance created by the glass shades can make the spaces much more appealing and effectively put the customers in a better mood, driving them to become repeat customers of your business.
Living room
Glass lamp shades in the living room can make the space more appealing, and can focus the attention on a specific interior material, detail or artwork, effectively making the overall space experience all the more enjoyable to family members and to visitors.
Hotels and restaurants
Glass lamp shades are an essential decorative feature for any business, most importantly for businesses that rely on details to attract and retain customers.
Clients visit specific hotels or restaurants on a regular basis because of the fascinating ambiance of the space, and the resultant mood they are put in when inside this space.
You should take advantage of this factor and look for the most fitting and appealing glass lamp shades that make your business stand out.
Best glass lamp shades summary
Best glass lampshades reviews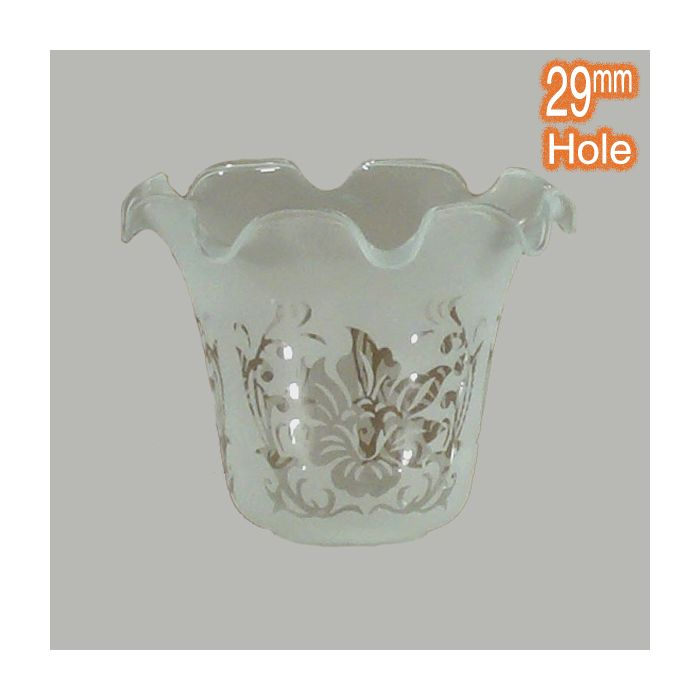 This glass shade has an attractive and sleek design with eye-catching floral statements.
It is most conveniently used in rooms where the lampshade will be visible, such as table lamps, floor lamps, pendant lights, and many more.
You can install this item in your living room, where you receive your guests.
Features
Frost etched – shade color
Made of glass material
Australian Standards Approved
Dimensions: Height 120mm and Width 140mm
It has a hole size of 29 mm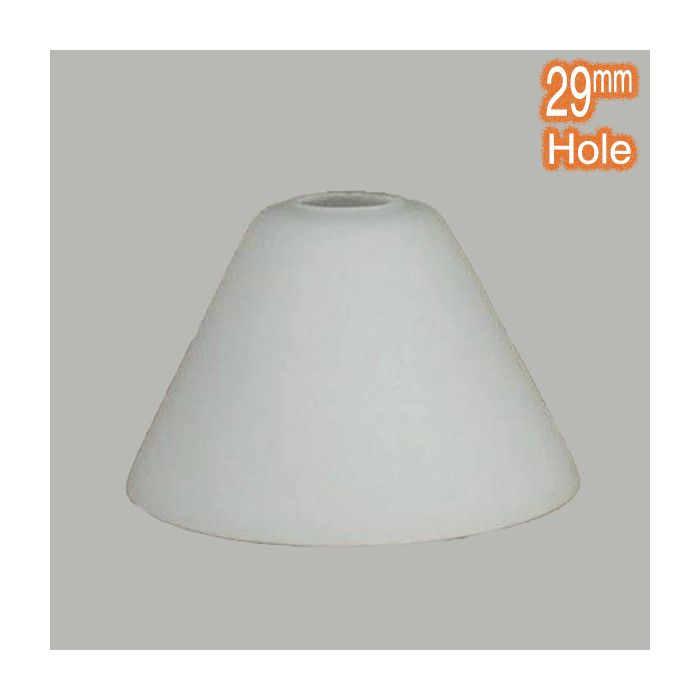 If you are looking for a simple yet stylish design, this is the product for you. You can use the Cono glass shade to style your old lamp or pendant and give it a new life. The opal matt color gives it a friendly and appealing look.
Whether installed in the bedroom, living room, or study room, this glass lamp shade will create a great ambiance.
Features
Opal matt color
It is made of glass material
Dimensions: Height 100mm and Width 145mm
Hole size 29mm
It complies to Australian standards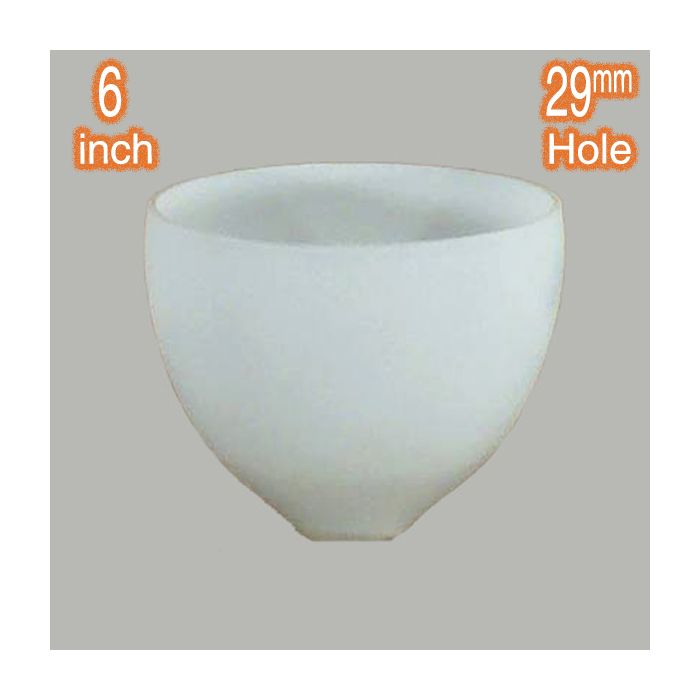 This simple yet stylish glass lampshade can be either hand blown or mold-formed, producing minor variations in details between the batches. The most convenient location for installing this product is the bathroom, offering an even distribution of light throughout the space.
Features
The shade color is opal matt.
It is made of Glass material.
Dimensions: height 100 mm and width 145mm
It has a hole size of 29m
It is Australian Standards Approved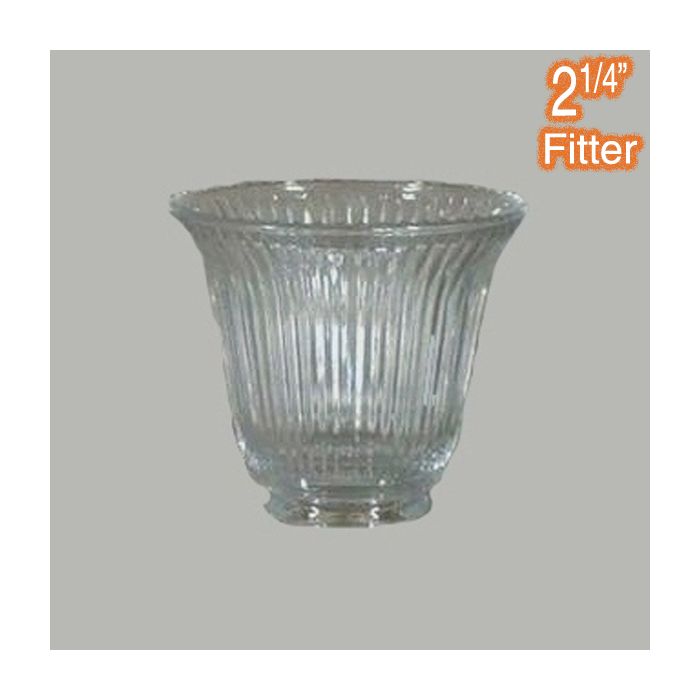 The Zipper23 is styled like old traditional glass lamp shades, and is manufactured from clear glass that is either hand-blown or mold-formed.
This product is a good option for the study room or office as it allows more light to pass through.
Features
It has a high light color transmission.
Material is glass.
Dimensions: Height 115mm and Width 118mm
It has a fitter size of 55mm.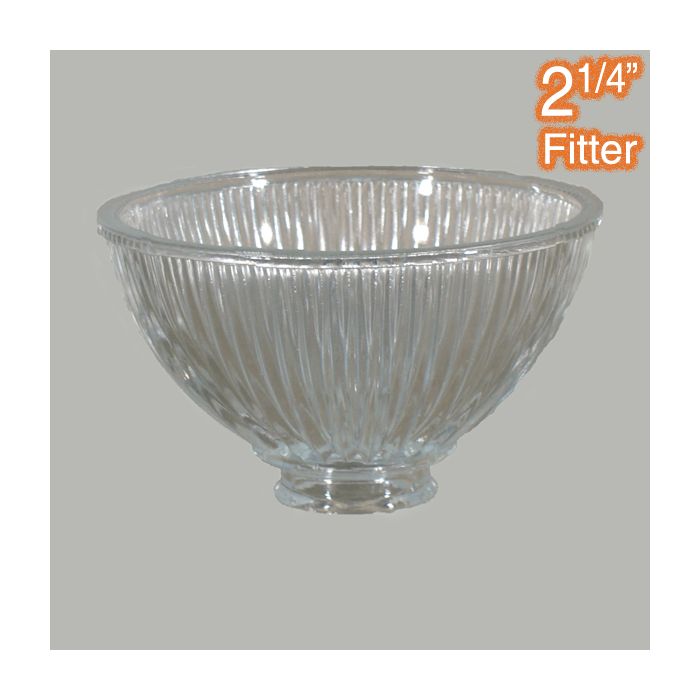 The Claredon is a great option if you wish to incorporate a traditional and vintage shape in your house or office space. This is the perfect lamp shade for a traditional decor and interior.
Features
It has a clear appearance
Glass material
Dimensions: Height 9mm and Width 168 mm
It has a fitter size of 55mm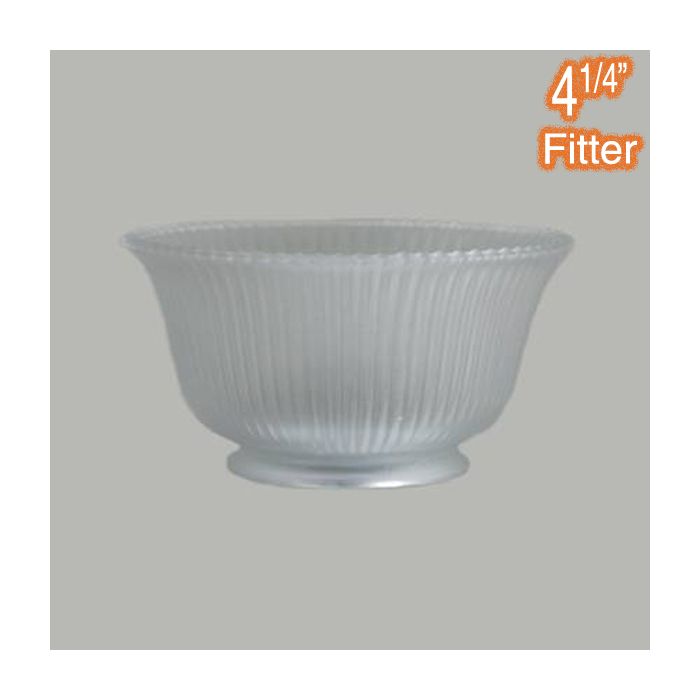 The Zipper43 is a great option for the office, study room, and any other location that requires a high light output.
It is made of clear glass and will diffuse the light in all directions to provide a uniform illumination to the space.
The shape of the lampshade has an old and traditional appearance, with a modern optic and light source.
Features
It has a clear appearance.
Glass material.
Dimensions: height 100mm and Width 175mm
It has a fitter size of 105mm.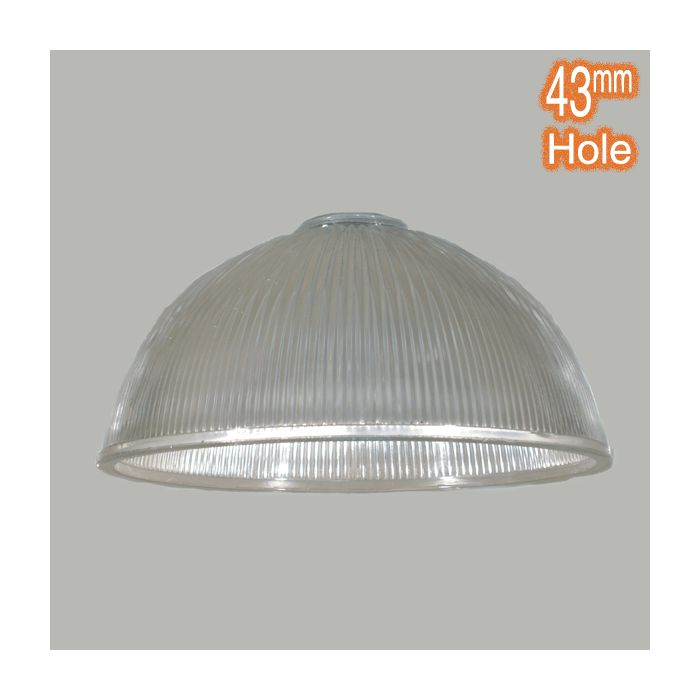 This medium-sized Calderon also gives a traditional appearance to the space where it's installed. Fitting the product in the living room guarantees an "old finish look."
Features
It is Clear colored glass.
Dimensions: Height 150mm and Width 310mm
It has a Hole size of 43mm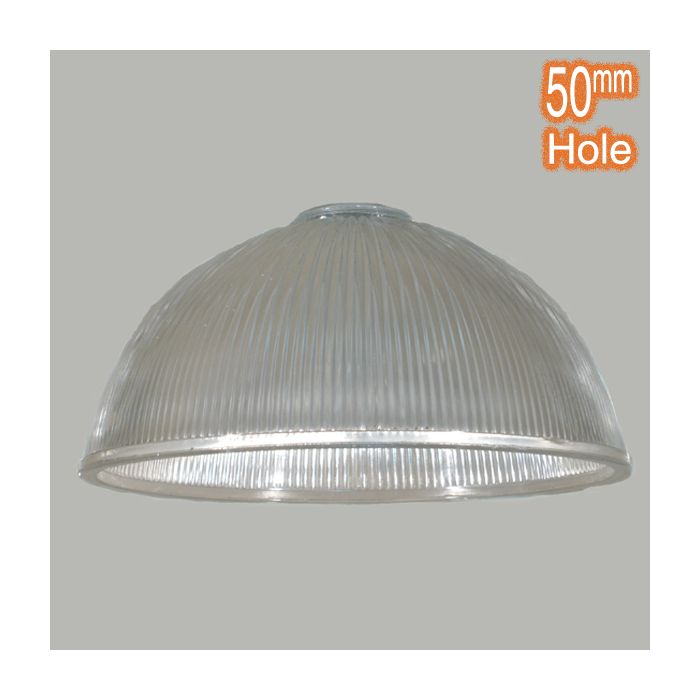 The largest of the Claredon options, this product gives a more extensive and uniform light within the spaces, and its large shape has a more significant impact on the room's interior.
Like its smaller counterparts, this product guarantees the "old look finish" within the space, although with a much more prominent effect, giving a distinguished retro 80s look in your house.
Features
It has a clear finish
Glass material
Dimensions: Height 190 mm and Width 380mm
It has a Hole size of 50mm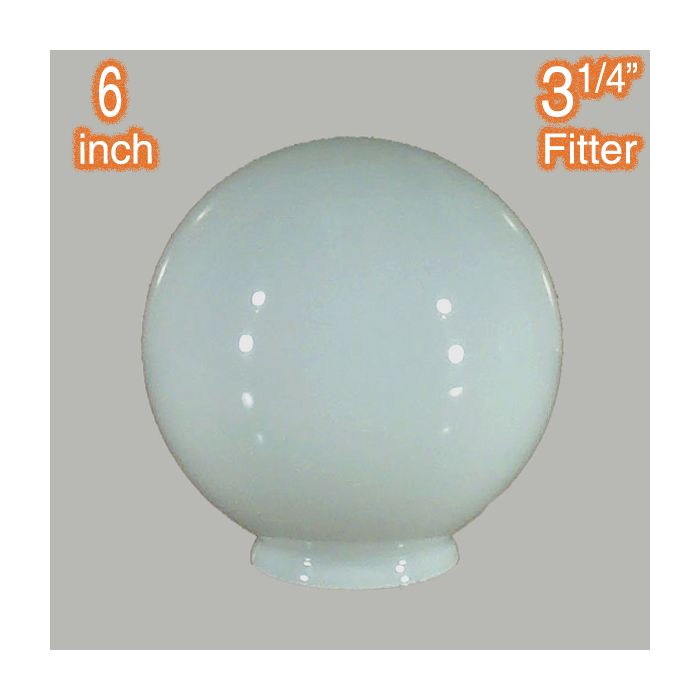 If you are looking for a modern shade to replace the old and traditional styled fixtures in your house, this product is a great option.
Its simple design and finish ensures that the shade works well with all interior decors and finishes and, as such, can lead to a quick and easy retrofitting process.
Features
Its shade color is opal gloss.
It is made of Glass material.
Dimensions: Height 155mm and Diameter 150mm
It has a fitter size of 80mm
It is Australian Standard Approved.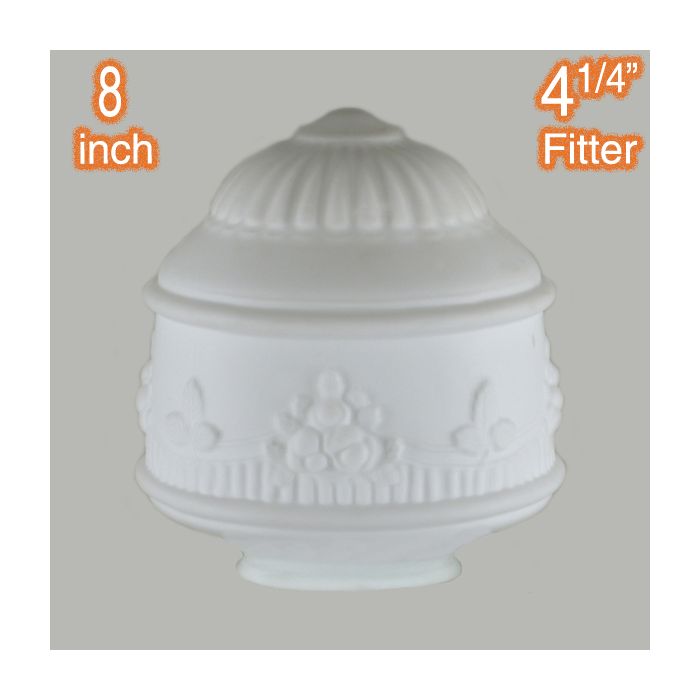 The Senator is a decorative and stylish glass lampshade with a unique Indian-styled finish, giving a very attractive appearance.
Installing this lamp shade in your space ensures a unique and out-of-the-ordinary decor and ambiance to your house.
Features
Its shade color is opal matt
It is made of glass.
Dimensions: height 220mm and width 200mm
It has a fitter size of 105mm.
It is Australian Standards Approved.
Best glass lamp shades buying guide
There's no reason to have ceiling bulbs that are obvious and unattractive when you can enhance the appearance of your house using glass lamp shades of different designs.
To select the most appropriate for your room, ambiance and purpose, the below factors, among others, must be taken into account, to guarantee product value.
Affordability
Setting a budget for the glass lampshades is the most important first step, in order to narrow down the choices and effectively weigh the different options on the market .
Size
Glass lamp shades are available in a wide range of different sizes, and the specific size for your space is directly correlated to the size of the room and the intended effect.
Material
Some glass shades are durable, such as those made from tempered glass, while others are fragile and can easily crack.
Glass shades made from tempered glass are the most heat tolerant among shades, and the choice of material will depend on the space, the occupants and activity and the light source to be used.
Light
Light colored glass shades allow light to pass through, while dark colored ones reduce the percentage of light. The required light level and the type of space where you want to install the shade will directly affect your choice.
Frequently asked questions
Do glass lampshades come with a warranty?
No, glass lamp shades have no warranties. You have to ensure that they are handled with proper care to benefit from a long lifetime.
How safe are the glass lampshades after installation?
Glass lampshades are fixed to the ceiling in a tight-fitting installation process of bolts to ensure that they stay rigidly fixed once installed.
Does the heat produced by bulbs affect the glass lampshades in any way?
No, the main material of the glass lamp shades is glass, which is durable and hard to expand from the heat energy produced by the bulbs/globes.
Which type of lampshades give the most light?
Dark lampshades produce minimal light outputs, while light colored lampshades give maximum light.
After how long am I supposed to replace my glass lampshade?
You can keep your lampshade installed up until it gets damaged or until you feel like changing its style. Otherwise, if properly installed and maintained, the glass shade can last for a very long time.
Wrapping up
The wide variety of glass lamp shades on the market offer massive possibilities for redefining spaces, interiors and styles.
During the selection process, make sure you run through the factors listed in this article, and ensure that the choice is adapted to your particular space.
The glass lamp shade is a defining decorative item in the house or office that has a large effect on the ambiance, style and space mood, which is why it's important to choose a shade that is both convenient and appealing for you, and that creates the desired effect you seek.