An outdoor security lighting system is a great way to protect your family and property, highlighting all the circumference of your property and keeping you aware of any unwanted visitors.
Security lights provide ample illumination to help you monitor what is happening outside.
To help you make an informed choice on the best available lighting systems, this article shines a light on some of the great outdoor light options available for your outdoor spaces.
Whether you are looking for solar lights, sensor lights or floodlights, a suitable and convenient option can meet your specific needs.
10 best outdoor security lights summary
Best Brightness Output:

Lampada Striker Slimline Outdoor Floodlight

Best Commercial:

Lampada Striker Slimline Outdoor Floodlight

Best Adjustable Head:

Lampada Fortezza Single Head Outdoor Spotlight

Best twin Head:

Domus Muro Pro Twin Head Outdoor Spotlight

Best Impact Resistant:

Verbatim Impact Resistant Outdoor Floodlight

Best UV resistant Frame:

CLA Security Floodlight with Motion Sensor

Best Low Budget:

Apollo Penguin LED Outdoor Floodlight

Best Durable:

Domus Muro Pro Twin Head Outdoor Spotlight

Best Sensor Light:

Mercator Solar Outdoor Floodlight with Motion Sensor
Best outdoor security lighting reviews
---
If you are looking for high-quality outdoor security lights, check our reviews below, as we highlight great outdoor security lights that are easy to install, bright, convenient and affordable.
1. Lampada Striker Outdoor Floodlight – Best Brightness Output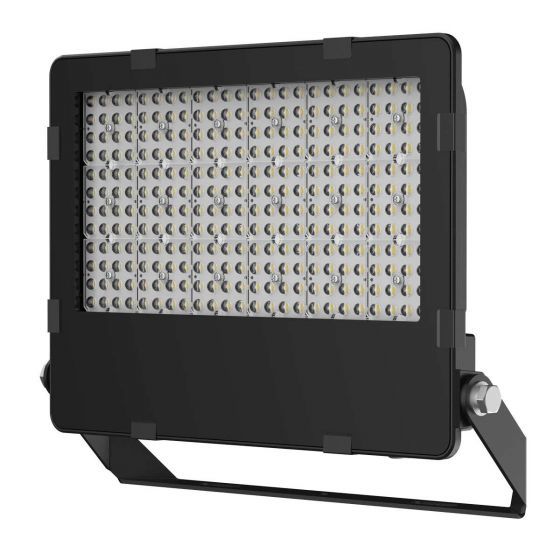 This is a premium quality floodlight suitable for outdoor spaces. It has a slim design, and its body is made of die-cast aluminium, which makes it very durable.
The light is fitted with an IK08 tempered and impact-resistant glass lens. The patented bracket design allows for easy installation since you don't need to remove it when installing.
You can adjust the floodlight vertically to serve your lighting needs. The light has a brightness output of 24,000lm and a cool white color temperature of 4000K.
It also features a quality aluminium reflector.
Key Features
120 degrees wide-angle beam
24000lm brightness output
Tempered glass on the front
Durable aluminum housing
Vertical adjustment
Slimline design
2. Lampada Striker Slimline – Best for commercial use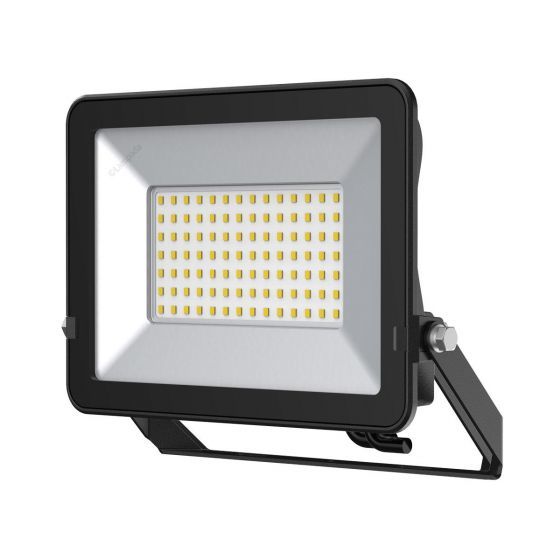 If you need a low wattage flood light for commercial and residential use, this is a  great option. This body is made of a die-cast aluminium construction and an impact-resistant glass.
This floodlight saves time during installation and its light output is powerful enough to illuminate a large surface area.
This makes this option very suitable for sheds, yards and pathways as well as other exterior spaces. It can also be vertically tiltable, its brightness output is 6000lm and is equipped with a plug and flex in the package.
Key Features
50W SMD led
120 degrees angle beam
6000lm brightness output
New bracket design
3. Lampada Fortezza Single Head Spotlight – With best adjustable head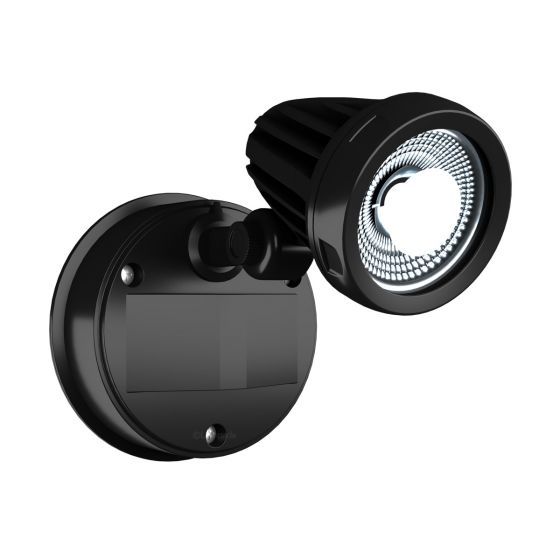 The Lampada spotlight provides a great light solution for your outdoor space. The lighting's head is made of die-cast aluminium which makes it very durable and it is adjustable as well to suit your needs.
The light is equipped with a powerful 15W LED light that offers superb light output.
It utilizes tri-color technology which allows you to switch from 3000K warm light to 4000K cool white up to 5700K daylight. It is designed for quick and easy installation.
Key Features
Adjustable die-cast aluminum head
1025lm brightness output
Tri-color technology
Easy installation
4. Domus Muro Pro Twin Head Outdoor Spotlight – Best twin head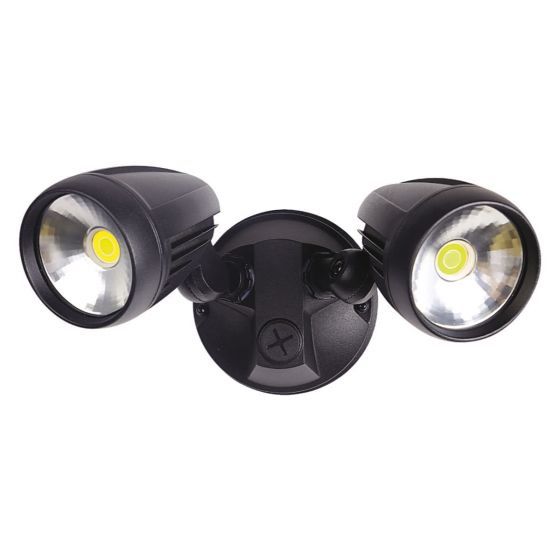 This spotlight combines standard spotlight design with LED technology to provide reliable outdoor lighting. It features die-cast aluminium construction for durable outdoors use.
Additionally, it is fitted with a glass cover and is rated IP54.
The spotlight provides steady wash LED white light to brighten your outdoor areas. It is equipped with an integrated trio colour changing led, which emits up to 2100 lumens, making it bright enough to use for driveways and backyards.
The spotlight is available in grey, white and black finishes.
Key Features
Energy efficient
3000k, 4000k and 5000k color temperatures
12m lighting distance
1900lm, 2100lm and 2000lm brightness output
5. Verbatim 30W LED Impact Resistant Outdoor Floodlight – Best impact resistant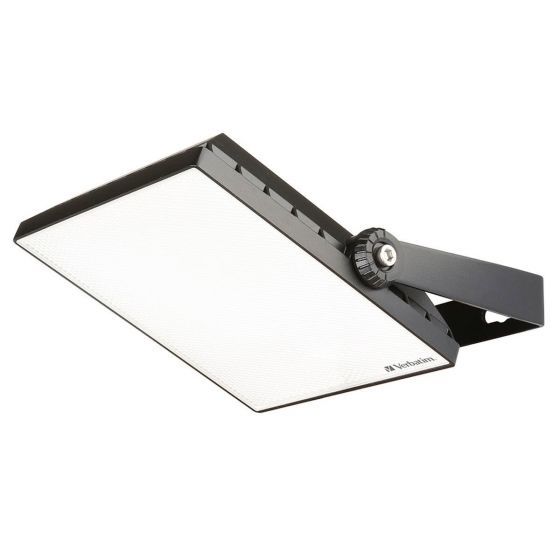 This is another durable floodlight with a modern design. It is built with a quality aluminium housing to protect it from dust, water and other outdoor elements.
The flashlight has a thin profile which makes installation easy and you can also adjust the head in order to direct the light where needed.
It features a metal bracket that allows you to mount it on the ground, walls or ceiling. It has a 100 degree beam angle and a 30W-rated energy-efficient LED light.
The floodlight also comes with a metal enclosure that provides great thermal management and durability.
Key Features
2300lm and 2400 brightness output
1.8-2.5m installation height
100 degrees beam angle
30 W LED
6. CLA 15W LED Outdoor Security Floodlight – Best UV resistant frame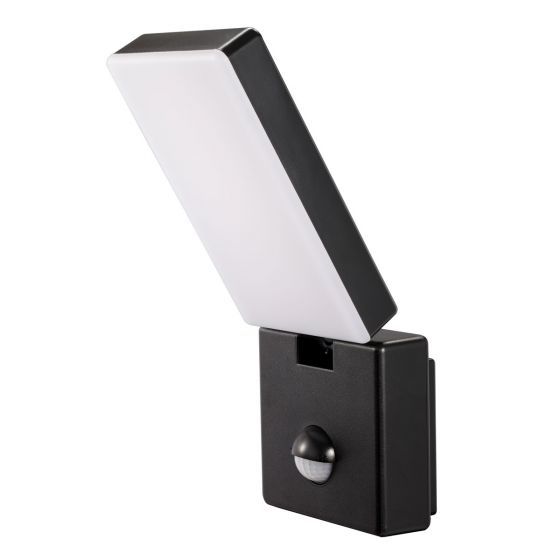 This surface mounted floodlight provides the right amount of light.
The security light has an adjustable head that tilts 90 degrees and swivels up to 360 degrees.
The floodlight is designed to withstand outdoor weather due to its UV-resistant polycarbonate frame.
The 15W LED light is also fitted with a PIR motion sensor, and has a 140 degree detection angle which can detect motion at a distance of 9 meters.
The floodlight is best suited for 2-way switching, and doesn't need a manual override.
Key Features
9m detection range
140 degrees detection angle
PIR motion sensor
4000k color temperature
Adjustable head
UV-resistant frame
7. Apollo Penguin Outdoor Floodlight – Best on low budget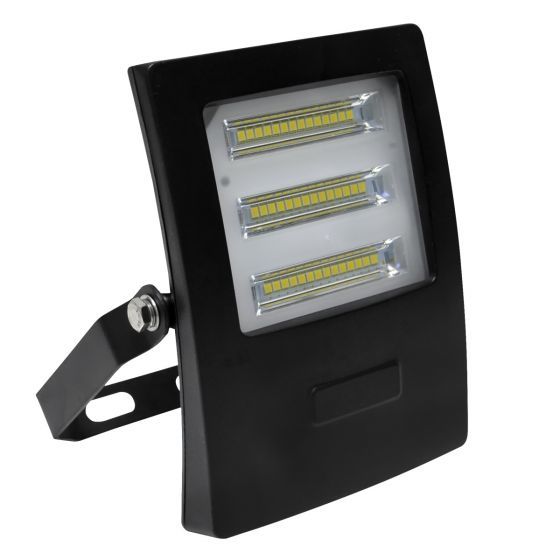 If you need a low budget outdoor floodlight, this option is great for you.
The floodlight's body is made of aluminium for a durable finish.
It has an energy efficient 20W LED with a 4000K cool white color temperature. The low profile design offers easy installation as the unit is quite slim and light.
Key Features
20w LED aluminum construction
Low profile design
4000k color temperature
120 degrees beam angle
1800lm brightness output
8. Domus Muro Pro Twin Head Outdoor security Spotlight – Best durable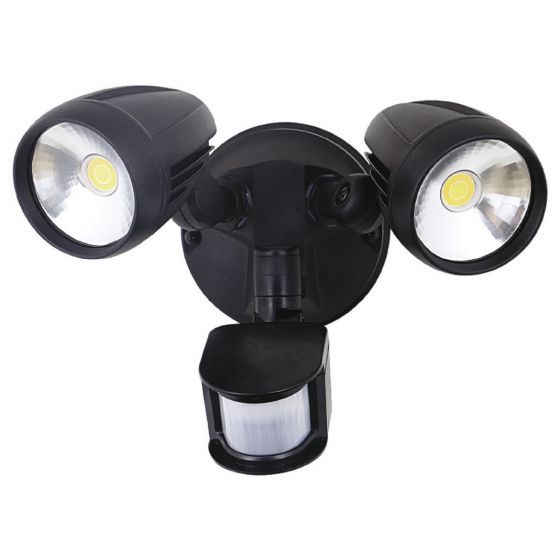 This option is the most durable outdoor security spotlight. It is made of die-cast aluminium material and a glass cover that can withstand outdoor use.
The option is integrated with LED technology providing great outdoors light.
Not only does the spotlight come with a lot of features, it also provides stable white LED light outdoors.
Its trio colour-changing LED offers a bright 2100 lumens to illuminate your driveways, backyards and other outdoor areas. It has a sensor, and is available in a white, black and silver finish.
Key Features
3000k, 4000k and 5000k color temperatures
30W energy-efficient LED
Die-cast aluminum material
1900lm, 2100lm and 2000lm brightness
9. Mercator Defender LED Solar Outdoor Floodlight – Best Sensor Light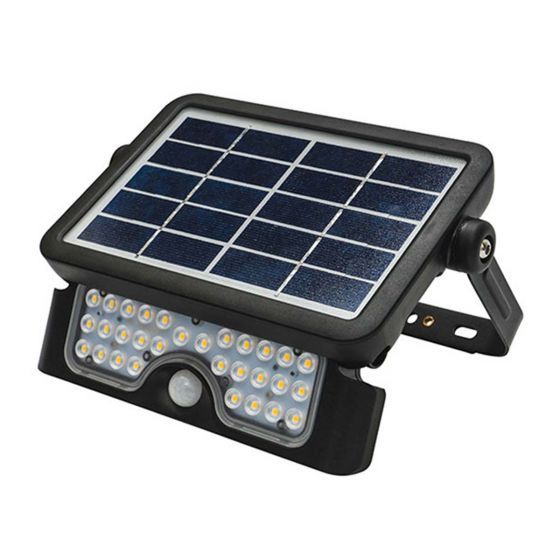 The Mercator Defender security light keeps intruders away from your home.
This solar-powered outdoor floodlight provides versatile mounting, allowing flexible mounting at any convenient place.
When fully charged, the floodlight can operate for up to 5-6 hours.
This floodlight operates on two modes. You can either use it as a sensor light that turns on when it detects motion, or in constant mode when you require a continuous light output.
The light output is great for outdoor entertainment areas, pathways, sheds and driveways.
Key Features
500lm brightness output
Sensor mode
Solar-powered
3-6 use on full charge
5w LED
120 degrees detection angle
Non-dimmable
6m detection range
10. Star8 Outdoor Solar Security Floodlight – Best solar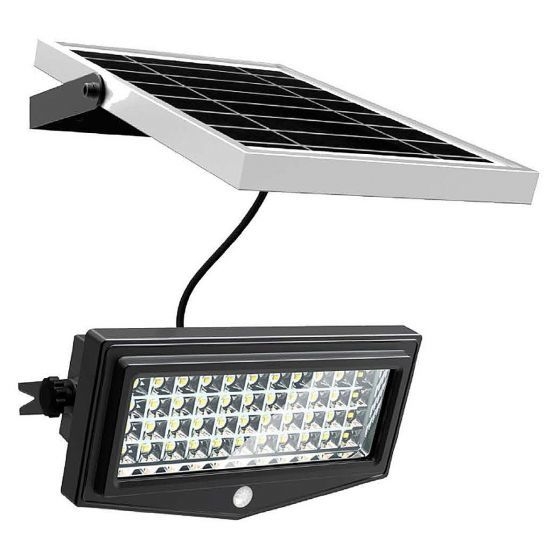 This is another solar-powered option that can operate for up to seven days even when it is raining.
The light is connected to a high-quality solar panel, which powers a lithium-ion battery and the LED light. This low energy security light has a long life as well as an integrated dusk to dawn sensor.
The solar cells convert sunlight into electricity and store it in the lithium-ion battery.
The die-cast aluminum frame and the IP65 protection rating make this floodlight durable and suitable for use in all outdoor environments.
The advantage is that the system does not require wiring as do traditional floodlights.
Key Features
10w LED
Die-cast aluminum frame
Solar-powered
Dawn and dusk sensor
2 lighting modes
11 hours charging time
9m detection range
3m mounting height
1000lm brightness output
Best outdoor security lighting buying guide
Investing in outdoor security lighting is a great way to enhance your home safety. However, it is essential to consider the following key features when selecting the best outdoor security lighting.
They include the following:
Motion Detection
This option is available for only some security light options and can actually be quite beneficial.
The auto-on feature is a very convenient feature to notify you of any intruders or trespassers, without the need to keep the light on the whole night, thereby saving significantly on electricity bills.
Durability
Outdoor security lights are made to be used outside, and you should invest in a durable product that can handle all harsh outdoor conditions. The security light should be durable enough to withstand strong UV rays, rain, wind and other harsh conditions.
The most appropriate security light option should have an IP rating of 65 or 67, providing the best protection against dust and water sprays.
Solar Energy
If you wish to install security lighting and benefit from solar energy, investing in solar energy lights is a great option to save on your electricity bills.
The solar panels fitted on the security lights absorb solar energy during the day, store the energy in the battery for use during the night.
The built-in battery can store more power for later use. Therefore, if you are in an area that gets a lot of sun, investing in solar-powered outdoor security lights is a great option.
Frequently asked questions about outdoor security lights
---
Where should you put security lights?
There are many locations to install outdoor security lights, which include the entrance, gate, patio, driveway, parking areas, roadways and other places.
What factors determine the placement of outdoor security lights?
The factors that determine where to install the lights include the mounting height, the size of the area to illuminate and the range of the fixture.
You should also consider the sun's pathway when using solar-powered lights, as well as proper coverage of your area, without bothering neighbors.
What color temperature is suitable for outdoor lights?
The most suitable color temperatures depend on how you wish to use your outdoor lights. For increased security purposes, it is better to invest in a brighter light.
However, if security is not your priority, you can choose dimmer lights that create a cool and comfortable environment.
Wrapping up-Outdoor security lights
Outdoor security lights are great for preventing intrusion and crime. They help you keep your home safe, giving you peace of mind.