Smart lights are a great option to enhance the ambiance of your house or business.
And contrary to the general misconception that smart lights are a financial burden, these lights are in fact energy-efficient and very convenient to use, saving money greatly during operation.
As a matter of fact, some of the smart light types can be controlled and operated directly from your mobile phone.
This means you won't have to get up from your bed or chair every time you wish to change the color or the intensity that the light is producing.
Thus, an investment in smart lights is a sound investment and the effect on your space will amaze visitors.
Moreover, a well-planned and installed smart lighting system can make your house or business stand out and divert from monotonous and repetitive designs, making your house or business shine.
What is a smart light?
This smart lighting system is a lighting product that uses a smart bulb with numerous features compared to normal bulbs. Smart bulbs are energy-efficient, convenient, and safe to use.
Additionally, these products offer you breakthrough features such as voice command control via home assistants such as Alexa, Apple HomeKit, and Google Assistant.
Additional features provide a lot of control for turning the bulb on and off, and for dimming the bulb. Moreover, voice commands can direct color changes in the bulb output and even play music.
6 places to use smart lights
Bedroom
Bedrooms require proper lighting levels that alternate for different tasks, regardless of the brightness of the space, most notably to avoid minor accidents.
This makes smart lighting a good option to offer various lighting outputs that can ensure safety and enhance the room's ambiance.
Hallway
Hallways also require adequate lighting levels to ensure that these spaces are safe, especially during the night. Smart lights can guarantee safety by providing minimum levels when needed, with minimal shadows cast on the wall, and can also provide an opportunity to create an interactive and interesting ambiance in the hallways.
Residential garage
Garages require adequate lighting levels to illuminate working spaces while warding off bugs and pests that are attracted to the dark. Smart lights with flexible cords allow you to use them safely and practically within the residential garage.
Gate
A strong and proper gate and a good security camera system define your security measures, however, only an appropriate and functional lighting system guarantees good vision and safety.
Smart lights can be installed in packages along with security cameras to fully illuminate your outdoor spaces and guarantee peace of mind.
Living room
Smart lighting systems allow you to be creative with your living space ambiance and style, offering multiple features and settings.
Laundry room
Good lighting is crucial for laundry rooms to ensure effective and thorough operations.
A proper and smart lighting system gives you a full vision of the colors and control buttons throughout the space, guaranteeing a streamlined process.
Best smart lights summary
Best smart lights reviews
There are a wide variety of smart lights available in the market. This list will help you narrow down your options and select the most suitable for your space and budget.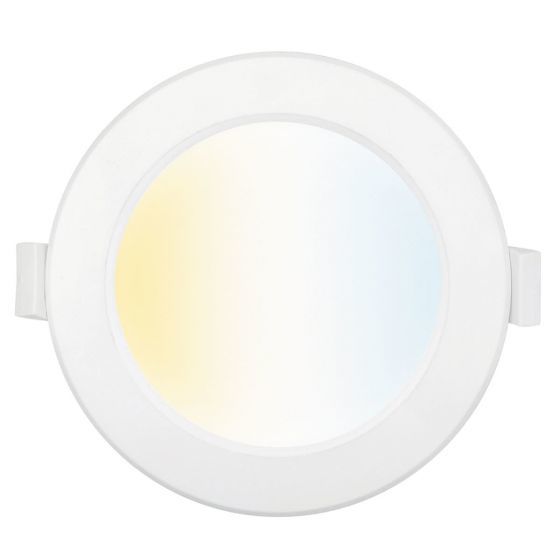 This downlight is Wi-Fi enabled and does not require a hub or port. So, you can unleash your creative skills by altering between colors within the 3000K Warm White to 5000K Cool White color range.
Brilliant Smart Trilogy is great for any space and can be ideal for installations at workspace or home, as it allows interface and control through voice commands.
The timer feature allows you to set specific times to turn the bulb on and off, and the free BrilliantSmart App can be used to operate the Wi-Fi Smart Downlight.
Also, it comes with a five years warranty.
Key Features
It is Wi-Fi enabled, therefore doesn't require an internet hub.
9W LED bulb.
It has a comfortable tunable color temperature from 3000K- 5000K.
Has an IC-4 rating making it convenient to be insulated.
IP44 protection rating
It has 1metre flex and plug.
It is dimmable via the BrilliantSmart App.
Nanoleaf Rhythm gives you a chance to provide a fully interactive and dynamic space, by shifting and changing lights while music is playing.
The light panels have numerous features and a huge array of colors to choose from and to couple with your music.
Moreover, the modular panels allow you to create a variety of shapes, designs, and even logos that can boost your interiors or help make your businesses more attractive.
Using the application control, voice command, or the physical buttons, the Rhythm offers very flexible and convenient control. Not to mention, a night and day playlist can be created on the App to interface with the light.
Key features
The lights react to music, games, movies, voice, and other played sounds.
You can create unique shapes with modular panels and even generate a beautiful pattern.
It has 16.4 million RGB colors.
It doesn't require an internet hub to function.
Rhythm smarter kit includes 9 Panels, Rhythm music module, Controller, Mounting Tape & Power Supply.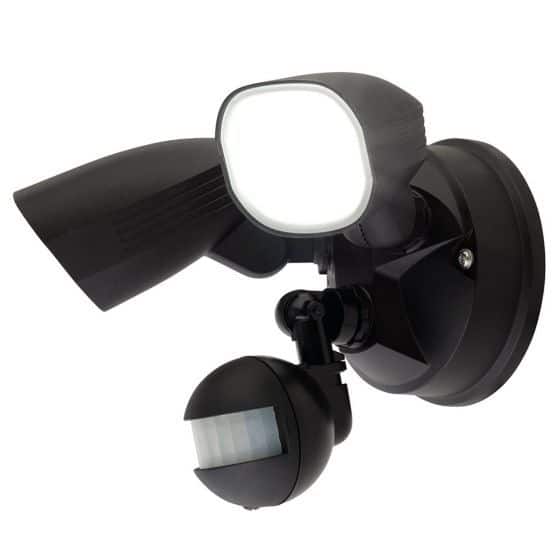 Brilliant Smart Escort is a great product to protect your family and business. Once it detects movement, it automatically turns on the lights in your home or business exterior.
This device can immediately notify you if there is an intruder in your compound, to give you an immediate chance to act.
The product allows you to automatically control your light and to set a timer to schedule the operating times. Moreover, you can either directly control the product, or control it from a distance using the free BrilliantSmart App.
Additionally, the product can be paired with Amazon Alexa and Google Assistant to execute your voice commands. It is available with a free two-year replacement warranty.
Key Features
It has a tunable color temperature (3000K- 6000K daylight).
Effortlessly adjustable sensor functions effortlessly on time, motion, and light sensitivity.
Operating through the BrilliantSmart App allows you to turn the light on or off.
IP44 weather-resistant rating
It is dimmable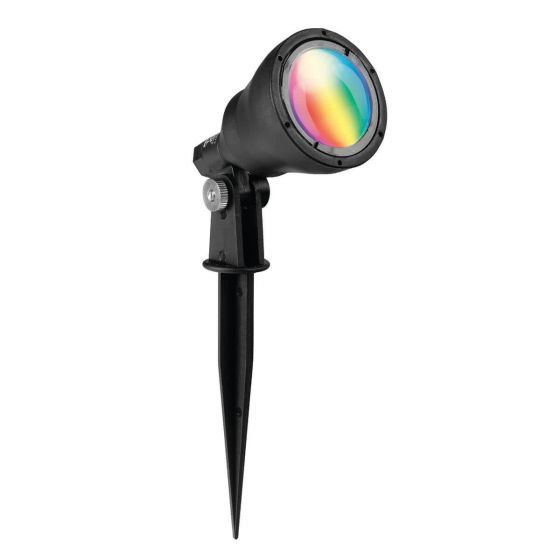 If you are planning to illuminate your garden, then the Brilliant Smart Botanic 3W LED RGB Garden Spike Light is a great option.
This product gives you the ability to be creative and change the light colors as desired, offering around 14 million RGB colors and hues to choose from.
Besides, it allows scheduling control using a timer to turn the light on and off as desired. Additional features through the BrilliantSmart App allow controlling the product individually or in a group.
The product can also be paired with Amazon Alexa and Google Assistant for voice command control.
Key Features
You can easily install it by yourself.
3W LED light is produced.
It has a tuneable RGB color spectrum with up to 14 million colors.
Maximum 8 spike lights can be connected to the Brilliant Smart Botanic kit
12V DC voltage
IP68 protection rating
This single add-on pack includes:

1 x 3W LED spike light, with 2.2m cable, 160mm plastic stake, 3W per head

2 Year Replacement Warranty
This device allows you to monitor your home and personal space as it uses advanced technology and smart light to analyze activities in specific areas.
Moreover, it allows you to set alerts for certain zones, to get a notification and a live stream into your property from any device and past footage.
Netatmo Smart Floodlight is easy to install and maintain.
This powerful floodlight and accompanying security camera let you watch everything that happens in your compound, even at night using infra-red night vision, and it can directly record activity.
You can control the smart floodlight to turn on either through the app or through automatic motion detection.
Hence, this product allows you to move around comfortably within your compound and gives you the assurance you need throughout the night.
Key features
Get free video storage on the camera's SD card.
Captures Images and videos in HD quality that is clear and distinct
Time-lapse feature for quick viewing and sharing.
Field of view: 100°
IP66 protection rating
1 Year Warranty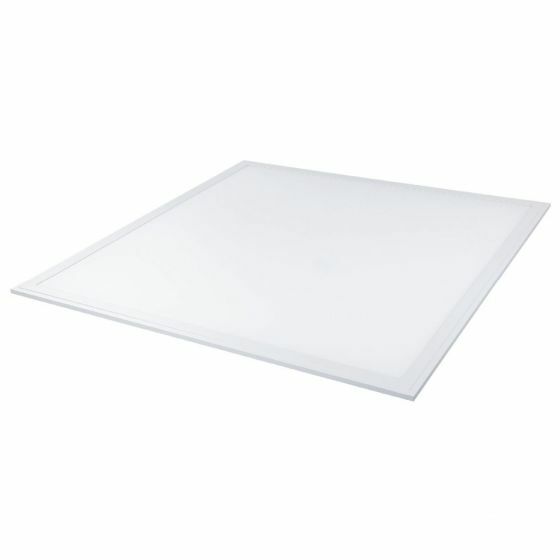 The Smart Minka panel light will save you from installing several lighting devices in your office at once. This panel produces a uniform light and is suitable to use in areas with large-scale operations.
Furthermore, the light is Bluetooth-enabled and allows you to connect many devices that can communicate with each other. Thus, installing this product can reduce the load on your Wi-Fi.
Key features
Bluetooth-enabled
Low-maintenance solution for offices, schools, retail, and healthcare
It is very easy to install.
Integrated 35W LED
Change the color temperature from a warm 3000K to a bright daylight 5000K.
120° beam angle.
3 Year Replacement Warranty
You can install this product within your kitchen cabinets, drawers, television, bed, and all along with the skirting board of your house.
You can also use the Brilliant Smart RGB Strip at work to get good lighting levels and improve the ambiance, with a power-saving product.
The cable runs up to five meters around the house to the location where the light is installed. Additionally, it is flexible and can comfortably turn corners without creasing or wires becoming loose.
The product promises more than fifty years of operation provided proper care and maintenance.
Key Features
WiFi-enabled; therefore, there's no need of having an internet hub.
You can easily install it on your own without getting any help.
2.6W LED bulb per meter.
Easy tuneable RGB color spectrum (up to 14 million colors) plus 4200K Cool White.
Dimmable only via the BrilliantSmart App.
Enhance the ambiance of your dining room, hallway, bedroom, and living room using the Atom WiZ Smart Wi-Fi RGB White 16W LED Outdoor Oyster light. It pairs instantly to Wi-Fi, making it very practical as a retrofit option.
This product is available in several color modes and shades, ranging from warm to cool whites, enabling you to work longer and dine in more comfortable settings.
Additionally, it is protected against dust and water at an IP rating of IP54.
You can control over 200 lights and manage more than one location using the WiZ APP available for Android and IOS.
Key features
Wi-Fi and Bluetooth are connected; therefore, it doesn't need an internet hub.
Supplied with WiZ Pro Connected driver.
16W LED bulbs.
64,000 tuneable whites 3000K – 5700K
120° beam angle
3 Year Warranty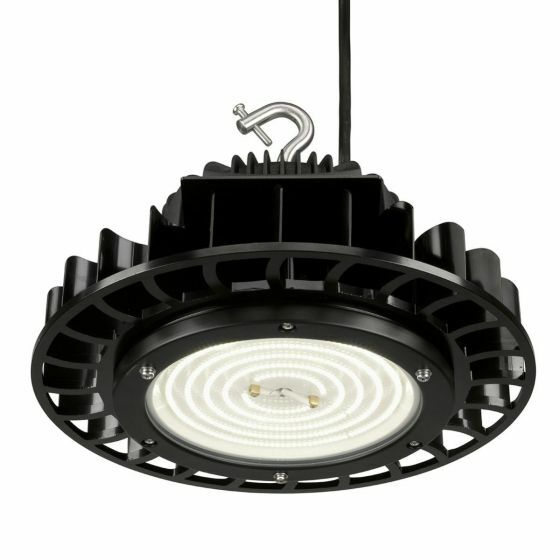 If you are looking for the best lighting for professional set-ups, Brilliant Smart Highbay Light is a great option for harsh weather and atmospheric conditions of the business premises.
They are waterproof. You can safely install it indoors and outdoors, and they also happen to be greatly affordable considering the features.
Key Features
Bluetooth-enabled
Pair with Brilliant Smart Bluetooth Mesh Gateway (21439/05) to create a mesh network (sold separately)
The thermal management system will begin to reduce power/light output when ambient temperature increases to above 45° Celsius
Black Diecast alloy housing with painted steel bracket
304 stainless steel hook and external bolts
5000K Natural White color temperature
120° beam angle
5 Year Replacement Warranty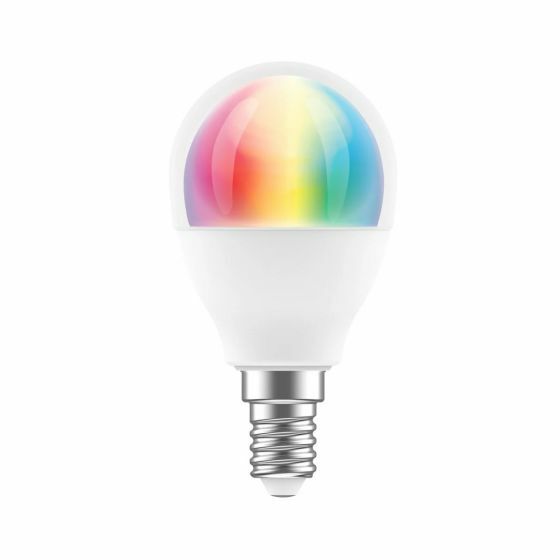 This product gives you a disco experience right at the comfort of your home.
The Brilliant Round Globe has a wide range of colors to choose from and switch between, using the Brilliant Smart App, which is free.
Other features include voice command control with Google Assistant or Amazon Alexa, as well as a timer function that allows the user to set timers and determine operation times.
This product is great for both residential and office spaces.
Key Features
WiFi-enabled hence doesn't require an internet hub
4.5W LED bulbs,
Easy tuneable RGB color with more than 10 million colors, plus 3000K- 6500K Daylight
CRI > 80
220° beam angle
It has a two-year warranty
Best Smart Lights Buying Guide
---
There are various smart lights available in the market, and they differ in size and features.
Purchasing smart lights that fit your budget is a wise and practical decision, but before purchasing, it is important to consider the following parameters:
Affordability
The wide range of lights and features translates into a wide price bracket. Thus, you should target types and options within your budget, to avoid chasing choices that are out of reach.
Color of Globe
Choose smart lights that can offer the colors you desire and which fit your space.
The purpose of color selection is to enjoy a wide array of settings and space ambiances, so make sure to get your desired color palette.
Brightness of Globe
Rooms like the bedroom require dim light globes, especially at night, whereas living rooms and hallways require bright globes with high intensity as their use is more frequent and they see a lot of activity.
Size of Smart Lights
Make sure that the size of the smart lights you select goes well with your interior space.
Additionally, it is important to make sure that children can not easily access or take out smart lights.
Frequently asked questions
---
Do smart lights come with a warranty?
Yes, smart lights come with warranties up to 5 years, depending on the type of smart light you purchase.
Can I get smart lights that perform a specific function?
Yes, smart lights can accommodate one or more specific features and can be interfaced with CCTV cameras. Besides, you can choose the product that provides you with the exact services you need.
How long do smart lights operate before the globe needs to be replaced?
Globes installed in smart lights work up to 5000 hours, and with the correct maintenance, they can last up to 7000hours.
Do I get a free installation once I purchase smart lights?
It depends on the type of smart light you have purchased.
You can fix some types easily without any assistance. However, others might require the technical skills of an experienced professional.
Can smart lights be installed outdoors?
Yes, certain smart lights are specifically designed to be installed outdoors and are fitted with CCTV cameras to offer extra protection to your family or business.
Wrapping up
This article highlights the top-rated smart lights on the market and offers a guide to help users make an informed and well-planned choice to buy the product that meets their lighting needs, operational preferences