Upgrading your home with residential LED downlights can drastically change the overall look and feel of your home. It's chic, modern, simple, and minimalist.
It's also a common go-to-lighting for business establishments.
Investing in quality downlights will better illuminate the space and make it more efficient.
Besides aesthetics, LED downlights are great for saving on energy consumption when compared to the traditional halogen downlights. You can expect up to 75% savings on your energy consumption once you make the big switch.
Complete LED lighting upgrade from as little as $33
Additionally, LED downlights can last for years and their operation emits only a tiny amount of heat.
Upgrading downlights to LED is a pretty straightforward choice, and with types of LED lights manufactured to fit within halogen downlight cutouts, you'll be guaranteed a seamless transition.
Replacing LED downlight (Choosing the perfect downlight)
Under the ESS scheme, you can get the total cost of an LED upgrade subsidized and a 5-7 year product warranty.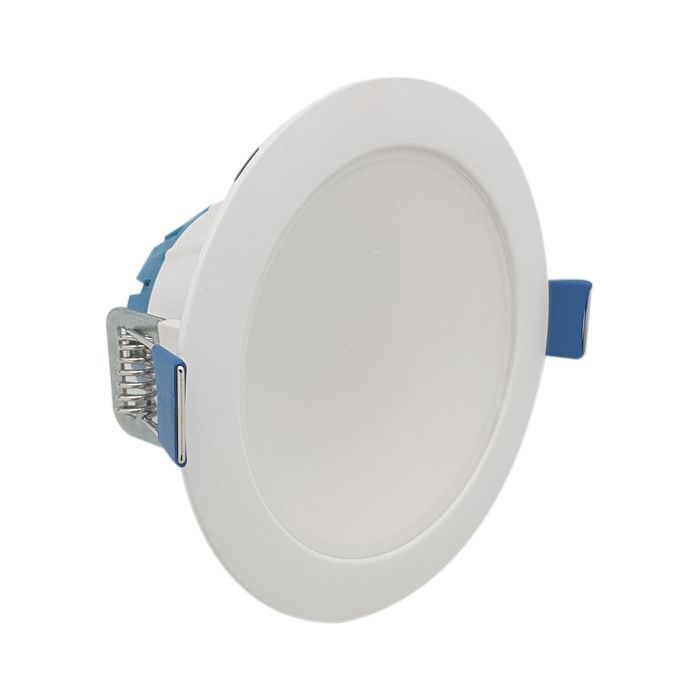 Complete LED Downlight upgrade from as little as $33 – Saving up to 93% off your lighting costs! Learn More
Before you rush to the store to purchase an alternative for your faulty downlight, you should consider the type of light to choose.
Assessing the function of the space, the aesthetics, the practicality and matching these criteria with a specific type, will result in the right selection that will improve performance, will increase the life expectancy of the downlight and save you from the trouble of testing and returning types to the store.
Knowing what type of bulb is required
Two types of downlight globes are commonly used, MR16 and GU10. Before any replacement, make sure to check your old sockets before purchasing new LED bulbs.
➡ MR16 globes have two sharp pins and a 'push-to-fit' installation system. This bulb has a lower voltage compared to GU10.
It commonly operates at 12 volts, which means these types also require a transformer.
If the existing types are halogen downlights, make sure to also replace the transformer when upgrading to LED.
➡ GU10 can be easily installed with a twisting mechanism until it locks into place. Unlike MR16, GU10 operates on high voltage (typically 120 volts) and has two prongs instead of pins.
Evaluating the brightness of the lighting
The higher the lumen output, the brighter the room. Traditionally, brightness used to be measured by the watt consumption of the fixture, but with LED, this method is no longer applicable as LEDs use minimal energy.
The intensity of light can have a strong impact on the ambience of a room, and on the resulting feeling people will get when entering and spending time in the room, so if you're aiming for a certain vibe, it's best to consider the brightness of the downlight.
Picking the right colour temperature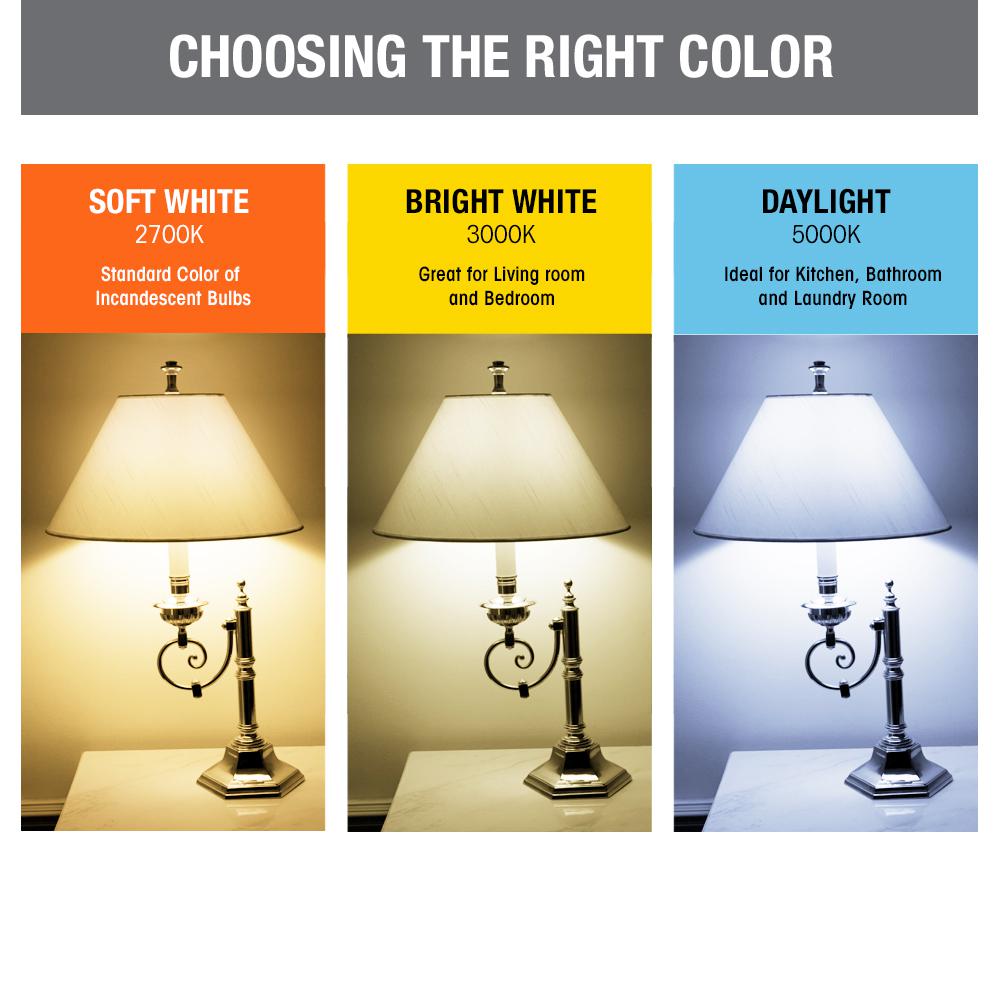 Colour temperature gives the first impression to anyone who steps inside your room with characteristics of each temperature output that meets a specific function and space requirement.
Typically, you can choose from three colour temperatures:
Daylight is perfect if you want your space to look bright and refreshing. It has a bit of a blue tone to it which provides a very modern look.
Cool light has a tinge of yellow, and compared to daylight, it looks more natural. It's a standard option for most households.
Warm light is commonly used by hotels and coffee shops to give a calm ambience pleasing to the eyes and generally relaxing.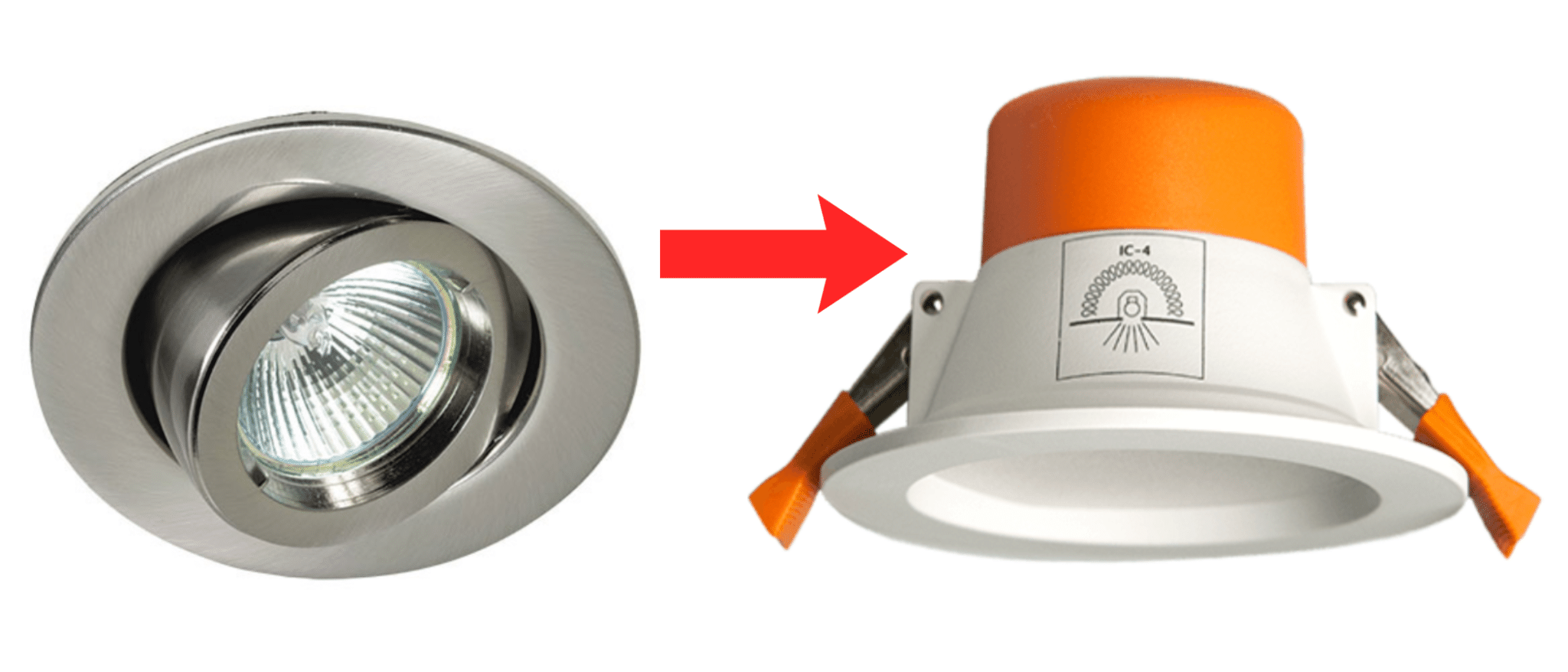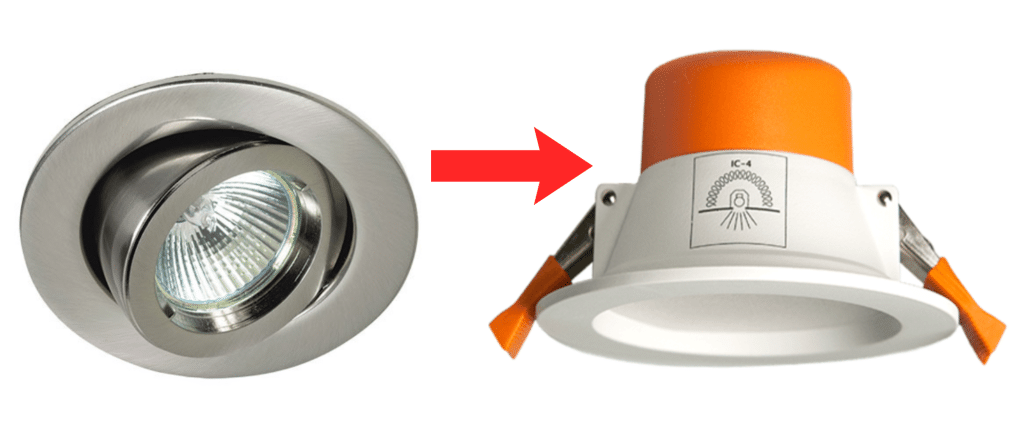 LED Downlight Upgrade: $33 Only For entire home no hidden cost
Installing LED Downlights
Now that you've picked the perfect downlight, it's time to install the downlight. However, it is very important to follow precautionary measures to protect yourself from injury and electric shock.
It is highly advisable to perform the installation or replacement with someone watching over, especially if it involves standing on a ladder.
Cut the power source of the lighting circuit
This initial step is highly important and must not be ignored. Electrical shock can be hazardous and even deadly and can be avoided by turning off the specific breaker that controls the power flow to the light. For extra protection, wear rubber-insulated gloves.
Rubber is non-conductive to electricity and is an essential tool worn by professional electricians when handling electrical wires.
Wait for the downlight to cool down
Downlights, especially halogen bulbs, emit a lot of heat during operation and therefore become extremely hot to touch after use. The heat can cause a first-degree burn.
That's why it is essential to wait until the bulb cools down. LED bulbs avoid this obstacle altogether, as they emit much lower heat and cool down faster.
Remove the old downlight from the ceiling
Twist the fitting in a counter-clockwise motion until it is safe to pull out. Once the old bulb is removed from the socket, remove it from its clipping or lamp holder.
For G10 downlights:
For MR16 downlights:
MR16 downlights can get a little trickier.
You'll first need to remove the fitting or the outer ring that holds the downlight. If it's stubborn, you can use a flathead screwdriver and gently pull it from the ceiling. MR16 bulbs have pins so you can simply remove them like a standard plug.
After removing the outer ring along with the attached bulb, check the transformer which feeds the fixture, it should generally be located inside your ceiling.
Once you've located the transformer, check if it requires replacement, by checking the VA number printed on its body.
If the input voltage is within the range of your new LED bulb, it can be safely used for the new light.
However, if the transformer requires replacement, it is best to hire a professional electrician to ensure the safety of yourself and home from potential fire and electrical hazards.
Replacing old bulbs with new LED downlights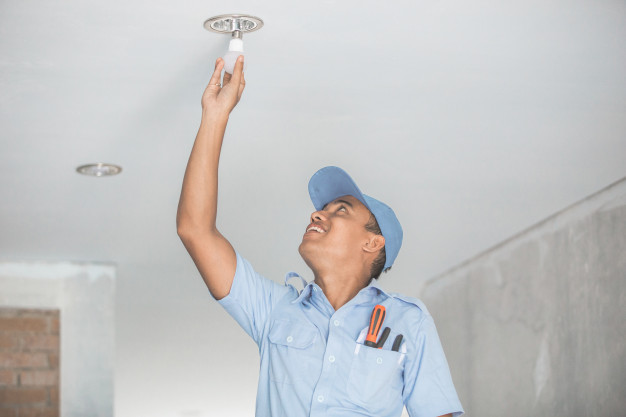 For G10 downlights:
Fit the new bulb with the old clipping. When done, attach the bulb first to the socket, then in a clockwise direction, twist it again until it is well-fitted in the ceiling.
For MR16 downlights:
Some MR16 LED downlights are already fitted with an outer ring that can be easily attached to the ceiling.
However, even if you only purchased the LED bulb, you can still use the old outer ring. Gently remove the old bulb and place the new one.
Once ready, plug the pins into the socket and push the outer ring until you hear a click from the ceiling, indicating the downlight has been locked in place.
Time to put the LED downlights to the test, turn on the main switch
Once the process is complete, turn the breaker switches back to their original ON position. Check if the downlight is working by turning on the assigned lighting switch as you would typically do.
Generally, downlights should instantly light up, but if they don't, allow for a few minutes for the light to warm up. Otherwise, go through the steps and re-check the installation.
If you are thinking about replacing LED downlights, get in touch for a quick LED lighting consultation for FREE
What are the best downlights available?
LED Downlights are a ceiling lighting fixture to be fitted in a specific, appropriately sized ceiling cavity.
Downlights are some of the most commonly used lighting fixtures in modern spaces. They produce warm light which is unobtrusive compared to other lighting fixtures, making them extremely popular for homes.
However, despite their popularity and huge availability on the market, the choice can often be confusing, leading to the purchase of wrong or malfunctioning downlights that don't fit a specific space, or do not operate as intended.

When choosing a downlight for your home there are specific features that need to be considered.
Things to consider when choosing the best downlights
---
✅ The Energy consumed and the brightness emitted. Compared to other lighting fixtures, LED downlights produce a very bright beam of light, while at the same time consuming a considerably lower amount of energy.
✅ Beam Angle: this measure specifies the direction and spread of the light beam and mostly measured in angles. Compared to other types of lighting fixtures that provide a 360° beam illumination, most downlights have a more concentrated beam angle, ranging from 0 to 60°, typically at 45°.
When selecting the proper beam angle for your downlights, it is advisable to be attentive of the space where the downlight will be fitted and of the intended effect desired in the room.
✅ Spacing: after determining and selecting an appropriate beam angle, careful attention must also be given to the spacing between the downlights in order to ensure sufficient lighting of the house.
Using a downlight with a small beam angle requires allocating a spacing of about 1m, and as the beam angle increases, more space is covered with the same downlight and the spacing can be increased to 1.5 or 2m.
✅ Color Rendering Index: CRI is the measure of how thoroughly and accurately the light will reflect the true colour of an object, compared to the actual colour under natural sunlight.

Top 7 Downlights reviews
---
Downlights can serve great purposes in the spaces where they are installed, but purchasing and installing the downlight to match the space and effect desired might turn into a complicated task.
This is mainly due to the availability of lots of brands of downlights across the Australian market, with ranging degrees of performance, and efficiency.
Below is a list of the most trusted and popular downlight brands in Australia;
➡ Luna Downlight by Emerald Planet Smart Solutions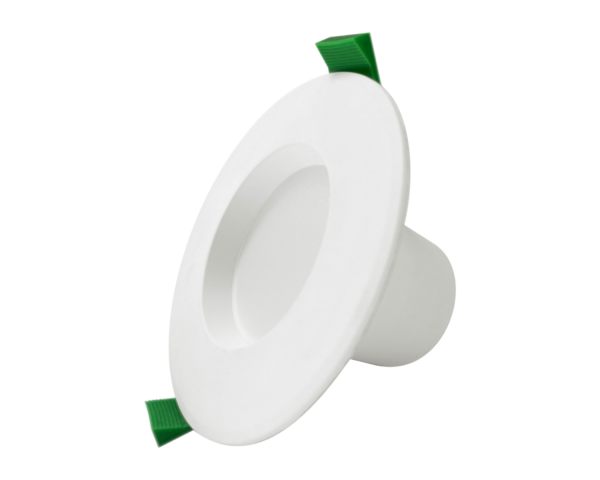 The Emerald Planet Solution is a manufacturer and distributor of industrial, commercial, and residential LED lighting.
It is an Australian company that focuses on high energy-efficiency products, provided at affordable prices. It is important to note that this affordability ensures good quality lighting fixtures, as the company does not compromise on production standards.
This specific downlight from Emerald Planet Smart Solutions is very efficient and offers 70 and 90 cut out size options, with a power consumption of 5 and 10 Watts, respectively.
Due to its tri-colour temperature technology, the Luna downlight gives great flexibility to match pre-existing lighting colours.
➡ Downlights from Teknik Lighting Solutions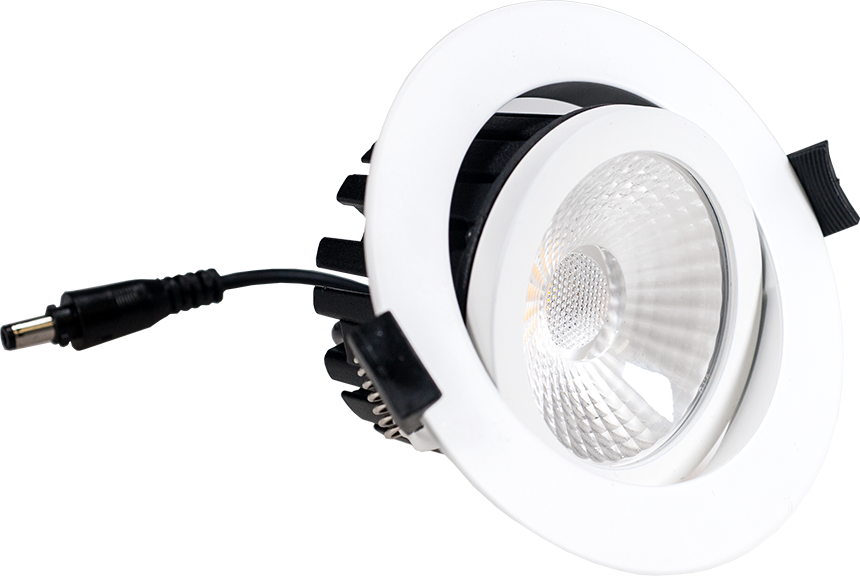 Teknik lighting solutions offers a wide range of downlights for all applications, from residential and standard commercial to high-end commercial and retail.
Popular downlights produced by Teknik lighting solutions are:
The

HALO LED downlight

is a very versatile LED downlight with a beam angle of 60°, which can be adjusted to 30°,in addition to an advanced front lens that ensures optimal illumination and reduces light glare.
The

SOL LED downlight

has an aluminium body, a lens that ensures low-glare, dimming compatibility feature and a wide range of available colour temperature outputs.
The

RIPPLE LED downlight

produces better and more efficient lighting when compared to traditional halide lamps. It has a slim shape and high-quality stainless steel spring clips which makes it easy to install and hassle-free.
The GEM LED downlight is a go-to downlight for good quality fixtures on a budget. It has an aluminium body that is coated like plastic.
HV5528T by Havit Lightning
While most downlights have a CRI of 80, this particular downlight from Havit Lighting has a CRI of 90, properly showing and highlighting the colour of objects it illuminates, as though they were under natural sunlight.
Instead of having a plastic body, this downlight has a full aluminium body which dissipates more heat from the downlight, maintaining an overall lower operating temperature and elongating the life of the fixture.
➡ Optica Downlight by Mercator lighting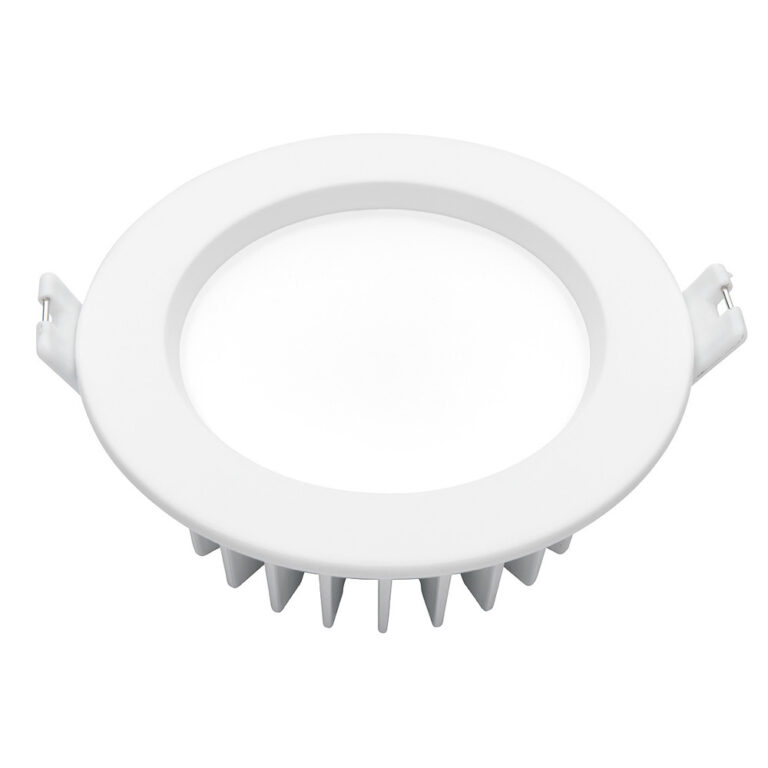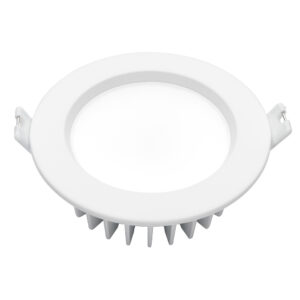 This Optical downlight is made entirely of aluminium as opposed to other downlights in its category.
Not only does it perform well, but it also looks unique with its stylish design.
It is dimmable and is equipped with a switch to maneuver through colour temperature settings, switching between daylight, warm and cool colour outputs.
➡ Domus Boost and Bliss by Domus lighting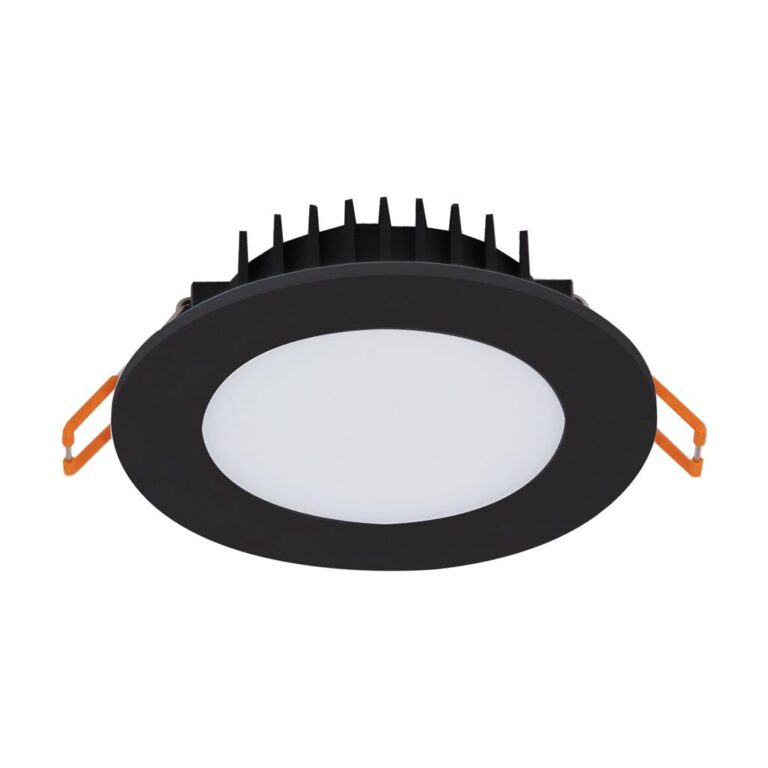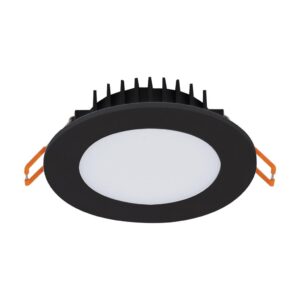 The Domus Boost and Bliss downlight by Domus Lighting has a colour-changing feature that allows it to shift from warm white at 3000K, to cool white at 4000K, all the way to daylight at 5500K.
The Domus Boost and Bliss model gives off a surprisingly minimal glare effect, despite the fact that it has a beam angle of 90°.
This downlight is highly energy-efficient, consuming 10 Watts for an output of 800 lumens, which is about twice the amount of lumens produced from old 20 Watt halogen downlights.
➡ Blitz and Titan by Martec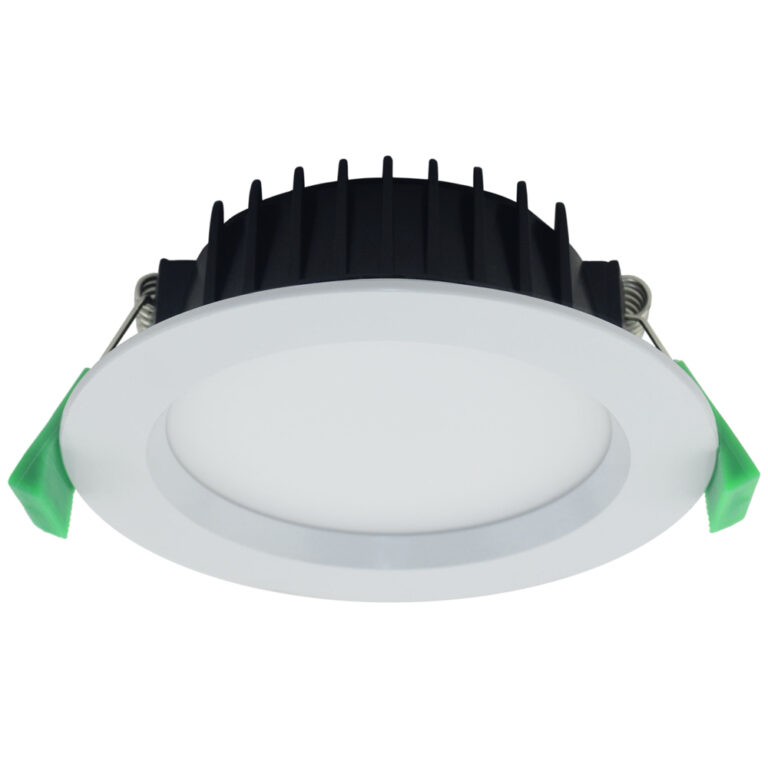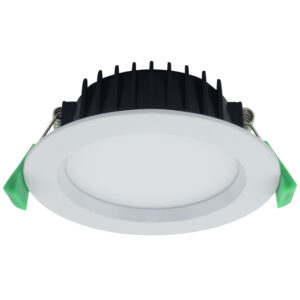 Martec's downlight has the highest lumen output when compared to other downlights in the same price range.
It is also equipped with features like colour-changing temperature switches and is rust and corrosion-free due to its fully polycarbonate body and frame.
It is dimming compatible and can be dimmed down fully to 10% and has a low failure rate.
➡ XDK10 Trimless LED Downlight by Trend Lightings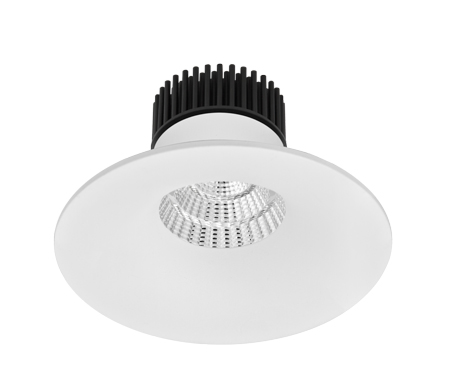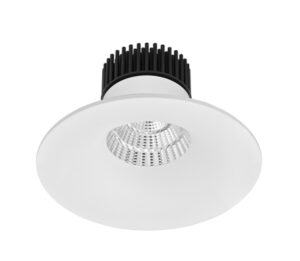 This downlight by Trend Lightings enjoys a very high efficiency, and is typically 40% more efficient than alternative downlights. This is due to the fact that this downlight produces a lumen output of about 1400 Lumens at a low 10 Watt power consumption, whereas other downlights with 13 Watt consumption only give an output of about 1000 lumens.
Additionally, while most typical downlights have a CRI of 80, the CRI of this downlight is very high at 90.
It also fitted with a "Vivid" menu option. This option allows for a production of a CRI just under 100 and makes the objects viewed under it appear as though they were viewed under natural sunlight.
View all LED downlight Product list
---
FREE LED replacements for just a $33 electrician fee
E-green electrical is licensed and accredited under the NSW government to offer full LED lighting replacements for a one-off $33 electrician.
Take advantage of the NSW government LED Upgrade and slash your electricity overnight.
Receive unlimited and free non-dimmable replacement LEDs for a one-off cost of only $33. Dimmable and premium LEDs are available at heavily subsided prices.
Contact us today for business and household LED Upgrades. Our licenced energy efficiency experts will provide a quick LED Upgrade Consultation for FREE
NSW LED Downlights and LED Panel upgrades Scheme for Households & Businesses in Sydney
📞Talk to Energy Efficiency Expert
Are you still using halogen lights for your household or commercial uses? If yes, You're paying a huge amount for your electricity and you can avoid that by replacing your conventional halogen lights with new energy-efficient LED lights.
Replace old lights with new energy-efficient LEDs and reduce your electricity bill by hundreds of dollars a year.
Did you know that under the NSW Energy Saving Scheme you can upgrade your halogen downlights to LED downlights for just $18.99?
You can also get all your old halogen downlights changed to new LED downlights + unlimited PAR38 globes replaced per project at no cost.
Are you eligible for the NSW LED upgrade scheme?
LED downlights are becoming popular in Sydney
LED downlights are getting popular among the residents and small business in Sydney for one or more reasons. The main benefits of upgrading to LED lights include:
Better quality and improved lighting

High energy efficiency

variety of designs and functionality compared to traditional halogen lights

Low product cost and longer life span

safe and healthy compared to fluorescent lights

Low installation cost under NSW subsidised scheme

Low fire hazard risks
LED downlights have proved to be a perfect lighting solution for offices, hospitals, restaurants, hotels, and retail sectors due to the availability of various designs that can perfectly blend with the building and room architecture.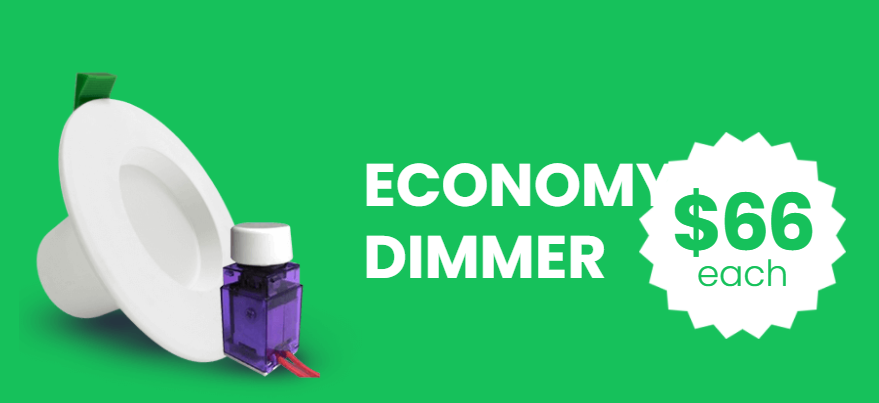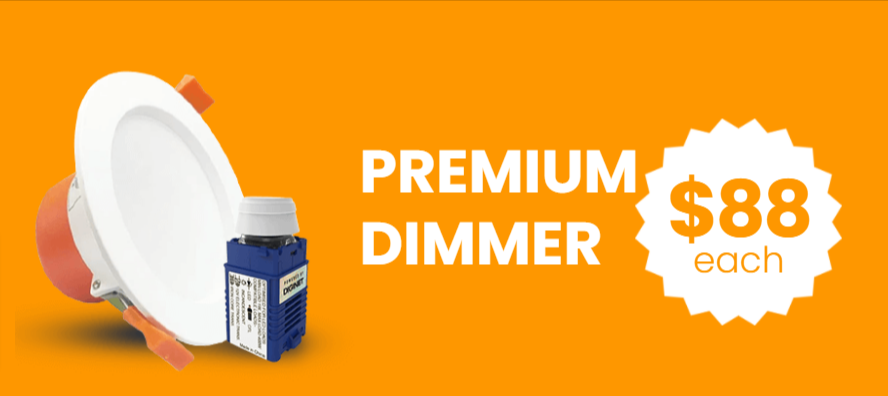 Benefits of LED Light over Halogen Light: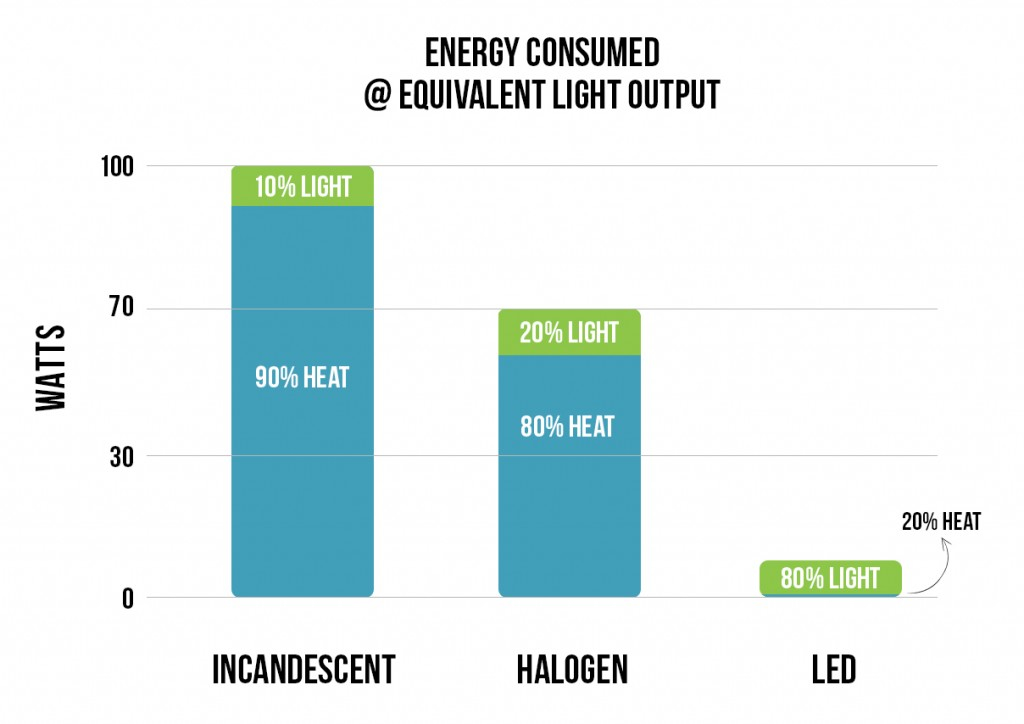 Replace Halogen Downlights with LED Downlights under " The NSW Energy Saving Scheme".
The NSW Energy Savings Scheme (ESS) offers financial incentives to install energy-efficient lighting in NSW for businesses and households.
The government-backed scheme seeks to help businesses and individuals reduce their energy consumption and lower their carbon emissions. This is directly helping everyday Australians to slash their energy bills dramatically.
The financial incentives provided under the NSW Energy Savings Scheme grants E-Green Electrical the gateway to claiming the subsidies on your behalf so you only need to pay a fraction of the price for your LED upgrade.
ANNUAL ELECTRICAL COST: Halogen Downlight Vs. LED Downlight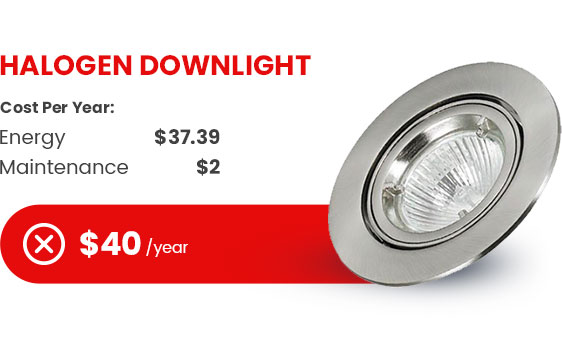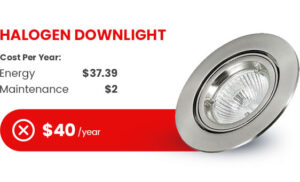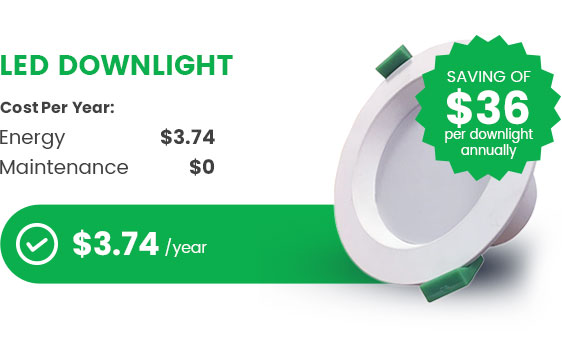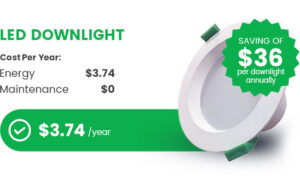 Are You Eligible For NSW Downlights Replacement Scheme?
CLICK HERE to request a FREE LED ASSESSMENT. An E-Green Electrical consultant will be in touch within 24 hours to discuss your LED lighting needs.
Make your home more energy-efficient today
📞Talk to Energy Efficiency Expert
Expert Residential & Commercial LED Upgrade from E-Green Electrical
Professional LED installation will help your lights look good and function properly. Getting installation from certified professionals will help you avoid any potential faults and hazards.
The Electrician and energy efficiency experts at E-Green Electrical will make sure your lights installed properly to avoid any kind of potential failures and risks. We are professionals in LED light replacement.
3-year product warranty on all our complete downlight upgrades (2 years for Globe only)
12-month labour warranty for all our complete downlight upgrades (Excluding Globe only Replacements)
Guaranteed to save you 50% on your lighting costs*
All products are HEER approved and have gone through the Australian Testing
Reduced maintenance costs
LED Upgrades in 5 easy steps: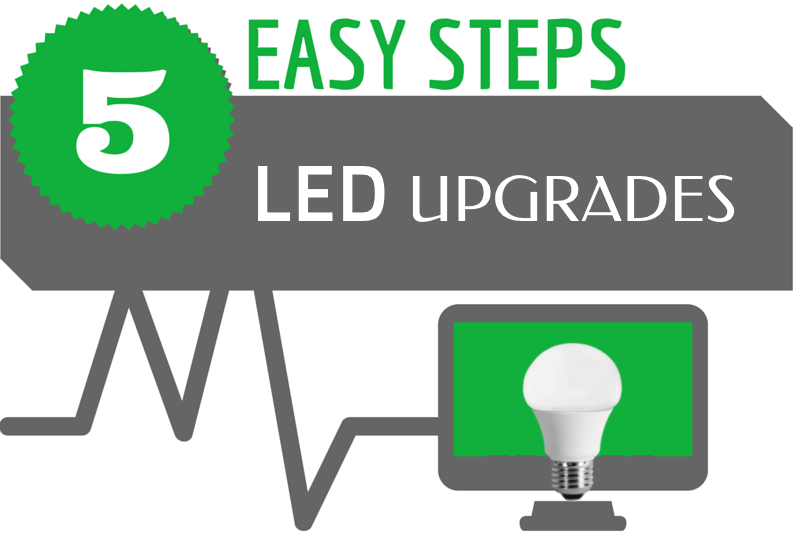 Contact our energy efficiency expert by making a phone call at 1300 323 636 Or by filling out the
FREE LED UPGRADE CONSULTATION form.
🟢 Getting Started
Congratulations! You are on the way to energy independence and sustainability. A dedicated energy expert from E-Green Electrical will contact you and take you through the complete installation roadmap. The person will be your point of contact through the installation journey.
🟢 Assessment
A dedicated energy efficiency expert will get in touch with you for discussing the information required for accessing the appropriate options, rebates and provide you with a quote.
🟢 Installation
One of our LED light technicians will install complete LED lights on your home making sure all the works are done in the right way.
🟢 Claim Rebates
An E-green energy consultant will claim all government rebates available for your discounted LED Upgrades. Our dedicated staff will pull all the paperwork for your to claim the available rebates.
🟢 Start Saving
Once your lighting is upgraded to LEDs, you will start saving right away. You are now on the way to minimize your energy costs and experience energy savings!
Installation of light & fittings in a room is a task that requires careful consideration. This is mainly due to the fact that lighting solutions should be selected to suit a person's needs or the requirements for the room.
One of the more favoured lighting options for many contemporary spaces is the LED downlights.
It is a typical choice for many homeowners in Sydney to install this type of fitting in various rooms in their home such as in bedrooms, bathrooms, & even kitchens in order to instantly add style & modern flair that other fittings cannot afford.
In addition to LED downlights being extremely versatile & attractive, many Sydneysiders opt to use them because of their energy-saving capabilities & longevity.
LED lights in any form significantly cut down on the cost of electrical bills over the course of a year. You will find yourself changing lightbulbs less often due to the long life span of the LED bulb.
What is Led Downlight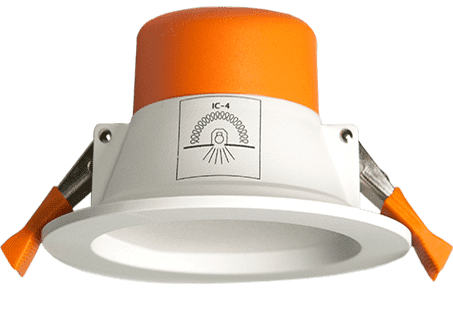 Complete LED lighting upgrade from as little as $33
LED downlights are normally mounted onto narrow openings in the ceiling of a selected room. The manner the fixture is fitted usually entails the need for it to be hidden from view.
This results in the light appearing to shine from a hole in the ceiling. Those who opt to use LED downlights in their room are given a wide range of options to choose from, there are different sized fittings, shapes & even an array of coloured LED fittings that can easily transform any space.
Similar to floodlights, LED downlights to have the ability to cast a bright light in a downwards direction but in a narrower field similar to spotlights.
Why are LED lights the future of residential lighting in Australia?
---
➡ LED light bulbs have an incredibly long lifespan
Imagine not having to worry about buying a replacement bulb for 22 years!
They also don't just burn out & stop working like conventional light bulbs, but rather slowly dim out over time.
Also, unlike conventional bulbs, LED light bulbs do not lessen in lifespan or brightness when turned on & off constantly.
This also implies that there is no delay when you turn on an LED light bulb, which is something you usually experience when turning on conventional light bulbs.
➡ They are energy-efficient
How so?
They have an energy efficiency of 80%-90% when compared to conventional bulbs, which typically operate at about 20% energy efficiency.
So, when you turn on an LED bulb, you use much less energy to light up an area with a higher quality light emission. Cutting down on your energy consumption also lowers your electricity bill each month.
➡ They are clearly cost-efficient as well
The cost of these light bulbs is becoming more affordable day by day.
Also, their longevity allows the consumer to not only make their money back but also start saving money once the electricity bill rolls in.
➡ Versatility
LEDs can be formed into any shape, emit any colour light, & can be incorporated into any environment. They have the ability to produce concentrated beams of light at specified frequencies of light.
They can also be designed to emit certain parts of the light spectrum that activate specific photoreceptors in plants.
This is important when growing any sort of plant indoors. Lastly, they are designed to work even with low voltage.
The overall versatility of LED lights makes them ideal for a myriad of environments, situations, events, and even moods – Yes, I said mood.
Why should you use them?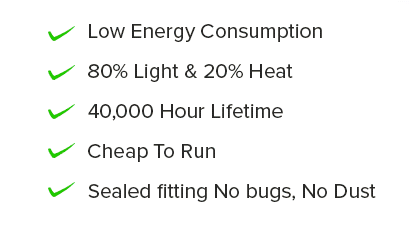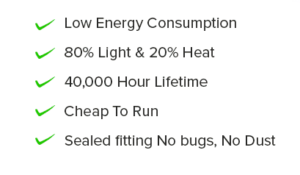 Not only is LED downlighting an attractive lighting solution for any room in your home, but it is also a very efficient & effective light source that operates on minimal energy levels & only gives out low heat.
This makes this fitting an ideal inclusion to your space & an attractive feature while still maintaining functional purpose.
Other than producing less heat that would add to atmospheric conditions & global warming, LED fixtures are environmentally friendly mostly due to their lack of mercury content.
Fluorescent & other lighting units go through a manufacturing process that involves the inclusion of mercury, which results in carbon emission in the atmosphere, something that LEDs clearly do not have.
Who can use a led downlight?
Led downlights can be used by anyone ranging from homeowners (both indoor & outdoor use), factories, offices, classrooms, lecture rooms, hospitals, laboratories, museums, & art galleries.
What are the government subsidies plan on led lighting upgrades in Sydney?
Australia has focused on lessening its carbon emissions by 65% by 2030. To make this a reality, each state in Australia has an energy-saving initiative or plan intended to bring down energy consumption.
Through these plans, the government provides subsidy packages in the form of rebates or grants which essentially decrease the expenses of items & establishment for your LED lighting update.
The Australian government gives out millions of dollars subsidy packages to help Sydneysiders in their decrease energy expenses & utilization.
Energy retailers in Australia are obliged to meet energy proficiency targets & will offer a blend of approved activities to meet these objectives.
They can either do these exercises straightforwardly or utilize an outsider worker for hire to finish these exercises for their benefit.
The NSW Energy Savings Scheme (ESS) offers financial incentives to install energy-efficient lighting in NSW for businesses and households.
The government-backed scheme seeks to help businesses and individuals reduce their energy consumption and lower their carbon emissions. This is directly helping everyday Australians to slash their energy bills dramatically.
Is LED downlight better than halogen downlight?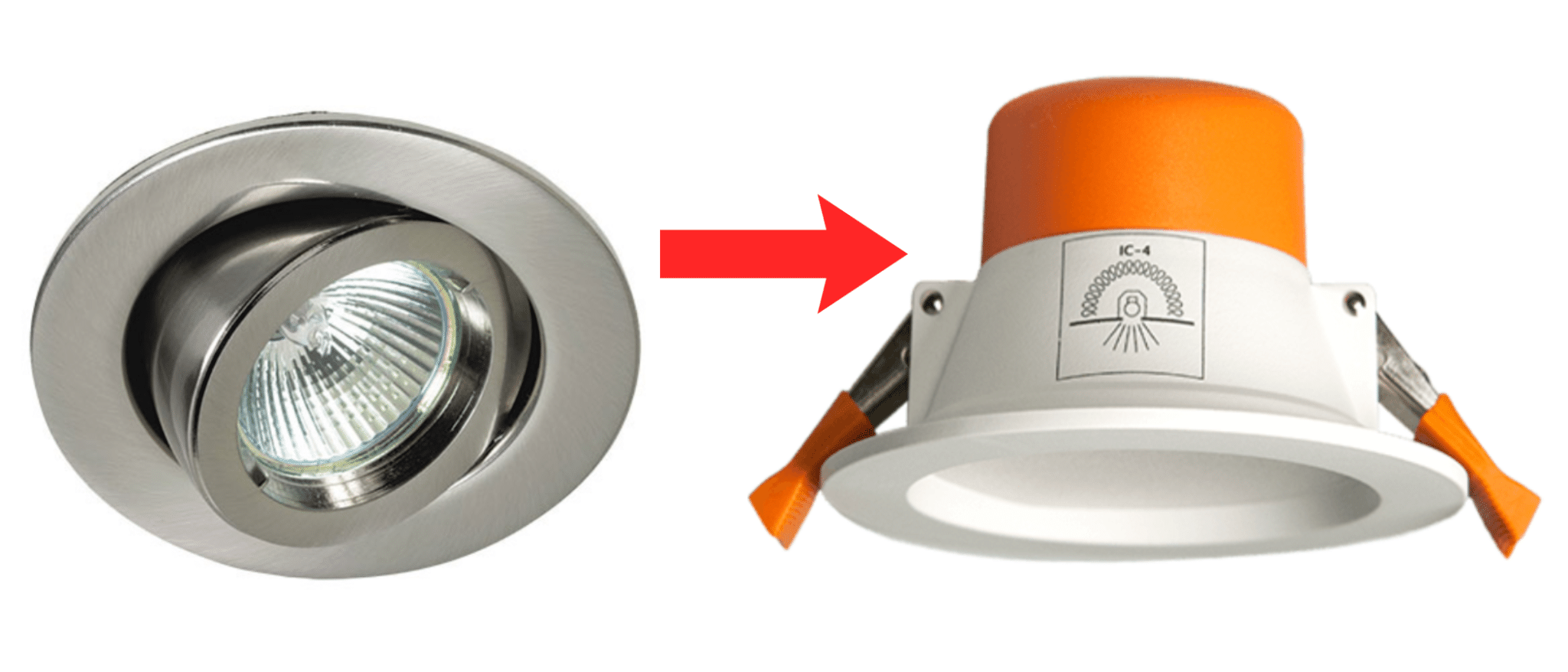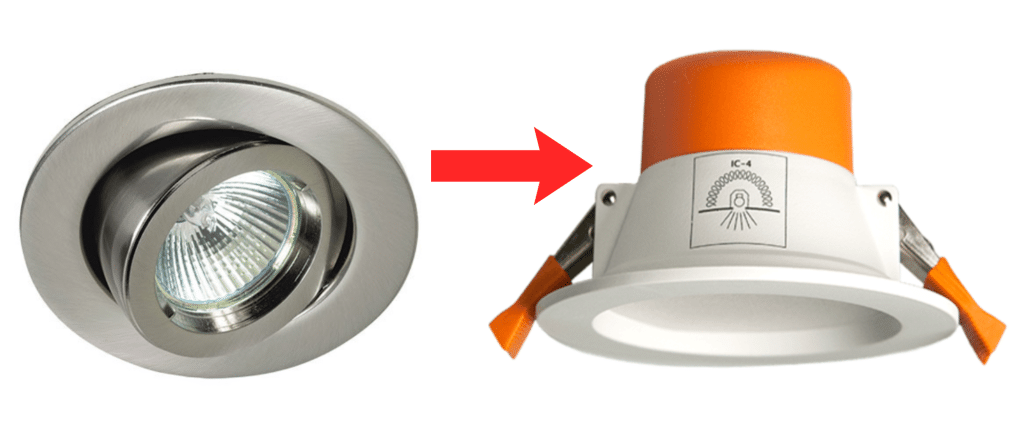 The manner in which manufacturers have applied these technologies to under cabinet lighting products reflects the properties of each source.
Because halogen bulbs produce so much heat, they are popularly mounted in a 120V light bar that also employs an air circulation system to cool the bulb & the surface of the cabinet.
This wastes more energy in the production of light, & the fixture is often bulky & more visible than desired.
LED under cabinet lights is drastically more compact. They do not require a cooling system, & because they consume very little energy, they often run on low voltage sources.
One 12-volt AC/DC adapter can effectively illuminate countertop space under 12 or more feet of cabinets. & because the strips run on low voltage power, installation is simplified.
LED light strips & components can be connected in a chain of male to female plugs that originate at the power source that is simply plugged into an outlet.
Low voltage adapters can also be hardwired into standard conduit supply, in addition to dimmer switches, which will result in a professional & clean installation with even more energy-efficient capabilities.
When the properties of halogen & LED lighting are compared to one another, it may be unclear as to why halogen under cabinet lighting ever existed.
The answer is simply that LEDs never produced useable amounts of light until recent developments in semiconductor technology.
Now that more capable semiconductors are being developed, LEDs are being implemented into many different consumer products, in ways that never seemed imaginable.
Get a Free LED consultation for your home:
What are halogen downlights?
Halogen downlights were very popular in the '90s and early noughties. Although they are a very white, bright light and are excellent at highlighting specific features in your home, they have a number of major drawbacks.
If you want to identify a halogen downlight you need to turn your lights off and look in the centre of the bulb itself.
If deep in the centre you can see a small cylinder, and there is a cone-shaped reflector around it, then it is most likely a halogen downlight bulb. If the bulb has a flat or ribbed surface this is most likely a LED downlight.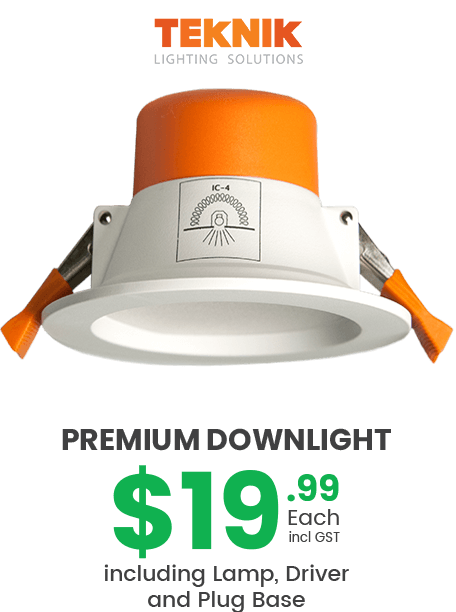 Advantages and disadvantages of halogen downlights 
Unfortunately, when talking about halogen downlights the cons outweigh the pros. Halogen Downlights have lots of disadvantages that they are now on the verge of extinction.
The most common disadvantage of halogen downlights is that they consume a lot of energy. They can cripple your budget due to their high energy usage.
Also, halogen downlights produce so much heat that poses a great risk of fires in your home.
They are very hard to maintain and don't last long either hence the need to be replaced frequently.
I guess the only advantage of halogen downlights is that they are cheaper to purchase and can are easily accessible in some retail shops.
They are also easy to install and even anyone without electrical experience can install them.
However, if we look at these advantages more closely, you can realise that they are not cheaper at all since they need to be replaced more often.
Also, poor installations are the major cause of electrical fire outbreaks in homes.
Why is LED downlight better than Halogen downlight?
LED downlights came as saviours to those who had energy saving problems. Halogen downlights consume crazy amounts of energy whilst LED downlights to use just a third of what halogen downlights use.
Most halogen downlights that are used in homes are 50 watts, whilst an LED downlight uses only 5 watts and produces the same amount of lighting. You don't need rocket science to see the advantages of using LED downlights versus halogen downlights.
Also, If they are not installed properly, halogen downlights can be hazardous as they can cause house fires.
They run at roughly 300 degrees celsius, and if they are not adequately ventilated, and protected from coming in contact with combustible materials they can easily start a fire.
All halogen downlights should be fitted with a heat guard and should be clear of insulation and building materials.
You don't need to worry about all this if you use LED downlights.
While halogen downlights need heat for energy conversion, LED downlights use electrons that don't produce any heat.
If one bulb runs at 300 degrees Celsius, imagine if you have 6 bulbs of halogen downlights in your room.
That will be living in a furnace, especially in hot summer weather.
Everyone is switching from halogen downlights to LED downlights because of the vast advantages that LED lights offer. They are energy efficient, durable and they are not a health risk.
Halogen Downlights are the complete opposite of LED downlights and people are now ditching them as they are adopting new ways of saving energy and money of course.
Can you replace your Halogen Downlight with LED Downlight?
If you are wondering if it's possible to switch from halogen downlights to LED downlights then the answer is yes.
Fortunately, upgrading Halogen MR16 light bulbs to LED is usually an easy job, as most LED light bulbs are now designed to retrofit existing light fittings.
You just need to swap your old light bulbs out, remove them from the light fixture and fit the new LED light bulbs in their place.
You also need to examine the original fitting and bulb. Most halogen downlights fit into the power supply with small pegs or pins.
Check the bottom of the existing bulb to see how the connectors should look, then measure the size of the fitting as well as the size of the cut-out for the bulb.
Then take note of all this information when you go shopping for LED bulbs.
You may be able to find the size of the fitting printed somewhere on the socket.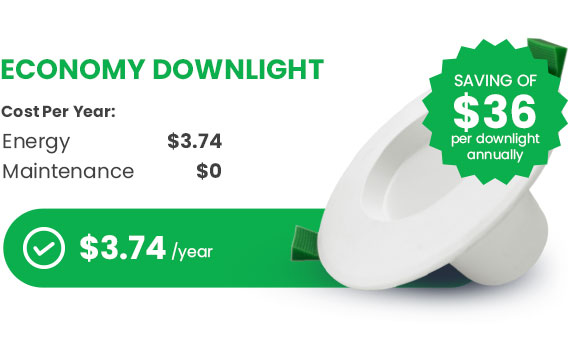 If your bulb has a twist-and-lock fitting with two prongs on the bottom, it's most likely a 240-volt GU10 bulb, and generally has a 50mm fitting. These can usually be switched for LED bulbs without replacing any parts.
Complete LED lighting upgrade from as little as $33
If the bulb has 2 sharp pins and pushes into the fitting, it is likely a low-voltage MR11 or MR16 bulb. These 12-volt bulbs require a transformer if you're using them in place of a halogen bulb.
Are Halogen downlights dangerous to use?
Having halogen downlights in your home is like living with a ticking time bomb.
They are the biggest cause of house fires and if you have them, you can be at risk of dealing with a house fire caused by these bulbs someday.
Halogen downlights were used mostly during the '90s and ever since the introduction of LED bulbs halogen downlights have seen a decrease in demand and it happened gradually until they will be completely phased out.
Most governments are imposing laws that ban the buying and selling of halogen bulbs so very soon halogen downlights will be history.
Even if the governments don't intervene, most people are opting for cheaper ways to save energy and the planet. LEDs use less energy and they have become everyone's darlings.
Why you should upgrade your halogen downlight to LED today
With all the things said above, I guess you now have a clear picture of the drawbacks of halogen downlights and the multiple advantages of using LED bulbs.
This in itself will tell you that you don't need to wait any longer in order to switch from halogen downlights to LED downlights.
If you want to save energy, save your home from a possible fire outbreak or save money, then switch to LED downlights now.
Thinking of making the switch from halogens to LED, but not sure how to go about it? We've got your back.
Already switched from halogen lights to LED globes? Fantastic! However, are you sure you've done it the right way?
With new offerings and cheaper solutions surrounding lighting, many of us have taken to quick fixes. Unfortunately, the quick fix isn't always the best one. So what is?
That's precisely what we're going to look into. But first, if you haven't already, let's take a look at why LED is the smarter option.
LED vs Halogen Lights
You may have heard that LED is just better for the environment. Well, it is, but it's also better for you. Here's a quick overview of just a few benefits LED has over halogens.
Lower rates of energy consumption
A much longer lifespan than its halogen counterpart
Built for instantaneous lighting
LED globes are less fragile, and not as easy to break
More variety in colours and temperatures
Free from mercury, UV radiations, and other harmful emissions
Less expensive in the long run
With all that in mind, to be able to get the best out of your LED globes you need to follow the right replacement process.
Here's why and how you can do that.
Maximizing the Benefits of Your New LED Downlights
Simply installing your LED bulb into an old downlight is not enough. There are other things that come into play.
Why the Transformer Matters
Consider this – was your old halogen transformer originally built for an LED lighting fixture? The answer is likely no, and that's where your problem lies.
Each light has its own specified maximum loads and specifications and this also applies to halogen globes/downlights. Failing to take this into consideration when upgrading your downlights with LED globes only minimizes the use you will get out of your new lights.
One of the most significant issues is that LED globes require a lower amount of power to run. Traditional (halogen) globes require a much higher amount of power.
By installing only LED bulbs your lights will most likely burn out within a period of six to eight months due to having the wrong transformer.
Most people simply switch from one bulb to the other, without paying much attention to the actual fitting.
However, if you want to get the most out of your downlight upgrade, getting a new LED downlight rather than just switching the globe, is absolutely essential.
Your System Is Pre-Designed for Halogen Bulbs
Secondly, since your entire system caters to halogen bulbs, it is likely that your new LED globes are not compatible with your dimmer. As a consequence, you're not getting the full range of benefits you should be getting.
The solution is quite simple. Instead of changing ONLY the bulb or the source of light, you have to make sure you change the entire fitting to suit the new LED bulbs you're bringing in.
This is the exact reason why upgrading your existing halogen globes to LED globes isn't enough! New LED downlights come fitted with a transformer on the lighting fixture to ensure you get the most out of your new lights!
Looking for an Upgrade?
Looking to replace your halogens with LED downlights? Hire a professional to change your entire system and get the most out of your investment.
Get in touch with us for a FREE consultation on your lighting needs!