There are many ways to lighten up your space, such as lamps, lighting bulbs, etc.
Above all, chandelier lights add an ambient illumination to your room. They create stylish focal points in a room and bring aesthetic beauty.
Chandelier lights have evolved from traditional to modern, and today, we have numerous types of chandelier lights. The available types are grouped based on parameters such as:
Colour temperature
Brand type
Shade material
Number of lights
Size:height, width and diameter
Wattage
Choosing the best chandelier light for your space might be challenging. Due to the many types of chandeliers, you should consider the features of the light as well as the cost. 
Luckily, this article selectively lists the best chandelier lights to buy in Australia.
The article also provides:
Best chandelier light buying guide, and
Answers to frequently asked questions about chandelier lights.
Let's get everything rolling.
Best Chandelier lights summary
Best Chandelier lights reviews
---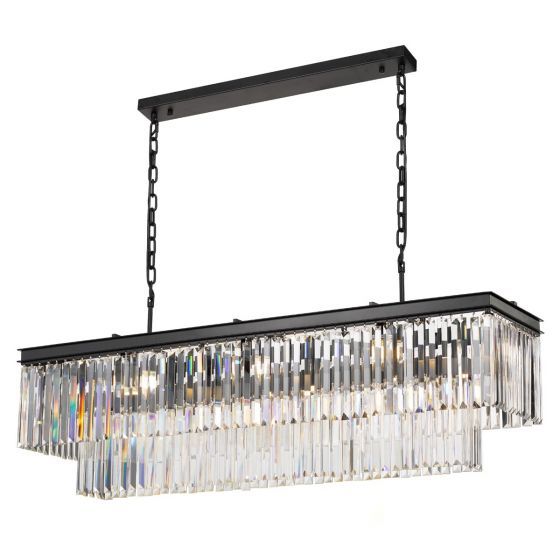 The Telbix Serene 13 Light Crystal Bar Pendant Light is ideal for modern houses. The Serene crystal pendant lights produce refracted light, thus creating adequate lighting and setting a unique aesthetic to the room.
It gives the most grounded effect with the sparkle and shimmer created by its crystals. The crystal prisms create light reflections that shimmer all over your room, thus illuminating and creating an attractive space.
Key Features
Crystal prisms
2000mm height of the suspension
340mm shade height
13 x E14 25W max lamp holders (Globes not included)
Black in colour
Transparent/Opaque color
1200mm shade width
Shade Material – crystal
13 x E14 lamp type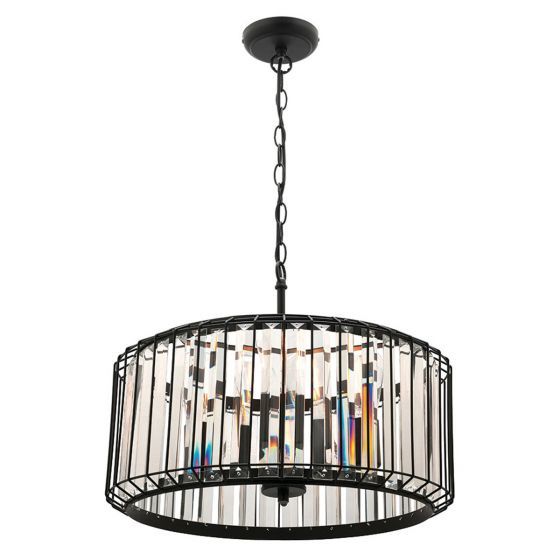 The Mercator Olympia 4 Light Round Black Metal & Crystal Pendant Light has a black cord and matte black chain as well as a black canopy.
It's clear crystal shade refracts the light in a beautiful display, thus providing great lighting.
Featuring a strong black metalware frame, the 4 Light Olympia pendant light comes with x4 E27 lamp holders together with LED globes.
Key Features
Black metalware
480mm shade diameter
Clear crystal shade
Cord or suspension height 1200mm
1425mm overall height
4 x E27 lamp holders (Globes not included)
225mm shade height
Height adjustable during installation
The Rhine Chandelier is a traditional and stylish design with a black frame and clear glass shade material.
With eight arms and about 2000mm suspension height, the Rhine is available in two elegant colours with IP20 Rating, thus bringing a comfortable feeling to your space.
Key Features
Glass shade material
Available In 2 Elegant Colours
2000mm suspension height
Traditionally Styled
580mm shade height
600mm shade width
2580mm overall height
8 x E14 25W Max (Globes Not Included)
IP20 Rating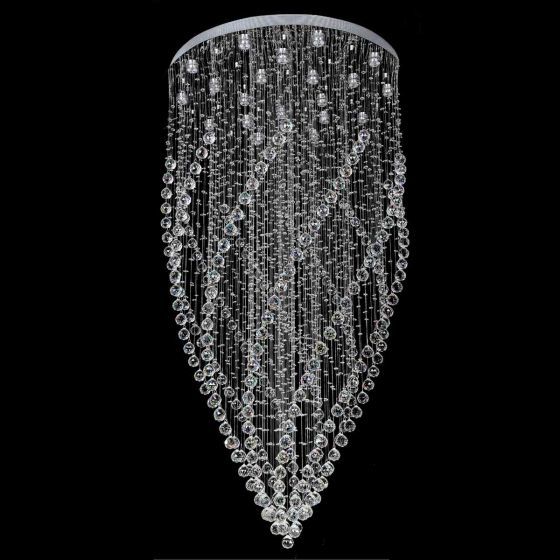 The Lampada Forcollia Premium Crystal Pendant is a modern contemporary design, with premium grade crystals with excellent clarity and reflection effect ideal for entryways, stairways, and living areas.
Featuring the express installation, the Forcollia Crystal Pendant cuts installation costs.
The product package comes partially assembled in its box, decreasing the time needed for installation and subsequently lowers the cost.
Similarly, users can switch between Warm, Cool, and Daylight colour temperature with tri-colour technology.
The Forcollia Crystal Pendant utilizes LED technology by incorporating High-Quality LED Globes, bringing your space a perfectly illuminated and hand-selected atmosphere.
Key Features
Premium grade crystals
1800mm overall height
Express installation feature
Chrome metalware
1000mm overall diameter
20 x 6W GU10 LED globes included (Replaceable)
Tri-colour technology: 3000K Warm White / 4000K Cool White / 6000K Daylight
Brightness output: 20 x 500/600/550lm
The VALPARAISO Chandelier features stepped rows of stunning crystals that create a sparkling feature when illuminated. The ten lamp holder Light Eglo Valparaiso is a Gold and Crystal pendant with an IP20 rating for indoor use only.
The 10 x 40W max wattage makes it an elegant energy-saving product.
Key Features
Adjustable only during installation by technicians
Crystal prisms
900mm overall diameter
10 x E14 40W max lamp holder (Globes not included)
1100mm overall height
IP20 rating for indoor use only
10 x 40W max wattage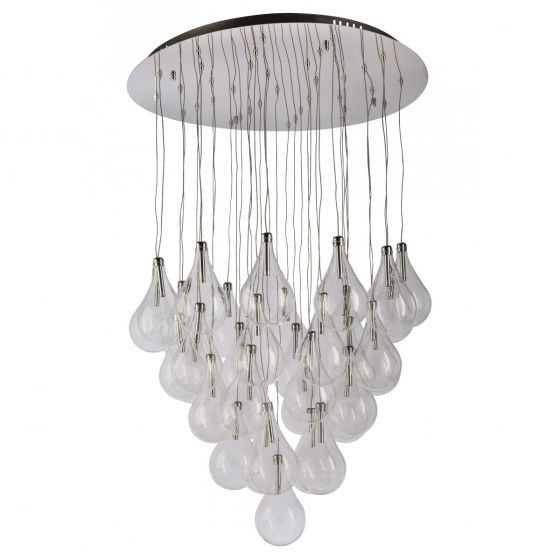 The Fiorentino Grape incorporates 36 LEDs bulbs into a contemporary design element with chrome glass. It has clear glass shades and an integrated globe, thus making the ambience of your space warm and pleasant.
Silver in colour and metalwork chrome finished, the Fiorentino Grape has a height only adjustable by technicians during installations.
Key Features
Silver in colour
Clear glass shades
Integrated Globe Included
Chrome plated
Height Adjustable only during installation by an electrician
36 x 1W LED lamp type
680mm Shade Width / Diameter
1000mm Shade Height
Glass Shade Material
The Abbey 6 Light Metal & Opal Glass Pendant Light offers an illumination and aesthetic solution for large rooms. Additionally, they fit perfectly in smaller commercial spaces aiming to create a cozy environment, such as bars or cafes.
The Abbey pendant lights are available in Matte Black and Matte Gold with opal glass, featuring a durable iron metal frame.
Key Features
675mm Overall Width / Diameter
Iron frame
250mm Shade Height
Opal glass diffusers
300mm Cord / Suspension Height
6 x E27 72W max lamp holders (Globes not included)
Indoor use only
530mm Overall Height
Glass Shade Material
Eglo Basilano 18 light chandeliers can illuminate and shine in any space. It is made of glass and comes in several sizes.
The cognac colour featuring crystals makes Eglo Basilano stand out by catching the light and creating a sparkle, giving a warm feel to any room.
The 18 x 40W max- wattage makes it an energy saver fitted with 18x E14 lamp holders, thus cutting energy bills.
Fitted with chain suspension, Basilano chandeliers can be cut and adjusted to accommodate height requirements.
Key Features
Chrome finished steel metalwork
1000mm Shade Width / Diameter
Chain suspension
18 x 40W Max. Wattage
Cognac coloured glass
840mm Shade Height
Glass Shade Material
The Oriel Marie Therese 8 Light Chandelier is an elegant chandelier that will revitalize your room.
It is stylish in appearance, giving a room an inviting atmosphere and working well in various spaces.
It is attractive with classic clear glass and chrome. It is available in three and five light pendants, allowing you to customize it to fit any space.
The clear candle-shaped bulbs are recommended, but they come as separate packages.
Key Features
640mm Overall Width / Diameter
Classic Glass And Chrome Chandelier
42W Max Wattage
Works Best With Clear Candle Globes
410mm Shade Height
Perfect Feature Piece For Any Living/Dining Area
340mm Cord / Suspension Height
8 x B22 Lampholder 42W Max (Globes Not Included)
750mm Overall Height
640mm Shade Width / Diameter
The Branching Bubble Chandelier is a simple but elegant product crafted by hand using metal, carbon steel, and glass-electroplated body with a hand-blown glass shade.
With the 8 x E27 40W max lamp holders, the bubble chandelier is adjustable to suit your preferred space needs.
It contains a round canopy in its respective frame colour and a glossy shade with two decorative concaves.
All these colours make this product unique in manifesting the kind of luxury you would wish to set in your space.
Key Features
1700mm Overall Width / Diameter
Metal arms
Glass Shade Material
Individually handmade glass 'bubbles.'
400mm Overall Height
8 x E27 40W max lamp holders (Globes not included)
Best Chandelier lights buying guide
---
Now that you have a solid list of the 10 best chandelier lights to choose from, you also need to understand the criteria to consider when making your selection.
The following characteristic parameters should govern the choice of buying a particular best chandelier light:
The features of the Chandelier lights:
The size of the chandelier
Chandelier lights generally ranges from small to large, depending on the height and diameter.
The choice of desirable width should consider the length and width of the room: the sum of the two should be the ideal width size of the chandelier.
On the other hand, the height of the chandelier should be proportional to the height of your room. Thrice the height of your room should be the ideal height for your best chandelier.
Material type of frame
The material type you choose will dictate the lifespan of the chandelier light.
The metalwork can either be steel or iron finished with other elements such as gold or chrome for decorative purposes. Generally, iron and steel are durable and will serve you longer.
Chain suspension fittings
Chain suspension allows adjustment to fit your desired space heights.
Crystal prisms
Crystals give excellent clarity and reflection that sparkle when illuminated. They embody the true luxury of having chandelier light in your space.
Other features that should be considered include: type of technology incorporated( i.e. tricolour technology allows different colour effects), wattage consumption, and lamp types.
Size of the room
Determine the size of your room or space before acquiring a chandelier. Expert designers relate the size of the room with the ideal size of the chandelier for maximum room illumination.
Similarly, the size of the room determines the type of light colour to be employed to achieve maximum brightness of your space.
Location of the Chandelier lights
Chandelier lights should be installed where they are suitably made to work efficiently.
Some chandelier lights are only made to work best indoors, while others are meant for outdoor settings, and others are adequate in either environment.
Nevertheless, the suitable placement of chandelier light on your room speaks loudly on the overall aesthetic. A strategic location should be determined to provide ambient illuminations to the room and make the room stylish.
Frequently asked questions about Chandelier lights
---
What is the right size for a Chandelier light?
The size of your space should determine the right size of your chandelier. Designers have this simple way to determine the right size of chandelier:
 Add the length and width dimensions of the room together in feet and convert the answer to inches. The answer you get in inches should be the right size of your chandelier diameter.
Also, the height is determined by multiplying the room's height three times and converting the answer into inches to get the ideal height size of your chandelier.
Which light is good for chandeliers?
Chandelier lights are more for aesthetic purposes besides than illumination. The Chandelier light colours are measured in kelvins (k) and grouped according to colour temperature.
For instance, low temperatures are associated with soft yellow/white light, whereas high colour temperatures indicate blue tones.
Therefore the best choice of light should resonate with your decorative purpose.
The warm white or soft white is the best light for a sparkle in crystals. 2700k lights are most effective for crystal lights and warmth, thus bringing out the best of your chandelier.
Should chandelier lights look up or down?
Upward facing chandeliers provide visual interest in your room, concentrating light on a small area. On the other hand, downward-facing chandelier lights are made to provide general soft and ambient lighting to the room.
Therefore, if you wonder what face side your chandelier light should be, the answer is simple:- the direction of where the chandelier light faces depends primarily on the purpose of your room.
For instance, downward-facing chandelier lights are ideal when you need to relax and watch a TV.
On the other hand, choose the downward-facing chandelier lights when you need to light a kitchen, an office, or study room.
Wrapping up
Light is vital for human life. Therefore, ways have evolved to light our spaces, but human curiosity and intelligence have led to more sophisticated ways with additional functionality.
Chandelier lighting not only provides the right ambient light for your space, but it can also give your space a more desirable look. Purchasing a chandelier is as easy as going to the market to choose from many brand types available.
However, for maximum utility and a stylish personal look, you have to go for the one that speaks to you and fits well in your space.
No doubt, from the best chandelier lights you can buy in Australia list, you can spot your ideal desirable type.
Evaluate the buying guides and make a move to get yourself a chandelier light that resonates with your style and lighting purposes.