Dryers are an indispensable part of every household.
Almost every home in Australia is equipped with traditional dryers that usually require venting space for pumping out exhaust air.
However, not every facility has an option for exhaust air ventilation because of infrastructure restrictions.
So what is the best alternate solution in this case?
Condenser dryers are an advanced type of ventless dryer that utilizes an efficient dual-loop airflow system.
Condenser dryers use condensation drying technology thus eliminating the need for exhaust air ventilation.
After circulation, the air is condensed into water that is collected and drained from the dryer.
This article will help you explore the 5 best condenser dryers you can buy in Australia.
Our 5 best condenser dryer picks
---
In Australia, there is a wide range of condenser dryers available in the market for consumers. This makes it difficult to choose the best product to meet your requirements and budget.
Here we have ranked and reviewed the 5 best products in the market.
Advantages and disadvantages of a condenser dryer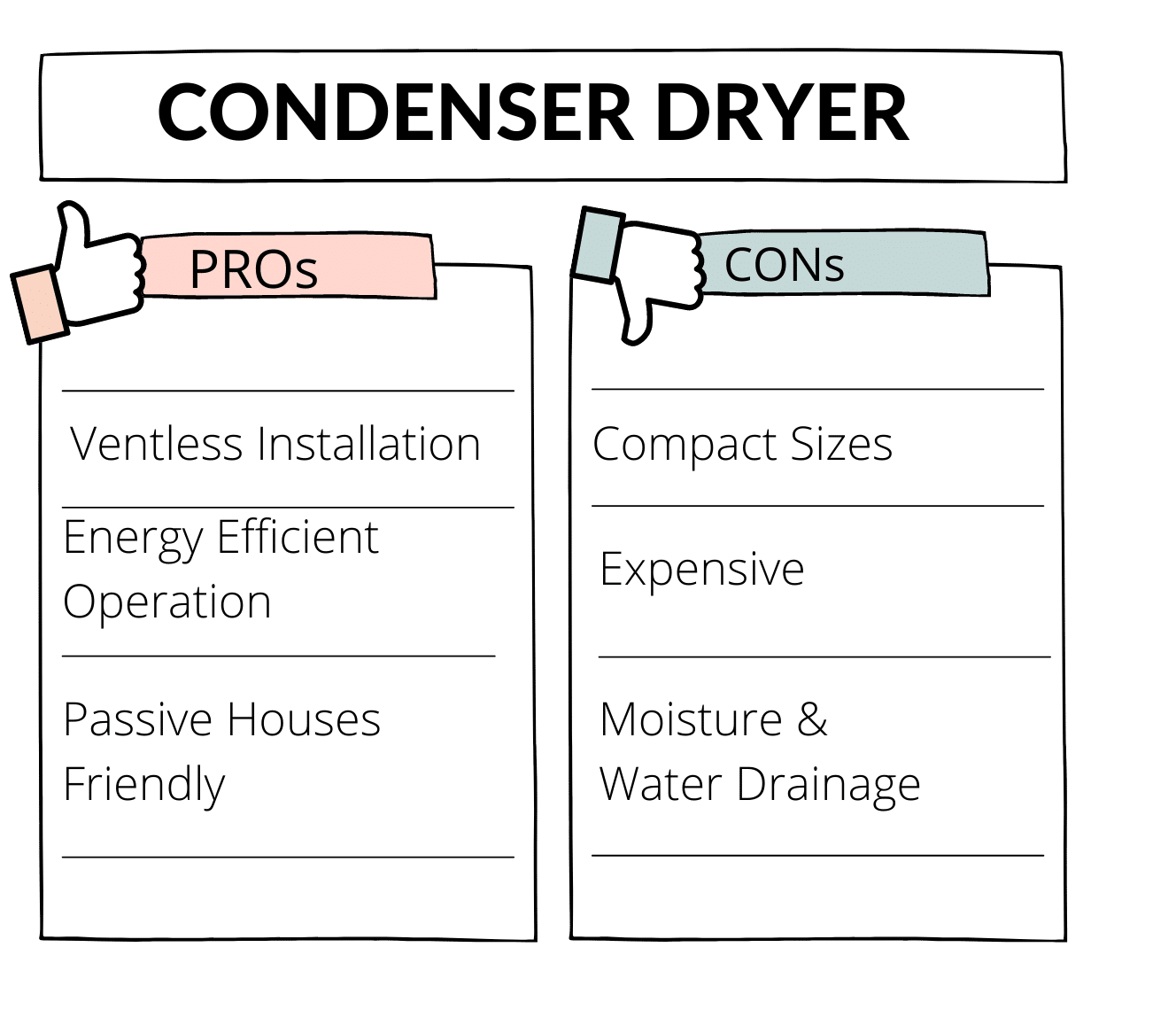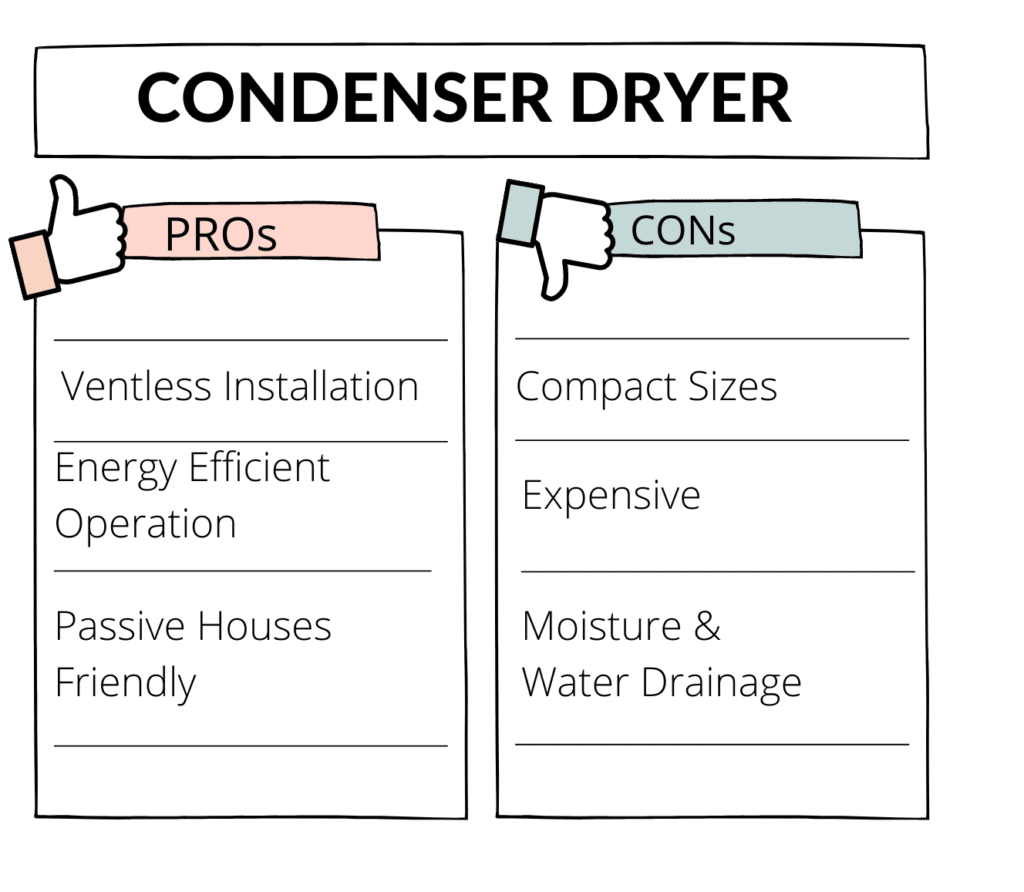 Pros of a Condenser dryer
---
The greatest benefit of condenser dryers is that they permit ventless installation.
Unlike traditional venting dryers, they don't pump exhaust air outside through the vent system; rather, the condensed water can easily be drained from the dryer.
This ventless condensation drying technology makes condenser dryers a compatible product for any kind of space.
You can install them even in compact places within your home, or put them in open areas of homes for routine usage.
Furthermore, you don't need to drill holes in your walls for venting purposes. This is particularly beneficial for those living in rented homes, where they cannot make such facility modifications without the owner's permission.
✅ Energy Efficient Operation
Amid the ongoing energy crisis, people always tend to look for energy-efficient products to reduce energy consumption and bills.
The same is true for laundry dryers, where energy-efficient dryer products are in higher demand.
Ventless condenser dryers work by reusing the chamber's hot air without venting it to the outside.
This way, hot air is available for drying purposes, as it is not dumped outside. So, readily available hot air enables energy-efficient operation of the dryer.
This is in contrast to venting dryers which pump out the hot exhaust air and have to draw air again into the chamber for drying purposes.
As such, ventless condenser dryers are an energy-efficient dryer product for users with optimum performance ensured.
✅ Passive Houses Friendly
Passive houses are houses that are made for optimal energy distribution across the house.
This technology helps maintain the internal environment of the house with minimal interference of heat and cold from outside sources.
Since passive houses tend to be energy efficient and carefully built, there isn't room for drilling holes and venting spaces. Such houses need products that work without the requirement of a venting system. Hence, ventless condenser dryers are a great fit for passive houses.
This enables efficient drying operations, without interfering with the energy balance of the house, and maintains the internal house environment too.
Cons of a condenser dryer
---
❎ Compact Sizes
One of the disadvantages of ventless condenser dryers is that they usually come in compact sizes.
Though this feature helps in their installation in compact spaces, it greatly reduces product chamber size.
The average traditional vented dryers can hold more than 7 cubic feet of laundry due to their bigger sizes; in contrast, condenser dryers are much smaller than that. They are usually about half the size of vented conventional dryers, so they have much lesser space for holding laundry,.
This ultimately reduces their efficiency, as less amount of laundry can be dried in one cycle and more time is required for drying the same amount of laundry as a traditional vented dryer.
❎ Expensive
Budget and cost are the main factors to consider when it comes to purchasing and operating electric products, and the same applies to condenser dryers. When it comes to purchasing costs, ventless condenser dryers are more expensive than traditional vented dryers.
Besides purchasing costs, condenser dryers tend to be more expensive than vented dryers when it comes to operations.
This is because there is an additional operational expense for condensing warm air into water. In contrast, vented dryers just expel the exhaust air without any conversions needed.
❎ Moisture & Water Drainage
Another disadvantage of condenser dryers is the requirement of regular drainage of moisture and water.
Condenser dryers condense damp air which results in the production of water. This water is stored in the water tank of the dryer.
The water tank of the ventless condenser dryer needs to be emptied regularly.
This can be done manually, but it is a labour-intense procedure as you need to empty it multiple times.
Another feasible method is to attach the tank with a plumbing system for spontaneous drainage.
Hence, condenser dryers need a proper drainage system for draining condensed water.
Their installation becomes difficult in places where there is no proper drainage system available.
5 Best condenser dryers to buy in Australia
---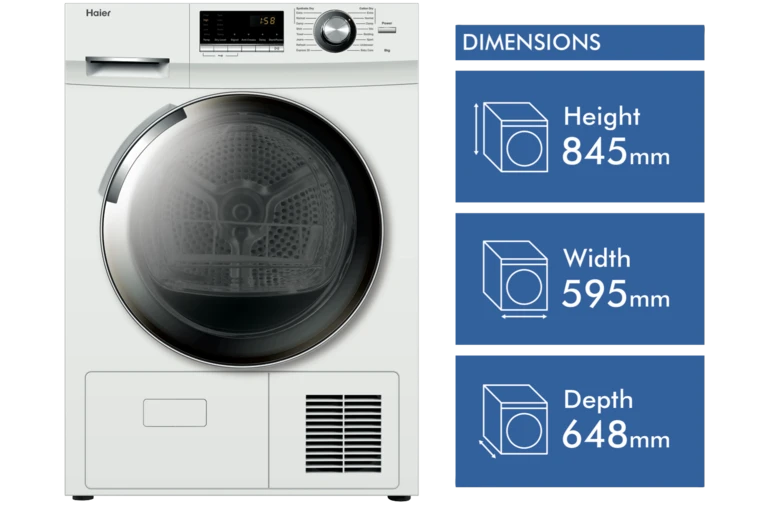 Haier Condenser Dryer HDC80E1 has the capacity to dry a load of laundry up to 8 kg.
This product comes with 16 drying programs compatible with various types of fabrics.
It has an anti-crease option to minimize creases on clothes and an extra-dry option for wet towels for adequate drying.
Haier 8kg Condenser Dryer HDC80E1 provides an option for varying air temperature according to laundry type.
Auto-sensing technology helps optimal drying of laundry without over-drying or damaging it.
The product comes with a drying rack too, for placing delicate items for safe drying.
This product is a fine option for all kinds of households and laundries. Its ventless condensed drying technology with multiple options helps in effective and safe drying of all laundry types.
Key Features
8 Kg Drying Capacity
2 Star Energy Rating
No wall mountable
No. of Programs: 16
Drying Options: Anti-crease, temperature, dryness levels
Dryness Levels: Extra – Extra Dry, Normal – Ready to wear, Damp – Ready to iron
Temperature Settings: 4
2 years manufacturer's warranty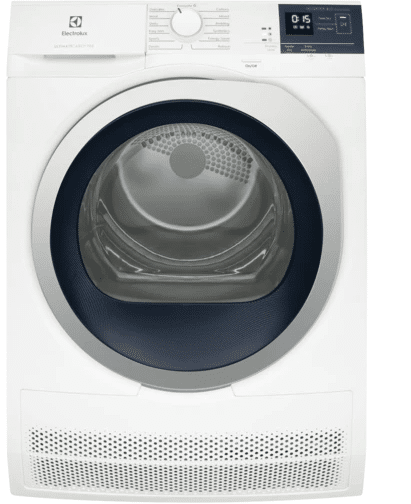 Electrolux Condenser Dryer is an elegant product that can dry up to 8kg of laundry.
It is a great fit for households of 3-4 people.
Electrolux comes with 13 types of programs to match the drying requirements of different laundry types.
The reverse tumbling action of Electrolux ensures efficient and even drying of laundry.
Its advanced sensors dry technology uses humidity sensors to prevent under-drying or over-drying of clothes.
Electrolux Condenser Dryer comes with a reversible door.
As per the space availability and laundry restrictions, you can use the door in either way for convenient loading and unloading.
Key Features
8 Kg Drying Capacity
2 Star Energy Rating
No wall mountable
No. of Programs: 13
Drying Options: Gentle Dry, Extra Anti-crease, Time Dry, Delay start
Dryness Levels: 3
Temperature Settings: 4
2 years manufacturer's warranty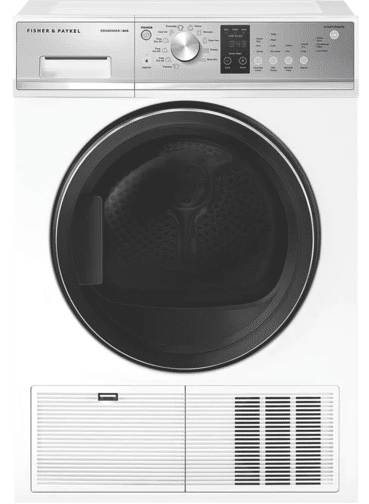 Fisher & Paykel Condenser Dryer is a beautifully built dryer that can dry up to 8 kg of laundry load.
This is a great ventless product for household clothes drying purposes.
Its heat pump technology dries at a lower temperature to prevent any damage to the fabric.
Fisher & Paykel also comes with Auto-sensing technology that prevents over-drying of the fabric by automatically switching OFF.
It comes with 13 varying programs for different fabric types for load-oriented optimal drying.
Fisher & Paykel is a fine product if you are looking for a durable ventless condenser dryer.
With its various drying options and auto-sensing technology, you can achieve efficient drying.
Key Features
8 Kg Drying Capacity
2 Star Energy Rating
No wall mountable
No. of Programs: 13
Drying Options: Auto-sensing, Timed, Delay Start (5min – 12 hours)
Dryness Levels: 5
Temperature Settings: 4
2 years manufacturer's warranty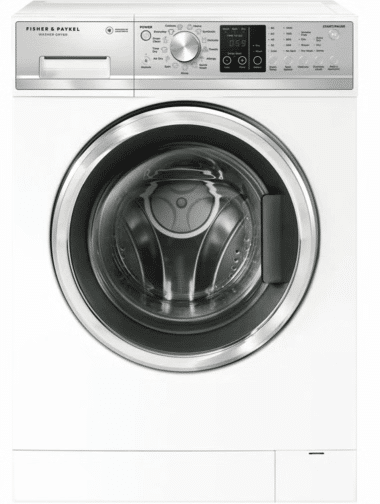 The Fisher & Paykel is a stylish product that comes as a combination of washer and dryer.
This product is relatively bigger in size, and thus it can accommodate a laundry load of up to 8.5 kg.
As such, it is a great option for cases where you have more clothes to wash and dry.
Fisher and Paykel combo washer dryer has a 5-star WELS water rating and a 4-star energy rating, which means that it ensures energy-saving and reduces your electricity bills.
It has a higher spin speed of 1400 rpm, which helps in powerful water extraction after washing to reduce drying time.
This product offers specialized circles for preventing damage to delicate fabrics. Its reverse tumble drying action helps minimize tangling.
It comes with hot spin technology to save time and energy consumption. Its easy-to-use control panel makes its operations and control convenient for users.
Key Features:
8.5 Kg Washing capacity
5-star WELS water rating
4 Star (Wash) and 3.5 Star (Dry) Energy Rating
No wall mountable
No. of Programs: 13 wash and 9 dry
Washing Options: Vortex Wash; Continuous Wash & Dry
5 Kg Drying capacity
Smart drive technology
2 years manufacturer's warranty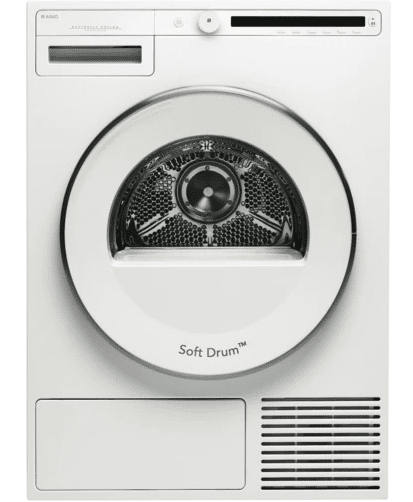 Asko T208C Classic Condenser Dryer is a high-performing dryer that can accommodate a laundry load of up to 8 Kg.
Asko T208C offers a wide range of programs for fabric-oriented drying as well as special programs for bedding and for refreshing clothes.
Asko comes with a unique butterfly drying technology that prevents the twisting and bundling of clothes. It performs this butterfly drying in a figure 8 motion using two paddles and a one-way tumbling process.
Its stainless steel dryers make it a durable product that performs well for a long time.
It comes with an easy-to-use LCD display on which programs are displayed in 25 different languages.
Asko's soft drum with circular indentations helps prevent wear and tear of the fabric.
Key Features
8 Kg Drying Capacity
2 Star Energy Rating
No wall mountable
No. of Programs: 9
Drying Options: Dryness Level, Anti-Crease, Load Size, Drying Temperature, Timed Drying,
Dryness Levels: 3
Temperature Settings: 2
Reversible Door Opening, Soft Drum and Easy to empty the door lint filter
2 years manufacturer's warranty
Things to consider when buying condenser dryers
---
Along with the increased popularity of condenser dryers, a wide range of products has become available in the market today, and new brands are launching their condenser dryers. Amid this variety of available options, buying a condenser dryer becomes a difficult task for potential buyers.
However, considering a few factors may help you make the smartest purchase.
Here, we will discuss 5 major things you must consider when buying a condenser dryer. Considering these factors would help you go for the right one.
➡ Cost
Cost is the main factor to consider when buying a condenser dryer. The price range of condenser dryer products varies a lot depending upon various factors.
The price of the product depends on factors like brand, energy rating, load capacity, size, and additional features offered by the product.
For this reason, compare various products, their price, and offered features and select the one that matches your needs, while being within your budget range.
➡ Power Source
The power source of the condenser dryer may vary depending on the type of product you buy.
Condenser dryers can either be powered with gas or electricity, so you can choose based on your preference.
Gas-powered products tend to be relatively more energy-efficient compared to electric ones.
However, the gas supply is often compromised in some areas.
If you reside in a location with an inadequate gas supply, then you should go for an electric condenser dryer.
➡ Energy Efficiency
Energy-efficient products turn out to be budget-friendly and cost-effective in the long run, and condenser dryers are no exception.
You need to consider the energy efficiency of the product when buying a condenser dryer.
The best way to assess energy efficiency is to look for the energy rating of the product, which is given as a number of stars. The higher the energy rating of the product, the more energy efficient and economical it will be.
➡ Product Size
Condenser dryer products come in a wide range of sizes with varying dimensions. Size is one of the most important factors to consider when buying a condenser dryer.
Before buying the dryer, make an assessment of the dimensions of the space where you intend to install it. A product with a size incompatible with the available space may lead to compromised operations.
This is particularly necessary for closed spaces, where you need to buy a compact product that fits well in the available space.
➡ Load Capacity
The load capacity is a major factor to consider when choosing the right product for you. Condenser dryers come in varying load capacities measured in kilograms.
Hence, it is crucial to select the product with a load capacity that matches your laundry requirements.
If you have a smaller family, then you should opt for a product with a smaller load capacity.
However, for extensive household or commercial usage, go for the product with bigger load capacity.
Unnecessarily big load capacity would add to upfront and operational costs.
➡ Warranty
Electrical appliances are prone to operational breakdowns and technical faults.
Condenser dryers may also encounter many issues during their routine operations, hence, it is important to consider product warranty when purchasing a condenser dryer.
The duration of the warranty varies depending upon the product manufacturer.
Always go for the product that offers a longer warranty period and covers maximum services under the warranty policy.
This would help you reduce financial expenses in case of any product malfunction.
Difference between condenser and heat pump dryer
---
Dryers of various types are available in the market with different working mechanisms. Among these diverse product types, the two most common ones are condenser and heat pump dryers.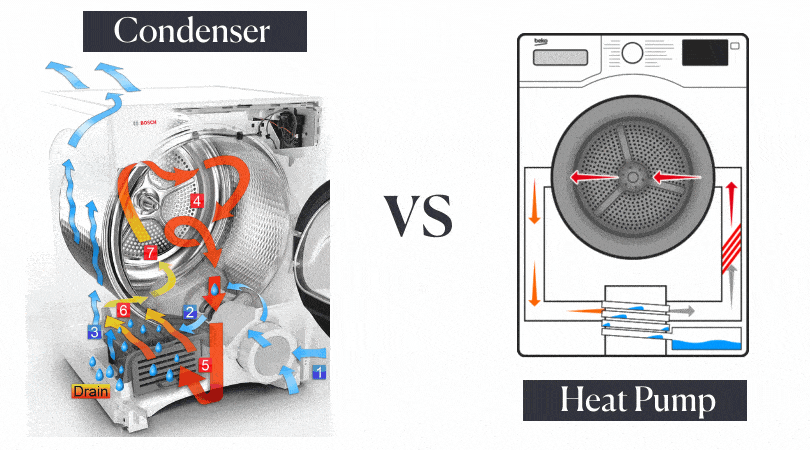 They are both quite popular, however, they differ in the following aspects.
Working Mechanism
The condenser dryer and heat pump dryer differ in the working mechanism. A condenser dryer works by condensing the moist air after the removal of moisture from the clothes. The water produced from condensation gets drained and the hot air flows again for drying purpose.
On the other hand, a heat pump dryer captures surrounding air through a refrigerant that is further pushed through a compressor producing heat. The resulting heat then serves to extract moisture from clothes causing them to dry.
Energy Utilization
When it comes to energy utilization, heat pump dryers tend to be more energy-efficient than condenser dryers.
Condenser dryers utilize heat elements for drying purposes, while heat pump dryers utilize refrigerant for this purpose.
Condenser dryers may lead to relatively higher operational energy costs, because heat pump dryers simply extract heat from the surrounding air and utilize this heat for drying purposes. Hence, they are more cost-effective and budget-friendly.
Dryer Efficiency
Condenser dryers are more efficient than heat pump dryers when it comes to drying efficiency.
This results from the lower temperature of heat pump dryers, which leads to a longer cycle duration, lower working efficiency, and slower operation.
On the other hand, condenser dryers utilize heat elements for heating purposes, so they operate at a relatively higher temperature leading to shorter operational cycles and more efficient drying.
Condenser
✔ Good for fast-drying
---
Condenser dryer changes the hot air into water and drives it outside
Less energy-efficient compared to heat pump dryer
They have more drying efficiency
Heat Pump
✔ Good for energy saving
---
Heat pump dryer conserves and recycles the hot air for reuse
More energy efficient compared to a condenser dryer
They have less drying efficiency
Best condenser dryer conclusion
---
A wide range of advanced laundry appliances is available in the market to meet different consumer needs.
Condenser dryers are advanced dryers which come with many features for safe, efficient, and optimum drying of clothes.
The final decision when purchasing condenser dryers always goes down to your requirements and budget range.
Here, we have discussed the 5 best condenser dryers you can buy in Australia.
I hope this guide helps you compare the features of the best condenser dryers available and choose the right one for you.