A thorough and well-planned house renovation will not only be a fun activity for you, but it can also be therapeutic.
And one of the main targets to ensure a proper glow, coziness and comfort of the house is a lighting renovation, to match the furniture, carpentry and interior redesign.
LED lights can be used to create a festive atmosphere, to decorate your space, illuminate cove details or to draw attention to a specific decor or architectural feature.
LED lighting has a significant impact on the overall ambiance of your indoor and outdoor spaces and an increasing number of designers, contractors, and homeowners are retrofitting the lighting in the house with LED lighting, specifically the kitchen area.
When strategically placed, each lighting element is critical for properly illuminating the space, providing safety, security, and style, and making the area appear more significant.
At night, LED lighting illuminating the facade and garden gives focus to architectural elements, and can create a dynamic, exciting and unique appearance to your house.
Landscape lighting brightens the house and helps create a multi-functional space.
LED brea lights installed within your home's steps are a great way to improve the curb appeal, visibility, and safety of your home while limiting trips and falls.
LED lights are also critical for safety.
Outdoor shadows and dark spots can make certain areas appear less safe and can increase the chance of accidents, which is why professional lighting calculations must be completed before installation , and the lights must be properly configured to cover the entire outdoors space.
There are several types of brea lights on the market, with a wide variety of sizes, lighting effects that can meet a range of needs and purposes.
LED brea lights may be quite familiar for you, as many households and commercial spaces have LED lights or LED light decorations.
To determine how brea lights fit in your home and their overall advantage, this article will highlight options and details to assist you in your selection process, and guide you towards the most convenient choices for your specific requirements.
What is an LED Brea light?
LED lights are well-suited to a variety of applications due to their high efficiency, directional nature, as well as their capacity to operate without chemicals and with no UV ray emissions.
LED lights are also completely recyclable, which can help you significantly reduce your carbon footprint.
One LED light can replace approximately 25 incandescent light bulbs over its lifetime, thus greatly saving on materials and production costs.
LED lights are made of one or several microchips that conduct an electrical current, illuminating the light sources and producing visible light.
Where can LED Brea lights be used?
---
Below are a few recommendations on locations to install the LED brea lights, where they can provide the best value.
Rooms
Led wall lights can be used in any room, both inside and outside. When used in conjunction with ceiling lights, a wall-mounted fixture provides additional illumination, however, using Led brea lights instead of overhead lighting fixtures can create a smoother effect and remove glare.
Bathrooms (vanity)
Vanity lights are essential elements in bathroom light layering: To eliminate the shadows cast by overhead lights, place wall fixtures on either side of a mirror.
Desk lamps
A wall-mounted swing-arm light is a practical alternative to a traditional desk lamp in an office or craft room, freeing up horizontal surfaces for tasks.
Furthermore, picture lights enhance the appearance of the artwork, while wall-mounted spotlights highlight the details of niches, sculptures, and other architectural elements.
Outdoors
Outdoor wall lights are commonly used in porches and exterior walls to improve safety and security, even though many designers prefer to incorporate a decorative touch for safety features.
Wall lights are an excellent addition to rooms with overhead lighting and floor/table lamps. They contribute to the ambiance and brighten corners that might otherwise become dark after twilight.
To simulate the effect of natural light coming in, try flanking large windows with wall sconces or adding a wall light near a particularly dark corner or next to a doorway to illuminate your way into the room.
Furthermore, having all of your lights on separate switches gives you more control over your light settings. Wall lights are especially well-suited to dimmer switches, which allow you to modify the area's ambiance.
What are the possible benefits of using an LED Brea wall light?
There are numerous advantages to using these lights.
LED lighting consumes little energy.
LED lights have a long life expectancy. (As solid-state light sources, LEDs have very long lifetimes and are generally very robust.)
LED lights do not generate heat.
LED lighting comes in various colors and temperatures.
LEDs do not need to be heated.
LED lights are good for the environment.
LED lights require little upkeep.
Best LED Brea wall light
---
Picking the proper wall light is generally not complicated as there are a few basic types to focus on:
There are many various types of LED lights on the market, and before purchasing a product, you must consider the advantages and disadvantages of each type.
This breakdown will narrow down your choices and allow you to select based on your particular needs.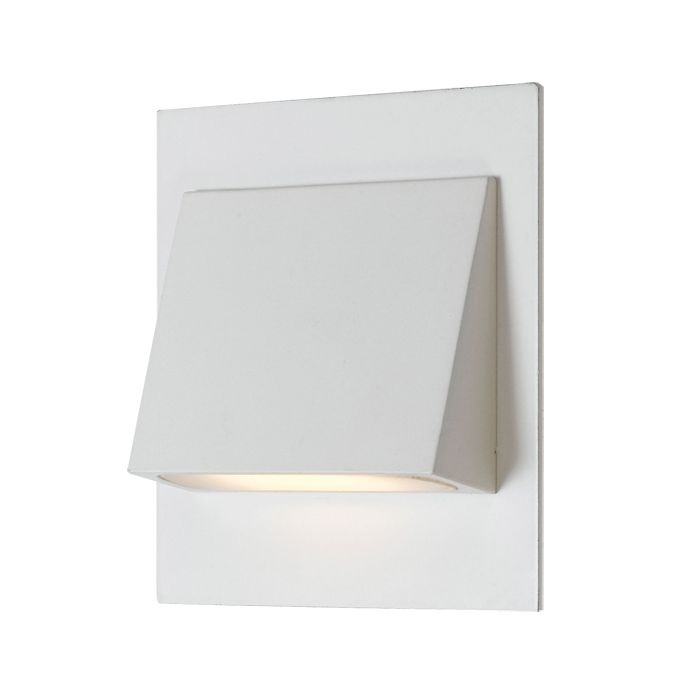 The Brea square Led wall light is an excellent choice that is appropriate for almost any space and application. It includes a complete LED driver and is very simple to set up.
Specifications:
It has the following technical specifications:
Colour: White.
Constructed from Aluminium.
Globes Specification: 3w LED Chips. (Included).
Lumen Globe Colour Output:

>Warm White 3000K – 240LM.

>Daylight White 5000K – 260LM.

CRI – >80.
Power Factor – >0.9.
Beam Angle – 120°.
Dimmable – No.
Dimensions:

Cut Out Size: 50mm x 50mm.

LED Driver (Included).
Power Rating: 240v (with Driver).
IP Rating: IP20.
ASA: Australian Standards Approved.
Condition: Brand new in manufacturer's packaging.
Key Features:
Recessed Led light with integrated control gear
It has a white frame with an acrylic diffuser
Height 75 mm and width 75mm
Enhancing a home's visual appeal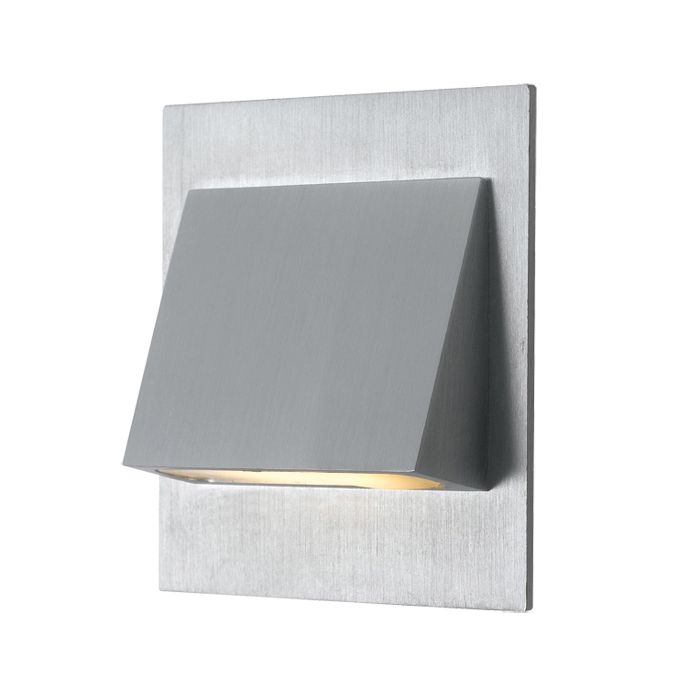 This Light is not only cost efficient, but will also help to protect the environment by releasing fewer carbon emissions.
It is available in two different color temperatures, which allow you to enjoy different lighting outputs based on your environment.
Specifications:
—> It is available with the following technical information:
Colour: Aluminium.
Constructed from Aluminium.
Globes Specification:
3w LED Chips. (Included).
Lumen Globe Output Options:

Warm White 3000K – 240LM.

Daylight White 5000K – 260LM.

CRI – >80.
Power Factor – >0.9.
Beam Angle – 120°.
Dimmable – No.
Dimensions:

Cut Out Size: 50mm x 50mm.

LED Driver (Included).
Power Rating: 240v (with Driver).
IP Rating: IP20.
ASA: Australian Standards Approved.
Condition: Brand new in manufacturer's packaging
Key Features:
It has an aluminum frame with an acrylic diffuser
Durable aluminum body.
Ideal for emphasizing stairways.
2 years manufacturer warranty.
Recessed application.
How many Brea lights do you need?
The location and height of your wall lights is critical to maximizing their effectiveness. Install them at eye level (5.5 to 6 feet), though the height of your ceilings and the size of the fixture will play a role.
It is important to remember that no matter how high your wall light is hung, you should never come into contact with an exposed Light bulb (except, of course, in the case of stylized fixtures that purposely feature bare decorative bulbs).
In hallways, led wall lights are commonly used, however be careful of installing an excessive amount of wall lights, as the long, dark corridor can start to resemble a runway.
You should decide on the height and spacing depending on the lumen output and your space requirements, however, on average, one light fixture installed every 8 to 10 feet should be enough.
Staggering the lights so that they do not line up throughout the corridor is a more natural pattern; and fewer or more fixtures may make a statement.
Take into account how far your fixture protrudes from the wall: Low-profile fixtures are best suited for narrower halls, stairwells, and high-traffic areas near borders.
ADA-compliant fixtures are an excellent choice because they are no more than 4″ deep, and thanks to LEDs, they are frequently much slimmer, allowing for maximum clearance.
How do you match Brea lights to your room's décor?
An important first step before considering options or installing them is to determine the use and purpose of the light.
Determine whether your requirement is primarily decorative or functional.
Although there are many options that combine form and function, you can narrow down your choices significantly by deciding whether you want your wall light to blend in or stand out.
Buying guide
Identify the product type that you want to buy, as well as the material, finish and the intended use of the product.
Get a head start on trends. Always choose products that are in style and that offer unique traits which make them stand out. Conduct a thorough research, seeking the assistance of lighting professionals.
Allocate a budget and a price range you have to fit the products within.
Highlight the products that you are enthusiastic about.
Weigh in the different options in terms of how they suit your needs and satisfy your requirements.
Frequently asked questions
---
Why do I require wall lights?
Wall lights are essential components of well-layered lighting, adding beauty and utility to overall design schemes.
Where should I use wall lighting?
You can use Led wall lights in any room, for vanity lighting, and for indoors and outdoors spaces.
Wrapping up
LED brea wall lights are great options that can instantly add ambiance to your space while also saving energy. The variety of LED Brea lights and options available on the market, allows for a wide range of choices to meet your lighting intent.
Before purchasing LED lights, properly define your application and area constraints and details, as well as your options for installation, power consumption, and colors.
In general, it is advisable to direct the lights upwards toward your wall. Well planned brea lights can have a significant impact on the space and can greatly accentuate the light levels, interiors and space