Commercial and industrial lighting are the two main categories of lighting, with an ultimate purpose of providing ample and proper illumination to ensure visibility and maintain functions.Lighting is also useful in setting and modifying space aesthetics and upgrading the mood surroundings.
When in comes to industrial lighting systems, the best rated ones are those that offer an array of benefits, with a focus to:
Provide productive surroundings to your staff
Improve the safety of your organization
Provide great experiences to your customers
Allow for more production hours
However, despite the numerous benefits associated with proper industrial lighting fixtures, these systems could also be a major source of energy consumption for your company.Additionally, some systems incur high operating costs.
In order to avoid the high energy and operational costs, as well as any operation and safety issues from poorly functional lighting, you should purchase and install the top-rated systems.
This article will highlight the 12 best industrial lighting systems, and offer details on each type, in addition to reviews.
But, first, we'll explain what industrial lighting is and the differences with commercial lighting.
What is industrial lighting?
Industrial lighting refers to lighting systems used for production or service companies such as warehouses, factories, chemical plants, refineries, etc. with a main function of providing proper and safe illumination levels in these spaces.
Whereas commercial lighting is typically used in households spaces, kitchens, verandas, as well as office spaces, industrial lighting is more appropriately used in factory and industrial settings.
Proper planning is needed to determine the exact location where to use and install industrial lighting systems in your factory, store, or construction site.
Places you can use industrial lighting
Different types of industrial lighting satisfy varying operational and space requirements. Each specific space requires a different light level, installation height, temperature, along with a varying number of rules governing its use.
Hazardous locations
Hazardous industrial settings involve dangerous items that can put human life at risk if improperly handled. Fires and explosions are generally the main hazards caused by flammable liquids, vapors, gases or ignitable fibers.
Accidents in hazardous settings involve container fluid spills and/or faulty operation.
As such, it is vital to ensure precise and safe operation in such settings in order to eliminate accidents and incomplete tasks.
This makes the need for industrial lighting in hazardous areas a priority, to ensure proper and uniform illumination, and reduce the risk of accidents.
High humidity areas
Industrial areas such as chemical plants, food industries, and similar stores are subject to high levels of humidity. Additionally, the location of many industries near rivers or other water bodies also add to the humidity within these spaces.
High humidity can be challenging as it can cause corrosion on lighting surfaces, which need to be protected against moisture ingress.
This requires selecting the best rated industrial lighting that can withstand such climatic conditions. For example, unprotected LED lights are inefficient in high humidity areas as they can quickly corrode.
Clean rooms
Industrial areas such as food refineries, electronic, pharmaceutical, and biotechnology spaces have special rooms to prevent debris or dust particles from accumulating on the items.
These rooms are purposely built to provide a safe environment for the commodities in such industries. Industrial lighting is critical for such rooms.
Specific types of industrial lighting satisfy operational and regulatory conditions for illuminating clean rooms. For example, the type of lighting used should satisfy IP Rating requirements as well as NSF regulations.
Moreover, the industrial lighting used should be efficient enough to ensure minimum disturbance to the space during service or re-installation.
Extreme ambient temperature areas in the industry
Industrial lighting is selectively chosen based on the temperature gradient of the space where it will be used.
For instance, LED industrial lighting is susceptible to failure in areas with abnormally high temperatures.
Therefore it is advisable to avoid using LED Lighting for heat treatment workshops, brick-firing and ceramic plants industries, etc.
Fluorescent industrial lighting, on the other hand, can withstand relatively high ambient temperatures.
Industrial lighting summary
Industrial Lighting Reviews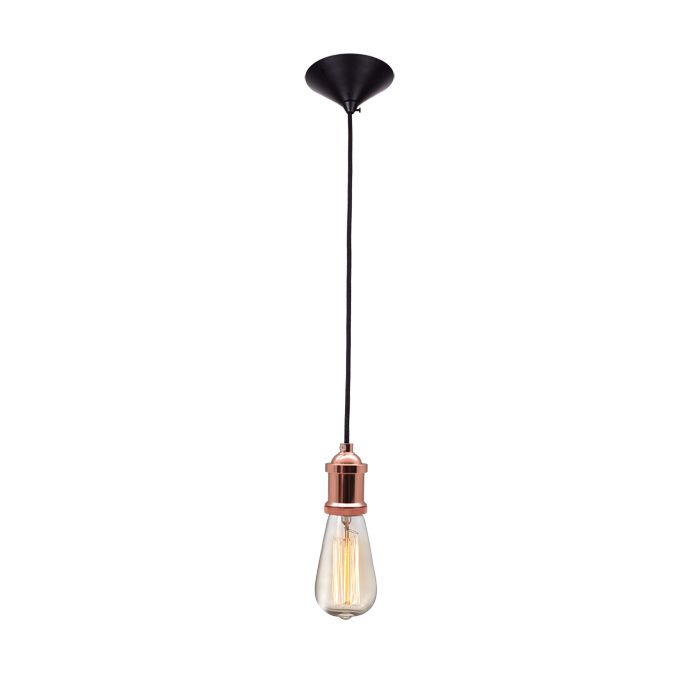 If you are looking for a modern industrial lighting fixture, the Ascot 1Light Pendant – Copper is a great option.
The lighting is available in three options: No globe ( you supply your own), Dimmable Carbon Filament Globe, and Dimmable LED Globe. You have the freedom to choose the assembly that best fits your use.
Moreover, you can add a shade of your choice by nutting it on the rear end of the pendant, which is usually threaded.
Key Features
IP20; IP ratings
240v power ratings
Dimmable feature
Compatible with 2.5 kg and 42-47mm opening hole shades
20mm diameter Black canopy
80mm long Copper lamp holder
1 x E27 Globe 40w Max.
2400mm cable length
Antique Brass is a tremendous industrial light incorporating Dimmable Carbon Filament E27 Globe. The lighting has a unique geometry characterized by solid symmetrical lines, which give it a modern, stylish look.
Also, the June 21 Pendant Light is available in a dimmable option, allowing you to choose and set your preferred ambiance. The beauty of this product is clearly defined by its antique brass-plated cover.
Key Features
240v power rating
Dimmable feature
2400mm adjustable cable
1 x 25w Dimmable Carbon Filament E27 Globe
Metal body material
Antique brass colored
285mm diameter and 210mm length
Globe; 185mm long
The metal body of the Strata Rise & Fall Pendant Light – Black makes this fixture a strong and durable industrial lighting.
Featuring a 1 x 25w ST64 Dimmable Carbon Filament E27 Globe, the product is also fitted with a black gloss shade which gives it a more classic look.
The most unique feature of the Strata Rise & Fall Pendant is the 4000mm cable length with the adjustable mechanism.
The height can be adjusted and manipulated by the pulley mechanism to meet and change according to your preferred heights.
Key Features
Dimmable feature
IP rating; IP20
Adjustable height through a pulley mechanism
Has inner white, black gloss shades
250mm canopy
320mm shade diameter
1 x 25w ST64 Dimmable Carbon Filament E27 Globe
240v power rating
The product is available in three different decorative globe choices, including a no globe option (you supply your own), Dimmable Carbon Filament Globe, and Dimmable LED Globe.
This allows you to select a preferred type to match your lighting style, also noting that the product is available with a dimmer switch option. Overall, the Yarra Wall Light is an elegant industrial lighting that can accentuate the decor and ambiance of your space.
Key Features
Three globe options (no globe, Dimmable Carbon Filament Globe, and Dimmable LED Globe)
Power rating 240v
IP20 IP rating
Dimmable
Black shade color
1 x E27 Globes 40w Max
Metal body material
330mm high and 170mm wide
For an industrial and rustic look, the Finn Wall Light is the perfect lighting for you. The product is constructed of metal and timber, with a bronze color frame, making it a great decorative item.
The 2 x 2/3w Candle Flicker Globe sparkles lights in different directions, creating an excellent ambiance that sets a lively mood in your space.
Key Features
Bronze color finish
Made of metal and timber body material
IP20 rated
240v power ratings
Dimmable
2 x E14 40w Max. globe
Height of 370mm and 137mm width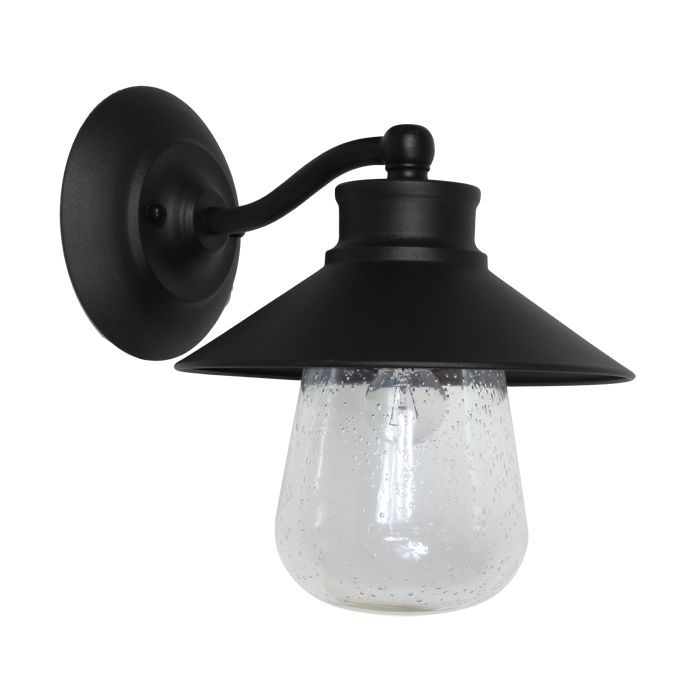 The Boston Outdoor Wall Light is an IP 20 rated product ideal for class and study rooms. The product is constructed from metal and clear glass, giving it an elegant shine.
Most importantly, the Boston Outdoor Wall Light is available in two globe options: no globe(requires you to have your own), and 1 x 75w Dimmable LED Globe.
The dimmable feature and the globe selection make this item a great and versatile product in creating an attractive space ambiance.
Key Features
Two globe options (no globe and dimmable LED Globe)
Rated IP20
240v power rating
Matt black frame color and clear glass color
1 x E27 Globe 40w Max. globe
Meat and glass body material
The Goth 1L Wall Light is made of metal and clear glass and provides a soft light output for a decorative ambiance.
The product is available with three globe options, either a Dimmable Halogen Globe, no globe( you supply your own), and Dimmable LED Globe.
The stylish product is great for urban areas and industrial regions that need aesthetic improvement.
Key Features
1 x E27 Globe 40w Max. globe
IP20 rated
285mm high and 150mm wide
Dimmable
Clear glass shade color
Three globe options
Metal and glass material body
Black and brass-colored frame
If you are looking for the best energy-saving lighting fixture, then the Moet LED 3 Light Wall Light is a great option to consider.
Moreover, the product gives a distinguished look as it is constructed with metal and glass, and has a burnished brass finish.
However, note that LED luminaries work effectively only in a relatively low ambient temperature environment, so it is advisable to avoid this product if attempting to illuminate a space with high ambient temperatures such as heat treatment industries.
Key Features
Constructed from metal and glass
Power rating; 240v
Dimmable when you buy LED globe & dimmer switch
Height; 440mm
Clear glass shade color
3 x LED Non-Dimmable E27 1.8w=20w Max. globe
Burnished Brass Frame color
The Voss 45 Floor Lamp has a magnificent lamp with a 1 x 25w 300mm Carbon Filament Globe that rests on an industrial-styled stand.
The lamp spreads smoke-colored light flickers from its shade, creating a cozy mood in the space.
The overall lamp structure appears complex, but the lighting fixture is classic and modern for interior designs.
Key Features
Inline on and off switch at the middle of the lamp
1420mm total height
Constructed from metal and Glass
240v power rating
It's dimmable
Black metal-ware color
Smoke colored shades
1 x 40w E27 Max. carbon filament globe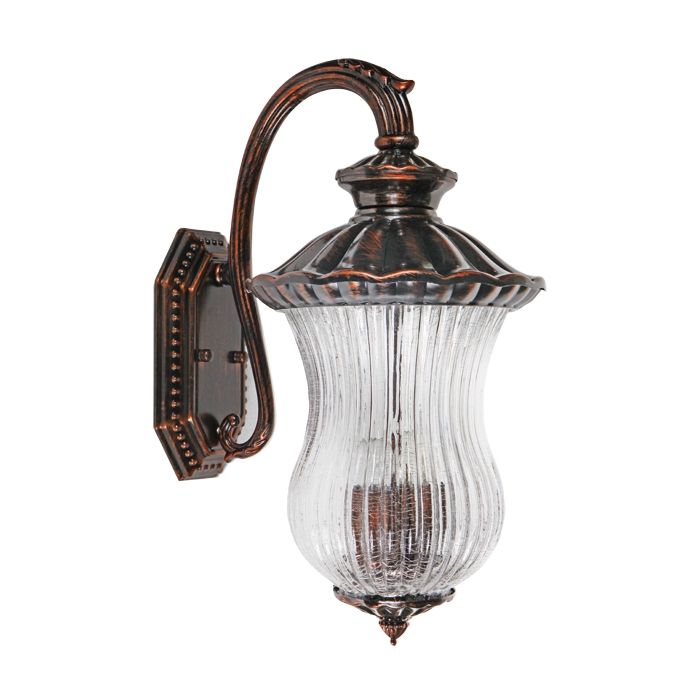 To achieve an outdoor ambiance with a stunning look, try the Dorit Outdoor Wall Light – Rustic Copper. The ragged glass body cover brings a lot of style and a sense of elegance.
The Dorit Outdoor Wall Light is dimmable and has two globes options; thus giving you a choice of which works better for your environment.
Generally, the product will give a more classic and decorative appearance when positioned strategically on outdoor pillars.
Key Features
240v power rating
2 x E27 Globe 40w Max. globe
Two globe opinions; no globe and 2 x 4w=40w Dimmable LED Globe
IP44 IP rated
450mm high and 180mm wide
Constructed from glass and metal
Rustic copper frame colored
Clear ragged-styled glass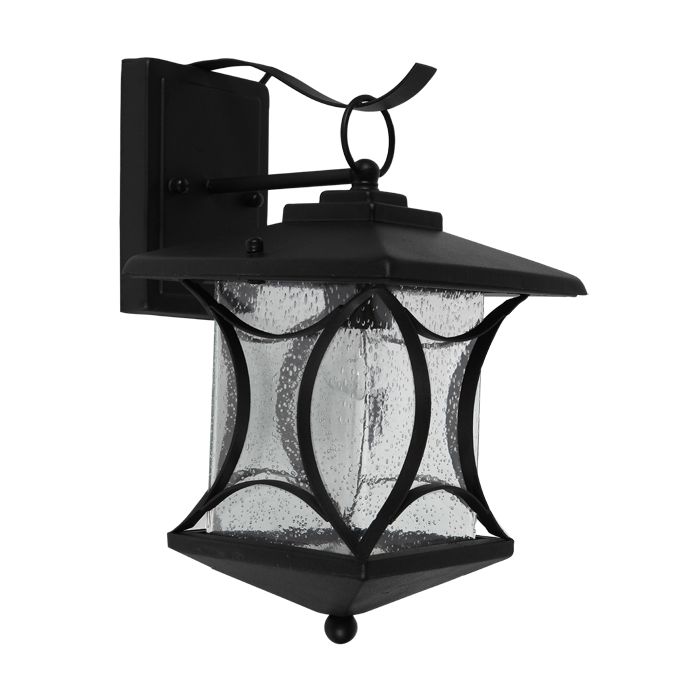 The Ohio Outdoor Wall Light is an industrial lighting fixture with a Dimmable LED Globe enclosed within a clear glass cover, all protected by a metal matt black frame.
The product offers two globe options that enable you to define a stylish and charming light output.
Key Features
IP44 rated
Power rating; 240v
320mm high and 200mm wide
1 x E27 Globe 40w Max. dimmable globe
Two globe options ( no globe and 1 x 8w=75w Dimmable LED Globe)
Matt black frame color
Metal and glass body material
Clear glass color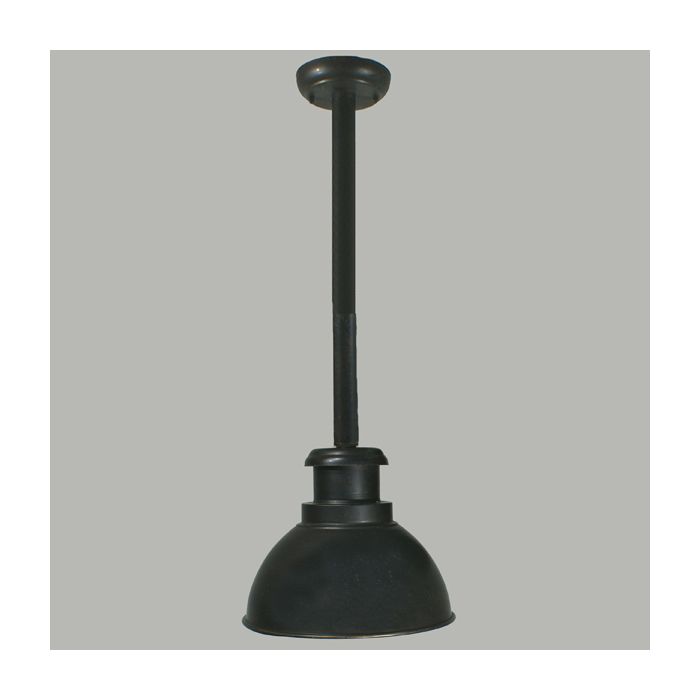 The Terminal Rod Pendant Light is a traditional industrial lighting ideal for warehouses. It has an adjustable rod with a stunning canopy that holds globes at its rear end.
The die-cast aluminum material makes the product highly durable and creates, along with the antique bronze frame finish, an aesthetic style.
The Terminal Rod Pendant Light gives you a lot of freedom and flexibility in the space ambiance.
The lighting fixture is dimmable and allows a selection between two globe options, offering a comfortable and flexible lighting choice.
Key Features
Antique bronze colored frame
IP rating; IP03
Height of 190mm and 210mm width
Dimmable
Two globe options; no globe and 1 x 75w Dimmable LED Globe
Constructed from die-cast aluminum
Industrial lighting buying guide
Apart from looking at options, you should consider certain parameters to determine the perfect lighting type for your space, including:
Environmental considerations
It is important to examine the prevailing environmental conditions to illuminate your industrial space.
Different industrial lighting is manufactured to work best in varying environments, where other types might fail.
Ambient temperatures of the space are one of the key environmental determinants.
For high temperatures, and depending on the activity of your industry, it's important to consider fluorescent industrial lighting.
On the other hand, LED lights work great in low ambient temperature settings.
Lighting features
The ultimate goal behind the lighting type is to provide proper and ample lighting levels.Other features include decorative as well as product durability that become more important depending on the setting.
As a result, your preferred type of light will be impacted by lighting features such as:
Shade color: for stylish ambiance and decor
Dimmable feature: for flexibility to control brightness levels
Body material type: for durability
Globe option: for the diversity in the kind of lighting
Frame color: for decor purposes
Dimensions: include height and width primarily for space designs
As such, it is important to weigh the above features against your setting and space requirements before purchasing the lighting fixture.
Cost
The cost of the fixture should definitely be factored into your selection process, to match your budget, along with the value-to-money that guarantee a long lifetime and a durable operation.
Frequently asked questions
How much do good industrial lighting systems cost?
You should allocate a decent budget for industrial lighting types to serve you well.
As the market is packed with product design brands, this results in high competition and effectively lowers the prices. As a general rule, you can secure a good lighting fixture within a budget of $100- $300.
How do you calculate the number of industrial lights required?
Determine the product between the floor area of your space and the preferred lighting type foot candle requirements.
Then divide this number by the lighting facility's lumen output, which gives you the number of lamps you need to sufficiently illuminate your space.
What type of lighting is the best for a factory?
LED lights are often preferable in many industries due to their long operation lifetimes and low energy consumption, compared to HID lamps, fluorescent, halogen, and incandescent lights.
Wrapping up
In summary, we recommend the Ascot 1Light Pendant – Copper, as top-rated industrial lighting, with several features ideal for industrial setups.
June 21 Pendant Light – Antique Brass, is also an excellent type that can define your space, increase its appeal and has a relatively low budget.
The types mentioned in this guide all offer numerous benefits and meet varying styles and decorative settings. Follow the requirements and pointers in the guide to determine the most convenient type for your settings and space.