LED lights for Small Business: Everything you need to Know
March 29, 2021
As anyone who owns or runs a small business will testify, little detail matters.
Even things that can seem superficial like the choice of lighting can actually make a huge difference.  choosing the right lighting options for your business is not an easy task, especially with so many options.
Differences can vary from how comfortable or productive employees or clients are – to financial differences in maintenance or initial instalment.
The exceptional efficiency of LED lighting can bring tremendous benefits for us and the environment.
Whether you are deciding on what lighting to use or for a new space or exploring alternatives, whatever the reason for your interest in LED lighting is, we will cover it here.
Why Should a Small Business Care About Lighting?
Whether it's for an office or a business that serves consumers directly, lighting can make a huge difference in mood and productivity as well as make massive savings on energy costs.
Even though at one point we might have thought that "light affects productivity" was just an idea, recent research suggests that this phenomenon exists and whether we believe in it or not, according to a huge study done by Staples, it affects our mental health.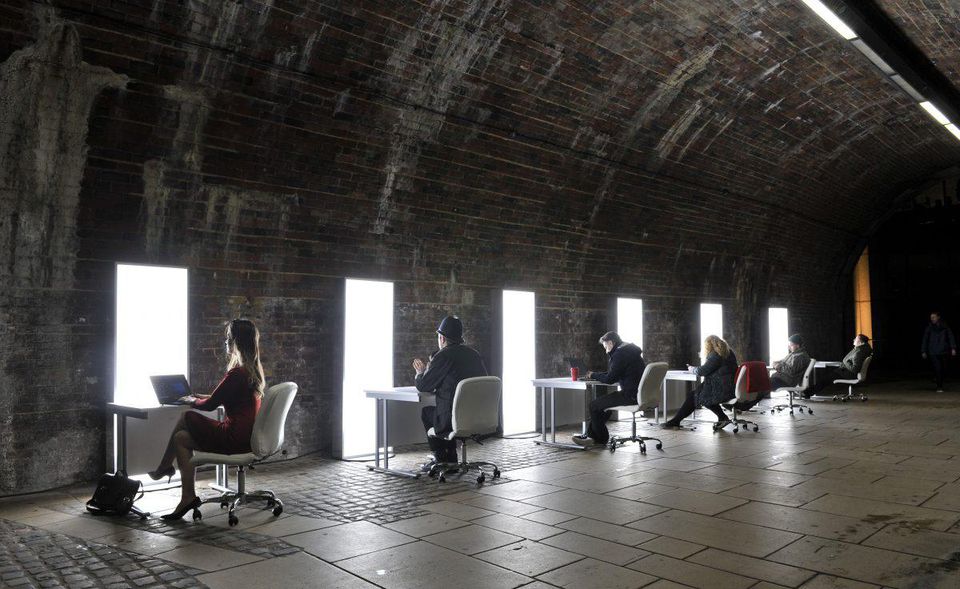 LED Versus other Lights for Small Business
LED lights are more expensive to install than others, like fluorescent and halogen lights, so why do it?
While LED lights might be cheaper to install, their maintenance and energy savings more than make up for it.
The secret is in how LED technology works and how incredibly efficient it is compared to other traditional options.
Ordinary incandescent bulbs pass a current through metal that's located within them and as a result light is emitted, but with LED technology electrons pass through a semi-conductor.
This fortunately for us means there is no filament to wear out, also the reason why they don't get anywhere near as hot as their alternatives.
Less wear also of course means less changing of light bulbs. On average LED lights last 10-20 times the time of their halogen or incandescent equivalents.
Additionally, it's important to mention that another benefit LED's efficiency brings us, is its brightness. LEDs generate more lumens (measuring unit for brightness) per watt than its alternative bulbs.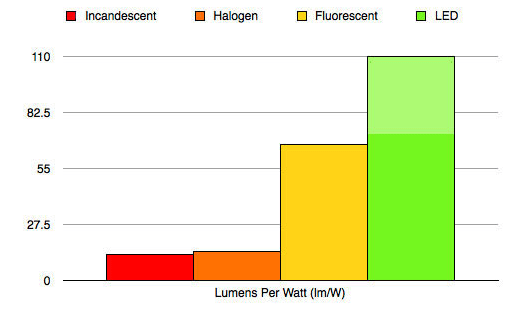 How Much Can a Small Business Save With LEDs?
Over the years, more and more businesses are making the switch from traditional to LED lighting, why would this be?
This will come as no surprise, but the number one reason is the savings on their energy bills. As it turned out Halogen bulbs utilize around 5 times the energy that a LED light would.
While true for any business, it's especially true for small businesses where every cent saved or earned counts.
Making the switch to LED lighting could possibly reduce the costs by up to 90%.
For small businesses reducing energy costs by 20% could be as valuable as increasing sales by 5%.
What LED Options Are There?
Not all LEDs are created equal, which could be one of their pros. There is a diverse selection of LEDs depending on the function, budget, and purpose of your specific business.
Lamps
These are your typical, everyday light bulbs seen just about everywhere. While they are visually similar to traditional bulbs, as mentioned they are more efficient. Good pick for any building.
Panels
You will encounter panel LEDs most often in big office settings, their big size and wide coverage range make them the top pick for large buildings. Most times serves the same function as the old fluorescent tube bulbs.
Coloured LEDs
Certain LED lights are colour adjustable. They are usually controlled via remote, giving the ability to change between white and warm colours.
While this feature might seem like a gimmick, in reality, it is very useful for the productivity and health of employees. Ideally, as the days go on, you want warmer and warmer colour temperatures.
Coloured LEDs allow you to have many colour temperatures in one light source.
Tube LEDs
Tubular shape LEDs are just like what they sound like, tube-shaped long LED lights, used for big spaces and office settings. Like the panel LEDs, perfect for covering big areas.
Smart LEDs
In recent years, smart LEDs have been on the rise.
Initially seen as just a gimmick or a fun thing to have – now essential to the everyday operations of many small and big businesses alike.
One of the biggest money, energy, and time saver for small businesses is automation. Having processes automated means saving time and human resources, which of course means cutting down costs.
Now you won't have to worry about one of your employees leaving the lights on for the whole weekend by accident.
Smart LED lights are usually controlled via custom downloadable applications. Features include but are not limited to:
Schedules times for turning on/off or switching colour temperatures
Automated dimming
WI-FI connectivity and full remote control
Integrated motion sensors
Environmental factors and incentives
As mentioned before, LEDs are better for the environment, and in 2021 being or not being eco-friendly can change a whole lot in how consumers perceive small businesses and LEDs significantly reduce CO2 emissions.
This is so important to the developed world, that on September 1st of 2018 halogen light bulbs were completely banned in Europe.
According to researchers, this ban could save up to and possibly more than 15m tonnes of carbon emissions per year.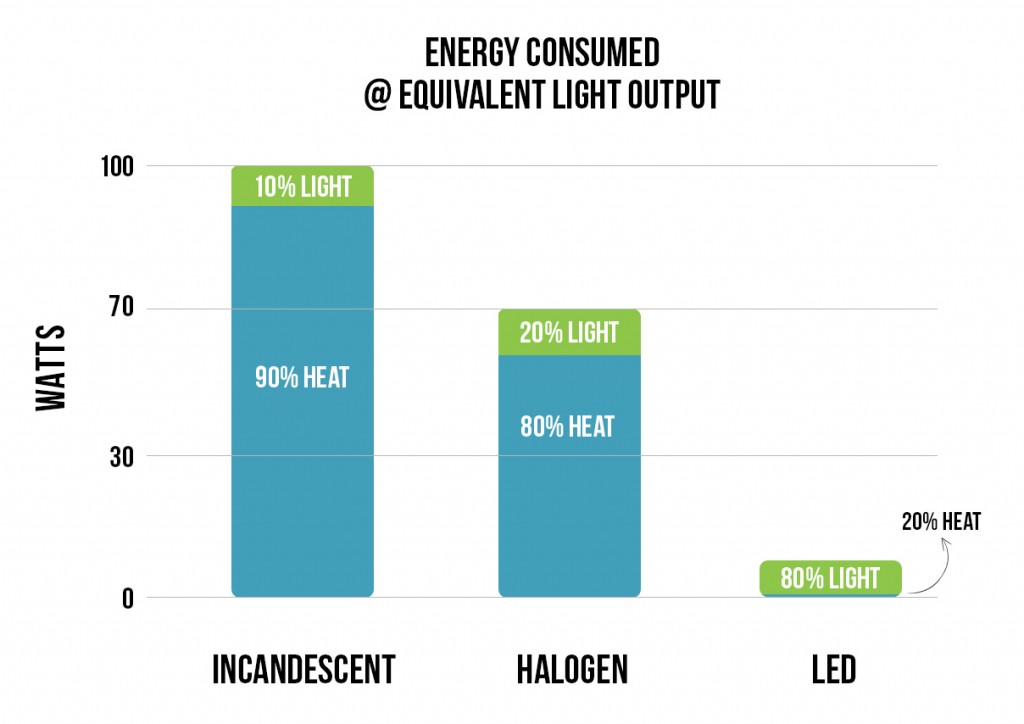 This global push towards the move to LEDs means that there could be incentives available for your small business.
To see if there are incentives in your local area and whether or not your small business is eligible for them, you can contact your local energy company.
In many cases, they can provide the relevant.
Using incentives can further cut down costs for your small business and reduce the only big hurdle to converting to LED, which is the initial instalment cost.
Now you should have a better idea as to what LEDs are all about. Using LED lighting can save money for your small business and keep it more eco-friendly, which benefits both the environment and your brand,

NSW LED SCHEMES
We are TOP Rated on Google By Our Clients