Lighting plays an important role in how your kitchen looks, feels, and operates. As a large portion of one's time is spent in the kitchen, the lighting type and level can have a significant effect on your daily mood
What kind of lighting works best for you? The answer to this question will vary with different, personal tastes, kitchen layouts and functions.
Kitchen lighting involves a number of types, including downlights, pendant lights, recessed fixtures, in addition to track lights and under-cabinet lights?
This article will dive deep into the pros and cons of each lighting type and offer tips and guidelines to help you choose the proper lighting for your space.
Lighting a kitchen ceiling can be a challenge as kitchen lighting requires professional skills and proper planning.
For different rooms in the house, you can provide general lighting to illuminate the overall room, and to light up specific areas of the room such as reading areas or dining tables, you can add a work light or a dedicated lamp.
However for kitchens, the task becomes a bit more complicated as kitchen ceiling lights need to satisfy more than one function at once, providing general lighting to the space and meeting the required level of work lighting.
General Lighting
Also known as ambient lighting, general lighting needs to be powerful enough to illuminate the entire kitchen area and give it a bright, dynamic appearance.
Work lighting or sometimes called task lights
Work lights illuminate small or specific areas of the kitchen, such as countertops and cooking areas.
A kitchen generally needs a lot of light. While cooking, you often need several light sources aimed towards the cooking area. When doing dishes, on the other hand, you need overhead lights to illuminate the whole room.
But what type of light should you use? The below section breaks down the different types of light for your kitchen to make it a brighter and better workspace.
Types of kitchen ceiling lighting
Some types of kitchen ceiling lighting are suitable for general lighting, and others are dedicated for work lighting.
A well planned combination of both types is important to provide ample general illumination to the entire kitchen, as well as targeted lighting for specific work zones.
The different types of kitchen ceiling lights include:
Track Lighting
A kitchen track lighting system can be an integral part of your kitchen decor. It can serve several purposes at once, and can be customizable to offer practicality and give a specific design to your kitchen.
Track lighting provides excellent illumination for the kitchen, and has recently increased in popularity. Track lighting offers some advantages over recessed lighting, such as the ability to direct light where needed.
This is due to the fact that track lights have adjustable heads, allowing you to control the light to aim it towards a specific area.
Another advantage of track lighting is its flexibility, as the system allows you to shift and move the fixtures. If, for example, you require lighting at the sink area, you can relocate the lighting fixture.
Additionally, the system design allows you to add or remove individual light fixtures if more or less lighting is needed.
Track lighting systems also allow you to customize your lighting. You can choose whether to mount your lights directly above your kitchen cabinets or direct them downwards or sideways.
For instance, you can mount track lighting over an island or peninsula in a large kitchen. Or you can have the lights hanging above a breakfast bar or buffet.
In the same track system, you can use more track lights for large kitchens, and fewer lights for smaller kitchens.
The only issue with kitchen track lights is the visual obstructions that are caused by furniture within the light path or people standing underneath the light.
This can cast an annoying shadow onto the counter or tabletop, interfering with the light quality.
However, since track lights can be easily relocated, it is easy to shift the light fixture to minimize shadows.
Another issue with track lights is the rapid roll over of stylish fixtures, with continuous introductions to new types and designs.
When buying a track light, look for a low voltage track light that uses energy-efficient LED bulbs to ensure the consumption of less energy and the minimal production of heat.
| | |
| --- | --- |
| ✅ Pros | ❎ Cons |
| ➡ Easy to move light | ➡ Vision obstruction |
| ➡ Simple to add or remove lights | ➡ Passes in and out of fashion |
| ➡ There are low voltage light fixtures available. | |
---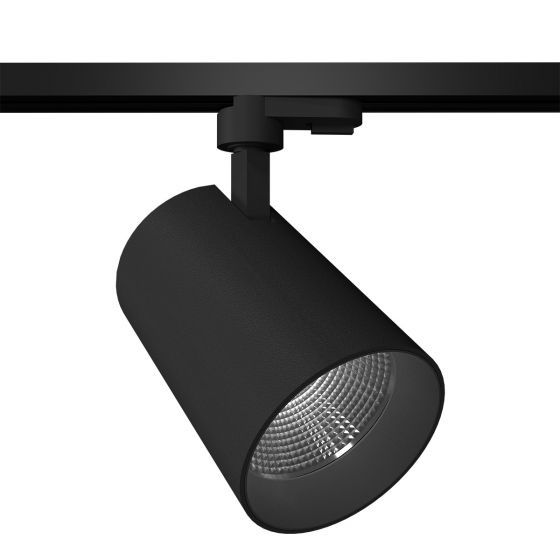 Recessed Lighting
Recessed lighting is generally the most recommended type of lighting to use in any space. It is inexpensive, practical, easy to install, and is available in a wide range of styles.
Recessed lighting typically includes downlights and trim for recessed cans but can also involve downlights and trims fixed on recessed track lighting systems.
With a diameter of 4, 5 and 6 inches, recessed lights provide superior illumination to countertops and kitchen islands.
Recessed lights have a unique advantage of eliminating the light effect from light hitting the wall and getting reflected back.
The recessed light spreads the light level uniformly and smoothly throughout the room, although it eliminates the ceiling reflection that other light fixtures can offer, as light is only directed downwards.
In addition, recessed lighting fixtures are fitted flush within the ceiling and do not take up physical or visual space like track lights.
The main drawback of recessed lights is their fixed position, which does not allow aiming.
The light is emitted in only one direction and cannot be directed or altered after it's installed. This causes an additional problem with shadows that are cast from furniture or people interfering with the light beam.
This can cause an unpleasant distraction to the counter or tabletop as the light can not be relocated.
However, if the recessed light is well studied and planned prior to installation, these inconveniences can be minimized and even avoided.
| | |
| --- | --- |
| ✅ Pros | ❎ Cons |
| ➡ Little visual impairment | ➡ Some of the types are not energy efficient |
| ➡ Compatible with most kitchen styles | ➡ Attic insulation cannot be used to cover other types of recessed lighting. |
| | |
---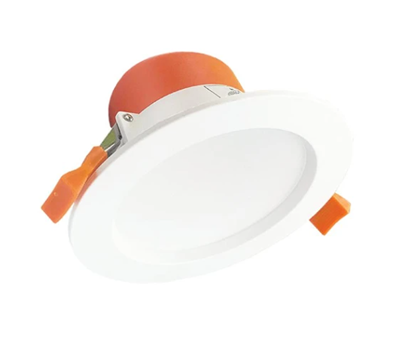 Flush Mount or Ceiling Fixtures
Flush mount ceiling lights are the best types of light for general illumination of the entire kitchen. They emit light in all directions, both downwards and upwards towards the ceiling.
The overall light effect alson with the reflected light results in a bright and very clear kitchen setting. These types also reach their maximum output quickly, and therefore provide a rapid way to light up the space.
However, flush mount ceiling lights do not illuminate specific work zones or areas such as countertops, sinks or kitchen islands, as they can not provide focused or adjustable lights like track lights.
Flush mount lighting can be surface mounted or suspended.
Surface mounted fixtures are used where top lighting is required whereas suspending lights give high, more uniform illumination and suspended lights can be hung individually or in groups from the ceiling.
Building codes require illumination to be controlled by a switch upon entry into a room, so installing a ceiling light can easily meet this purpose.
Ceiling lights are most suitable to illuminate small to medium kitchens.
In the kitchen, flush mount lights often have a glass shade to protects the bulb from dirt and debris, but some people prefer the look of a light bulb shining in a bare bulb holder. The Pros and Cons include:
| | |
| --- | --- |
| ✅ Pros | ❎ Cons |
| ➡ Brighter and quick illumination of the kitchen room | ➡ Creates shadows |
| ➡ Code requirement satisfaction | ➡ General kitchen room illumination only |
---

Hanging Pendant Fixtures
Pendant lighting has become a very popular method for illuminating kitchen areas. These fixtures hang from the ceiling, as close to the light source as possible.
Pendant fixtures have three essential parts: a central, hollow "can"; a neck (with the hanging wires); and a head, which is the part that includes the lighting unit. The head is typically manufactured from frosted glass, which diffuses light very well.
Designers often choose a round head, to give the appearance of the light floating within the room.
The standard maximum hanging height for a pendant fixture is 4 feet.
Ceiling height is not the only factor determining how high a pendant fixture can be hung.
The ceiling material is also taken into account. If the ceiling is plasterboard, the fixture can be hung up to 4 feet, however for plaster ceilings, the fixture can be hung up to 6 feet.
Pendant fixtures can be hung alone or in clusters. Clustering kitchen pendants helps create an overall, unified look.
Hanging pendant lights locates the lights above the head level and allows for easy adjustability. You can fix pendant lights directly to the ceiling or connect them to the track lighting system.
However, pendant lights cannot properly illuminate critical areas such as countertops and under the wall cabinets.
To achieve better illumination in your kitchen, it is advisable to space out pendant lights throughout your kitchen.
Even though pendant lights are an excellent way to illuminate your kitchen, it is not a good idea to have more than three or four lights as they can make the space appear cluttered and cause visual disruption to the kitchen user.
The pros and cons of hanging pendant ceiling fixtures are:
| | |
| --- | --- |
| ✅ Pros | ❎ Cons |
| ➡ Better lights for lighting kitchen island | ➡ Cause physical obstruction |
| ➡ Excellent task lights | ➡ Vision impediment |
---
Under Cabinet Lighting
Under Cabinet lighting is lighting that is fixed on the edge of a cabinet, drawer, shelf, or shelf unit.
It provides the same effect as lightbulbs, but in a slightly different way; instead of shining the light throughout the room, it radiates the light onto the space.
Under Cabinet lighting is not very convenient if cabinets are raised above eye level. If you do want overhead lighting, you can install a downlight on the ceiling.
But a downlight on the ceiling gives more diffuse light than an uplight on the cabinets.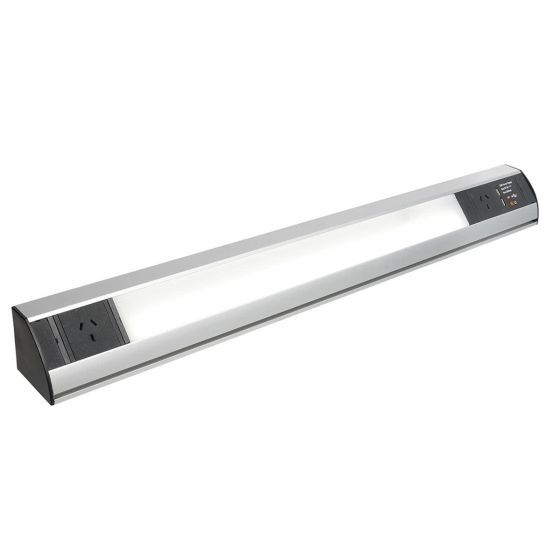 Under cabinet lighting is a great option to illuminate work zones and countertops as it shines directly down from the wall cabinet.
The main advantage of the undercover cabinet ceiling light is that it does not create any shadow, and produces a bright and focused effect on a specific area, without casting high light levels in the entire kitchen area.
Choose LED light fixtures since they are energy efficient and provide great light performance.
In addition, under cabinet lighting is sleek and essentially invisible once installed in the ceiling or within the furniture. The advantages and disadvantages of under cabinet lighting are:
| | |
| --- | --- |
| ✅ Pros | ❎ Cons |
| ➡ No shadow formed on work zone | ➡ Small, aimed light |
| ➡ Invisible when installed | ➡ Illuminates only work zones and countertop areas |
---
The light you choose should illuminate the space clearly, without casting awkward shadows. At the same time, this light should adequately illuminate the kitchen areas, without causing glare or undesired effects.
In general, kitchen lighting should be warm and friendly, rather than cold and harsh.
It is important to determine the main types of lighting that can be used in a kitchen area, and study their use in combination with each other.
For instance, recessed light is convenient but not very flexible, and can not be used anywhere, whereas track lights are much more flexible, allowing repositioning of the lights where needed.
To meet the requirements of your kitchen lighting, a well planned combination of task and ambient lighting is required.
Task lighting illuminates the work space, either entirely or paired with ambient lighting, and ambient lighting provides the overall lighting levels needed in the kitchen.