Mirror lights, commonly found in bathrooms, bedrooms, hallways, and dressing rooms, help to jazz up the area where it is installed. It improves reflection and adds a nice feature design to a house.
It makes the space look bigger, brighter, and more open.
It is a common component in bathrooms, where it radiates lighting where it is often needed most.
LED lighting, readily available in various temperatures and lumens (the measure of how much light a bulb emits), provides better illumination than the traditional lightbulbs. 
Mirror lighting exists in different designs, each with their own specifications and functionality.
Thus, one's need, taste, and available resources determine the brand, version, and model of the individual purchases. 
Generally, mirror lights function by maximizing electrical power. This illuminates the LED bulbs and activates its features, like a touch sensor or demister pad.
Vanity lights are a very convenient way of lighting up an area, enhancing aesthetics, and removing shadows. It is relied upon for detailed tasks, such as make-up application, shaving, or photography, among others.
Top 10 mirror lights reviews
---
1. Brilliant Babylon 18W LED Slimline Vanity Mirror Light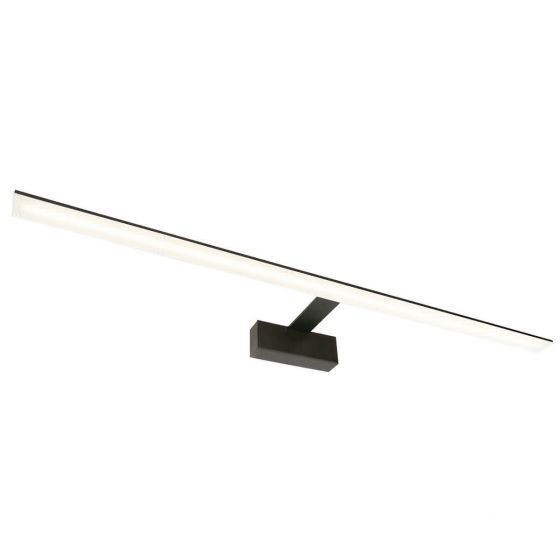 This striking light is recommended for use in bathrooms, laundry rooms, or kitchens. It is non-dimmable with a fixed-fitting style.
This product from Brilliant Lighting has a high LED with an acrylic diffuser which reduces shadows while radiating enough light without being overpowering. It has a matte surface and highlights, fine lines with the accompanying
vanity light.
Key features
18W LED
3000K white warm temperature
Produced with aluminum, iron, and acrylic
Recent technology or design
Matte finish
Ability to minimize shadows while producing light with the help of an acrylic diffuser.
Not dimmable
IP44 rating
Fixed fitting style
3-year warranty
2. Eglo Pandella 11W LED Vanity Mirror Light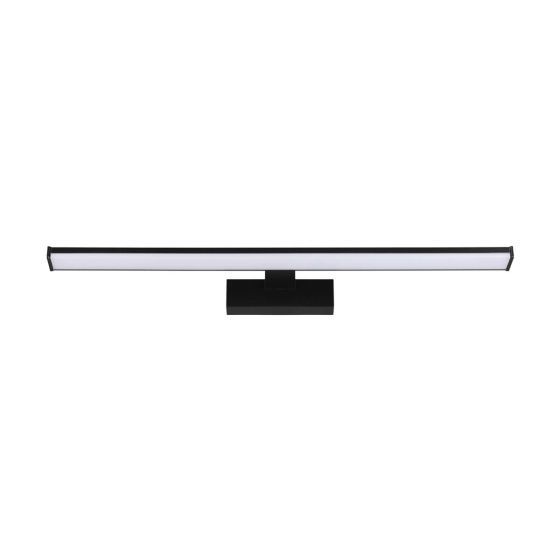 Another sleek design by Eglo. This light fixture is the perfect replacement for vanity or feature lights. It comes with a white diffuser and a 4000K neutral white LED.
Key features
11W LED
Sleek modern design
Its neutral white color temperature is 4000k
1350lm brightness output
Lasts for about 25,000 hours
Useful as vanity or feature light
Fixed fitting style
Integrated globe included
IP44 rating
Diffuser is frosted
Chrome finish
5-year warranty
3. Cougar Lighting V0ss Large 21W Vanity Light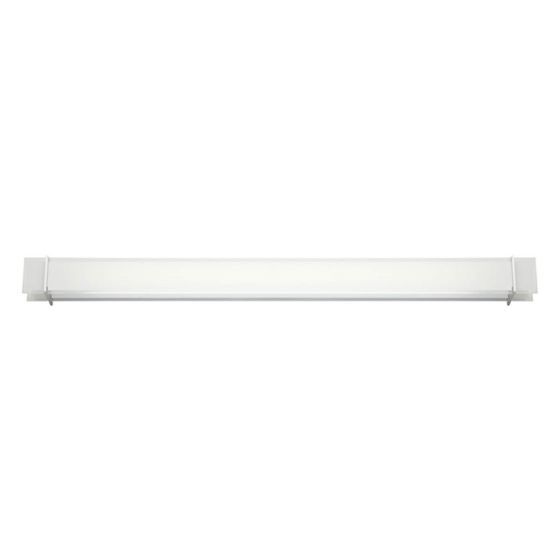 This is a unique design from Cougar Lighting. It's the Voss line, a stunning vanity mirror light for your bathroom's classical look and appearance. It can be mounted horizontally or vertically too as desired.
Key features
21W
Frosted glass
Globe included
4000K warm white color temperature
Lamp type is the T5 model
Fixed fitting
1-year warranty
4. Domus Mirror 20W LED Tri-Color Vanity Mirror Light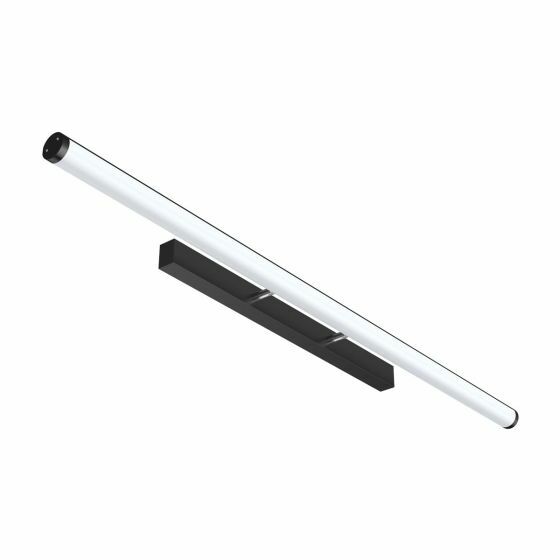 This vanity light has a tubular aluminum body and tubular opal frost carbohydrate diffuser with adjustable knuckles. This design is modern with the added option of changing the color and temperature of the wall light.
It is effective at the illumination of mirrors, pictures, or any other wall decor. The tri-color technology is 3000k warm white, 4000k cool white, and 5700k daylight. The brightness output is 2100lm (3000k), 2200lm (4000k), and 2300lm (5700k).
Key features
20W
Tricolor technology
The aluminum body is round and tubular
IP40 rating
Opal -frost polycarbonate diffuser
Adjustable knuckles
Warranty – 3 years
Tri brightness technology
Not dimmable
5. Telbix Oras 24 Tri-color Vanity Mirror Light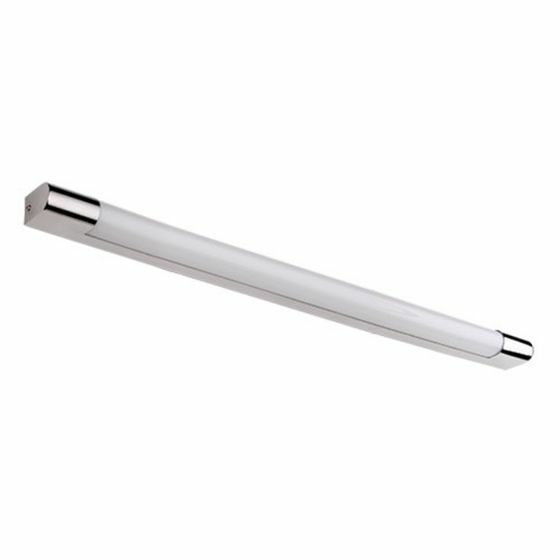 This simple but effective design by Telbix is a good addition for your vanity space. The Oras 24W LED wall light is elegant, sleek, and functional, enough to give your bathroom a glowing look. The light is stunning: it is made up of a chrome stainless steel cover, a complete colour-changing LED, and a white opal acrylic diffuser.
It emits sufficient light and is also available in 12 and 18W respectively recommended for use in hallways and bedrooms. It has a white opal acrylic diffuser.
Key features
Design is modern and contemporary
12W or 18W
Diffuser is frosted
Integrated Tri-colour LED
Fixed fitting out
IP44 rating
5-year warranty
6. Cougar Lynx Black 16W LED Vanity Wall Light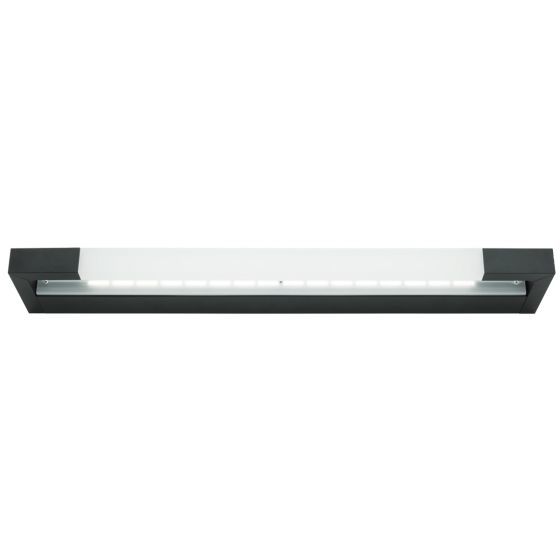 Featuring a 4000k brushed aluminum design, this black vanity dimmable LED light comes in diverse variations – 12W, 16W, and 20W hence offering a wide array of choices to consumers.
Key features
Brushed aluminum or black finish
LED light is inbuilt and dimmable
4000K cool white light
12W, 16W, and 20W for small, medium, and large sizes.
Fixed fitting style
3 years warranty
7. Fiorentino Gina 14W LED Vanity Mirror Light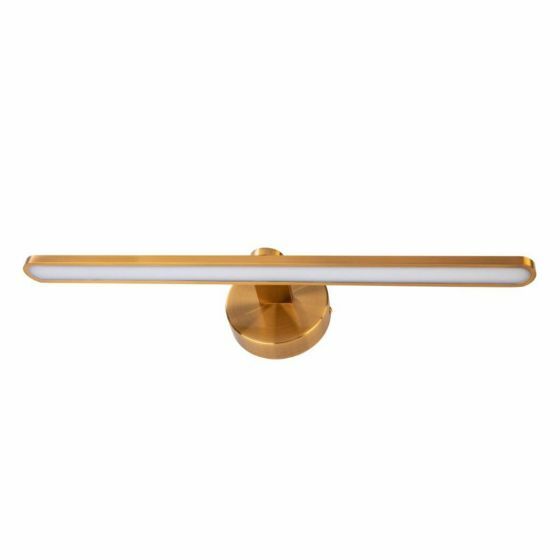 Gina, a slender design light, comes in three different colors and is perfect for bathroom decor. With the contemporary slimline design, it is perfect for lighting up a bathroom mirror. The 14W Gina 9 radiates a bright light equivalent to 4000K cool white.
Key features
14W LED
Diffuser is acrylic
Temperature is 4000K cool white color
Fixed fitting style
The antique brass model has a round canopy
1-year warranty
8. Glow & Co LED Ring Light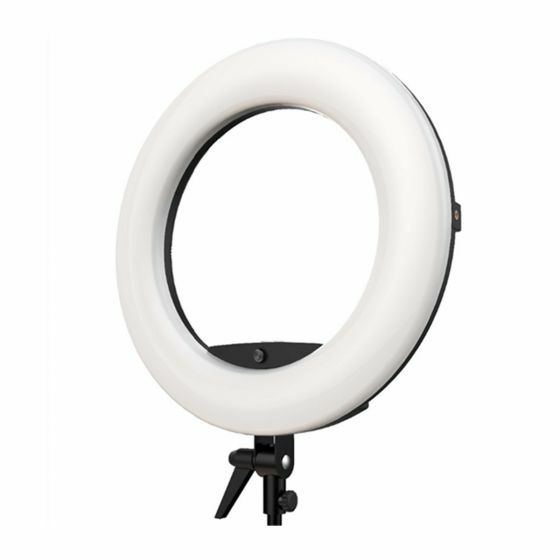 This 17-inch infinity ring dimmable and turnable light is perfect for content creation. It comes with accessories like an AC adapter, flex, plug, etc. It's a perfect lighting option for make-up artists, content creators, and selfie lovers.
Key features
Perfect for indoor and outdoor shooting
It has a single button control
Ideal for photography, make-up, etc.
55W LED
Can be dimmed from 2-100%
3200k-5600k tunable white color temperature
3100lm lux level
1-100% dimmable light
Extra power cord, carry bag, and deluxe led ring light
1-year warranty
9. Brilliant Greta II 18W LED Slimline Vanity Light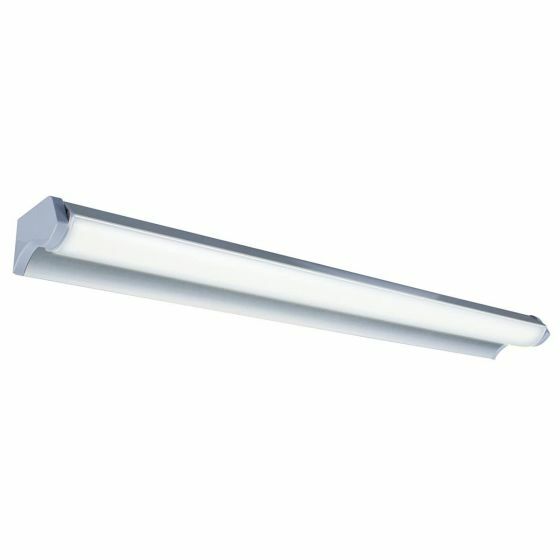 Greta II, an adjustable slimline vanity light designed by Brilliant Lighting, is the best option for use in bathrooms, laundry rooms, and kitchens. It has a smart-looking silver line finish with a non-dimmable lumen level.
Key features
Silver finish
Diffuser is acrylic
12W and 18W are available
Not dimmable
4200K cool white SMD LED array
240V input
3 years warranty
10. Domus 5 Light Hollywood Vanity Light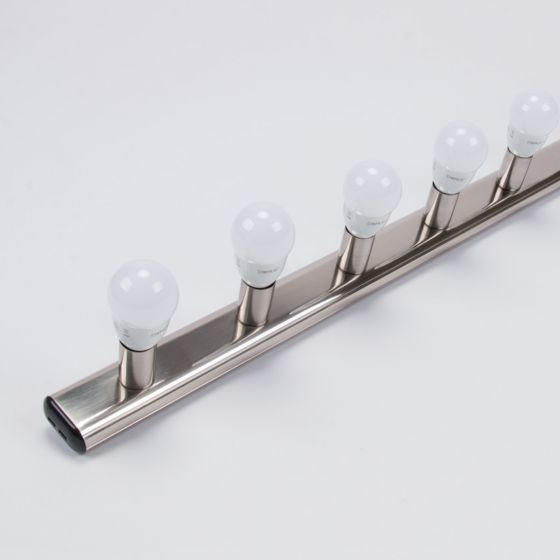 These classical lights designed by Domus are fitted with B15 lamp holders. The decision to choose the right light globe that matches your taste is entirely up to you.
Key features
Frame is aluminum
Has 5 B15bayonet lamp holders
It's dimmable when paired
Can be used indoors only
Leaves you with a variety of choice of globes
Has 1-year warranty
Top 10 mirror lights buying guide
---
There are many varieties of bathroom LED lights available on the market today.
They come different in shapes, sizes, and designs. The crystalline reflections that accompany these LED mirror lights give them a classy aesthetic, and are sophisticated and customizable.
LED is the best solution to add natural light into your home and it makes some activities of daily living like make-up application or shaving easy.
When choosing or planning to purchase a LED mirror light, it is pertinent that one considers the following characteristics.
Functionality
Consider your need for light and the space to be illuminated. In addition, you must also consider how long you'd need the light daily.
Size
Take note of the dimensions of the wall (length and height) as well as the function the mirror would carry out in the bathroom. Note that LED bathroom mirrors are usually lower than the vanity.
Style
Lighting is an important aspect of the style of any home, and LED mirror lighting is no exception. LED lights add sophistication to your bathroom.
Size of the bathroom and lumens required
A larger bathroom requires more light, resulting in a larger quantity of bulbs or a higher lumen value.
Frequently asked questions about mirror lights
---
Are the mirror lights dimmable?
The brand and model of vanity light purchased determines whether it is dimmable or not. Some come with a dimming switch which enables the user to dim the lights.
However, an LED mirror can be adjusted to accommodate a dimmable power regulator which allows connection to a compatible switch.
Furthermore, some lights offer a remote-control option that can be activated during the purchase or later by an electrician.
What is the color temperature in a standard Lighted Mirror?
The standard color temperature is 3000K, and that is what we recommend.
Can a lighted mirror be the only source of light in a bathroom?
Professionally, we do not recommend using a lighted mirror as the only source of light in a bathroom. Overhead lights should be added to create a sufficiently lighted and balanced environment.
Are LED bathroom mirrors worth it?
Bathroom mirrors with LED lights are an ideal component of modern and contemporary interior decor. Their clean, shiny aesthetic makes it look very practical as the lighting is equally distributed around it.
How long does a LED mirror last?
The average LED mirror lasts for about 50,000 hours. LED bulbs last longer than their counterparts- incandescent or halogen lamps.
Does the size of the room matter?
The size of the vanity light needed depends on the number of lights required as well as the size of the bathroom. The larger the bathroom, the more light is needed.