When it comes to ceiling fans, the market nowadays feels overloaded with multiple options. If you're looking for a modern and stylish alternative, you'll want to check out some of the latest and greatest fans available.
Modern ceiling fans are a great way to keep your home cool during the summer months. They're also vastly more energy-efficient than older models, and will offer substantial financial savings on your energy bill.
Given the vastly different styles, shapes and sizes of modern ceiling fans one can choose from, you need to select an option that goes well with your home décor.
A ceiling fan with an integrated LED kit, will allow for even greater financial and energy savings, as the combined products use less energy and can help reduce your carbon footprint.
Although modern ceiling fans with LED lights are more expensive than their traditional counterparts, they use, however, less energy and last much longer than those equipped with traditional incandescent bulbs.
When choosing a ceiling fan, it is important to consider the size of the space where you intend to install the fan. For large open areas like great rooms, a modern ceiling fan with a 62″ or larger blade span, will blow a significant amount of air while operating at a high efficiency.
On the other hand, a fan with a smaller diameter is a great choice in the kitchen or the breakfast nook. Commercial ceiling fans are the most suitable for office spaces, while hugger fans can be used for rooms with low-hanging ceilings.
Outdoor ceiling fans are generally heavier duty, and are recommended for front porches and patios. These models have a safety listing of wet or damp, that ensures their smooth operation in locations with water contact.
Modern ceiling fans with lights can offer a centered source of illumination, ideal for kitchens, offices, and workspaces. Dimmable lights with dimmer modules help regulate and control the mood of the space.
What to look for in a modern ceiling fan?
There are a few things to keep in mind when choosing a modern ceiling fan.
To ensure a uniform appearance, you'll want to make sure that the fan you choose is compatible with your home's décor. You don't want a fan that will stand out from the ceiling and disrupt the setting of the space.
Another important consideration is the size of the fan. You'll want to make sure that the fan you choose is the right size for the room you plan on using it in.
If you choose a fan that's too small, it won't be able to properly and efficiently circulate the air. Alternatively, if you choose an oversized fan for a small room, it can make the room feel colder, and might become uncomfortable to operate.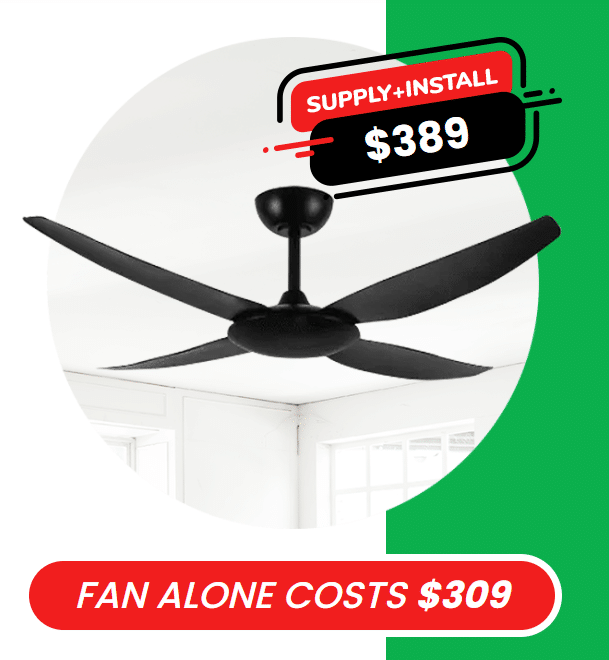 We take care of all your ceiling fan requirements, from supply right through to installation. Our certified and licensed electricians will provide you with the best and most affordable solution that matches your style, setting and budget. All our fans are available with a market-leading 6-year warranty!
How big is a modern ceiling fan?
The size of the modern ceiling fan is directly associated with the size of the room you intend to cool. Modern ceiling fans come in a variety of shapes and sizes. Although the most common shape is round, you can also find fans in oval, square, and rectangular shapes.
The size of the room you want to cool will determine the blade span of the ceiling fan you need. A small room like a bathroom or bedroom can accommodate a 36" to 44" blade span, whereas a large room like a great room or living room requires a blade span of 50" or more.
What is the best ceiling fan for large rooms?
For large rooms, you'll want a ceiling fan that has a blade span of 50" or larger. Large-sized fans will allow the circulation of large volumes of air very efficiently. You should also ensure that the fan you choose is compatible with the space's décor.
How many blades are best for your Modern Ceiling Fan?
Although the blades of your fans do have an important role in achieving optimal performance, several more important factors are more relevant to the output and functioning of the fan, including blade speed, air flow velocity, motor speed, and the blade angle.
Therefore, the number of blades cannot be used as a reliable indicator of performance by itself. A ceiling fan with three blades can perform better than one with four blades, considering the number of other relevant factors.
Choosing your Modern Ceiling Fan's finish (color) to best match your decor
The correct color choice for a ceiling fan depends on several aspects that can affect the color directly and indirectly. These include the general style/decor of your home, the specific room where the ceiling fan will be installed, and even the climate.
For example, in a tropical setting, it is common to find ceiling fans with palm leaf blades whereas, in a more modern home, you might see a ceiling fan with chrome or brushed steel blades.
It's important to keep in mind that the finish of your ceiling fan should complement the finishes of the room's walls, ceiling and furniture.
For instance, if your space has a lot of wood furniture, you might want to choose a ceiling fan with wooden blades.
On the other hand, if your room has an industrial or rugged theme, a ceiling fan with metal blades might be a better option.
You should also consider the climate and environmental conditions when choosing a ceiling fan. If you live in an area with a lot of humidity, you'll want to choose a fan that's specifically designed for damp conditions, whose material and finish can withstand humidity.
On the other hand, if you live in a dry climate, it would be a better choice to select a ceiling fan that has a built-in humidifier.
The range of styles and options means that no matter what your specific needs are, you can find a modern ceiling fan on the market that's a perfect fit for your settings and space.
What is the latest technology in a ceiling fan?
Most of the energy-efficient ceiling fans currently available on the market are types that use brushless direct current electric motors (BLDC motors), which require electrical power controllers for rotational motion.
Many ceiling fans are designed and supplied with integrated LED lights.
To reduce the drag on the motor and increase efficiency, some newer designs have smooth rather than serrated blades. The leading edge of each blade is slightly rounded to further reduce turbulence as it cuts through the airstream.
Can ceiling fans be stylish?
Yes, ceiling fans can be very stylish. There's a wide range of fans that extends from simple designs with basic functional features, to ornamental and decorative types that can stand out as a ceiling centerpiece. 
Are modern ceiling fans good for summer?
Although they don't lower the temperature in the room, ceiling fans can make a room feel cooler by creating a wind-chill effect.
A ceiling fan can be a great option to combat the heat and to reduce stuffiness and stale air of rooms during the summer. It is recommended to operate the fan at low or medium speeds, so as not to create a wind chill that's too strong.
Which fan is better 3 or 4 blades?
Fans with four blades have a lower noise output and are useful in rooms with a heat pump to move cooler air. Moreover, they usually look more stylish. Alternatively, 3-bladed fans are more efficient at moving air than 4-bladed types.
Which is better: 4 or 5-blade ceiling fan?
According to energy stars, a fan with four blades works the same way as a fan with five blades. Fans containing fewer blades turn faster and have a higher motor, creating stronger wind chill effects.
What is the best size ceiling fan for a living room?
This directly depends on the size of your living room. If you have a large living room, you'll need a bigger ceiling fan. Conversely, if you have a small living room, it will be better to choose a smaller ceiling fan.
However, as a general rule of thumb, most people recommend a ceiling fan size that's at least 36 inches in diameter.
This will ensure enough airflow to make a noticeable difference in the wind circulation and overall feel of your living room.
What is the best way to clean my ceiling fan?
To clean your fan, dust the blades with a microfiber cloth. Using a vacuum cleaner and a soft brush attachment, remove any dust that's accumulated in the crevices of the blades.
Finally, wipe down the body of the fan with a damp cloth to remove any fingerprints or smudges.
Which ceiling fan is best for summer?
Amari fan is one of the best options for the summer as it runs on a powerful motor and has three different speed settings. The blade pitch is optimized to deliver high air flow even at low speeds. This fan is available with a 6-year warranty.
What is the coolest ceiling fan?
Amari Ceiling fan is one of the coolest ceiling fans available on the Australian Market.
It has a sleek, minimalist design and is manufactured from high-quality materials.
The 52-inch ceiling fan is aerodynamically designed and is appropriate for indoor and outdoor settings, specifically seaside locations as its body, canopy, and blades are made from long-lasting and anti-rust ABS plastic. The fan uses a powerful, efficient, and quiet DC motor that drives the curved ABS blades for superior airflow.
Do ceiling fans cool a hot room?
Although modern ceiling fans don't reduce the ambient temperature, they can certainly help cool the space's environment, given the strong chilling effect. This effect and air movement causes a rapid evaporation of sweat from the skin, cooling the space users.