The type of lighting you choose for your home can make a big difference. As far as lighting fixtures are concerned, pendant lighting is one of the most versatile formats you can choose. They are great for illuminating your kitchen, living space, and bedroom.
Pendant lights add a great personality and ambiance to your space. There are different types of pendant lights you can choose from. They vary in terms of sizes, lengths, setup, and styles. We have rounded up the 12 best affordable pendant lights that will fit any home—whether that be a modern style or a rustic charm.
What is a Pendant light?
If one is a décor fanatic, then chances are high they're well aware of what pendant lights are. However, for those who aren't quite familiar, pendant lights feature as independent fixtures hanging from the ceiling by means of a rod or a chain.
You might find such lights suspended in groups of three or more. However, they also come in larger sizes that can serve as a single statement piece too. Pendant lights come in an array of styles and sizes, which means there are plenty of varieties in the market for one to choose from.
6 places to use pendant lighting
Well, it depends on the owner where they'd like to install pendant lights. Still, there are a few specific sites that pose best for these fixtures. While there are many locations where pendant lights would be useful, there are a few key areas where you're most likely to find pendant lights in a home.
Kitchen
First, we have our kitchens. If we go back into records, pendant lights were originally curated for the kitchen countertops. Well, no doubt, it remains the most preferred location by homeowners to install these lights.
While pendant lights obviously aid in the brightness of the space, the main purpose behind their use is the added decor. This is why you'll find these beautiful lights hanging in most homes over dining room tables or kitchen island countertops..
Dining area
Envision the comfort of a few warm-toned pendant lights accentuating your dinner get-togethers. This is why pendant lights have replaced dining table chandeliers in several homes.
If placed at an appropriate distance above the table, these lights can add a subtle elegance to your dining space, also providing a pop of lighting.
Living room
Living areas need a cozy and homely setting, making for the perfect opportunity to use warm-toned pendant lights. Not only will these present a mood-setting ambiance, but many varieties come with a dimmable feature for when you need minimal lighting.
Hallway
People go above and beyond to integrate the theme, tone, and decor throughout their houses. Ignoring lighting in entryways would immediately disturb that integration and hard work.
Upon installing a pendant light in the entrance hallway, you're creating a focal point that will bring balance to all the other elements of your decor.
Bedroom
Taking a plunge into your comfy bed after a long tiring day gives you a feeling that is unmatched by anything else. Now, imagine a product that could enhance this whole experience for you. Well, that could be a pendant light.
It won't take away from the peaceful feeling of your bedroom, if you choose a subtle design—instead, it could enhance the comfort.
Bathroom
Pendant lights can even transform the most basic-looking washing space into an exquisite setting with just one addition.
Pendant lights go great around the vanity spaces if the design can be matched with the overall theme of the bathroom.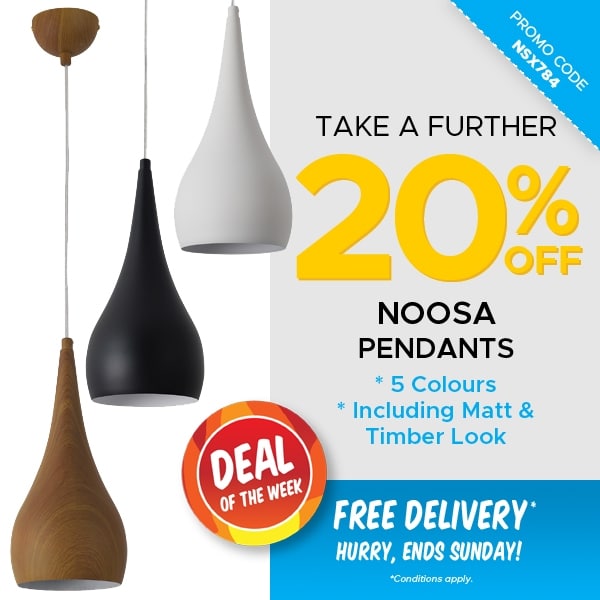 Best pendant light summary
Best pendant lights reviews
---
Pendant lights provide different visual appeals for various rooms. There are many considerations you should think about when shopping for pendant lights. Scroll through to find the most suitable pendant light to lighten your space.
This is one of the most versatile pendant lights with a modern design. It features a clear glass shade that suspends through the metalware.
This pendant light provides your space with some personality. You can choose a light with a globe or without a globe based on your needs.
It has a nice brass finish on the metalware and clear shade color. The PVC cable is clear. This light is dimmable if you buy a dimmer switch.
Key features
240v power rating
Adjustable cable length of 2400mm
Body diameter of 220mm at the widest point
The body length of 280mm
Ceiling canopy of 120mm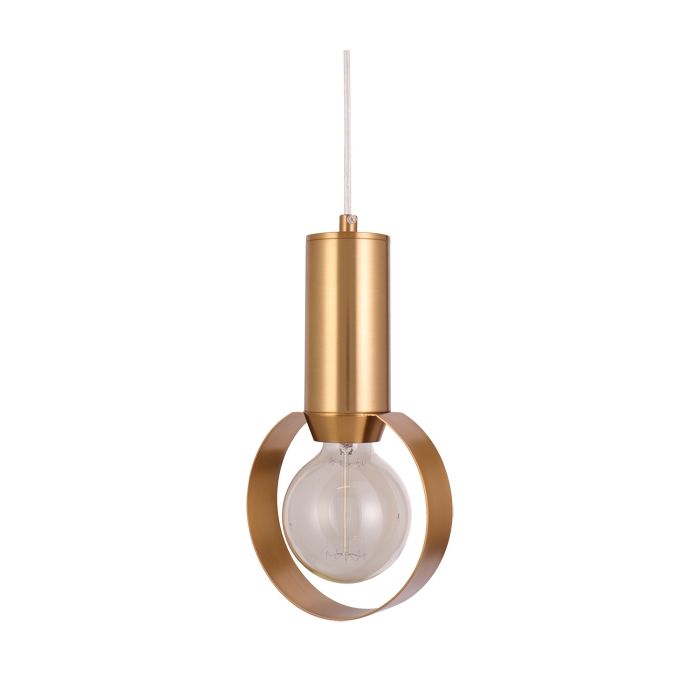 If you need something trendy and stylish, this Magg pendant light is right for you. It has a clear glass bulb that is surrounded by a stunning metal accent to create an appealing light fixture.
The pendant has a minimalist and contemporary design that expresses the personality of your indoor spaces.
The metalware has a brass finish and it has a clear PVC cable. It is dimmable when you choose to buy a dimmable switch separately.
Key features
2400mm adjustable cable length
240v power rating
100mm ceiling canopy diameter
285mm body length
150mm widest point body diameter
1XE27 globe 40v max
Chrome is a versatile color that exudes a modern design.
This pendant light is great for decorating and lighting your spaces. It is made of white glass shade which is suspended through metalware with a minimalist design. Its character is bold and gives your room personality.
It has an opal matte white shade, chrome metalware, and a clear PVC cable.
Key features
1xE27 globe 40w max
120mm ceiling canopy diameter
320mm body length
Chrome metalware
Opal matt white shade
2400mm adjustable cable length
190mm widest body diameter
This is another pendant light with a minimalistic design. The budget-friendly light has a modern yet simple look. It is great for commercial and residential applications.
If you need different colored pendant lights, including this one provides the room with a nice pop art feeling. The pendant light features a white gloss canopy, a white cloth cord, and a white gloss lamp holder.
Key features
2400mm adjustable cable length
240v power rating
200mm lamp holder
120mm ceiling canopy diameter
43mm lamp holder body
White gloss canopy
White gloss lamp holder
Install this blue pendant light to achieve a funky and stylish look.
The pendant light is ideal for industrial and modern spaces. The light is versatile and can be interchanged to meet your lighting needs.
You can install it in different places like the bedroom, retail space, or cafes. It would fit and provide a nice visual impact in any of these spaces. It comes with a blue canopy, a blue fabric cord, and a blue lamp holder.
Key features
120mm ceiling canopy diameter
100mm lamp holder body length
2400 adjustable cable length
Blue canopy, cord, and lamp holder
If you are looking for an effective yet simple pendant light, get this model. It is best suited for modern spaces and it provides versatility and matches any home décor.
The pendant light is good for any space—retail spaces, cafes, and homes. It includes a white fabric shade, a white lamp holder, a white canopy, and white PVC cord. You can buy a dimmer switch separately to make it dimmable.
Key features
240v power rating
100mm ceiling canopy diameter
2400mm cable length
200mm height shade and a diameter of 300mm
White canopy, cord, shade, and lamp holder
The Ascot nickel pendant light is great to suit industrial and modern lighting design requirements.
You have the option to use the pendant light as a cluster or single pendant light. Its end is threaded with a nut and this allows you to add a shade of your liking.
The pendant light is perfect for a commercial and residential setting. It has a nickel lamp holder, a black cord, and a black canopy.
Key features
120mm ceiling canopy diameter
80mm lamp holder length
50mm lamp holder diameter
Adjustable cable length of 2400mm
240v power rating
The Dami pendant light is durable and features a minimalist design.
This reasonably priced pendant light offers both vintage appeal and a modern style. You can use the light for benches and over bars in commercial and domestic settings.
It is made of concrete and has a nickel canopy. The light has a white shade and a clear cable. It is dimmable if you purchase a dimmable switch.
Key features
240v power rating
100mm shade height
50mm shade diameter
2400mm adjustable cable length
White shade color
Clear cable
Nickel canopy
1 x 40w E27 max
This beautiful copper pendant light would enhance the look of any home.
It blends perfectly with retro and modern styles. You can choose to use it in a cluster or as a single pendant to come up with a dramatic effect. The pendant light is made of metal and glass.
The frame and the shade color are copper and the cable is clear.
Key features
1 x E27 globes 40w max
225mm shade height
125mm shade diameter
2400mm adjustable cable length
Metal and glass construction
Copper frame and shade
240v power rating
The Croft pendant light combines a unique design and a stunning look.
This is your ideal pendant light if you need something decorative and aesthetically appealing. The pendant light works great for kitchen areas, living rooms, dining spaces, and entryways.
Its main construction is metal and the cable, shade, and frame color is white. You can buy a dimmable switch to make it dimmable.
Key features
IP20 rating 240v power rating
330mm shade height
160mm shade diameter
2400mm adjustable cable length
Metal construction
White color on frame, cable, and shade
The Drake nickel pendant light has a stunning appearance.
It has a sphere design that balances perfectly on the edge of a rod. This gives it a look like it is floating independently. This spectacular pendant light gives elegance to your indoor spaces.
It is made of glass and metal construction.
The frame color is matte nickel, the shade is opal matte, and the cable is clear. You can choose a light with a globe, without a globe, or with a dimmable led globe.
Key features
570mm frame height
200mm glass diameter
2400mm adjustable cable length
240v power rating
IP20 rating
Matte nickel frame color
Opal matte shade
1 x 40w E27 max globe
This is an eye-catching pendant light made of bamboo.
It has a unique design that matches perfectly with any modern design. The pendant light looks great over kitchen island benches, in open entryways, or over a staircase for cluster creation.
The main construction is bamboo and it has a brushed aluminum frame color. Its shade color is neutral.
You can choose the option that comes with a globe, one with no globe or with a dimmable led globe. It is also dimmable if you get a dimmable switch separately.
Key features
Neutral shade color
Bamboo construction
Brushed aluminum frame
410mm shade height
170mm shade diameter
2400mm adjustable cable length
IP20 rating
240v power rating
Best pendant lights buying guide
---
Pendant lights are great because they provide both functionality and style. To find the right pendant light that matches your needs, consider these essential buying tips.
Size
Before you choose the right size, consider the location you want to install the pendant light.
Most pendant lights come in different lengths ranging from 5-43 inches. If you need to install the pendant light above the countertop or dining table, the right height should be between 24-30 inches.
Many pendant lights are also designed with extension rods or an adjustable chain to help you choose the right hanging height.
The most important thing is to ensure you hang the pendant light such that it doesn't hang too low to disturb people.
Type
You can choose from a wide range of pendant lights to match your home décor requirements.
The most common types of pendant lights you can choose include glass, shade, lantern, drum shade, globe, cord, and linear pendants, though there are many others.
Style
There is a wide range of styles and finishes you can choose for your pendant lights.
Always choose a style that matches with your décor. The most common types you can choose include the following:
Unique pendant lights
Traditional pendant lights
Transitional pendant lights
Contemporary pendant lights
When it comes to the styles, there are plenty of themes you can choose from. They include coastal, novelty, vintage, farmhouse, and industrial among others.
Pendant lights are also available in different finishes which include black iron, oil-rubbed bronze, polished nickel, polished chrome, and brushed nickel.
Shades and accessories
The most common shade material for pendant lights is metal, fabric, and glass. In some small pendant lights, you need to buy the shade separately.
Selecting fabric shades is great for bedrooms because it offers more diffused light.
If you need stylish pendant lights, consider wood or metal panels. Metal shades are suitable for the kitchen.
Installation
If you are into DIY projects, you can install pendant lights without the help of a professional.
However, if you don't have the experience, you might look for professional help.
It is good to pick a pendant light that provides easy installation. You can also check if a manual for download is available to help you with the installation process.
Frequently asked questions about Pendant lighting
Where should I install pendant lights?
Pendant lights work well for different rooms.
You can install the lights over kitchen benches, in living rooms, in bedrooms, and even in bathrooms. You just need to pick the right style that suits each room.
Do I need hard wiring to install pendant lights?
Installing pendant lights is easy and you don't need to do hard wiring. This makes them suitable for people who live in rented apartments and are restricted from making modifications.
How low should I hang my pendant lights?
The best way to hang your pendant light is to leave a distance of 30-36 inches between the pendant light and the surface below it. That can be above your dining room table, kitchen island, or nightstand.
Wrapping up
There are so many reasons why pendant lights are popular.
Not only do they look great but also best suited for different spaces. There are many pendant lighting options you can choose from for different rooms in your house.
I hope the above reviews and buying guide will help to compare the features and pick the best pendant light for you.
Related Posts