Installation of light & fittings in a room is a task that requires careful consideration. This is mainly due to the fact that lighting solutions should be selected to suit a person's needs or the requirements for the room.
One of the more favoured lighting options for many contemporary spaces is the LED downlights.
It is a typical choice for many homeowners in Sydney to install this type of fitting in various rooms in their home such as in bedrooms, bathrooms, & even kitchens in order to instantly add style & modern flair that other fittings cannot afford.
In addition to LED downlights being extremely versatile & attractive, many Sydneysiders opt to use them because of their energy-saving capabilities & longevity.
LED lights in any form significantly cut down on the cost of electrical bills over the course of a year. You will find yourself changing lightbulbs less often due to the long life span of the LED bulb.
What is Led Downlight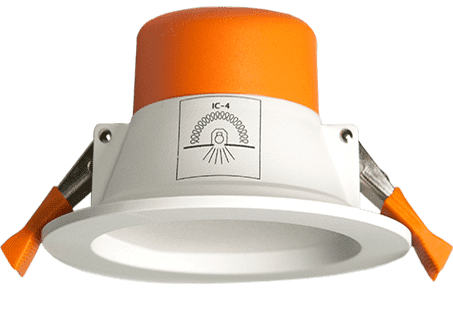 Complete LED lighting upgrade from as little as $33
LED downlights are normally mounted onto narrow openings in the ceiling of a selected room. The manner the fixture is fitted usually entails the need for it to be hidden from view.
This results in the light appearing to shine from a hole in the ceiling. Those who opt to use LED downlights in their room are given a wide range of options to choose from, there are different sized fittings, shapes & even an array of coloured LED fittings that can easily transform any space.
Similar to floodlights, LED downlights to have the ability to cast a bright light in a downwards direction but in a narrower field similar to spotlights.
Why are LED lights the future of residential lighting in Australia?
---
➡ LED light bulbs have an incredibly long lifespan
Imagine not having to worry about buying a replacement bulb for 22 years!
They also don't just burn out & stop working like conventional light bulbs, but rather slowly dim out over time.
Also, unlike conventional bulbs, LED light bulbs do not lessen in lifespan or brightness when turned on & off constantly.
This also implies that there is no delay when you turn on an LED light bulb, which is something you usually experience when turning on conventional light bulbs.
➡ They are energy-efficient
How so?
They have an energy efficiency of 80%-90% when compared to conventional bulbs, which typically operate at about 20% energy efficiency.
So, when you turn on an LED bulb, you use much less energy to light up an area with a higher quality light emission. Cutting down on your energy consumption also lowers your electricity bill each month.
➡ They are clearly cost-efficient as well
The cost of these light bulbs is becoming more affordable day by day.
Also, their longevity allows the consumer to not only make their money back but also start saving money once the electricity bill rolls in.
➡ Versatility
LEDs can be formed into any shape, emit any colour light, & can be incorporated into any environment. They have the ability to produce concentrated beams of light at specified frequencies of light.
They can also be designed to emit certain parts of the light spectrum that activate specific photoreceptors in plants.
This is important when growing any sort of plant indoors. Lastly, they are designed to work even with low voltage.
The overall versatility of LED lights makes them ideal for a myriad of environments, situations, events, and even moods – Yes, I said mood.
Why should you use them?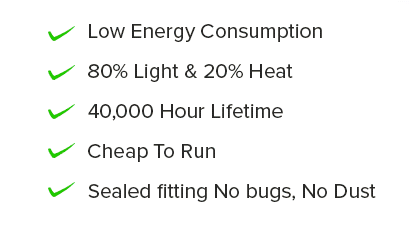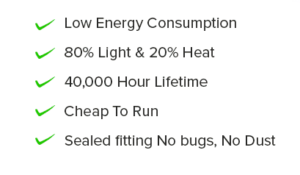 Not only is LED downlighting an attractive lighting solution for any room in your home, but it is also a very efficient & effective light source that operates on minimal energy levels & only gives out low heat.
This makes this fitting an ideal inclusion to your space & an attractive feature while still maintaining functional purpose.
Other than producing less heat that would add to atmospheric conditions & global warming, LED fixtures are environmentally friendly mostly due to their lack of mercury content.
Fluorescent & other lighting units go through a manufacturing process that involves the inclusion of mercury, which results in carbon emission in the atmosphere, something that LEDs clearly do not have.
Who can use a led downlight?
Led downlights can be used by anyone ranging from homeowners (both indoor & outdoor use), factories, offices, classrooms, lecture rooms, hospitals, laboratories, museums, & art galleries.
What are the government subsidies plan on led lighting upgrades in Sydney?
Australia has focused on lessening its carbon emissions by 65% by 2030. To make this a reality, each state in Australia has an energy-saving initiative or plan intended to bring down energy consumption.
Through these plans, the government provides subsidy packages in the form of rebates or grants which essentially decrease the expenses of items & establishment for your LED lighting update.
The Australian government gives out millions of dollars subsidy packages to help Sydneysiders in their decrease energy expenses & utilization.
Energy retailers in Australia are obliged to meet energy proficiency targets & will offer a blend of approved activities to meet these objectives.
They can either do these exercises straightforwardly or utilize an outsider worker for hire to finish these exercises for their benefit.
The NSW Energy Savings Scheme (ESS) offers financial incentives to install energy-efficient lighting in NSW for businesses and households.
The government-backed scheme seeks to help businesses and individuals reduce their energy consumption and lower their carbon emissions. This is directly helping everyday Australians to slash their energy bills dramatically.
Is LED downlight better than halogen downlight?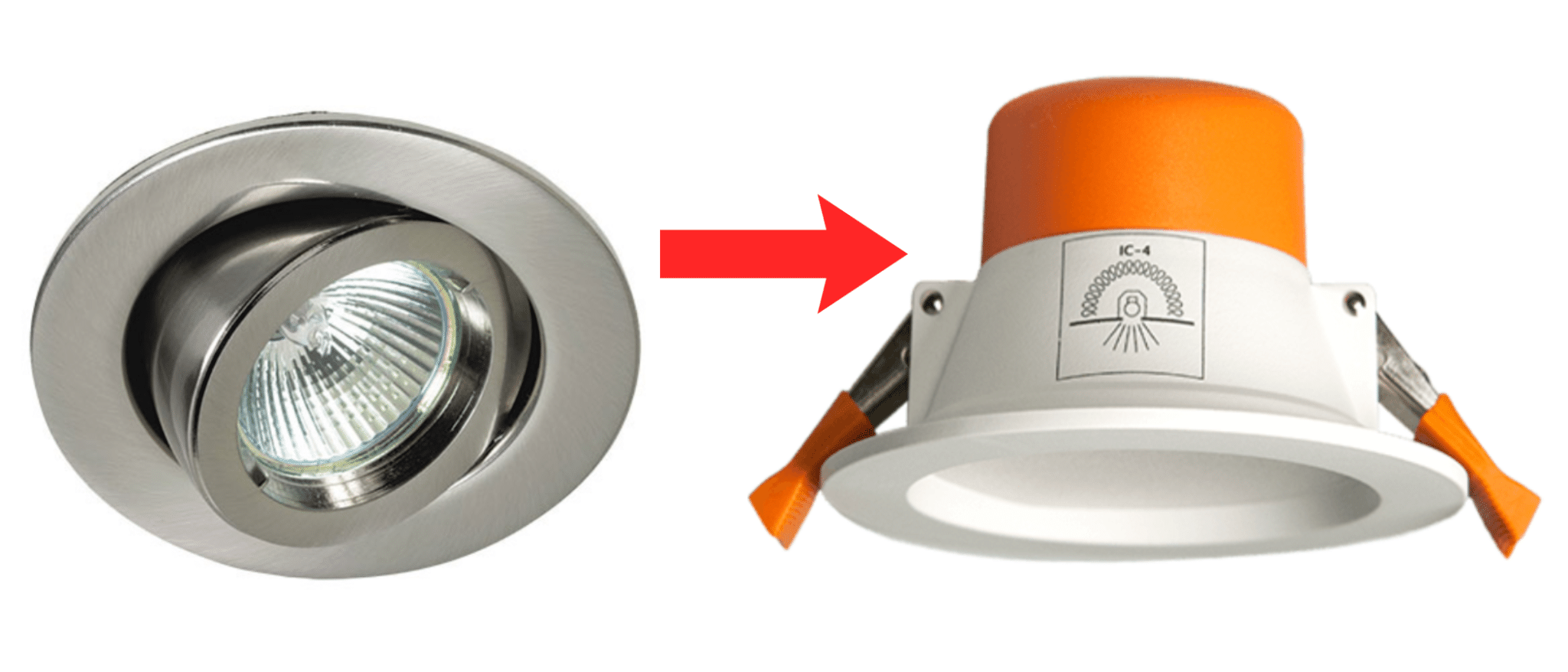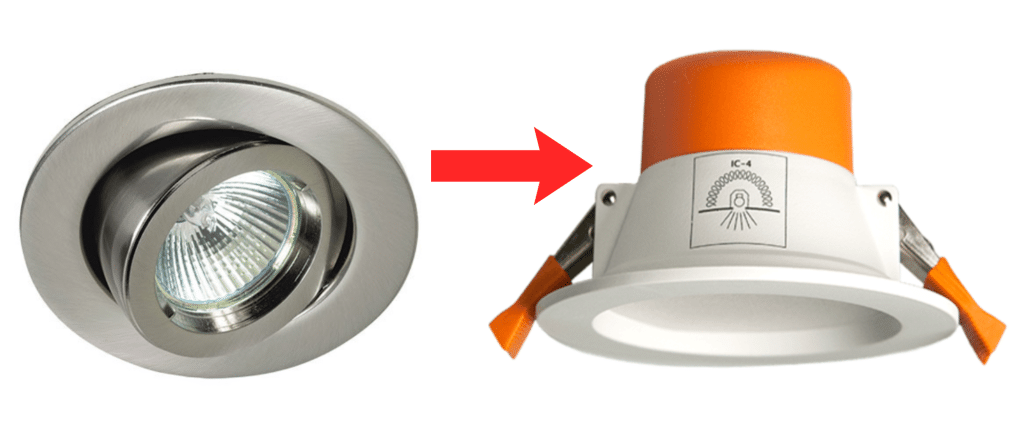 The manner in which manufacturers have applied these technologies to under cabinet lighting products reflects the properties of each source.
Because halogen bulbs produce so much heat, they are popularly mounted in a 120V light bar that also employs an air circulation system to cool the bulb & the surface of the cabinet.
This wastes more energy in the production of light, & the fixture is often bulky & more visible than desired.
LED under cabinet lights is drastically more compact. They do not require a cooling system, & because they consume very little energy, they often run on low voltage sources.
One 12-volt AC/DC adapter can effectively illuminate countertop space under 12 or more feet of cabinets. & because the strips run on low voltage power, installation is simplified.
LED light strips & components can be connected in a chain of male to female plugs that originate at the power source that is simply plugged into an outlet.
Low voltage adapters can also be hardwired into standard conduit supply, in addition to dimmer switches, which will result in a professional & clean installation with even more energy-efficient capabilities.
When the properties of halogen & LED lighting are compared to one another, it may be unclear as to why halogen under cabinet lighting ever existed.
The answer is simply that LEDs never produced useable amounts of light until recent developments in semiconductor technology.
Now that more capable semiconductors are being developed, LEDs are being implemented into many different consumer products, in ways that never seemed imaginable.
Get a Free LED consultation for your home: