1. Mica lighting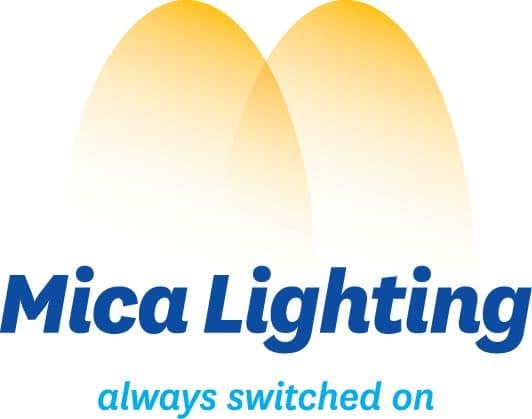 Mica Lighting is a well-known Australian lighting company that sells high-quality lamps, fans, lights, and accessories to customers all over the country.
Mica Lighting has a very broad lighting collection, covering all types from high-end decorative fixtures with shiny finishes to simple, modern and practical lighting types.
Their large selection of light types, models and ranges, guarantees you'll find what you are looking for. Mica Lighting is a very convenient alternative to use for your lighting needs as it's completely online based, giving you full access to their product ranges from the comfort of your home.
Before you buy from Mica Lighting, there are a few things you should know.
Purchases made on the internet.
The online search "lighting stores near me" is one of the most popular search hits with people looking for lighting. Mica Lighting is primarily an internet business, which they realize can dissuade some customers from using their service.
Lighting fixtures in general, and decorative items in particular, are very design oriented items in the household and customers generally appreciate physically seeing and checking these lights before making a decision.
However, for customers who enjoy the practicality and speed of online purchases, Mica Lighting guarantees a safe purchase through their SecurePay team – which ensures that your bank card information is kept secure and private and is not stored on their system.
Shipping and pickup services are available.
Mica Lighting offers a number of services, including flexible pickups and deliveries. Shipping details are determined based on your location and the size of your order.
Once you enter your postcode, your shipping cost is instantly calculated and added to your shopping cart, to help you make a quick decision on whether you prefer the order delivered, or whether it'll be better to pick it up yourself.
If your purchase is significant and you don't wish to pay a high shipping fee, you can pick up your order between 9:00 a.m. and 5:00 p.m. on the days the showroom is open, at the provided address on the site.
The procedure is very straightforward: once you settle your invoice, you will receive an email or phone call advising when your purchase will be ready for pickup at the showroom.
Insurance for Shipping
The website gives you the option to ensure your order and items against loss or damage during shipping, which is generally a good practice, especially if the items are fragile, as in the case of lighting fixtures.
This will, however, incur an additional cost on the order, and is a personal and additional option that the website offers at the checkout page, before finalizing the payment.
Shipping insurance is a one-time fee, and it covers you if your order is stolen, lost, or damaged during shipping.
Customer Service
Mica Lighting is well known for its professional customer care service.
Their aim is full customer satisfaction.. In case you've got any queries or worries about your order, you can reach out to the Mica Lighting team by dialling 1300 GO MICA or visiting their 'contact us' page on their website, which is accessible twenty-four hours a day, seven days a week.
Available products
Mica Lighting offers a wide range of lights, led lights, fans, and lighting accessories. They offer reasonable costs, and their website is continuously populated with great deals and promotions.
Lighting
Mica Lighting places lighting fixtures and accessories at the heart of its business, and goes above and beyond to satisfy the widest range of lighting needs.
With a vast product range and multitude of offerings, Mica Lighting aspires to be your go-to lighting resource.
This quest to become Australia's go-to lighting company has led Mica lighting to greatly expand their range and include varied types and models, to ensure all customer tastes and choices are met.
Lamps
Mica Lighting also sells lamps in various styles, shapes, and colors and for different areas of the house, whether for bedside, table or office desks.
Fans
Fans are not only an excellent item to improve airflow and cool down the house on a hot day, they are becoming a necessity in Australia.
Mica Lighting also offers a wide fan range and can assist you in finding the appropriate fan to satisfy your space and home requirements.
Accessories
Lighting products are equipped with a variety of electronics, controllers, holders and shades to provide a range of different settings and characteristics. Mica Lighting has a huge accessory inventory, meeting their wide range of lighting products.
2. Euroluce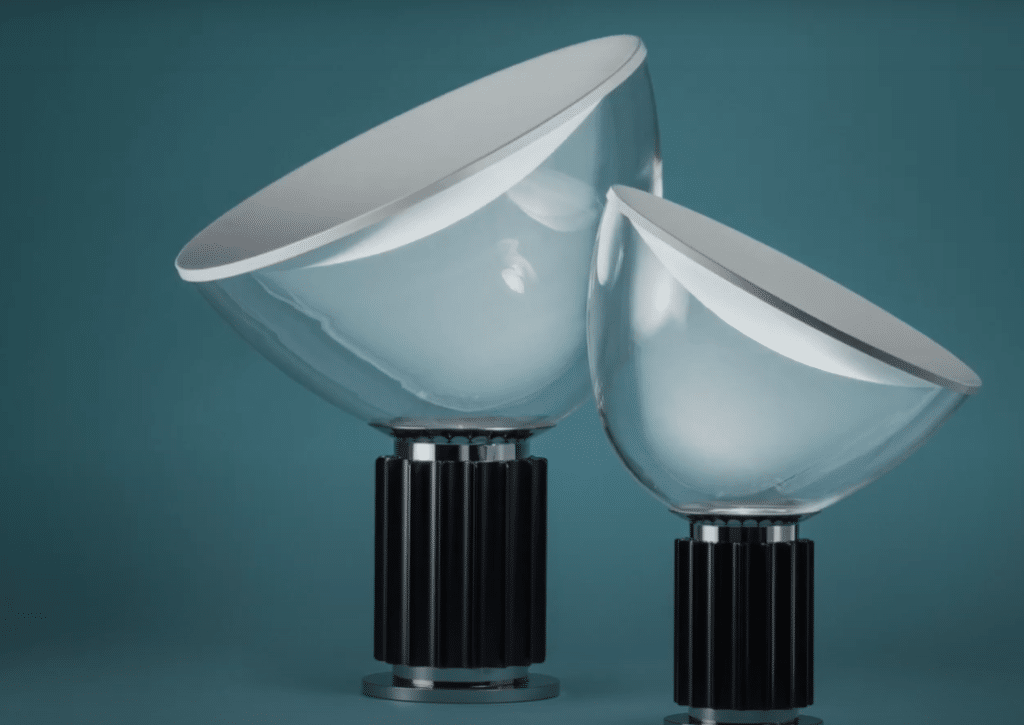 Euroluce is a well-known and highly respected supplier of contemporary architectural, technical, and decorative Lighting in Australia, with offices and studios in Sydney, Melbourne, Brisbane and Perth.
They have built their name on their fundamental values of quality, integrity, creativity, innovation, sustainability, and excellence of service over 40 years in the professional and creative lighting business.
Their overall commitment to the benefits of high-quality lighting has shaped the Company's evolution, allowing them to constantly and exclusively represent worldwide lighting brands having top rated industrial and technological designs.
The Euroluce collection runs far and wide, offering a wide selection of products to meet the demands of modern architecture.
A consistent level of quality and innovation runs across their portfolio of brands, allowing them to find lighting solutions for all of their clients, regardless of the project demands.
Euroluce consistently represents global lighting brands meeting design and technical capability, material originality, and innovation in the Australian market.
Most items in the Euroluce range have been designed by world leaders in industrial design since 1950. Euroluce is keen to bring to the market original and licensed products that respect the copyrights and unique ideas of designers and are intended to inspire interior designers, architects, and lighting designers.
3. Beacon lighting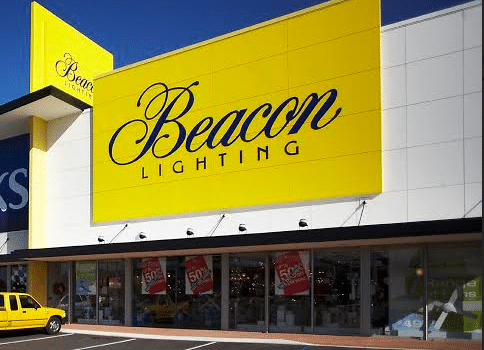 Beacon recognizes the importance that lighting has on your life, work, and general feel, which is why they are committed to assisting you in making the best lighting decisions possible.
Every day, they strive to make a positive difference in your life by boosting your wellbeing and allowing you to appreciate the spaces you live and work in.
This desire comes from a personal commitment to help you live better, live warmer, with more light, more imaginatination and more relaxed.
They offer unrivalled expertise and customer service that goes above and beyond competitors, offering a product line that is great in both style and sustainability.
Each of their business spaces has accredited lighting designers and professionals, which ensures their customer-centered care and focus satisfies all their residential and commercial clients
Through Beacon Lighting Commercial, Light Source Solutions, Masson For Light, and their international operations in New Zealand, Hong Kong, Germany, the United States, and China, they provide the most cost-effective and energy-efficient ways to illuminate your spaces.
They are optimistic about the future and the world they live in, and they hope to inspire you to live a happier, more satisfying life every day.
The most innovative concepts from around the world
Their in-house buyers look for the latest fashions, trends and innovations from across the globe, to guarantee that their collection includes the most cutting-edge designs and energy-saving concepts.
Beacon Lighting leads the entire process: from designing products that can meet strict Australian and international standards, to manufacturing them, and finally bringing them to market, once they've identified a new lighting trend.
Many of their product lines are unique to them, and each bears the Beacon quality seal.
The leading lighting company in Australia
Thanks to their extensive range, expert product knowledge, and outstanding customer service, they are your one-stop-shop for all your lighting needs.
Beacon Lighting, however, is more than just lights. The company also boasts Australia's most prominent fans collection, a large selection of globes and homewares, and the latest intelligent lighting control technologies.
They have you covered when it comes to living life to the fullest—guaranteeing spaces that are brighter and more energy-efficient, as their designs are not only fashionable but also very environmentally friendly.
They are at the forefront of cutting-edge lighting and cooling technologies and designs, and can provide expert guidance on the most efficient and cost-effective ways to light and cool your house or office.
They can assist you in making more intelligent decisions, lowering your energy bills and reducing greenhouse gas emissions.
4. The house of lights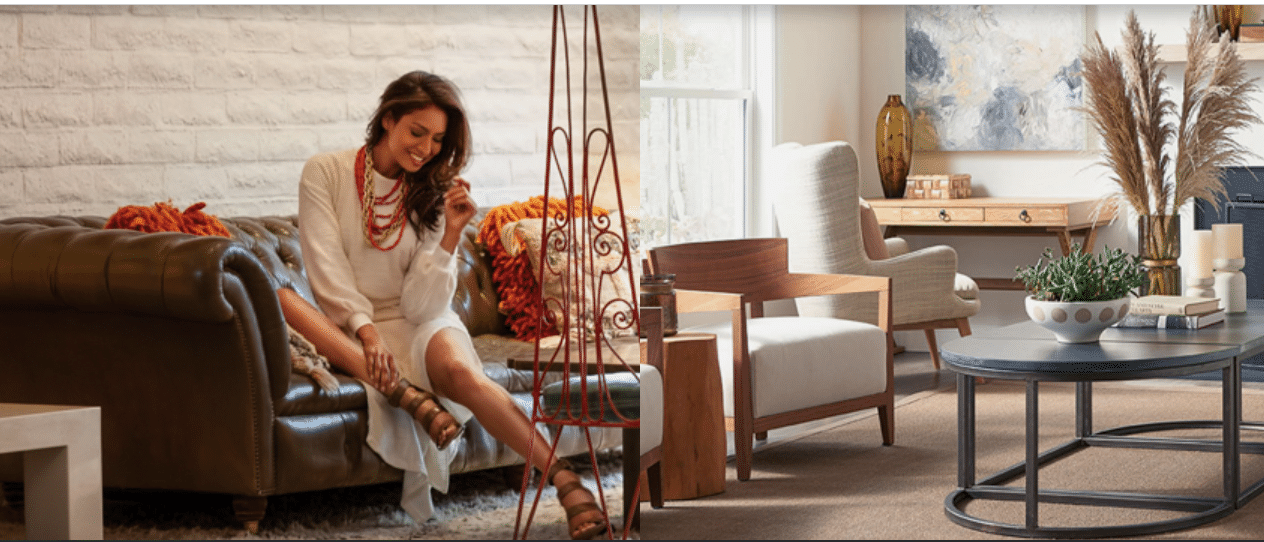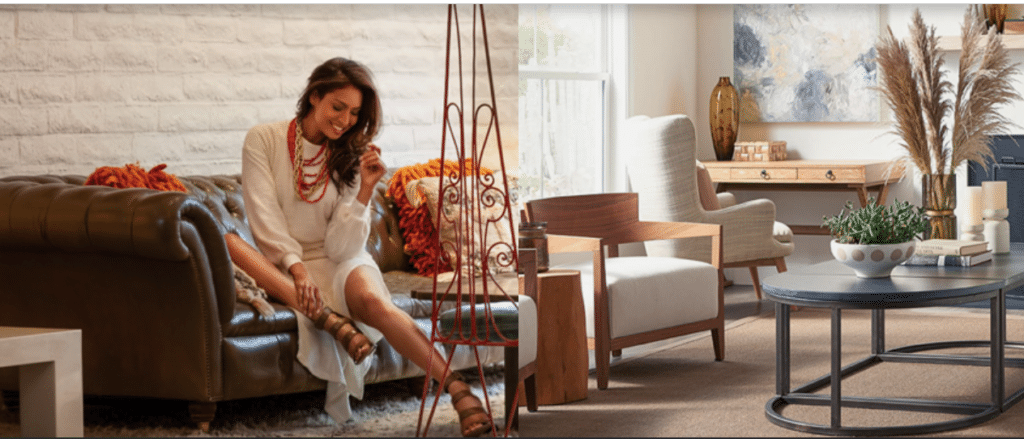 The lighting experts at Melbourne's The House of Lights & Home Accents have been installing and servicing products they sell in their showroom for more than 50 years.
Experts Who Are Ready To Assist
The team of highly trained, skilled, and qualified professionals is ready to assist you with all of your lighting and home décor requirements.
Their crew has a combined experience of 150 years of lighting and decorating experience, in addition to numerous industry and supplier certifications, and is highly prepared for any project and requirement.
They invest significant resources in continued research, testing, and education of new technologies and trends that affect their industry.
Each team member receives ongoing education in every product segment they service and offer. Moreover, they strive to provide an immensely enjoyable experience at their lighting showroom.
Value is what you obtain, not what you pay for.
When you purchase home décor or modern lighting at The House of Lights, the value you gain goes beyond the product and into the additional features and services you are offered:
Buying power: As a founding member of one of the largest lighting and home décor buying clubs in the world, their joint purchasing power allows them to pass HUGE savings on to you.
Ten thousand square feet of motivation: Their ever-changing lighting store meets almost every style and price range, covering the extremities of standard traditional lights to highly innovative ones.
Free on-site design consultations: Employees are readily available to assist you with the layout, size, scale, colors, and materials so you can reach the best design possible for your space.
Installation services: They have massive experience installing the products they sell for more than 50 years, and are one of the best in the industry.
5. Radiant lighting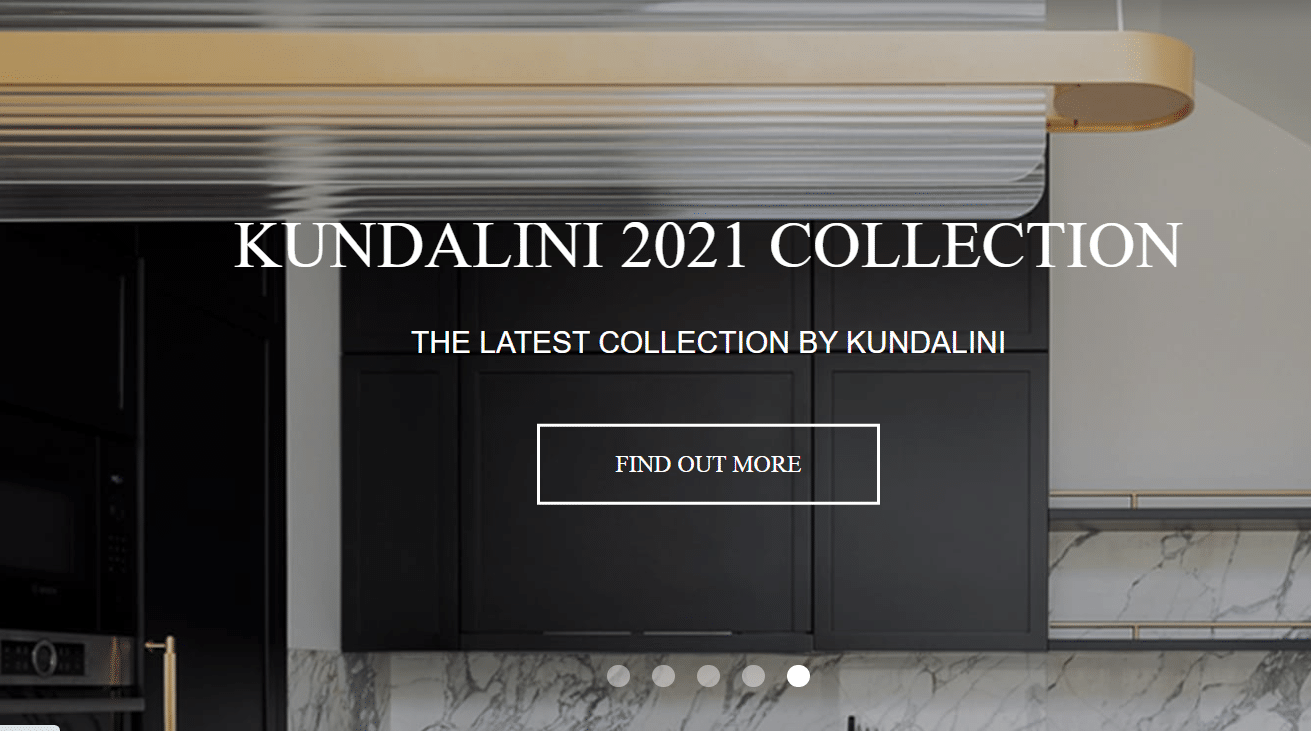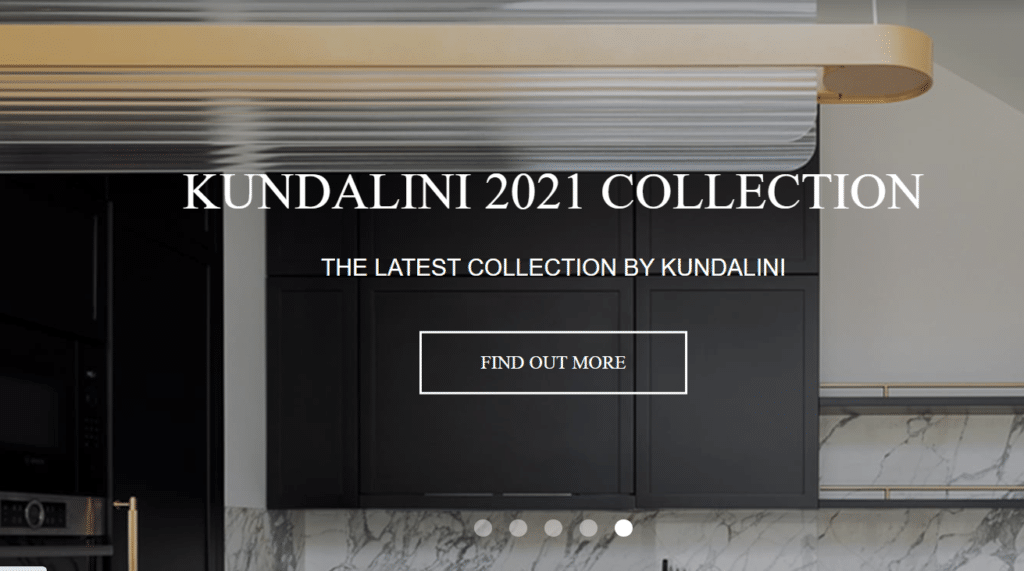 Since its inception in early 1988, Radiant Lighting has been at the forefront of lighting quality, innovation, and design for residential and commercial design.
The corporation has grown at an exponential rate over the last three decades. Their brands are represented across Australia in Melbourne, Sydney, Canberra and Brisbane, offering the best lighting types to clients in the commercial and residential sectors.
Radiant Lighting is an exclusive distributor for designer luminaires from major manufacturers in Italy, Denmark, United States, Germany, Switzerland, and Spain,among other countries.
For Radiant Lighting, light is more than simply a product; it's a way of life.
They seek the world's most elegant luminaires, believing that they can change the way you think about light and shadow, brightness and color, style and quality.
Their expert lighting design specialists are dedicated to helping you find the ideal concept for your life and style.
They create interior and exterior design solutions based on their expert knowledge and wide design experience.
Their Balcatta showroom and headquarter display products from a wide variety of companies including Graypants, FontanaArte, Kundalini, Tooy, Daro and many more.
6. St. John lamps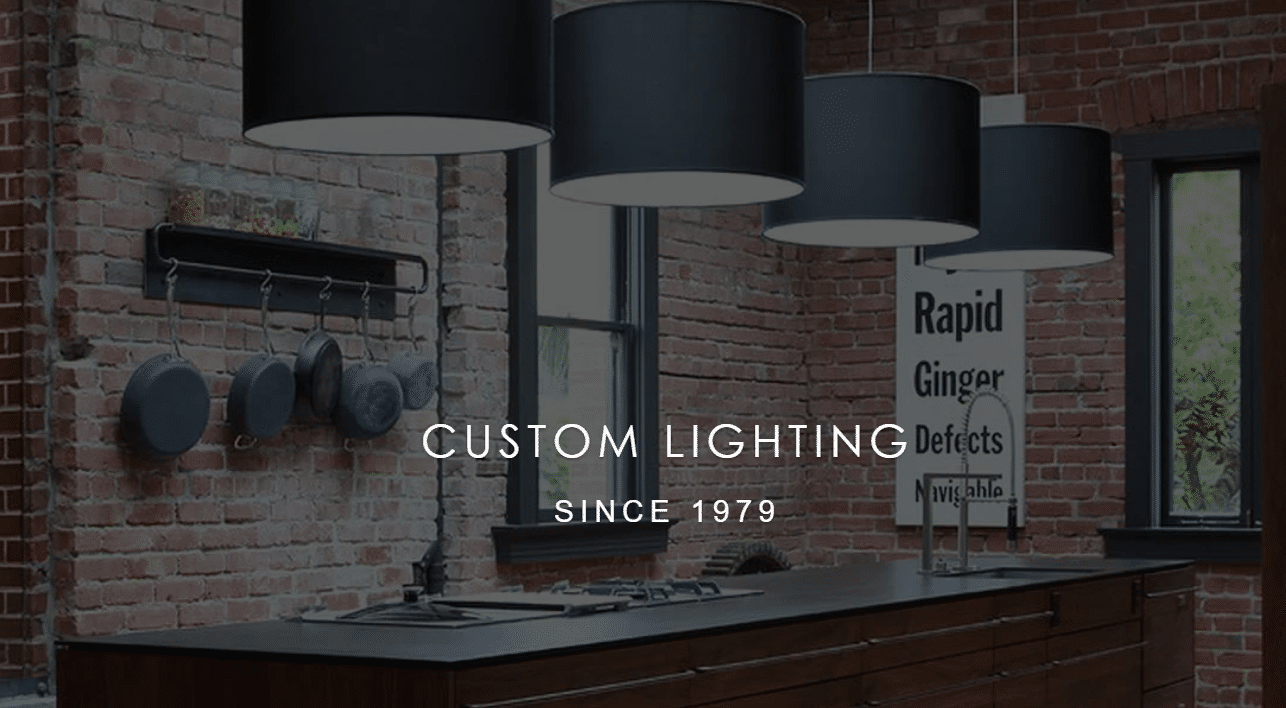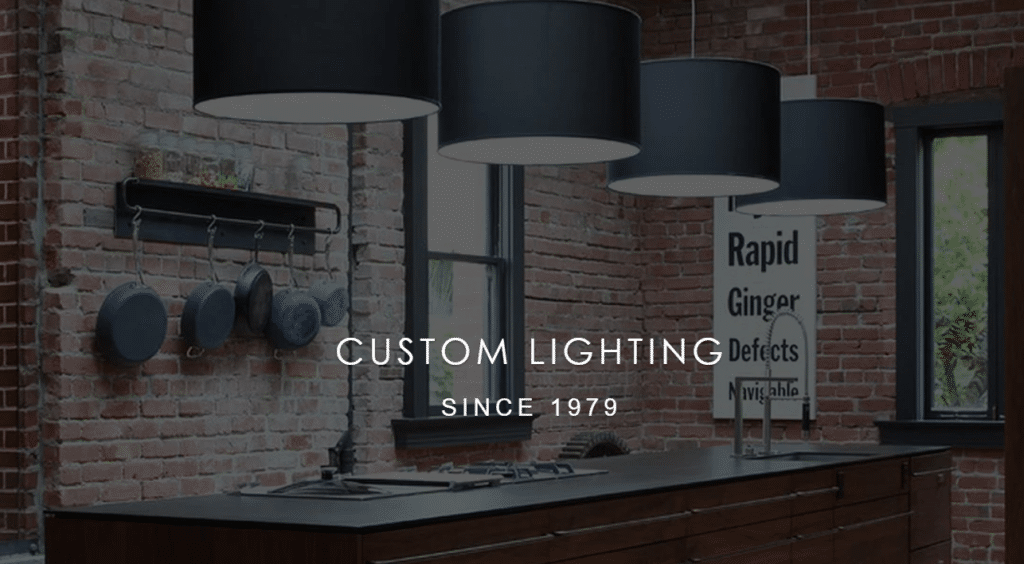 Robert St. John Kennedy, the current owner, founded St. John Lamps in 1979.
They are committed to developing personalized items using the latest lighting technologies and designs and offering a wide choice of colors, forms, and fixtures.
They continue to innovate at their core. They manufacture original, luxurious, and long-lasting custom pendants and lampshades in their workshop.
St John lamps provides large-scale customized projects for a wide range of clients, including corporate offices, commercial buildings, retail malls, as well as restaurants, pubs and 5-star hotels.
They've manufactured several lighting designs that can be customized and personalized to meet specific material choices, and they can create one-of-a-kind pieces that can be shaped into specific shapes and styles.
Creative Wire & Plastic Coating, their sibling company, uses a unique procedure to create specialized, specifically designed shapes, allowing them to create lampshades of any style and shape desired.
7. The lighting outlet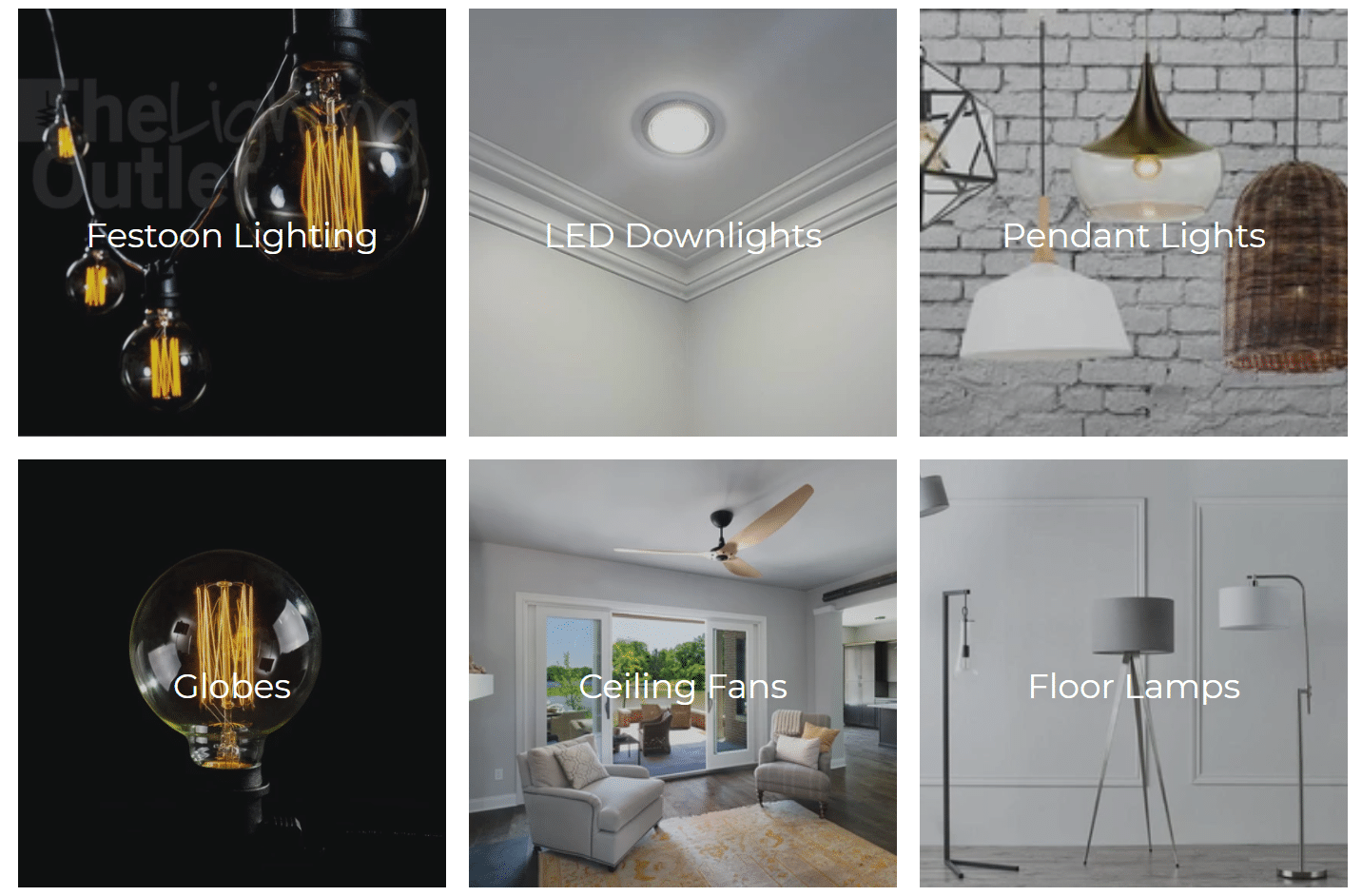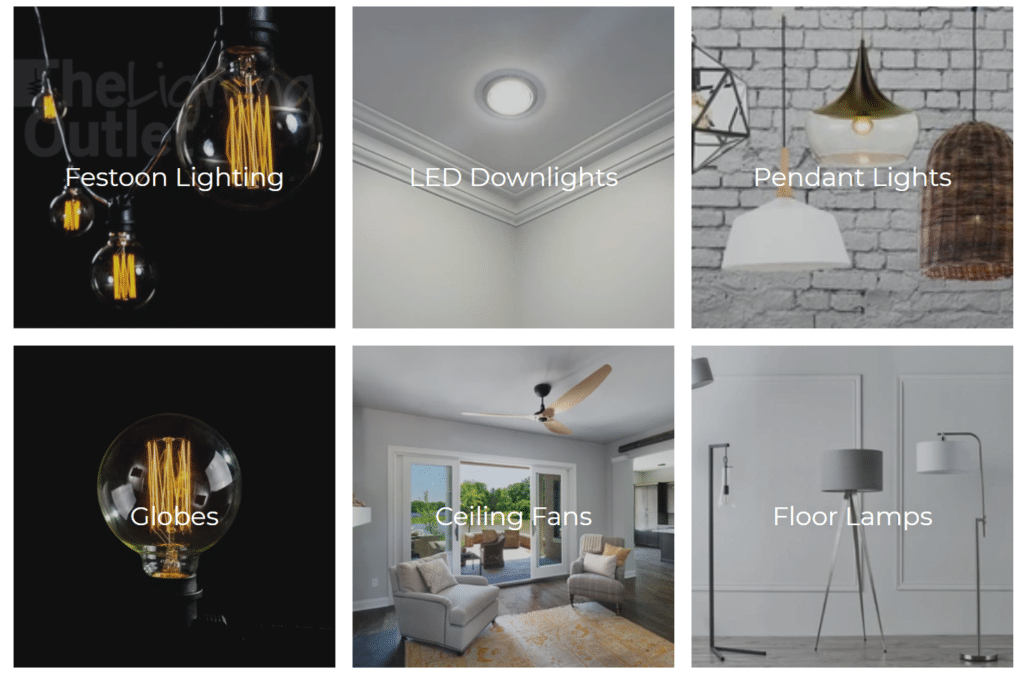 The Lighting Outlet is a Sydney-based online lighting retailer with a showroom in the Eastern Suburbs.
They have one of the largest selections of lighting fixtures under one roof and can meet all of your lighting requirements, including LED downlights, LED strip lighting, pendant lights, and more!
They provide quality lighting fixtures at wholesale prices from some of the world's most trusted companies. They've teamed with a fleet of couriers countrywide to reach you and light up your project on time, every time.
They're committed to providing a personalized and reliable transaction from the website, all the way to your door.
Their courteous and professional customer support team is always available for technical queries regarding your next ceiling fan, floor lamp, or information on the current lighting trends.
Their expert skilled designers may also provide free lighting design services. If you're in the Sydney region, give them a call, and they'll set up a phone, email, or home visit consultation for you.
They'll even design your entire lighting scheme for you! Give them an idea or a desired style, and they'll take care of the rest.
They are extremely devoted to their lighting products and services, and strive to be the best in the industry.
8. JD Lighting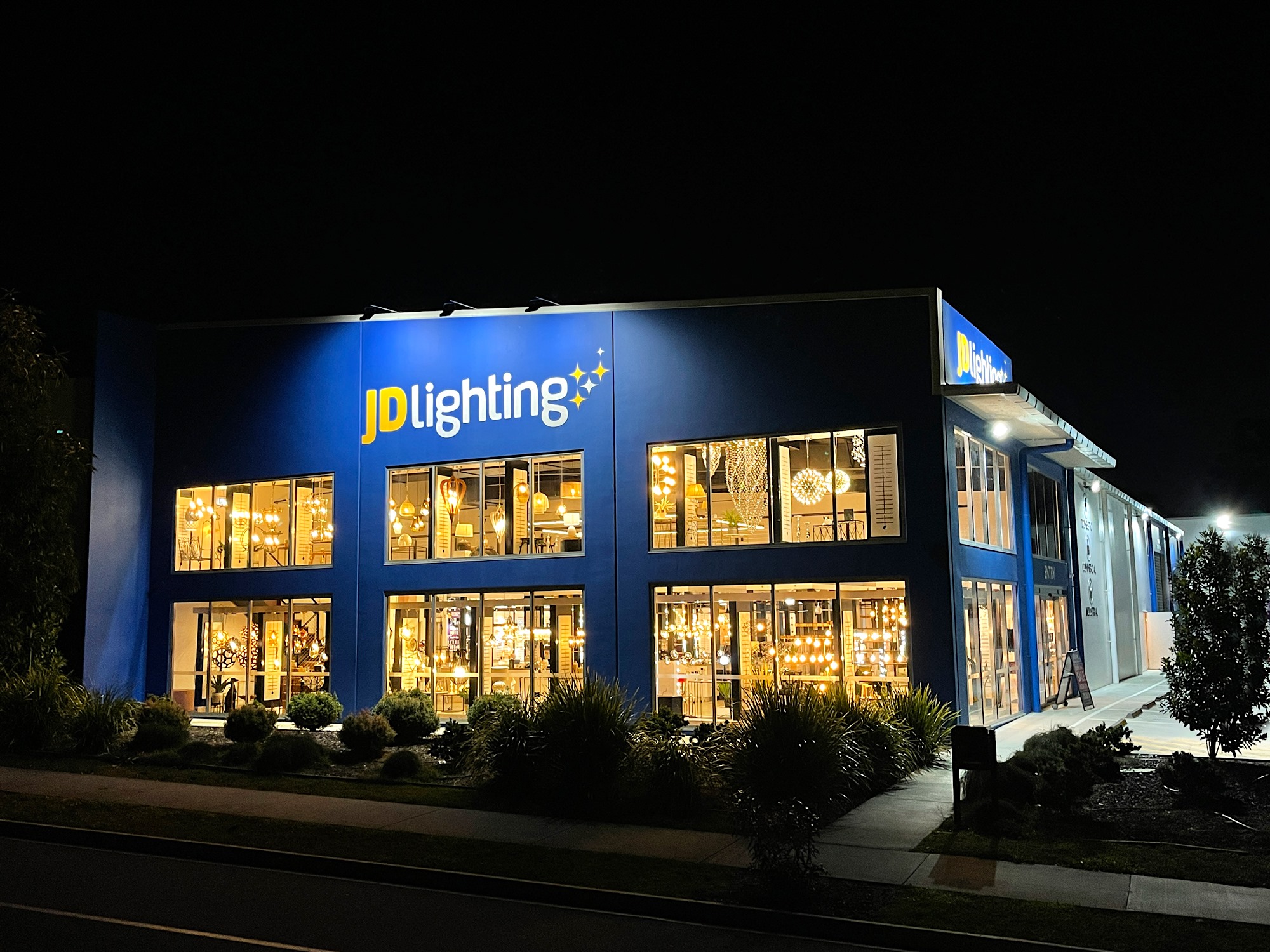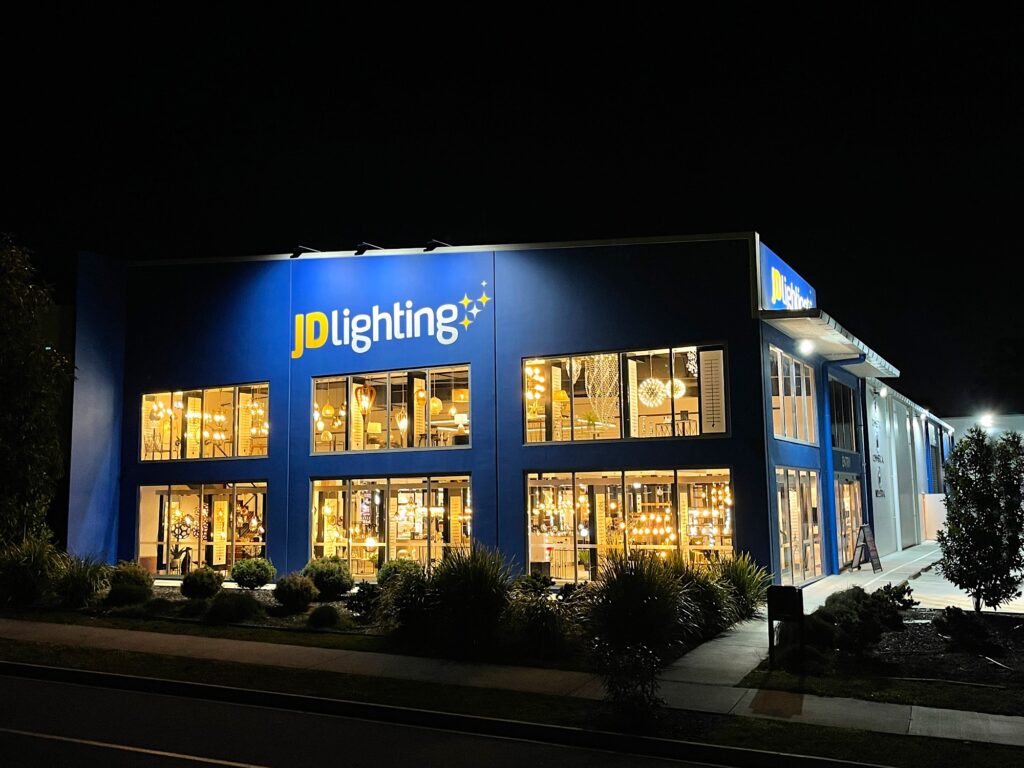 Considered one of the top in the Australian lighting market, JD Lighting offers a diverse range of lighting solutions, suiting a variety of requirements.
Based in Queensland, they offer many ranges of light fixtures, including pendant lights, downlights, solar lights, and LED strip lights.
Interestingly, the company launches new innovative designs very often, never compromising on the quality, making these items a great fit for commercial set-ups and offices.
Their newly-launched Lampada range offers several pocket-friendly downlight options, whereas their Telbix Marvin pendant light range is a must-buy if you're looking for more aesthetic types.
These delicate-looking fixtures will bring the appearance and feel of your living rooms to another level in a matter of minutes, provided at an astoundingly competitive $120, making it a great deal.
The company also widely covers outdoor spaces. For people looking to add a subtle touch of light to their backyards or gardens, the Eglo Alamonte lights can be a great addition.
Moreover, their products are expert-tested, and the customer reviews tell a great story too.
9. Australian Lighting and Fans.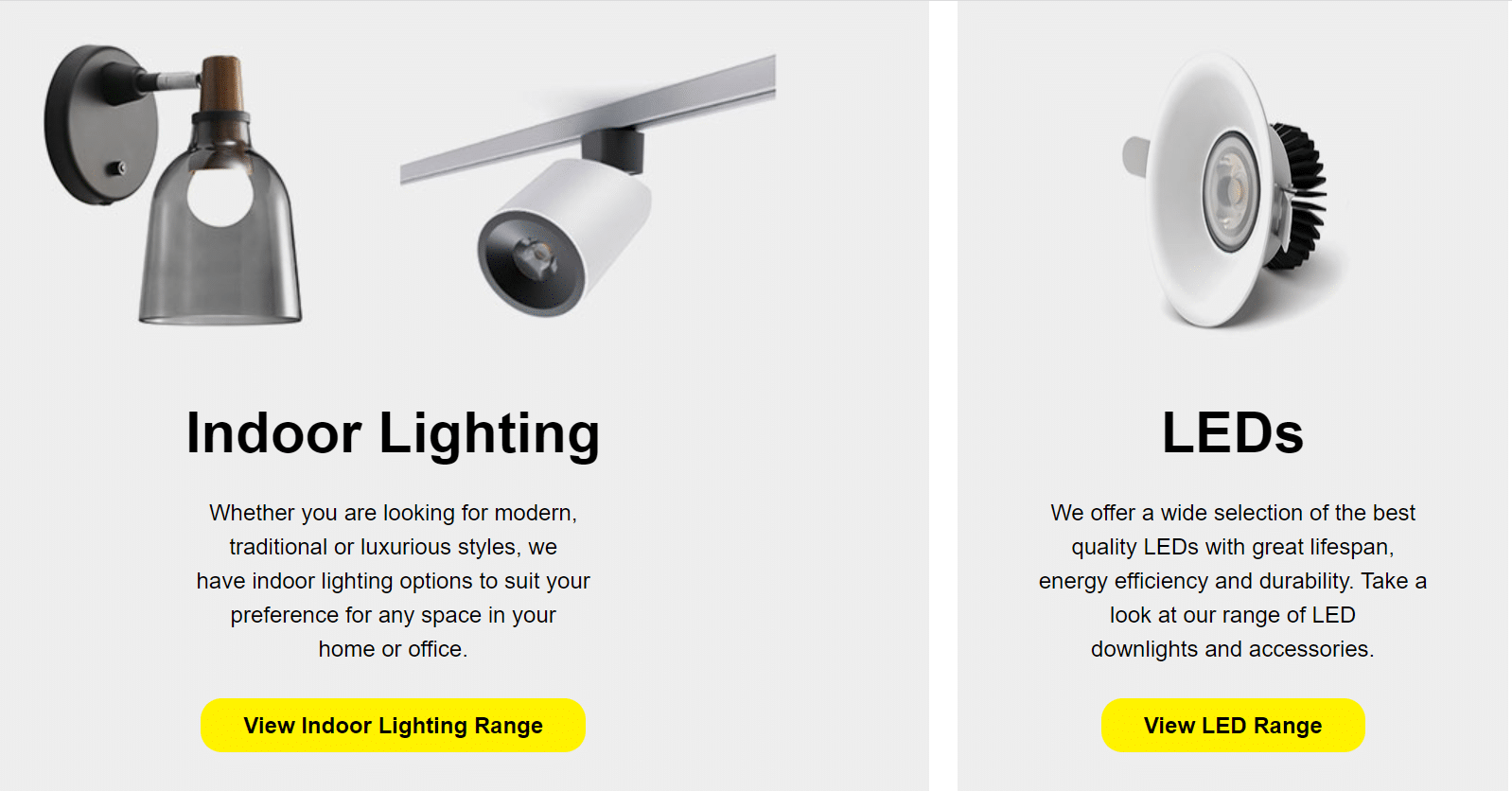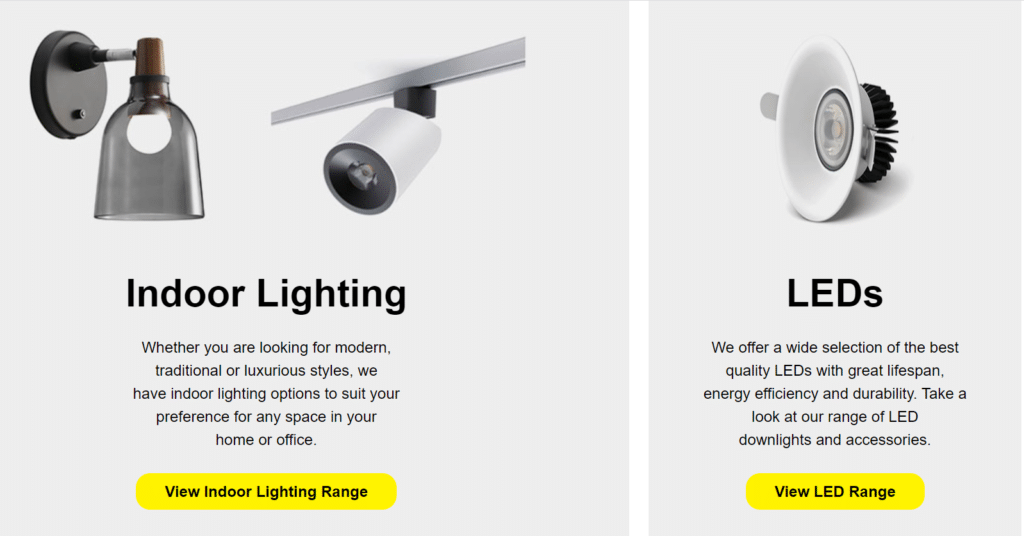 Australian Lighting has 30 years of experience in the lighting industry. It is a family-owned and operated business that is proudly Australian. They have three well-known locations in Melbourne and one in Sydney.
The skilled, courteous staff can give you practical and imaginative solutions for your home while working within the limits of your budget.
LED Lighting, Downlights, Ceiling Fans, Smart Lighting, Led Strip Lighting, Garden and Pool Lighting, Bathroom Heaters, Pendants, Lamps, and various types of Globes are among the products available.
Australian Lighting offers major brands including Eglo Lighting, Lode Lighting, SAL Lighting, Havit Lighting, Mercator Lighting, Hunter Pacific International, Prestige Fans, Brilliant Lighting, Domus Lighting, Matrix Innovations, and many more.
What distinguishes them from other lighting stores?
They gain, maintain and grow their customer base by word of mouth.
They have expert personnel that are well-versed in the use and design of lights.
If you require a specific light, they will go out of their way to obtain it for you.
They are well-known for their LED, Garden, and Ceiling Fan Collections.
They have reasonable prices.
10. Matt Blatt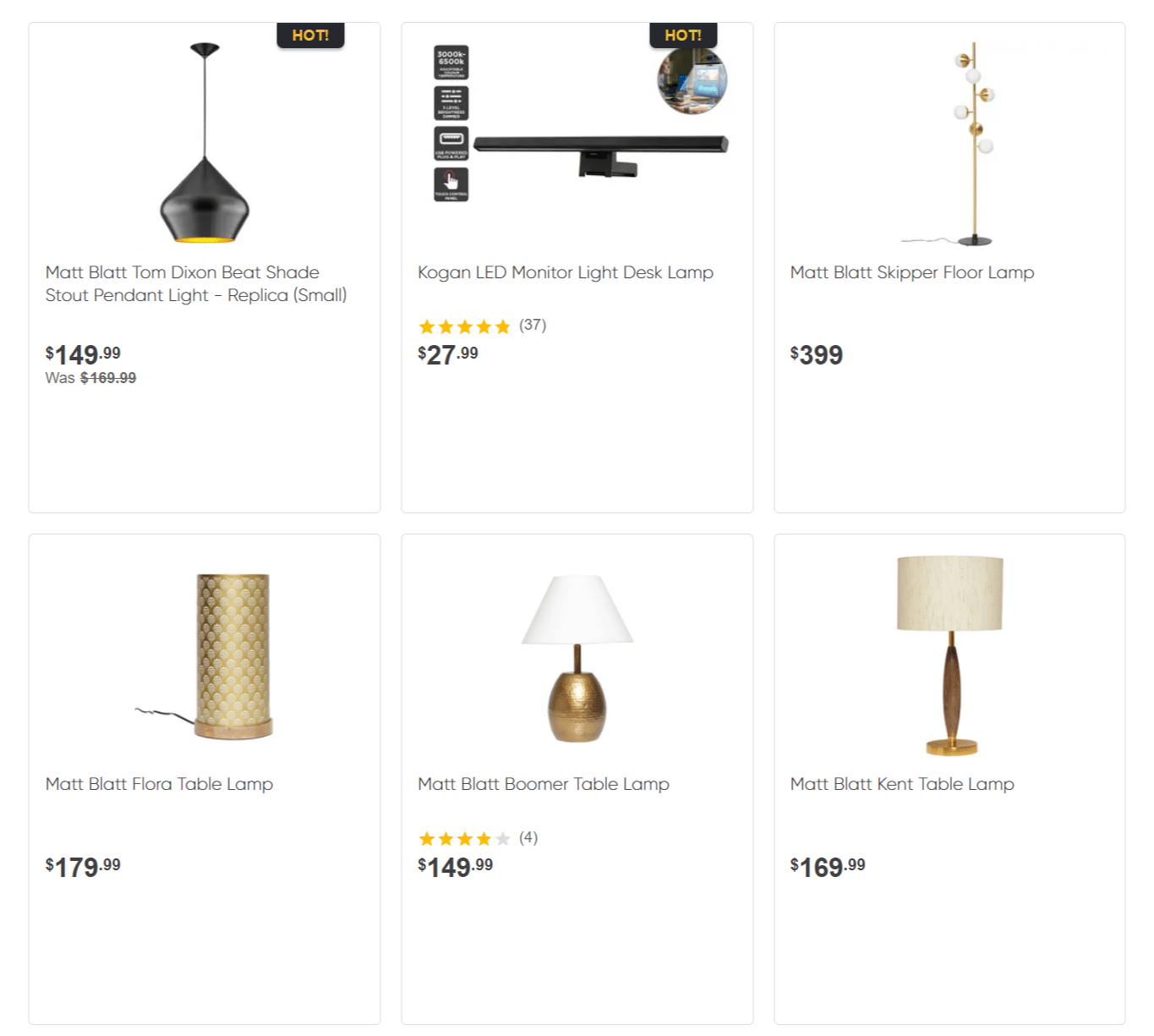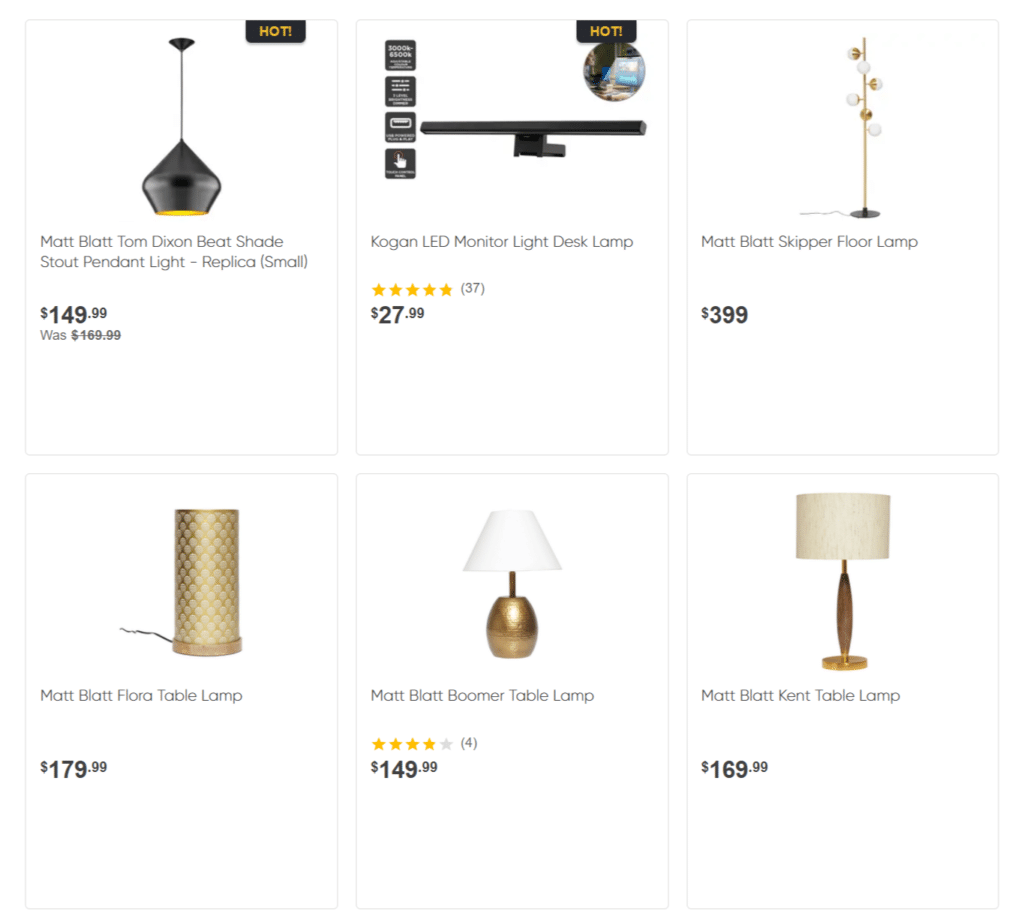 For almost 4 decades, Matt has been an Australian furniture and homewares legend, and for the greater part of that time, it was a family-run firm.
This Company has worked tirelessly over the years to help create pleasant spaces and sound experiences in all Australian households.
Matt Blatt has become an essential store for great furniture, lighting, homewares, and an overall elevated mood, with original designer items and exclusive collections as well as traditional icons.
Matt Blatt can offer something for every room in your house, whether you're looking for a flash of color in the bedroom, an eye-catching centrepiece in the living room or simply a finishing touch to the dining room decor.
Kogan.com Limited purchased Matt Blatt in May 2020.
On the day of the acquisition, Kogan.com CEO Ruslan Kogan stated: "We are excited to take over the legendary Matt Blatt brand and restart the company as an online-only operation."
We are excited to serve and delight furniture and design enthusiasts across Australia."
Matt Blatt will continue to work towards its goal of bringing color and life into Australian homes with a new and dynamic website, the broadest product variety ever, and plenty of surprises for customers, to reintroduce the element of fun into furniture!