Fans are machines used to circulate air in rooms or buildings. Circulation or ventilation is vital to your health, as proper airflow gets rid of contaminants and dangerous bacteria. This makes breathing easier for you and your family.
In addition, air circulation brings forth a cooling sensation as the temperature is regulated. This helps you cool down without using air conditioners that can be costly. Therefore, in Australia where the climate is primarily hot and humid, fans are a must-have.
What is a tower fan?
The invention of the first fan in the 1800s paved the way for future developments. Today there are several varieties of fans out there.
Tower fans are one of the most popular fans today, and their popularity has been growing due to several factors.
First, their sleek and tower-like design fits any home décor. You can never go wrong with a tower fan and its sleek minimalist design.
Moreover, they occupy a small space, which makes it possible to tuck these fans wherever you wish.
Another tick for tower fans is their portability. You can quickly transfer them from one location to the other.
Thanks to their light weight, they're easy to carry, and this light weight is mainly due to the enclosed fan blades and material.
These blades improve balance and reduce fragility as well. You should note that not all tower fans have enclosed blades; some have open ones. However, the most preferred tower fans are those with enclosed blades.
Tower fans also contain numerous exciting features, including smart features on top of the standard ones.
Devices with smart features are usually preferred for their higher flexibility, better energy-efficiency, and superior performance, etc.
---
How is a tower fan different from a pedestal fan?
Most people don't know how to differentiate a tower fan from a pedestal fan. These two fans are almost identical in every aspect.
Their height make them even harder to distinguish; however, there are some significant differences between the two.
Style
In terms of style, tower fans are more modern, and their unique slender design complements any home.
Pedestal fans can be stylish, but don't necessarily fit in well in any décor.
Functionality
In addition to cooling, tower fans are good at air purification too. They have a long vent covering the entire height thus offering maximum ventilation.
Their 90-degree oscillations enhance cooling and allow the flow of air to a specific direction.
Some tower fans even have in-built-thermostats to track the temperature level in a room. Based on the temperature, they can automatically turn on or off.
Pedestal fans are great coolers but not efficient air purifiers. These fans work best in large rooms at a distance, meaning you don't have to keep it close to you.
Space
The amount of space you have will likely determine the type of fan you get. Tower fans are perfect for small spaces, because they are sleek and have smaller frames. They can fit in almost any space.
Pedestal fans are ideal for larger spaces, due to their large bases that aid in balance. Furthermore, the tremendous amount of power requires a bigger base.
Sound
Tower fans are quieter than most pedestal fans thanks to their advanced features and size. The enclosed blades also play a significant role in eliminating noise.
Most pedestal fans are noisy due to their large size and open blades. Nowadays, however, high-end model pedestal fans are quieter. Manufacturers of these fans have established unique features to help curb the noise.
Maintenance
Maintenance is essential if you want a long-lasting fan. Tower fans are super easy to maintain and clean, where cleaning a tower fan requires a brush only.
As for the pedestal fans, you have to clean each blade individually. Dusting might not be enough, and sometimes you may need soap and water, which makes the cleaning process lengthy.
Also Read: The 15 best floor lamps | Reviews and buying guide
Things to know about tower fans
Tower fans come in different shapes, styles, and even sizes. Nonetheless, their functionality is the same. To understand how a tower fan works, you must first know its features.
Listed below are some of the basic features of a tower fan.
💡 Remote control
The remote control dramatically improves flexibility. This device enables you to adjust the tower fan's features. You can turn the fan on or off, slow it down, or speed up based on your preference.
💡 Diffuser/ Scent control
This feature lets you add any oils you want to release to the air. It allows you to set the diffusion rate as well. If you are not intested in adding any scents, you can always turn the diffuser off.
💡 Impeller blades
These blades are enclosed in the tower fan's unit. That is why a tower fan is known as a bladeless fan. Their primary function is to move the air vertically. This dramatically differentiates the tower fan as most other fans push air horizontally.
💡 Timer
A timer generally controls the operating time of the tower fan. With this feature, you can set the sleeping time of your fan.
💡 Variable speed and oscillation features
Variable speed features enable you to make changes to speed levels.
At the same time, oscillation features allow you to change the direction of the tower fan. This enables you to direct airflow to a particular area.
So how does the tower fan perform its tasks?
Tower fans have air inlets and outlets at the side of their casing. The air inlets suck air from the fan base, since air on the ground is cooler while warm air always rises.
The cool air then goes to the fan's cylindrical container. There, the impeller blades push this air vertically. An electric motor is used to keep the blades running.
The air then goes through a vertical shaft, which is the entire height of the fan.
Afterwards, it is released at the exit vent where the air blower takes over and distributes the air throughout the room.
For this entire process to take place, always ensure your fan's air inlets and outlets are clean.
Once the cool air is released, it leads to cooling through evaporation. In Australia, for example, where the temperature is humid, people lose a lot of fluids. These fluids settle on their skin, leading to a temperature increase.
When the tower fan releases the cool air, these fluids evaporate resulting in a cooling sensation.
The ten best tower fans to buy in Australia
---
Buying the perfect tower fan in Australia is a must.
The level of humidity here is just on its league. Homeowners should invest in a good quality fan. Below are the top best tower fans to purchase in Australia.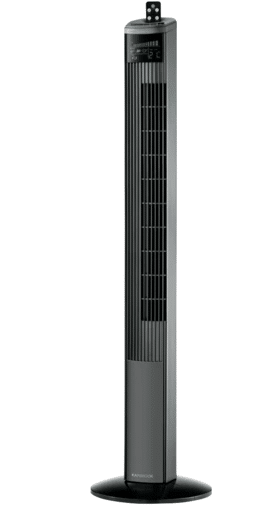 It is a sleek tower fan from one of the leading fan brands, Kambrook. The fan is grey and has a height of 1170mm.
The width and depth, on the other hand, are 315mm. The tower fan comes with modern remote control and some useful features like a 72-degree oscillation, 3-speed settings, and a 12-hour auto-off timer.
To top it up, the fan produces a beautiful blue glow and has easy-to-use features.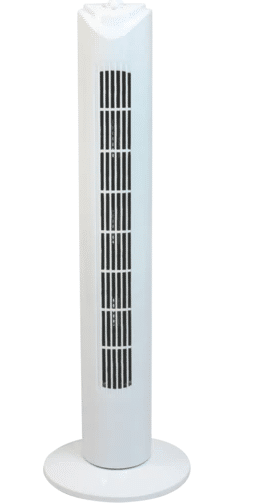 This tower fan has a white finish that blends perfectly with its slender design.
It has a height of 800mm and 3-speed settings. Due to its lightweight material, this fan is portable.
Other helpful features include a remote control and a timer.

Sunbeam FA7250 tower fan is famous for its night mode feature.
When the feature is activated, it emits a subtle dim light which helps create the perfect sleeping environment.
You can get a black or silver Sunbeam FA7250 depending on your preference.
The product has a width of 205mm, a depth of 964mm, and a height of 204mm.
Some of its features include 3-speed settings, remote control, and an 8-hour auto-off timer.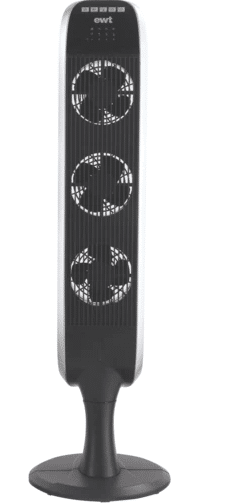 The tower fan has a chic design with a black or silver finish and a height of 1095mm, while its width and depth are 330mm.
The EWT EWTTF1093 features include 3-speed settings, a remote control, three air outlets, and an 8-hour timer.
The details of this fan will blow your mind.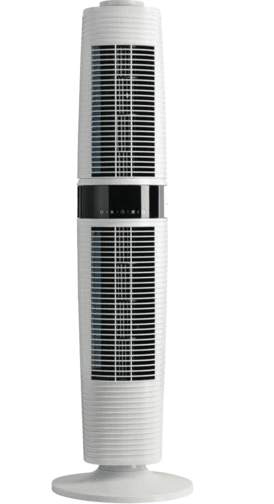 The colour of the fan, as the name suggests, is white.
DeLonghi DETF115 has some exciting features like the 360-degree dual oscillation features.
The upper and lower wind outlets can cover a wider area.
The tower fan also comes with three fan speeds, a 7-hour timer, remote control, and three natural wind modes.
All these features are super friendly and straightforward.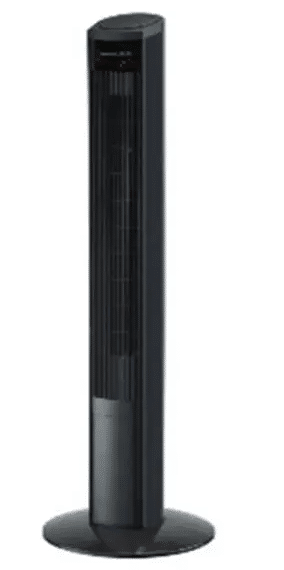 Omega Altise 120 cm Tower Fan certainly gets the job done.
It keeps the room relaxed and comfortable on a hot Australian day thanks to the normal, natural, and sleep mode features. The 12-hour timer comes in handy as well.
Special features of Omega OT120W include; auto oscillation, an electronic control panel, 3-speed settings, and remote control.
The height of this tower fan is 1200mm, while the width and depth are 320mm.
You should also expect it to have 55 watts when checking out power.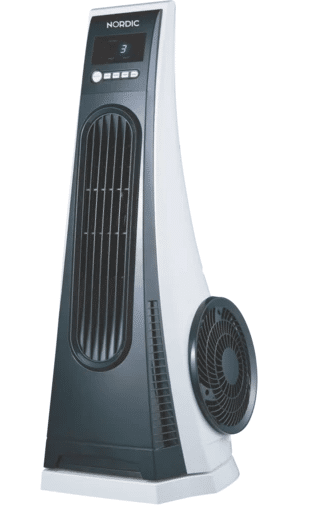 The fan looks great with a height of 765 mm, a width of 288mm, and a depth of 300mm.
It comes with a black or white finish that's on point.
Features to look out for are the remote control, 8-hour timer, and 2-speed settings.
Utilizing this tower fan is easy as the LED display immensely improves visibility.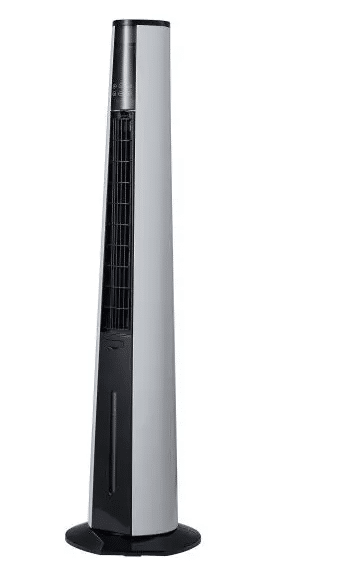 This tower fan has some pretty exciting features. To control its three speeds: normal, natural, and speed, you can utilize Wi-Fi and remote control.
It also has an 8-hour timer, LED display, and left and right oscillation to increase comfort.
Heller HTFE35WF has a height of 1100mm and a depth and width of 210mm. More to love about this fan is the soft-touch buttons.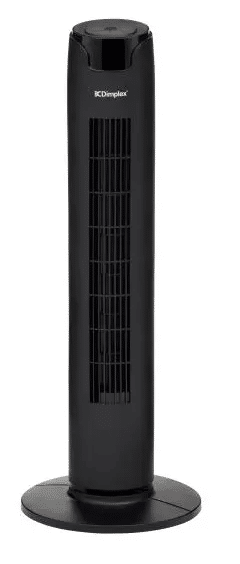 The matte black color on this tower fan is gorgeous, not to mention its sleek, unique style.
Dimplex DCTF92R has a height of 910mm and a width and height of 340mm.
It has three-speed settings, a remote control, an LED display, and a timer.
As if that's not enough, Dimplex 92cm offers soft-touch buttons.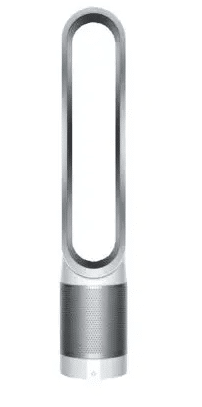 Nothing says style like the Dyson AM07 Cool Tower Fan. The details of the fan are articulated carefully and well incorporated.
What's even better is the quietness of the fan while it's operating thanks to the Dyson engineers who reduced turbulence within the fan.
Moreover, they have utilized advanced air purifier tech on these fans.
Other features include the curved and magnetized remote control, sleep timer, and oscillation features.
Factors to consider before buying a tower fan
---
With various tower fans available in the market, choosing the right one can be difficult. Don't worry, though; below is a list of factors that will help you make a good choice.
➡ Consider the style or design
Tower fans come in different elegant and modern designs.
These designs are sleek and beautiful, in both their small details and bigger ones, which makes it even more confusing to choose a fan.
Before purchasing a tower fan, check the interior décor of your room first. The design you choose for your fan should suit your décor. After all, tower fans should complement the style in a room.
➡ Consider the space
Tower fans come in different sizes; some are large, others are small. Depending on your space, you need to choose the appropriate fan size.
For example, larger rooms need bigger fans. In addition, larger fans ensure the air is distributed evenly throughout a larger room.
If you plan to get an oscillating tower fan, make sure you have a large space. This is because oscillating tower fans tend to revolve on their bases. For this to take place, the area around them must be clear.
➡ Consider the tower fan's features
Tower fans come with different advanced features. So, you need to check if your selected fan has all your desired features. For example, if you want a tower fan that oscillates at certain speeds, make sure to check the oscillating feature.
If you're more interested in the fan speed feature, confirm the number of watts. A high number of watts indicates high fan speed, while a low number of watts indicates low fan speed.
However, there are some necessary features each tower fan must have. For example, remote control and Bluetooth options are vital.
These two features make the use of your fan more convenient, so you don't always have to get up to adjust your fan settings. Other features to consider are cooling and timer features.
➡ Consider the noise level
Tower fans are indeed quiet, however, this doesn't mean they won't produce any sound while operating. Of course, they will emit minimal sound because they are machines.
The level of noise differs, though, among different tower fans. Some are noisier than others. If you have small kids or dislike noise, choose a less noisy fan. Moreover, quieter fans increase relaxation.
➡ Consider the energy used
Here, you need to check the power consumption of the tower fan. The cooling capacity of the fan determines the amount of energy used. The higher the cooling capacity, the more power is needed.
You must also check the motor size of the fan too. If you purchase a fan with a large motor for a small room, there'll be wasted energy. So, make sure to select a tower fan motor compatible with the size of your space.
➡ Material and quality
Quality is one of the main things to consider. Besides, if a tower fan doesn't meet standard quality, it can pose a danger. Today most modern quality tower fans are light and portable.
Their material, on the other hand, is mostly plastic. These aspects make you know which tower fan is good quality and which isn't.
➡ Cost and the manufacturer
In the end, it all comes down to your budget, and you need to purchase a tower fan that's within your budget.
There are lots of affordable tower fans in the market, so there is certainly one for everyone.
The other thing to consider is the manufacturer. Is the manufacturer legitimate and certified? Confirm whether the products manufactured are certified, and if everything checks out, go ahead and purchase the tower fan.
Tips on how to maintain a tower fan
---
Maintaining a tower fan is no challenging task. All you have to do is clean and lubricate it once in a while. Below is a step-by-step guide on how to clean your tower fan.
➡ Unplug your tower fan to cut any power supply.
➡ Brush off dust or any debris from the vents. You can use a vacuum brush to make the whole process smoother.
➡ Open the fan using a screwdriver. Before doing so, you should read the manufacturer's instructions, as some fans are prone to distortion if you open them.
➡ Utilize the air compressed in the fan to remove any contaminants. You can use the brush as well to clean the blades and motors.
➡ If need be, you can lubricate the fan's bearing. Afterward, screw back the tower fan as it was.
➡ Plug in the fan back to the power source. Confirm everything is working perfectly. Let it run for a few minutes, and then turn it off.