Creating a certain ambiance and style is important when choosing the lighting for your home. The lighting in your home will determine the feel that your guests get when walking through the doors of your humble abode. It also determines how you feel inside your own home.
You want your lighting to be stylish while being convenient for your everyday life. A tripod floor lamp is a perfect choice for lighting with a versatile yet modern twist.
Tripod floor lamps are versatile because they can be moved around easily due to their sleek and portable design.
They can be moved near any piece of furniture without taking up unnecessary space while lighting up that space by casting light over an extensive floor area in your home.
What is a tripod floor lamp? 
Tripod floor lamps bring a traditional style to a contemporary area of space, giving your home just the right feel. A tripod floor lamp is a compact three-legged lamp.
A tripod floor lamp can be used for a bedroom or can easily be taken to your living room to give you the appropriate lighting for your needs.
These beautiful lighting additions will provide just the right atmosphere for your home while being sturdy and dependable.
Tripod floor lamps come in a variety of shapes, styles, and colors, making them a very easy and convenient option for not only lighting needs, but for decoration as well.
Tripod floor lamps catch the eye with their stunning and unique look.
They can create a modern look as well as an upscale rustic look depending on the style. Not only are you providing light for your home, but you are adding decor.
4 best places to use a tripod floor lamp
---
There is always a particular area in the home that needs specific lighting whether it be the living room, the hallway, or your study.
Here are some of the best areas in the home to use a tripod floor lamp.
Next to a chair or sofa
Have you ever sat on your sofa and wished that you had the right lighting to read your magazine?
A tripod floor lamp goes great right next to your favorite reading chair or the family sofa for just the right lighting needs.
Having a tripod floor lamp in your living room space is ideal because not only does it tend to the needs you have as far as lighting, but it is also decorative, and it does not get in the way.
Its sleek form will be convenient for your family or guests as they visit your home and sit on your sofa.
When using traditional lamps, most have the hassle of needing a table to place the lamp on. A tripod floor lamp doesn't have any such hassle, and there's no need to purchase extra furniture.
Want to move your lamp from one side of the sofa to the other side? The tripod floor lamp makes that super easy with its easy-to-move design.
Dark Spots
You just bought a new home, and you have all the furniture in all the right spots, but you have this one dark corner you just can't get light into.
Tripod floor lamps are perfect for that little dark spot in the home. They will create an inviting ambiance as well as lighting that impossible area.
Sometimes it is difficult to find the right decorative furniture for an area in the home such as a dark corner in the hallway.
Using a tripod floor lamp can be convenient and snazzy for any space.
If there are any areas in your home that have no light sources such as natural light (from a window) or light coming from anywhere else, then a tripod floor lamp would be the ideal choice.
Next to the bed
A more modern style requires a simplistic feel.
The tripod floor lamp gives that nice modern simple feel right next to your bed while lighting your area without having the clutter of a nightstand.
Many of us use our nightstands not only for light but they end up catching many of our other objects from our day-to-day life.
Clutter is known to increase stress. Lower your stress and grab a sleek and stylish tripod floor lamp while satisfying your lighting needs.
Beside a desk
Everyone needs a lamp by their desk area. But do you ever feel like having a table lamp just crowds your area? You sit down to work and have a million papers to look over and the lamp is just there, in your way.
Placing a tripod floor lamp beside a desk is one of the best places to put this style of lamp.
It does not crowd your work area while providing the light that you need to focus. You can even attach an LED light to your tripod lamp to make your workspace even better and healthier for your eyes.
---
Best tripod floor lamp summary
Best tripod floor lamp reviews
---
Tripod floor lamps give a perfect twist of modern style and convenience. They make for a perfect addition to the home as they can be moved easily.
Tripod floor lamps attain the ability to provide just the right lighting while creating a stylish and appealing look to your space.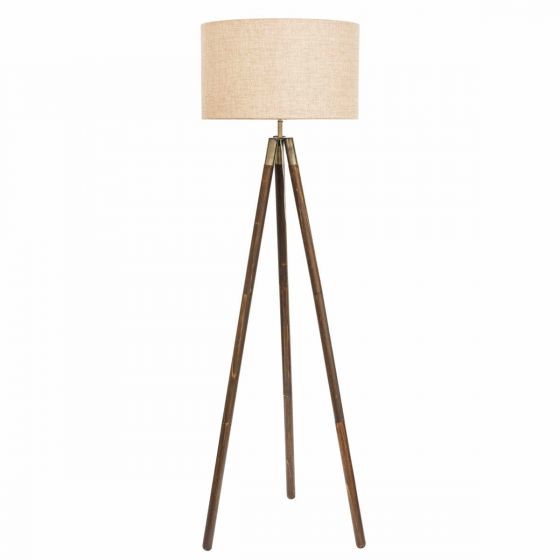 If you are looking for a simplistic look that can change the appearance with your mood,this tripod floor lamp can change from one size to another depending on what your needs are at the time.
It is also very convenient to have as a lamp as it has a foot switch making it much easier for everyday life.
It has three dark wood legs that are complemented by beautiful and unique brass highlights.
This lamp is versatile because it can create a certain feel for any area such as a living room, a bedroom, or an entertainment area.
Key features
Darkwood tripod legs
Natural linen with brown fleck KD shade
Black fabric cord
Operated via food switch
1 x B22 60W max lamp holder (globe not included)
1-year warranty
With its unique look and elegant lighting, this lamp is a wonderful addition to a residential or commercial space. Need lighting in your new business office?
This tripod floor lamp has just the style for your needs. Certain spaces need a certain kind of lighting and when it comes to your space, you want to make sure you have the right light.
The Eglo Chester Vintage retro tripod floor lamp has an adjustable head, making it very easy for your business needs if placed in a commercial space.
When it comes to any lighting, it is important to provide that lighting stimulation to perform basic day-to-day tasks whether at work or home. This is the perfect lamp for any space.
Key features
High-grade steel
E27 1 x 60W max
IP20 protection rating
2-year replacement warranty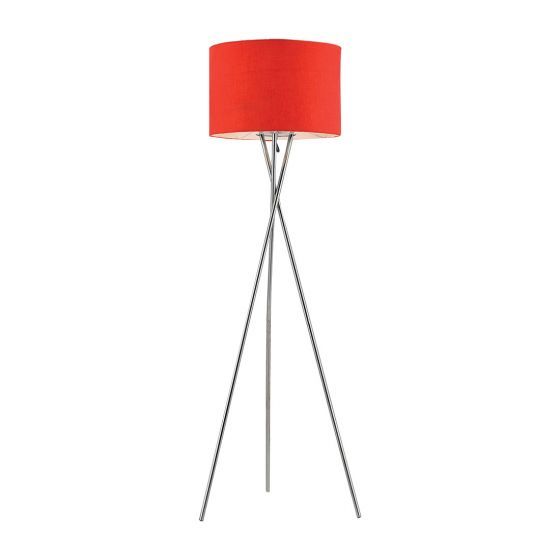 If you are looking for a tripod floor lamp that's affordable yet blends in perfectly for any space, this is the right lamp for you.
The Telbix Denise adds a modern splash to your home while being simple and decorative. This lamp has PVC backing supported by a chrome finish metal tripod stand.
The Telbix Denise tripod floor lamp comes in three colors (black, red, and white) making it easy to choose just the right color for your home or office.
Whether you want a bright splash with a red lamp or just a nice, elegant feel with a white or black, either way, this lamp is a stylish addition.
Key features
Modern design
Tripod design
Colored cotton shade
1 x E27 75W Max lamp holder (globe not included)
1-year warranty
Choosing a modern design for your home means clean lines, different textures, and colors.
Modern design has changed throughout the years to fulfill our decorative needs for our homes and businesses.
The Fiorentino tripod timber floor lamp creates an aesthetically pleasing view in your space as well as expresses your personality and individuality.
Available in two colors and two sizes means it is very functional for any placement. It comes in black and natural wood colors. If a modern look is what you are going for with a sculptural presence this is the right tripod floor lamp for you!
Key features
1 X E27 Lamp holder (globes not included)
Contemporary design
Timber style legs
Available in black and wood colors
Available in a table lamp variant
12-month replacement warranty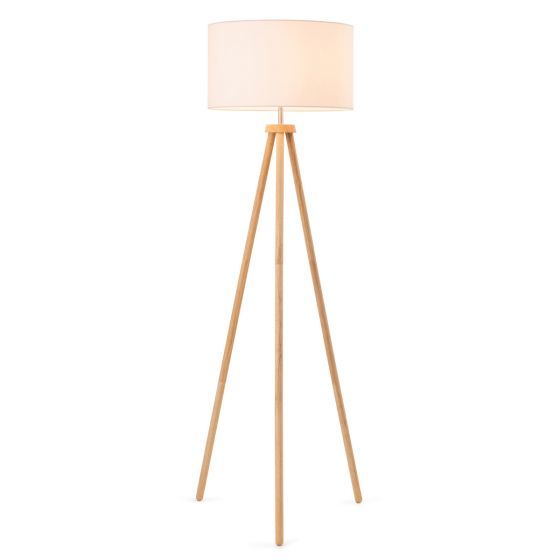 Being a minimalist means you do not like clutter and organization is your best friend. In searching for the right floor lamp, the minimalist is going to try to purchase the design they feel is right for them.
Often with the simplest of colors, the minimalist that is decorating their home or business will still want something trendy but also that meets their needs as a minimalist.
The Mercator Briar Timber Floor lamp is a great choice, which is not only visually pleasing, but also a simple design with a white fabric shade.
Because of the simple design, it will blend in well in the home in any area and brighten the space as needed.
Its rubberwood legs make them very sturdy and have an oak feel to them, making them quite elegant as well.
Key features
White fabric shade
Natural FSC rubberwood tripod legs
1 X B22 60W max lamp holder (globe not included)
White fabric cord
1-year replacement warranty
Being stylish means having tastes that follow trends when it comes to decorating your home. Most people want their space to show their personality and who they are.
When you enter someone's home, you can tell a lot about them by the style of their tastes.
Furniture, tables, lights: all items that improve the look and feel of the home. Purchasing the Eglo Bidform Tripod Floor lamp means you want to make a statement.
It has a beautiful yet bold feel to its design with the multicolor tripod legs making it a great addition to a living room to add a decorative and stylish feel.
Key features
Timber and steel tripod legs
Fabric Shade
1 X E27 60W max lamp holder (globe not included)
2-year replacement warranty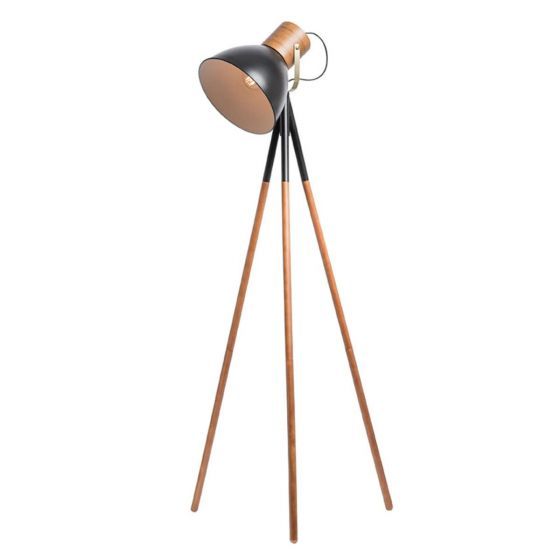 Having industrial lighting is all about the right lighting and convenience. Having to work in an industrial building and not having the proper lighting can be detrimental to your job.
The Mercator Calico timber floor lamp is the best light for industrial use. It is convenient to have because it has a footswitch making it easier for everyday use. This tripod lamp also has an adjustable head making it more functional for your lighting needs.
Key features
Plywood timber legs
Adjustable metal head
1 X E27 40W lamp holder (Globe not included)
Footswitch
Best Tripod Floor Lamps Buying Guide
---
Tripod floor lamps are a trendy style to add to any area, whether it's for business purposes or home décor. There are a couple of things to consider when purchasing a tripod floor lamp to properly fit your needs.
Height and size
Choosing the right height and size for your tripod lamp is important in figuring out your lighting needs.
Do you need a light for your desk, or do you need to light a bigger space such as an industrial building? Making sure you know the needs of your space is what will make purchasing a tripod floor lamp easy.
Always know how much space you have. Not every height and size of a lamp is suitable for one's needs.
One great feature that tripod floor lamps have is that they are portable making it easier when choosing height and size.
Material
Making sure you choose the right material for your setting is important. You wouldn't want a fancy tripod lamp with a cotton shade in a commercial building, but it would fit in your office at home where you read.
Choosing the right material for your lamp will make a difference in they style, and it should match with the rest of your furniture. The right material will make cleaning and maintenance much easier as well.
Shading
The shade that you choose for your lighting determines how much light you get for your space. Some bigger buildings may need lighting with no shading to get direct light. In smaller spaces such as a living room, a shade would be useful.
Style
Styling your space shows who you are, your expression, and your style. When looking for the right tripod floor lamp make sure you are aware of the type of feel you are looking for. There are many elegant and stylish tripod floor lamps as well as simpler and rustic-looking ones. Picking the right style determines the aura of your space.
Installation
Tripod floor lamps are easy to place and put together making them an easy accessory to buy for your home or business. You will most likely not need the help of a professional to put together a tripod floor lamp but of course, that would be entirely up to the purchaser. The tripod floor lamp comes with easy-to-read installation instructions.
Frequently asked questions
What kind of lightbulbs are best for my tripod floor lamp?
On each item is a list of key features which show the wattage of the light bulb to use for each lamp. The tripod floor lamps are featured specifically with lampshades fitted with LED lights to provide various illumination levels.
Is the height of tripod floor lamps adjustable?
Depending on the model you choose for your needs, yes, many tripod floor lamps come with adjustable height.
This feature is one of the more noticeable features for a lamp because most lamps are not adjustable making this particular kind of lamp an ideal choice.
What materials are tripod floor lamps available in?
Tripod floor lamps come as either metal tripods or wooden tripods.
Is a tripod floor lamp safe for my art?
Being that tripod floor lamps take LED lighting, your art is safe. LED light bulbs are specifically made to make art look beautiful and radiant while preserving and not damaging it.
Why should I purchase a Tripod Floor Lamp?
Tripod floor lamps are the perfect statement piece to add a splash of décor wherever you'd like, whether in your office or your workspace.
They are great for adding a spotlight to your area for things such as art, or simply just to make a statement.
You will not go unnoticed with a tripod floor lamp in your home.
And if you use it for industrial purposes, you will not be disappointed. You can conveniently light an area by choosing the right style of tripod floor lamp.