For many decades, landscape lighting has been a realm of substantial interest as compared to interior lighting. Following the time when man used torches, lanterns, and firewood, garden lights came into the picture.
What is a garden light?
Garden lights are the prime source of outdoor illumination for your garden or backyard. They provide the best landscape lighting for your residence and bring together the whole ambiance of an outdoor space.
Garden lights come in various sizes, shapes, and designs.
This means that having a professional examine your outdoor areas for establishing their focal point before installing these lights might be a wise option.
They can help you identify the sites you want to place your garden lights, and have a discussion on the type and quality of garden lights you want.
It is easy to lose track of time while having a good relaxing time with your friends or even by yourself. Garden lights ensure the fun does't have to stop when it gets dark.
Four reasons to use garden lights
---
Bring ambiance
Good lighting can a create well-suited atmosphere for any event, and garden lights are not an exception to this. They can pump up the vibe for romantic dinners, parties, or relaxation.
Decoration
If you are a décor person, garden lights are a means for you to bring your design ideas and imagination to life. These exterior lights can make your house attractive with a touch of elegance.
Easy access
Garden lights assist in illuminating dark areas in your outdoor areas. Thus, you do not have to worry about finding your way back in the house or tripping over things along the way.
Even if the night settles in, you can easily extend the time you and your guests enjoy your outdoor spaces, due to these light fixtures.
Improve security
As much as dark homes can be scary, the darkness can also present an opportunity for thieves. Having garden lights is a good way of keeping them away.
Furthermore, installing garden lights with a motion sensor is a good investment. It will alert you to any movement, and you will be able to catch any suspicious activity before it causes huge losses.
---
Best garden lights summary
Best garden lights reviews
---
The Lavino garden spike light originates from the Lampada outdoor variety and is an adjustable spike light made from a
corrosion-resistant aluminum frame.
It has high-quality reflector lenses for maximum illumination. It comes with clear glass at the bottom of the fitting to allow light to shine adequately.
Key Features
Corrosion-resistant aluminum frame
High-grade Perspex reflector lens
1 x MR16 lamp holder
400mm spike length
IP65 protection rating
Input voltage: 12V DC
Outdoor full exposure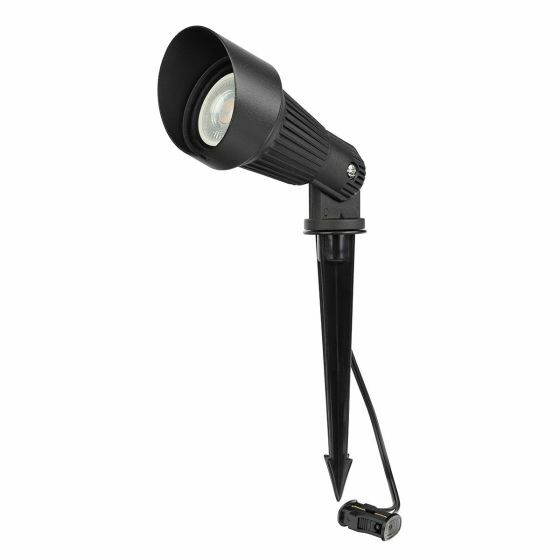 It is hooded to focus and illuminate any garden thoroughly.
It illuminates all the hidden undercover areas in your outdoor space. Each light is fitted with a swivel joint to allow directing where necessary and a stake for easy installation.
Key Features
Adjustable head allows 90° tilt.
Durable die-cast aluminum housing with tempered glass lens
Easy DIY installation using quick connectors and 40cm cable
1 x 5W MR16 LED globe included (Replaceable)
3000K Warm White color temperature
Brightness output: 400lm
Input voltage: 12V DC
This is a safe and economical choice compared to traditional Tiki torches. It collects solar energy throughout the day and turns on at dusk.
If you are a décor person, this torch will brighten your outdoor space and at the same time decorate it due to its decorative housing.
It will save you money as it is entirely powered by solar energy.
Key Features
Solar-powered
Candle-like flicker effect
Spike mounting
Integrated dusk to dawn sensor included
12 hours operation per day
0.88W solar panel (Built-in)
2200mAh Li-ion battery
96 x Warm White LEDs
35 lumens at 1 meter
ABS plastic construction
Polycarbonate lens
IP65 protection rating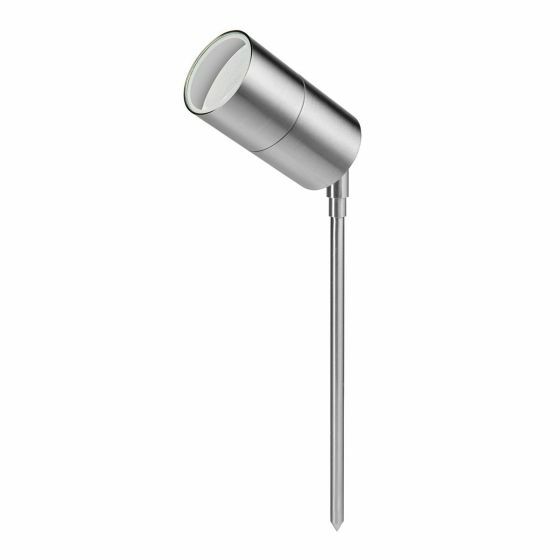 Although this light is small, it is powerful enough to illuminate the covered areas in your garden and highlight outdoor pathways.
It is fitted with a joint that allows it to be tilted where needed and ease installation.
Key Features
Adjustable head allows 90° Tilt
IP65 weather-resistant rating for outdoor use
Durable aluminum or marine grade 316 stainless steel housing
1 x 5W MR16 globe included
3000K Warm White color temperature
Brightness output: 300lm
This great solar post light provides quality lighting in your outdoor space and adds a sophisticated look with its twin feature. It is made from high-quality aluminum for durability.
It is powered by solar energy, is thus a great economic option.
Key Features
Solar-powered
Powder-coated aluminum frame
Glass lens diffuser
62 x SMD LED @ 0.2W each
2 x Warm White LEDs (PE-Cell)
60 x Cool White LEDs (PE-Cell)
Brightness output: 700lm at 1 meter
Built-in photoelectric solar panel
1 x 4400MAh NiMH battery
High/low brightness settings
8 – 10 hours operation per day
IP44 weatherproof rating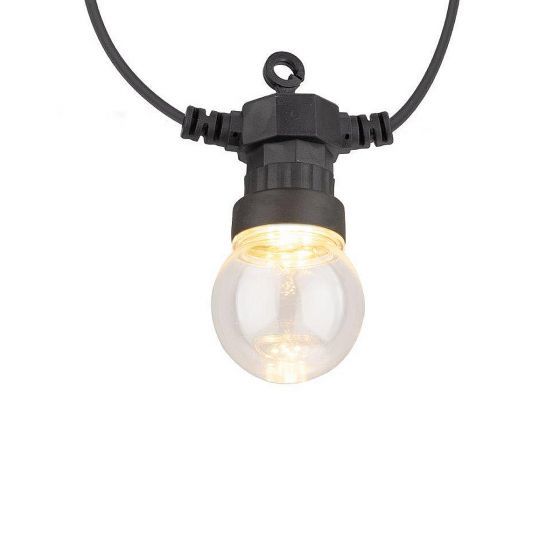 These festoon lights almost resemble Christmas lights, but they are bigger and brighter. Mercator festoon lights can be used for any occasion to create a nice ambiance.
Mercator festoon lights can be used in parties, romantic dinners, or weddings; they easily create the perfect mood for the occasion. They can be linked together to create an even better environment.
Key Features
DIY plug & play – No electrician required
Complete kit
Easy installation with 2-pin plug
10 x G50 LED opal globes included
3500K Warm White color temperature
Perfect for entertainment areas, gardens, Christmas trees, and parties
Suitable for both indoor and outdoor undercover use
IP44 rating
Input voltage: 240V
This light is oval in profile (not round). The minimalist black die-cast aluminum outdoor bollard is designed for surface mounting. It is ideal for use with an LED energy-saving globe.
Commercials and residential areas can use this light, due to its simple and versatile look. Outdoor bollard lights are certified to be high quality. It is a go-to product if you are looking to provide light in your outdoor spaces.
Key Features
Black die-cast aluminum
Frosted lens
1 x E27 60W max lamp holder
IP44 protection rating
Input voltage: 240V
60W Max wattage
650mm height
150mm diameter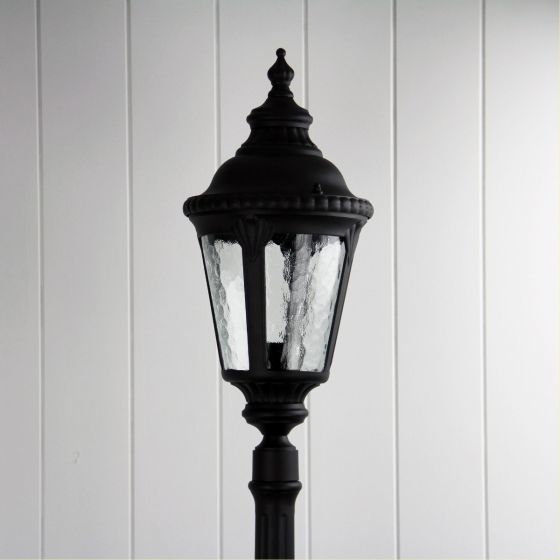 The Oriel Bristol light is an outdoor post light in black die-cast aluminum; it is best paired with an LED filament globe. It is an interesting addition to the home and is also available in wall mountings.
Key Features
Black metal post
Textured glass panels
1 x E27 60W max lamp holder (Globe not included)
IP44 protection rating
Input voltage: 240V
2200mm
250mm
The Star8 light provides a powerful 360-degree illumination with up to 2000 lumens output.Its frame is made from strong aluminum and is perfectly suitable for gardens, parks, roadways, car parks, private roads, pathways, public areas, campuses, and playgrounds.
Adaptive Lighting
The solar landscape light by Star8 has an innovative patented technology that automatically adjusts lighting levels according to surrounding weather conditions. ALS maximizes battery efficiency and life of charge.
Variable Frequency Technology
This special technology manages LED output, thereby maximizing battery charge life.
Temperature Control System
This provides a critical battery control system to protect the battery from overheating, thus maximizing battery life and output.
Key Features
Solar-powered – No electrician required
Easy DIY installation
High efficiency 18.5W polycrystalline solar panel
1 x 7.8Ah lithium-ion battery
20W LED
6500K Daylight color temperature
Brightness output: 2000lm
Lighting mode
1000 lumens for 5 hours, then 250 lumens with 2000 lumens for 30 seconds when activated by PIR
Seven + nights of continuous lighting at full charge
PIR motion sensor included
IP65 protection rating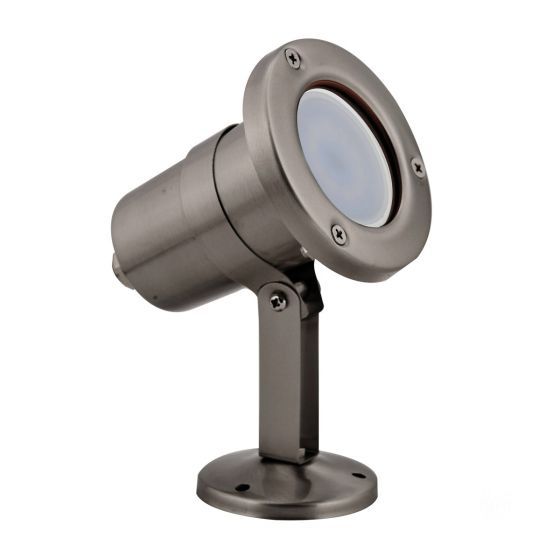 This Havit light is a versatile garden light that can be surface mounted or spiked. It is made from 316 stainless steel for reliable performance and durability.
The tri-color technology enables users to select color temperature between; 3000K Warm White, 4000K Cool White, and 5500K Daylight color temperature.
Key Features
316 stainless steel housing
Two mounting options: spike / surface-mounted
Adjustable head
5W MR16 LED included
Colour temperature option
Non-dimmable
1000mm cable included
IP66 protection rating
Best garden lights buying guide
---
Cost
Before purchasing anything within the home, you should come up with a budget. Outdoor lighting is no different from other items.
Consider budget alongside the type, size, and style you want.
There are a lot of lighting fixtures in the market, and without proper budgeting, you may end up purchasing the wrong items on impulse.
Wattage
Garden lights can serve many different purposes. You could want them for decoration purposes or for illuminating dark areas.
A lower wattage bulb is practical if you want to decorate your outdoor space, while higher wattage fits illumination.
Depending on your reasons for installing them, have the wattage differences in mind.
Lighting placement
To achieve the perfect layout design, you need to point out the focal areas of your outdoor space. The strategic placement of lighting will illuminate the dark areas to prevent accidents.
Have a professional go through the areas you intend to have the lighting, and you will be advised accordingly.
Color and style
Are you out to decorate your landscape?
You may want to consider the different sizes and shapes of your lighting. Warm lighting colors set an inviting and relaxing mood that you and your guests can enjoy.
Give your outdoor space a sophisticated look by fixing lighting of different sizes, styles, and designs that will leave your guests in awe.
Durability
LED lighting technology is preferred by many due to its durability and efficiency in providing quality lighting. LED lighting requires minimal maintenance and is completely safe to use.
Consider the benefits of LEDs for your outdoor area. Their durability will prevent you from needing replacements, and this gives you the advantage of saving money.
Frequently asked questions
---
How many lights do I need?
The number of light fixtures you need depends on the size of your garden and the purpose the lights serve. For a large yard, you will need more lights.
Discuss with a professional to evaluate your space and decide on the number of lighting fixtures needed.
Do garden lights need maintenance?
Absolutely yes. Just as any other product, the lights need proper maintenance.
The maintenance might include; getting rid of weeds that grow around the lighting, replacing lamps when needed, and wire repair. Maintenance maximizes their durability.
Should I be concerned about the electricity bill after installing garden lights?
Energy consumption depends on the lighting system you choose. Lower wattage fixtures with LED lamps will likely not increase your electricity bill significantly.
Invest in lights with solar powered features, low wattage, and LED so that you will not have to worry about your electricity bill.
Can I install garden lights on my own?
Installing lighting should be done by a professional electrician following the manufactures instructions. Installing lighting by yourself may cause you harm and danger.
Have an electrician assist you with installing the lighting in your home.
Conclusion
When the sun goes down, you should not go down with it too. Garden lights allow you have a merry time with your friends and family while gazing at the beautiful scene they create.
There are various reasons for getting lighting installed in your outdoor spaces.
Well placed outdoor lighting can chase away burglars who look for dark homes to steal from, makes your pathway easy and accessible, creates a beautiful ambiance to enjoy in, and adds great decoration.
While looking to install the lighting, consider your budget and the cost of purchasing and installing the lighting.
You want to install lighting that will last you longer, then you should pay attention to the durability of the materials used in its construction.
For instance, invest in LED lamps as they are low maintenance and provide quality lighting while decreasing energy use, thus saving money.
Outdoor lighting gives your home a sophisticated and beautiful look. Invest in the best lighting in the market to experience a mind-blowing, peaceful, and calm environment in your home.