If you are considering going solar for your home, most people think it is worth it. We understand this dilemma, as it is a big financial investment, especially if you want to get your money's worth when selling your property.
We can help address your concerns and show you that homes with solar panels sell faster than homes without solar panels. 
This blog will discuss the top 5 reasons why a home with solar panels sells faster.
The important thing to note is that there is a lot of public awareness about solar panels and how effectively they work.
People looking to buy a new home to reduce their footprint will be attracted to properties or homes with solar panels systems. 
Tired Of paying high electricity bills? Install solar panels and make your own electricity! Learn More about Government Solar Rebate
Does a Solar Panel System Impact the Resale Value of a Home?
Having a solar panel system does not decrease the value of your home. However, if you have a leased solar panel system, it may plant a seed of doubt in the prospect's mind.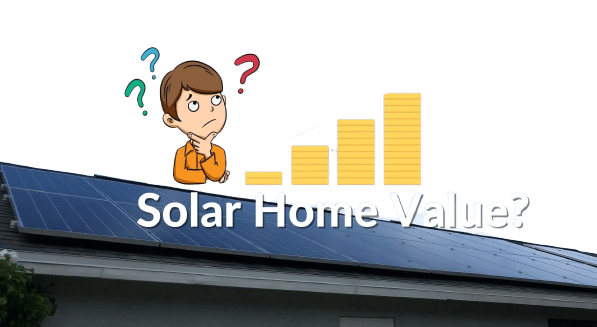 When it comes to buying and installing a solar panel, there are different methods available for you to purchase and finance the panels. 
1. Owned Solar Panels
Owned solar panel system refers to when you buy the panels, install them and have complete ownership over them.
Purchasing solar panels includes paying the total upfront price through personal funds, tax rebates, and government grants.
These panel types are attractive for buyers since they can move in without worrying about ongoing maintenance or expenses while the solar panels are under warranty.
2. Leased Solar Panels
Leased panels are a bit trickier. In the case of leased panels, the homeowners do not pay the upfront price to buy the solar panels. 
Instead, they pay a monthly fee to use the power generated from the solar system.
While this might seem ideal for people preparing their homes for an auction with a lower upfront cost, it can also be a sticky point for prospective buyers.
The reason is that with a lease agreement, the previous homeowner will need to buy out or maintain or transfer the panels to the new house owner, which would increase the paperwork needed for the settlement.
In addition, the third party overseeing the lease agreement might not allow the new owner to enter the deal because of poor credit history.
In short, the owned solar system is the more attractive option for buyers and is definitely a preferred option, so it can become an advantage while selling a home.
Often there are location-specific programs that determine the benefits of the solar system. 
However, we are here to discuss why having solar panels at home can pay off in a big way, regardless of your location.
Here are the top reasons why homes with solar systems sell faster, and why you should consider having a system at your home.
Also Read: 10 home solar system facts you need to know in 2022
5 reasons why homes with solar panels sell faster
---
➡ Take advantage of the predictable electricity bills
Do you ever feel worried about the electric bill getting higher and higher? If you do, it is not just you. The cost of electricity has risen a lot over the last decade, and this trend will probably continue.
Factors including extensive repairs to the rising energy cost, grid infrastructure, and turning the AC or the heat up because of extreme weather conditions can contribute to the high electricity bill.
Different factors can lower the monthly electric bill when you opt for solar panels, including the overall electricity consumption, direct hours of daily sunlight, size of the solar system, and angle and size of the roof.
Additionally, if you live somewhere with high electric rates, you can save more when you go solar.
Several solar plans offer lower rates than what you are currently paying, which means you can lock in savings for years to come.
Regardless of your location, a home solar system and battery storage can help you gain control over increasing electricity charges as you make a low-risk and long-term investment.
Running a home on a solar system can be practically free for the rest of the solar panels' lifespan once you have saved enough on your bills to cover the upfront outlay.
The cost of utilities has risen more than 2.9% on average each year over the last fifteen years. The initial upfront cost can save you money on increasing utility prices for a decade or two.
Also, government and state incentives are available, which enables you to subtract 26% of the total amount, making solar systems all the more accessible to the average homeowner.
➡ The Solar Panels cost is going down
In recent years, the cost of solar panels has gone down dramatically, as they became more popular. It has dropped almost 70% over the last ten years.
In addition, the price of solar batteries has decreased as well. As a result, the number of homes with a solar system increases day by day.
So, you should do quick market research to find the deal that matches your budget, location, and home.
➡ Increase the Value of Home
The cost of an average rooftop solar installation and battery will probably be recouped in the home's sale price.
People will pay a premium for a home with a solar system, where solar systems can raise a home's value by 4.1% on average.
This means that a home that is valued at $500,000 could get a $20,500 increase. Not only do homes with solar systems sell faster, but they sell for more as well.
Installing solar panels at home is a sound investment.
Whether you want to upgrade your home for a sale or make it a forever home, you can expect that the value of your property will increase.
➡ Get a long-term Value
If properly maintained, solar panels can be a long-term solution to clean power for decades.
The solar system is made to last for over 25 years, and typically the manufacturers back their products with warranties and performance guarantees.
Therefore, your solar system should have a lifespan of about 20 to 30 years.
➡ The Sunlight Costs $0
At the end of the day, sunlight will cost you nothing. Renewable, reliable, and abundant. The sun is the best natural resource.
In contrast, fossil fuels such as natural gas and coal can not be replaced, and their prices are at the will of the market forces beyond your control. Unlike fossil fuels, the sunlight is never going away, so you can count on it daily.
This is a huge benefit for prospective home buyers, and people who are in the market for a new home recognize the benefits of a solar system.
Hence, solar homes sell much faster and at higher prices.
➡ Renewable energy offsets the adverse effects of climate change
With increasing awareness about climate change, more and more people care about the environment and are looking for ways to live an environment-friendly lifestyle.
A solar home can offer them just that. The planet is becoming increasingly warm, and this has had a devastating impact on our well-being and economy.
If we decrease our carbon footprint and air pollution, the solar panel systems can save up to $259 billion in climate change damages and save more than 25,000 lives.
Who wouldn't like to be a part of this change?
Finally, there will come a day when almost every home in the world will have a solar system.
If you have a solar-powered home, that is good news. Your investment in solar energy can help you sell your home faster and at a premium price.
In addition, a solar panel system decreases the overall cost of maintaining and operating the home, since you generate your energy and buy less from the utility.
So, why do homes with solar panels sell fast?
The biggest attraction of solar panel systems is that people want to save money on their electric bills, reduce their carbon footprint, and increase energy efficiency.
Hence, there is no surprise that solar homes sell faster.
If you want to sell your home as soon as possible, then having attractive features is important, like solar panels.
You need to advertise such features to increase the price, and get it off the market quickly.
As a homeowner, purchasing a solar system is one of the wisest and safest long-term investment options.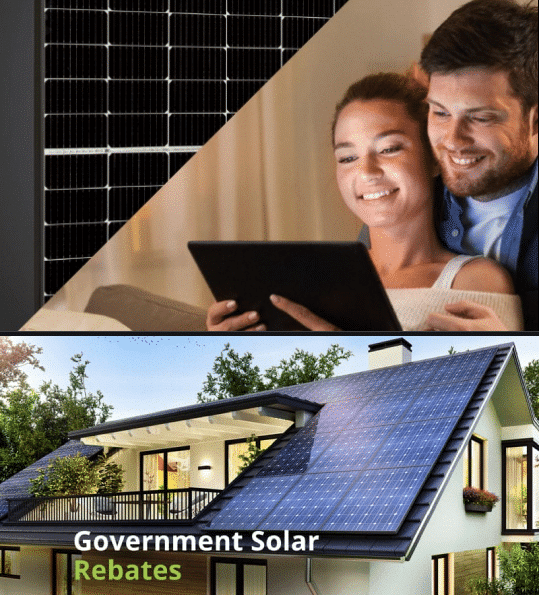 We help you receive a solar rebate by claiming the Small-scale Technology Certificates (STCs).
This scheme enables you to save a lot of money on the installation of solar energy.
If you are still unsure about starting the sustainable lifestyle journey, we have mentioned all the compelling reasons to take the step forward.
In addition, if you want to sell your property in the next few months, then you should think about installing a solar panel, as it may be the trick that gets your home sold quickly at a great price.