Solar panel installation : How much does it cost?
Be it a B2B or B2C industry, the first question that pops in mind every time one invests money is related to cost. S
Likewise, the global solar power industry has gone through several cost and technology fluctuations over the years.
We'll discuss these trends and patterns in this article with a special focus on the target market-based in Australia.
Solar prices over the years in Australia
Before the solar industry underwent the boom around 2008, prices ranged as high as $20 per watt.
Such a high cost translated to the adoption of this technology by a specific high-income economic group; while, a large segment of the population still hesitated to make the change.
Then, within a year, the government launched high-value tariffs that lured in a lot of new customers. The offer of 60 c/kWh that consumers sent back to the grid became a huge hit and eventually widened the user base by massive percentages.
Around the year 2011, several solar installation companies offering better prices came up, and the federal rebate program was started.
The program, to date, provides a huge benefit to people on the upfront cost of the installation and, in turn, became a big turn point for the solar scene in Australia.
Solar panel installation cost in Australia in 2022
To understand the actual cost of solar power installation in Australia during current times, you must know that the advertised price of a solar power system mostly includes the cost of installation too.
Though, you might get additional benefits after applying for the rebate.
So, suppose an installation company quotes $6000 for a 6.6kWh system, then you won't have to pay any additional amount for the actual installation process.
In fact, customers should beware of companies that claim to charge extra for this purpose.
Another thing one must take care of is that you should avail services from a certified installer only, as the rebate won't be applicable if you do otherwise.
Now, depending on the state you reside in, the actual cost might differ.
Some areas, for example, might charge higher than others. The reason behind this lies in the rebate policy because each state pays different rebate amounts to the center.
Also, the number of PV panels that can generate a specific amount of electricity varies by location.
Hence, one might have to invest in a higher number of panels if they reside in an area where the average power generation per panel is relatively lower.
---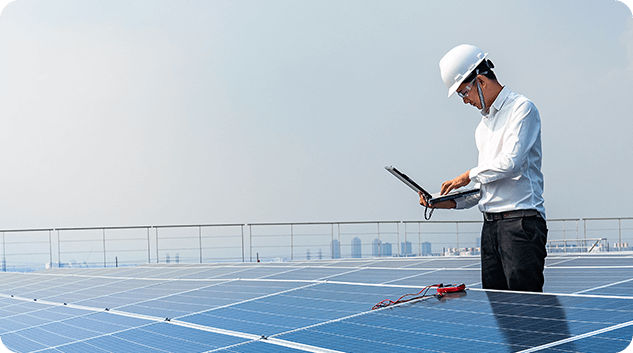 IMAGINE YOUR COMMERCIAL PROJECTS RUNNING ON ZERO COST POWER
Residential and Commercial Solar Systems in Sydney, NSW
Average solar panel costs
Per Watt
To determine the cost of the panels per watt, you first have to consider the overall size of the system and the state-wise rebates offered.
For some context, if you go for a 5kWh system, then the per watt panel price is around AUD 1.04. However, it comes down to AUD 0.92 if the system size is increased to 10kWh.
Per kWh
If we keep the global solar power industry in consideration, the panel cost on a per kWh basis in Australia is one of the cheapest.
All thanks to the government rebates, initiatives, and the flourishing solar scene in the country, the prices have come down to extremely economical for the common man.
For instance, if someone goes for a good quality solar panel system, the price per kWh can be anywhere between $900 to $1000.
Does solar panel installation cost the same everywhere?
It is very important to understand what solar will cost in each state, it is because prices vary tremendously depending on what state you live in.
And, there are many reasons for this and the most important one is system size. Now you must be wondering how does this work?
So, if you have a larger system then the lesser you will be charged per kilowatt-hour (kWh).
It is more like a business thing, if you buy in bulk then you will have to pay less comparatively than buying a single piece.
Cost of solar panels by system size
| SYSTEM SIZE | AVERAGE SOLAR PANEL SYSTEM COST (BEFORE TAX CREDITS) | AVERAGE SOLAR PANEL SYSTEM COST (AFTER TAX CREDITS) | $/W |
| --- | --- | --- | --- |
| 2 kW | $6,822 | $5,048 | $3.41 |
| 3 kW | $9,159 | $6,778 | $3.05 |
| 4 kW | $11,524 | $8,528 | $2.88 |
| 5 kW | $14,111 | $10,442 | $2.82 |
| 6 kW | $16,857 | $12,474 | $2.81 |
| 7 kW | $19,436 | $14,382 | $2.78 |
| 8 kW | $21,968 | $16,256 | $2.75 |
| 9 kW | $24,706 | $18,283 | $2.75 |
| 10 kW | $27,541 | $20,381 | $2.75 |
| 11 kW | $29,657 | $21,946 | $2.70 |
| 12 kW | $32,135 | $23,780 | $2.68 |
Generally, in some states, the homeowners make use of air conditioning more often than the homeowners in other states.
So, large solar panel systems are installed in sunny and warm states, for instance, Florida and Arizona.
Roughly one can say that for warm states it would cost more and for cold states it would cost less.
But if there is a difference in a system size then, it might cost less for a warm state if a larger panel system size, and cost more for a cold state if a smaller panel system size.
In Australia average solar panels cost are around $5250 after government rebates.
Prices vary in different states with Darwin, which is the most expensive and Sydney and Perth are among the most affordable.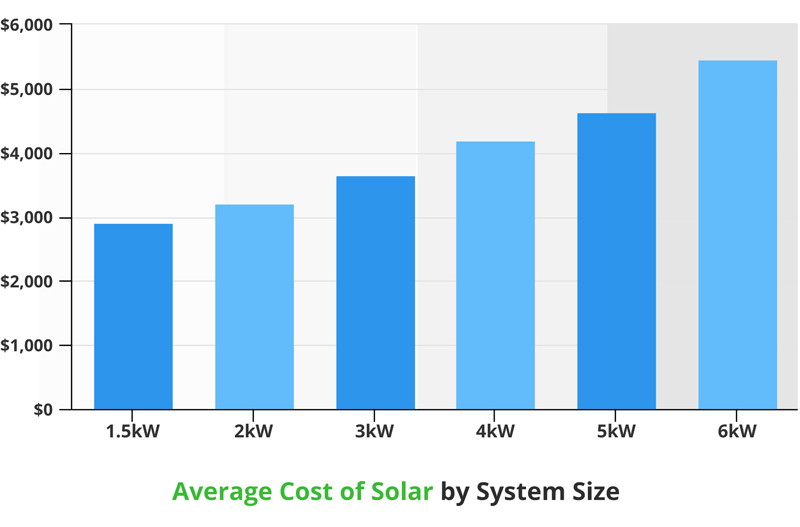 In most states in Australia, a commonly sized 6kW Solar PV System would cost $4,000 to $6,000 and a 10kW system would cost $7,500 to $10,500.
The average solar price for a good quality 5kW solar system in Sydney starts at $5,500. You should expect to pay around $7,000, if you want panel-level output.
$9,000 are required for a high-efficiency panels with all the bells and whistles.
At least 627 GW of photovoltaic (PV) are installed worldwide according to International Energy Agency (IEA).
Solar contributes almost 3% of the total worldwide in 2020, as a percentage of global power generation.
Small-scale solar (systems up to 100 kW) was responsible for 23.5 percent of Australia's clean energy generation and 6.5 percent of the country's total electricity was produced in 2020.
| State | 1.5 kW | 2kW | 3kW | 4Kw | 5Kw | 6Kw |
| --- | --- | --- | --- | --- | --- | --- |
| Western Australia | $2,450 | $2,710 | $3,010 | $3,540 | $3,650 | $4,210 |
| Victoria | $3,215 | $3,478 | $3,984 | $4,599 | $5,440 | $6,650 |
| South Australia | $2,792 | $3,150 | $3,650 | $4,185 | $4,722 | $5,320 |
| Queensland | $3,280 | $3,620 | $3,860 | $4,650 | $4,980 | $5,638 |
| New South Wales | $2,950 | $3,230 | $3,690 | $4,055 | $4,450 | $5,166 |
| Avg. of All combined | $2,909 | $3,211 | $3,655 | $4,201 | $4,633 | $5,466 |
| Aust. Capital Territory | $2,770 | $3,080 | $3,740 | $4,180 | $4,560 | $5,810 |
What affects the cost of solar panel installation?
Not only does your location and panel system size matter there are also many other factors other than these two.
Brand of the equipment
While installing some solar panels, one must make sure to choose the brand of the equipment wisely because this has a huge impact on the final cost you pay.
Characteristics of the roof
Characteristics of the roof of your home matter so much because if your roof has better sun exposure then not many panels are needed which in turn decreases your costs.
It is easier for installers to install panels on such a single roof plane, for instance, a south-facing roof than on a roof with multiple levels, because then it can cause additional installation costs.
Interconnection fee
When you install solar panels, you would also have to fulfill the cost of the interconnection fee and solar permits.
Interconnection is basically getting your solar energy system connected to the grid and this interconnection is obtained by paying some fee, once you obtain your solar permit documents.
So, finding yourself ways to make your interconnection process cheaper and quicker is also a very important factor.
Labor
Since there are different installers and the amount they charge for their services varies.
Finding yourself a well-regarded solar installer providing a premium warranty offer would definitely charge more for their installation job but it will be worth your money.
Solar inverter
A Solar panel provides direct current and our home needs alternating current for usage, therefore a solar inverter is also needed to be installed which can convert the direct current power from panels into alternating current so that you can use it at your home.
Thus, keeping in mind the cost of solar inverters is also one of the factors.
Does sunlight affect solar panel installation costs?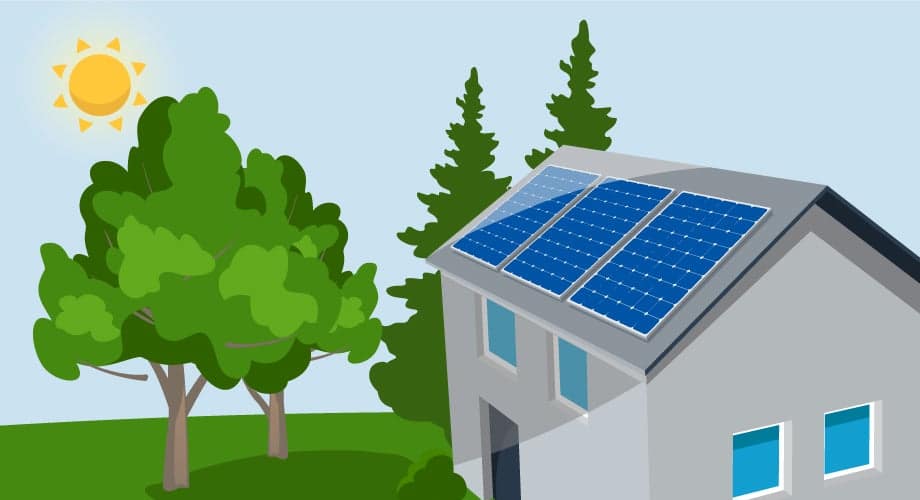 Not always the solar panels will get direct sunlight, sometimes the surrounding trees or buildings might cover the solar panels or maybe the sun is affected by the weather conditions like rain, snow, or clouds.
An installer considers some factors like location, shade, material, or dimensions. This also has a direct effect on the total cost you will incur to install the PV modules.
Ways to pay for solar panel installation
You can pay for solar panel installation in five different ways.
Each of them has its pros and cons. But there are only two ways worth considering for the vast majority of businesses, farms, and homes.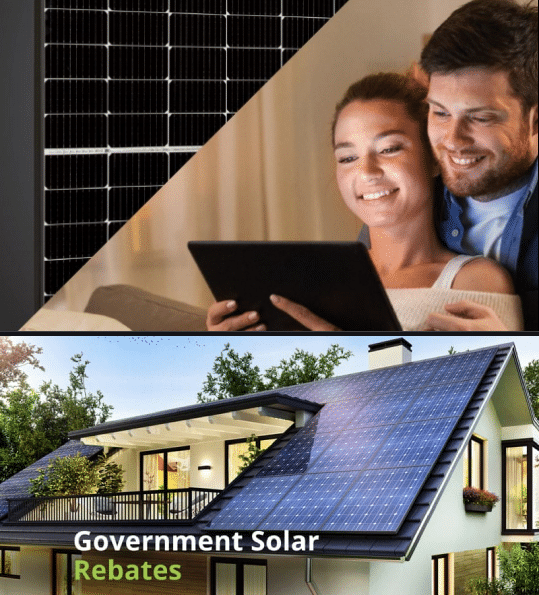 GET SOLAR REBATES
We help you receive a solar rebate by claiming the Small-scale Technology Certificates (STCs).
This scheme enables you to save a lot of money in the installation of solar energy.
---
Power Purchase Agreement (PPA)
To avoid the upfront costs, PPA is the best way. They own your system.
You do not even have to pay a fixed amount every month. In this case, you are supposed to pay for whatever your solar power system generates per-kilowatt rate.
Your traditional power company will give you the power you need to draw from the grid.
The solar panel installer charges you for the power that your system produces, therefore, the solar panel installer is your new power company.
So, it is like having two power bills.
PPA helps you with lowering your rates compared to your normal power company which helps you save money. PPA and lease also help you with zero tax credits.
Solar Panel Kits (Installation is DIY)
It is not very wise to install solar panels by DIY because it is also dangerously life-threatening at worst. Honestly, DIY solar panel installation is not going to cost you less but more.
The main reason is the huge tax incentives. When a solar panel installation is done by a certified professional, then only incentives are given out.
There is only one benefit provided by the solar kit peddlers and that is cost savings, but except for the fact when you later find out, you didn't actually save any money.
Why?
Because the system might not be installed or designed properly.
So, this way you can lose the tax incentives and you might also lose because your installed system might not produce enough energy as it should where you have spent months and a pro would have installed it in less than a week.
Therefore, a DIY solar panel installation is the worst option out of five.
Cash upfront
Cash upfronts have many benefits for your solar panel installation. Some of them are:
. First, you get all the tax incentives
. You can get a maximum value for your panel in the resale, whenever you sell your house.
. You can also get an advantage over inflation because you would see an increase in bill savings over time.
. The system you have will be owned by you from the beginning
. There is going to be no recurring bills
Once you buy an upfront then any benefit of solar energy is yours.
Solar Lease
A solar lease is renting the installed components that you take advantage of.
The solar panel installation company which has installed the panels, inverter, and all the other components own it and you pay rent for it.
You pay a fixed amount per month and this does not depend on the amount of power generated.
This price might not remain the same for a whole 20 years because the owner of solar panels definitely doesn't want to lock the price as same for that long.
Solar leases might seem amazing to some people but the problem lies here:
The real owner gets benefited from all of the tax incentives that is all that money is obtained by the solar panel installation company.
And sometimes there is going to be a lesser sunny month thus lesser power production but you would still have to pay the full price of the lease.
In the end, you might not save enough money.
Solar financing
Solar financing is far better than leasing because of the money that you save.
With financing, you own the whole system and have to pay only once while buying it and with a lease, you would have to pay for it again and again and you do not own it unless you decide to buy it outright – which will cost you even more.
Another important thing is that you get tax incentives, unlike leasing.
You can save 26% to 60% on your solar panel installation bill because of local tax incentives, state, Federal, and also depending upon where you live.