If you are looking for ways and methods to brighten your bathroom lighting using LED lights, then you are in the right place. This article looks at five different options to brighten the space using LED lights.
Bathroom light layering
Layering involves going beyond standard overhead lights and skillfully manipulating the space with different styles of light to create a bright and friendly setting.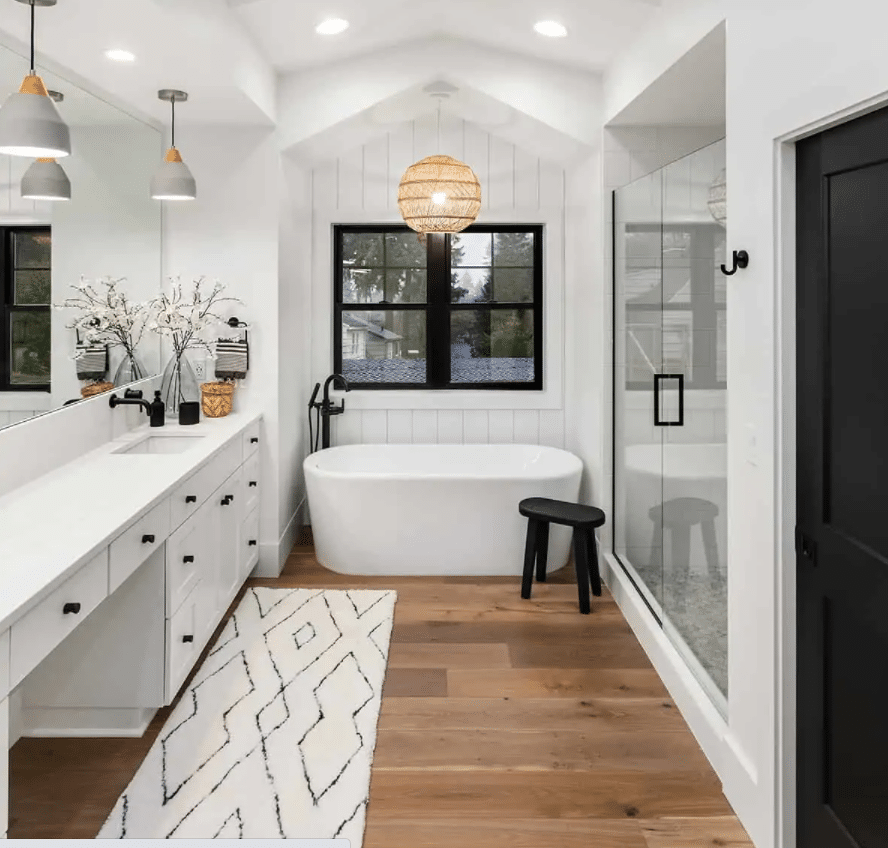 It is important to get familiar with the different types of light layering options. Your initial focus should be on Ambient Lighting as this type of light layering should provide a dissipated glare in the bathroom.
Ambient lights will give you a clear lightscape of the bathroom, depending on the amount of natural light coming into the space through windows. This combination can greatly improve the lighting levels in the bathroom.
The second layer involves task lighting. For all activities in the bathroom, especially ones requiring a high level of focus, such as shaving, task lights can greatly help highlight the details.
Task lighting can provide an adequate level of targeted, bright light required for performing a certain task without straining yourself.
The third and last type of light layering is Accent lighting.
Accent lights are expected to be brightest compared to the surrounding ambient layering. Accents generally highlight unique architectures and wall decors to give them a much higher level of attention.
Applying these three levels in a well-planned and neat distribution can make your bathroom appear more attractive, more spacious and turn it into a comfortable setting.
Regardless of the size of the bathroom, installing several light sources can improve the design and feel of your bathroom.
Additionally, when you add large and distributed mirrors into your bathroom, you effectively amplify the amount of light within the space.
Choose a stylish Pendant
A pendant or a suspender is a designer light fixture with a special light source that hangs from the ceiling
It is typically suspended or hung by a cord, metal rod, and even a chain.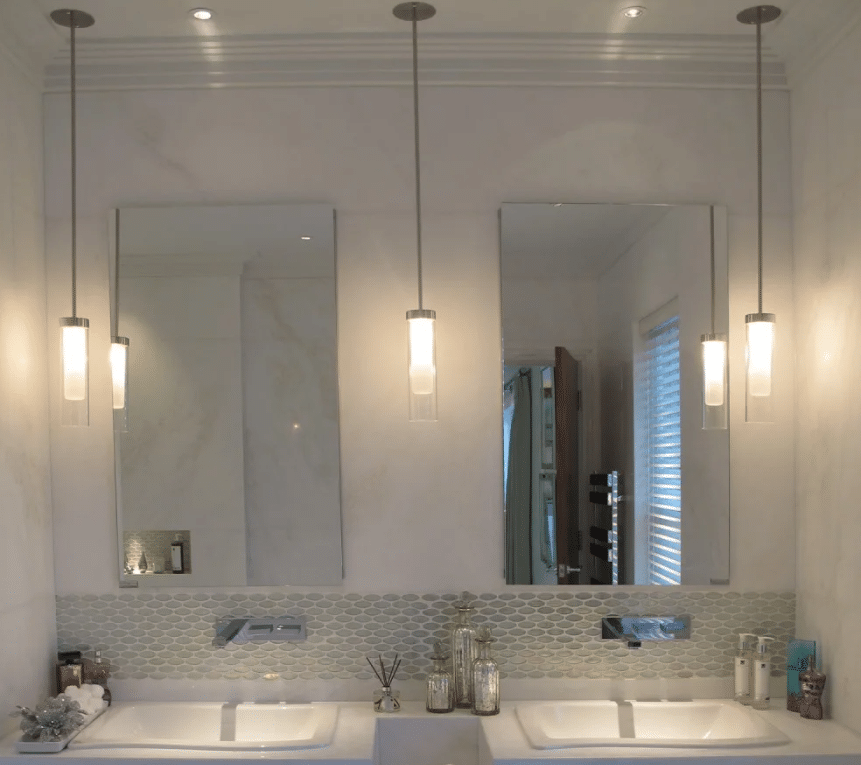 Pendant lights generally go in multiples and when hung in a straight line over the bathroom counter, can provide a great aesthetic and light addition to the space.
Pendants come in a variety of styles, from very basic designs for simple modern decors, to very complex and intricate pendants, satisfying more elaborate interiors.
The placement of the pendants can become a fantastic focal point within your bathroom.
Additionally, pendants are very convenient as they can be added at the exact point where high light levels are needed, to accentuate the brightness of the bathroom counter for example.
Their focal light additions and convenience have made pendants more popular for interiors over wall lights.
Add a clever Light strip
As a rule of thumb, LED strip lighting installed at low levels is great for providing adequate low-level light in your space and can give great effects to the interiors, making the bathroom walls and the furniture inside the room appear floating.
Additionally, LED strip lights to provide low light levels, which helps if only minimal light is required in the bathroom, for example during a night bathroom trip, so as not to have a bright light shine in your eyes and keep you awake.
These low-wattage floor lights can also serve as guidance for larger spaces, to illuminate a pathway and highlight the space contours. 
LED strips at a low level can provide a great sense of comfort, removing the inconvenience of disturbing others with bright lights, and also eliminating the hazard of walking into a dark space.
Installing a light strip that is dimmable or even DMX controlled can give additionally a variety of color and light effects to the bathroom, as well as give you greater control over the amount of light dissipated.
Flood the space with soft indirect light
Installing several indirect sources of light ensures uniform distribution of light within the bathroom.
It is important to note that the even and uniform distribution of light results in a comfortable and clear visual experience in any room.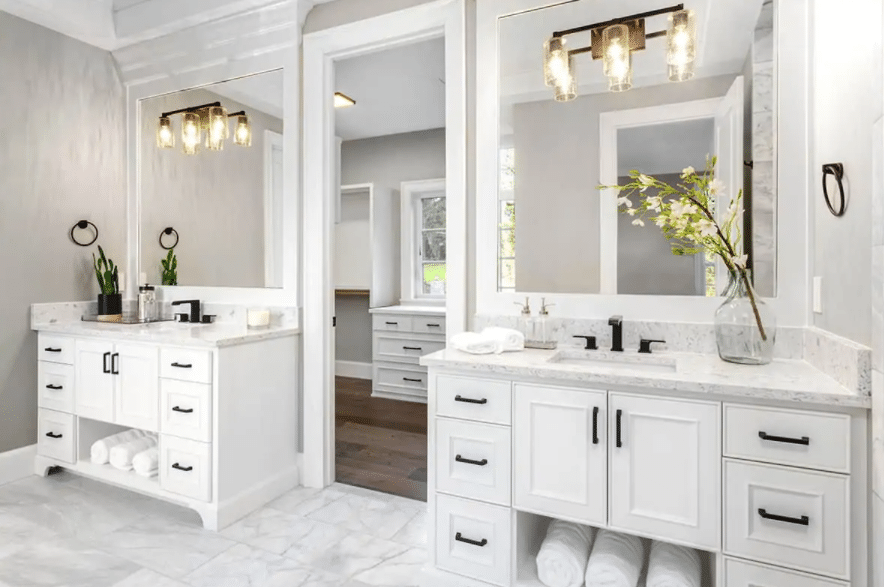 The light emitted from the different sources will not directly affect your eyes as the light beams intersect and cross with each other to give a clear glare.
Installing directional fixtures to direct the light beams throughout the bathroom can additionally highlight specific features within the room, including a statement bath or perhaps a stone belt installation.
If you intend to have a general soft light in the bathroom, with no direct beam, general distribution and dissipation can ensure your comfort.
To create an indirect lighting effect in your bathroom, you can add LED strips within a designated molding in the wall. The most suitable place to install the strips in the bathroom is on top of the cabinet.
Sources of light fixed on walls and floors provide a reflective light, with the light produced by the LED source of light bouncing back to give a clear visual impression.
Keep your light out of sight
LED strip lighting is an adaptable and discrete source for producing soft lighting within niches, shelves, and under counters.
It has the additional benefit of creating a floating effect when installed underneath the bathroom basin or above and below a mirror.
Pay close attention not to install the LED light too close to the ground or too bright. Otherwise, the floor of the bathroom can become too shiny, ruining the soft effect.
For these types of detailed installations and effects, you must plan, stimulate, and position the LED strip carefully to achieve a smooth, hidden effect.
This article covers the essentials of bathroom lighting to brighten the space and to create subtle and interesting effects in the bathroom, to make it appear brighter, more spacious, and more comfortable.