Showers are no longer only a space to clean, the shower area has become an essential area to revitalize and boost one's energy with elaborate decors and interiors. A dimly lit bathroom, or one that has improper lighting can turn the relaxing experience of taking a shower into a horrible one.
Shower lighting is an essential and practical aspect in the overall appearance of your bathroom.
Adding extra bright lights within the shower space and installing in-shower lighting can further highlight the space and make it more approachable.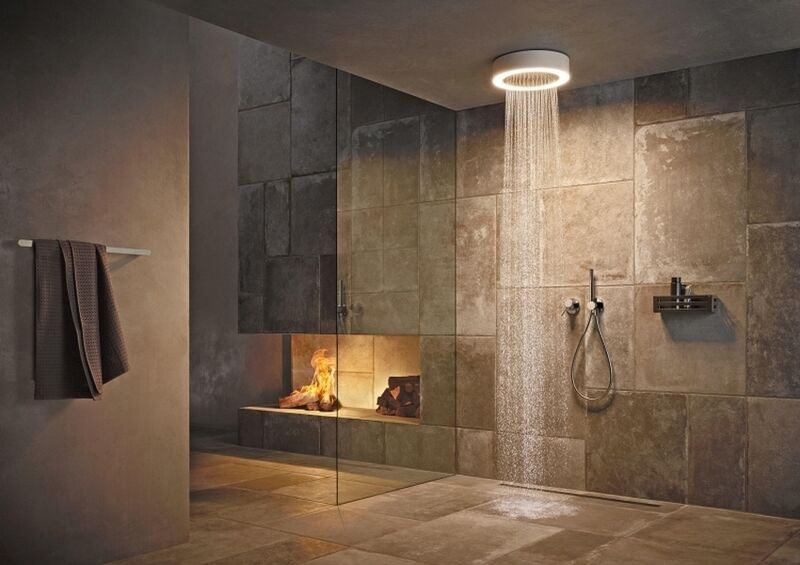 Lighting in the shower area can create a relaxed atmosphere and unconsciously elevate the shower experience.
Dedicated shower lights can be very practical to meet the light levels for different tasks that are part of your daily washing practice.
The most straightforward approach is to install one or two recessed spotlights in the ceiling directly above the shower, which will provide direct bright light to the shower area and offer high visibility.
Several affordable shower lighting options are available on the market to match your bathroom and shower specifics.
Why should you be concerned about your shower lighting?
Shower lighting can provide a beautiful or relaxing element to your bathroom while ensuring enough task lighting. The additional illumination allows you to focus on details for precise tasks, such as shaving.
Smooth illumination levels can contribute to a comfortable mood, just as much as the gentle stream of hot water.
Shower lighting is a necessity
Showers are frequently boxed away as a separate portion of your bathroom, nestled into a corner or sunken into the wall of the space.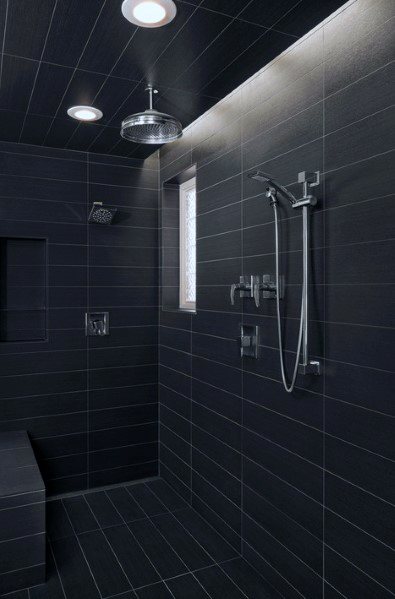 In terms of lighting design, this makes the shower space a separate zone with its own requirements, and in most situations, requiring its own light.
Even in small bathrooms, this zoning is due to the partition, glass partition or a curtain one, that separates the shower from the rest of the bathroom and effectively blocks out a large percentage of the light from the bathroom, making the space appear dark and gloomy.
What factors should you consider when selecting shower lighting?
To select the right shower lights for your space, choose your fixtures to meet your lighting and functional expectations from the space and to match your finishes and interiors.
For example, if you have a habit of shaving in the shower, but the bathroom lighting does not adequately illuminate the space, you may select bright shower lighting solutions.
Careful lighting selection and installation also improves visibility for cleaning your shower walls or plexiglass doors.
Although these concerns are based on the functional needs that necessitate more light, the installation and location of the lights is crucial.
If your main concern is the decor of the bathroom decor rather than increasing the shower light levels, then it would be more appropriate to install the lights outside the shower area.
Outside spaces require damp-rated fixtures which are protected against moisture (such as condensed steam) but not the water itself.
For lights within the shower space, use wet-rated fixtures to guarantee protection against direct water exposure and ensure safe and long-life operation.
Shower lighting ideas
Upon highlighting the reasons why you need shower lights, their location and their water protection requirements, you can look at the different options available and listed in this section to turn the vision or idea you have for your shower into a reality:
Recessed lights
Recessed lighting is by far the most popular and practical alternative for shower lighting as it is readily sealed against moisture.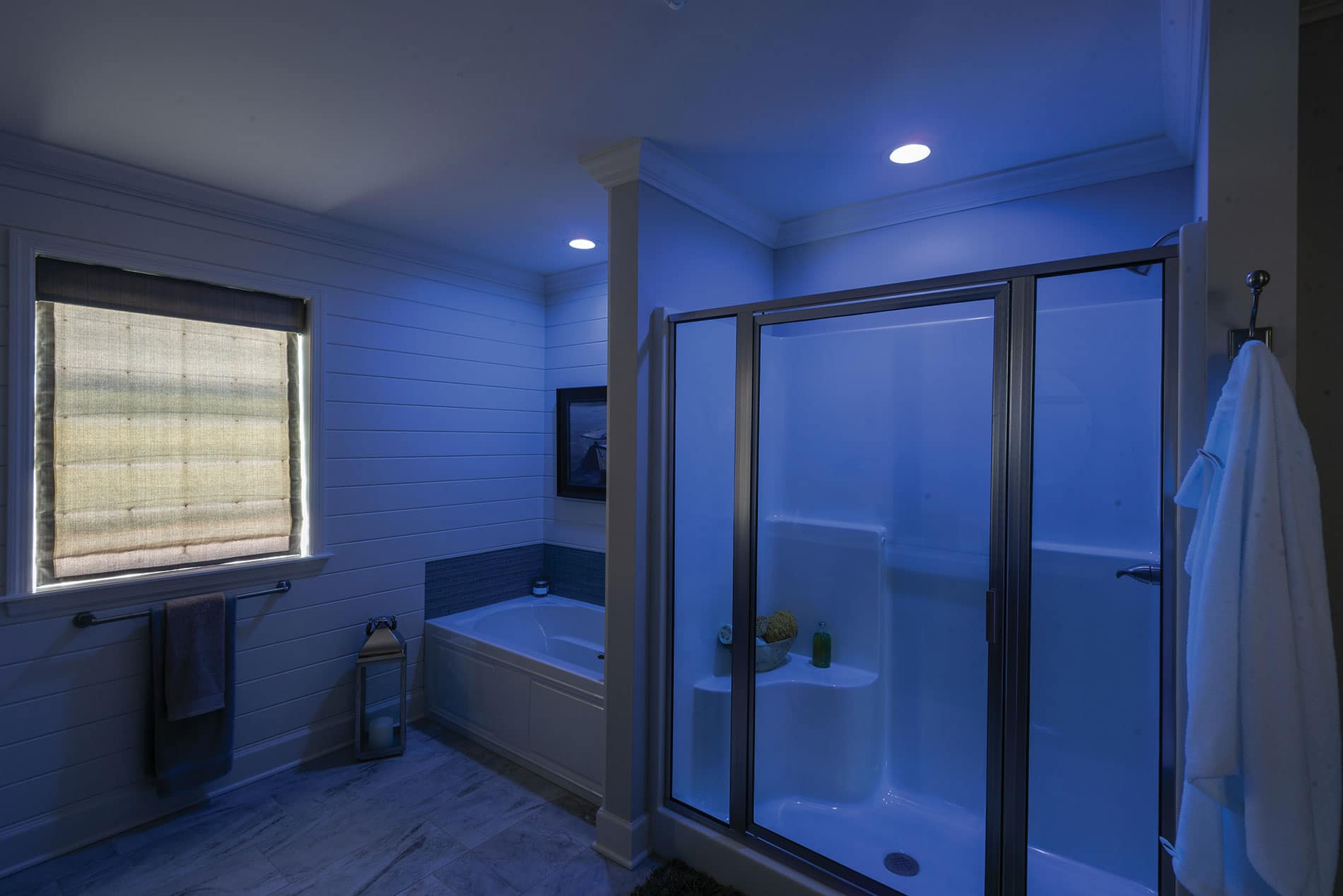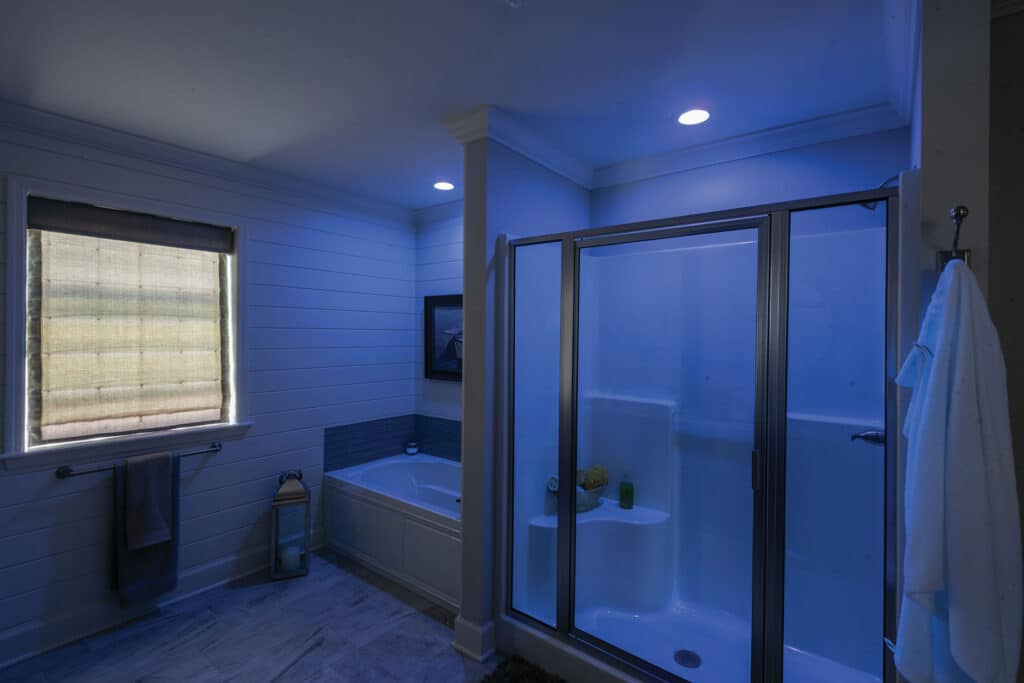 Simply ensure that the recessed lighting is moisture, wet, or damp-location rated. These fixtures will include specialized trims that seal off the fixture completely and keep water from entering.
These fixtures also have additional safeguards such as rubber gaskets that reduce harm to the light should water infiltrate past the trim.
Recessed lighting is very desirable for shower spaces as it easily fits with and maintains the appearance of the overall space, especially if these lights are installed within the entire bathroom area, making the ceiling appear uniform.
Other types of specialty hidden lighting include LED light bars and innovative custom lighting solutions, such as the color-changing drain lights, which are being more frequently installed in modern spaces.
Recessed lighting can offer both functionality and good aesthetics to the bathroom, helping to create a relaxing and comfortable environment.
Bathroom recessed lighting has a clean, modern appearance that merges well with any bathroom design.
Unlike traditional wall or ceiling-mounted light fixtures, recessed bath lights may be positioned directly above shower stalls or tub sections.
Laser bulbs
Bathrooms often have ceiling fixtures installed throughout the space, however, these types of light fixtures might not emit light the desired light levels.
This does not require a complete purchase of a new lighting fixture, instead, conventional bulbs can be replaced with laser bulbs.
Your bathroom will be flooded with a soft red, green, or blue starry sky that will define your space and make you feel more relaxed.
Laser bulbs can ensure a smoother light, and a peaceful, comforting experience.
Galaxy light
Going beyond conventional lighting solutions, galaxy lights can take your relaxing experience of a steamy, normally lit shower area to a whole new level, with blue-green nebulas and stars surrounding your bathroom.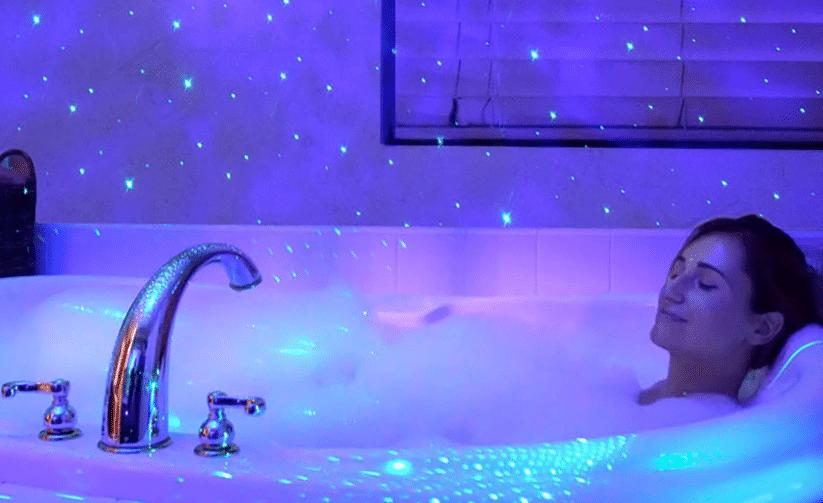 These lights can envelop your bathroom in beautiful midnight images, to ensure a heightened sense of comfort and an altogether new showering experience .
Make sure to keep your projector away from water sources, and take it outside the bathroom once done, to guarantee the light source stays dry and to be able to enjoy the experience regularly.
Wall sconces
Although typical bathrooms are generally illuminated from the ceiling to the floor, modern bathrooms are adopting different types and installations of wall sconces.
Installing wall lights with certified wet bulbs allows you to illuminate your shower from within the space rather than have light shining on the area from outside. Wall sconces may be used in either a walk-in shower or a bathtub shower.
Wall lights can be installed at a high level to properly illuminate the area with uniform light, while avoiding contact with excess water.
A laser bulb can also be used with your wall sconces, allowing you to create a particular setting for your space.
Tips for better lighting in shower rooms and cabins
Whether it is a small shower cabin or a massive walk-in shower, every shower needs lighting, and shower lighting differs considerably from the standard living room or kitchen illumination in quite a few ways.
Below are some tips and hints to improve the light in your shower area:
1. Shower light color
Showers are a time to unwind, and the lighting used should be a natural calming light to help with relaxation. Avoid lights with high color temperatures (cool white light) and focus on low color temperature options (warm white).
Dimmable lights with a dimmer switch allow you to manipulate your light levels and temperature outputs (if the fixtures offer multiple color options) to control and change the setting of the shower as required.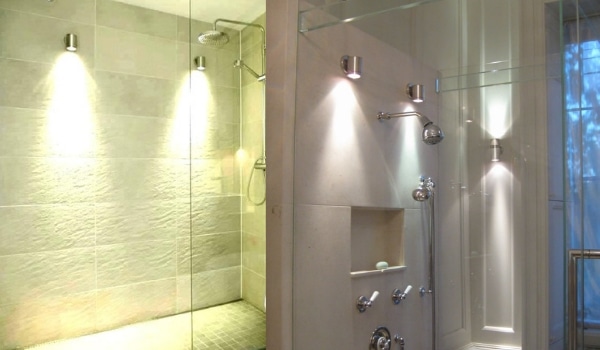 You can also use RGBW spots that offer multiple color options and can transform your shower into a true health sanctuary, as these types are useful for color therapy sessions.
2. Shower safety zones
Given the different safety zones in your bathroom, the different locations for your shower lights require different IP values, necessary to safeguard against short circuits and electrocution.
Shower cubicle floor spots: IPX7 (protection from immersion).
Spots on shower walls and up to 225 cm height: IPX5 (protection from water jets).
IPX4 shower light in a 60-cm radius (protection from splashes).
3. Shower lighting options
It is advisable to illuminate a place uniquely to suit your specific needs and desires. Below are some excellent shower lighting options.
➡ Shower ceiling blemishes
The most convenient approach to illuminate a shower is a built-in central point in the ceiling. Two or more locations are required for larger walk-in showers.
➡ Indirect ceiling lights
With walk-in showers, indirect ceiling lighting is a new and growing trend, with new extra-large rain showers that are constructed into the ceiling. The borders of this artificial ceiling are great for installing indirect lighting and can offer a stylish appearance.
➡ Outside the Shower, there is a movable spot
A practical option is installing a movable spot immediately outside the shower area, with an IP value that does not have to be very high.
➡ A vibrant wall
To guarantee a more interesting and comfortable experience during the shower, you can install a light wall.
The light wall is a semi-transparent synthetic panel with an RGBW LED strip on the back. The wall scatters the light and creates a beautiful diffuse glow, allowing you to choose your desired color.
➡ Indirect wall lighting
Recesses in the wall used to store bottles and jars of shampoo, shower gel, conditioner, and so on, can also be a good location for the installation of waterproof LED strips.
4. Provide light from outside the Shower
You can get light from outside by placing eyeball lamps one to two feet away from the shower and directing the bulbs towards the shower.
This method works well in small bathrooms with showers that are separated by a curtain or a transparent glass door.
5. Go for the luminance
To produce an exquisite wash of light in the space, install lighting along with a drop ceiling or at each corner of the shower.
Here are a few fantastic ideas to illuminate your shower area
---
1. Install an enormous circular light for a modern look
This large, circular light gives a considerable boost to the illumination level in the bathroom, particularly in the shower.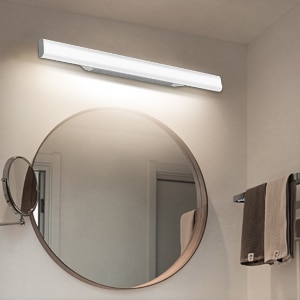 It is a shower lighting design that gives a modern appearance, ideal for a minimalist bathroom's modern vibe.
The shower's glass walls keep the whole bathroom well-lit without generating any gloomy or dim regions.
2. Keep the whole space bright
When shopping for the most convenient shower lights, keep the lighting in the bathroom as a whole in mind. If the entire bathroom is well-illuminated, it is much simpler to have a well-lit shower area.
Other ways to keep the entire space light and bright include light paint or tiling hues such as white or pastel blue, in addition to a wide collection of paint colors for negative or low-light spaces.
3. Use the bathroom light for the shower
In smaller bathrooms, you can use the bathroom fixture to make an excellent shower lighting solution. In this case, a lovely light above the mirror also serves as a shower light.
This is an ideal choice for bathrooms with a basin and mirror directly next to the shower, ensuring that the entire space is well-lit.
4. Include additional lighting with dark shower walls
When the shower walls or tiles are dark in color, a brightly lit bathroom can benefit from an additional shower light.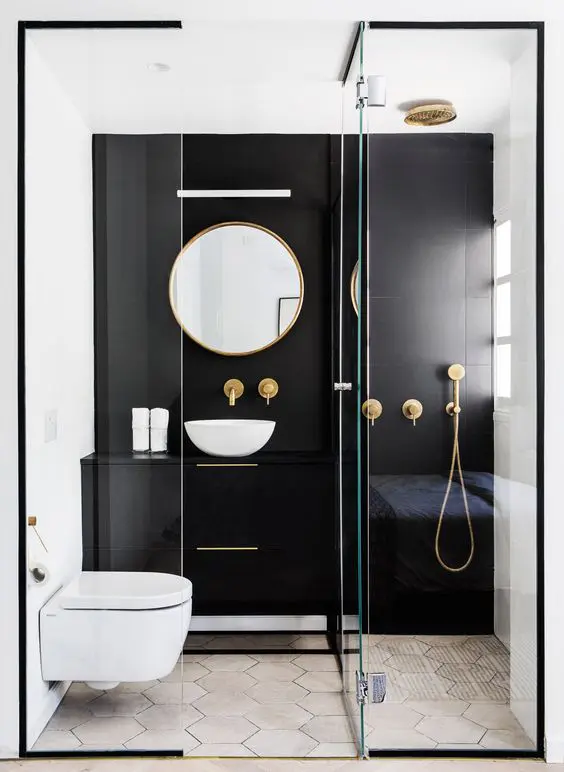 Showers with dark-colored tile may be pretty elegant and make a statement, but it is crucial to ensure they are well-lit.
Although a bathroom may appear to be well-lit, keep in mind that if you have a shower curtain, it will lower the light level in the shower if there is no additional shower lighting.
5. Maximize natural light
Another excellent option for shower lighting is to make use of natural light, in case windows are available in the space. Natural light can create a comfortable and energy saving option for your shower setting.
When constructing your bathroom, try to situate the Shower near the windows so that natural light may enter.
6. Place a wall sconce light in the shower
This option provides a high level bathroom light without requiring the installation of a ceiling spot light.
The wall sconce lamp adds just enough brightness and uniformity to the area, especially with its warmer tone against the background and surroundings.
Wrapping up
---
When it comes to shower lighting, it is essential to hire a licensed professional to ensure that the installation is done safely and the light operation will not cause damage or electrocution at any point during the fixture's lifetime. Moreover, avoid fixtures with cloth shades in humid environments since they might get musty and mildew.
Brushed chrome, nickel, and stainless steel finishes outperform cast bronze and brass, which are more fragile and prone to corrosion.
This guide highlights the key features and hints to adopt for choosing shower lights and improving your overall experience.