What are solar panels?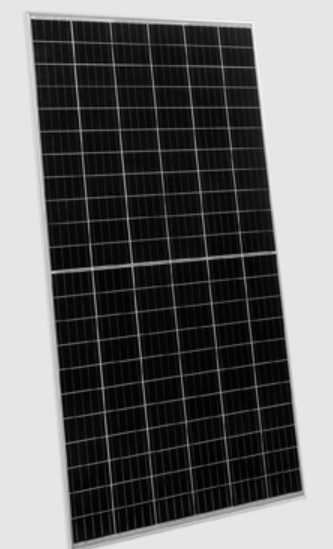 Solar Panels are devices used to capture energy from the sun to generate electricity. They are made up of solar cells, which are also called photovoltaic (PV) cells. These solar cells are made from two layers of semiconductor material, usually silicon.
Solar panels capture the sun's energy and convert it into electricity.
What kind of solar panels are available in Sydney?
There are two types of solar panels available in the market: Monocrystalline and Polycrystalline.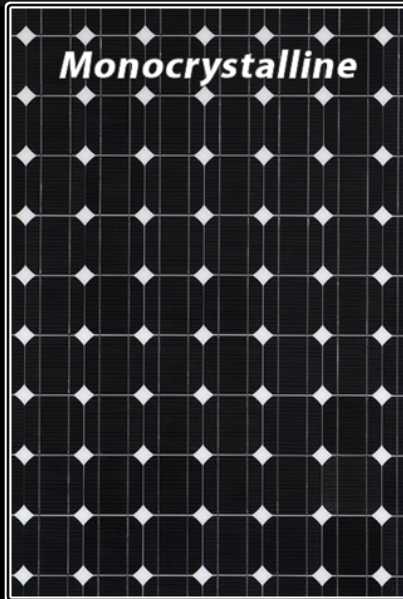 Monocrystalline Panels
Monocrystalline panels are made up of a single crystal of silicon. Solar cells manufactured this way are more efficient than those made with the polycrystalline method, however they are also more expensive.
Polycrystalline Panels
Polycrystalline panels are made up of many small crystals of silicon. These solar cells are less efficient than their monocrystalline counterparts, but they are less expensive.
How do solar panels work?
Solar panels capture the sun's energy and convert it into electricity, by harnessing the energy from the sun by the solar cells or photovoltaic (PV) cells that make up the panels.
Solar cells are made up of two layers of semiconductor material, usually silicon.
When the rays from the sun reach a solar cell, they knock off electrons from the silicon atoms. These electrons flow through the solar cell and into an electrical circuit.
The circuit provides a direct current (DC) of electricity, which can be used to power appliances or to charge batteries.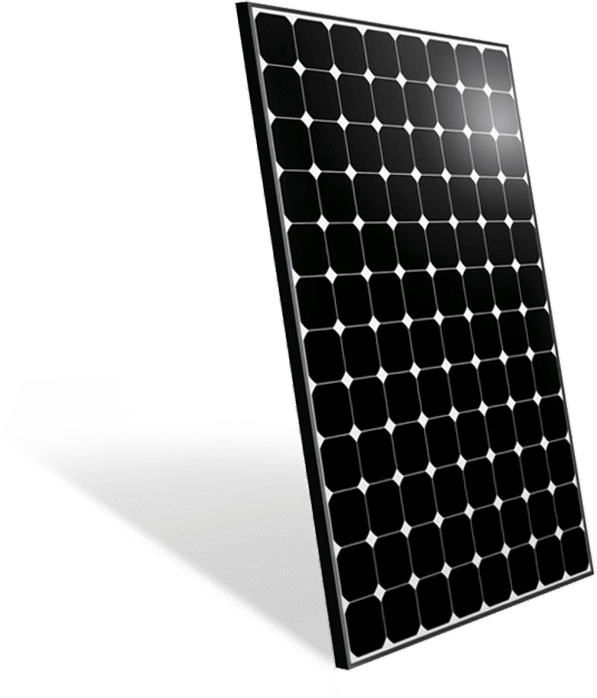 You may be eligible for a DISCOUNTED solar system installed on your home. You will need to meet specific criteria and reside in an eligible location.
Am I eligible?
How much does solar panel installation cost in Sydney?
Solar panels are not cheap, although the cost has dropped down significantly in recent years. Solar panels typically cost between $3,000 and $5,000 before installation.
Solar panel systems are available in a huge range of sizes and capacities, depending on the application, from a few solar panels to hundreds of solar panels. The final cost of your solar panel system will ultimately depend on the size of the system
Luckily, the price of solar panels in Sydney is highly subsidized by the Australian government Rebates program.
Solar Rebate is an Australian Solar PV rebate program designed to encourage the adoption and installation of solar power by offering a subsidy on the installation costs.
The Solar Rebate is currently available in New South Wales, Victoria, Queensland and Western Australia.
The Solar Rebate is a point of sale discount that is applied to the cost of a Solar PV system at the time of purchase and is available to both households and businesses.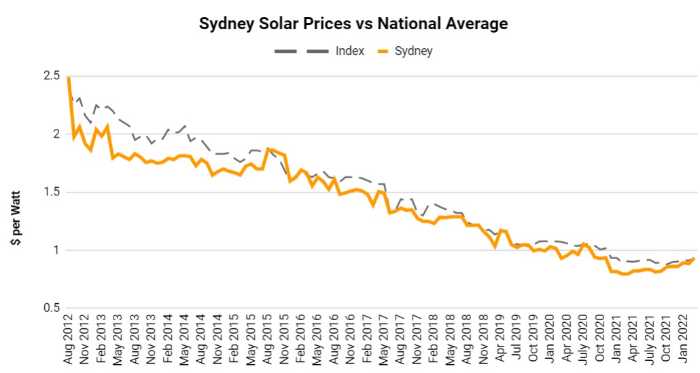 Credit: Solar Choice
How do I get solar panels installed in Sydney?
You can either install solar panels yourself or hire a professional to do the installation. If you decide to install solar panels yourself, it is important that you are aware of all the details and that you have the necessary skills and system knowledge.
Solar panels must be installed correctly, with a particular installation direction and angle, and with rigid fixing, in order for the panels to produce the expected power and in order to avoid any damage to the property.
If you decide to hire a professional Sydney solar installer, it is essential to find and hire a reputable one. Solar installers should be accredited by the Clean Energy Council (CEC).
Want to find out about the best solar power solutions for your home in Sydney? Organise your FREE solar power consultation with the E-Green Electrical team.
How does Solar Panel Direction Affect Output In Sydney?
The direction of the Solar Panel is one of the most important factors in determining how much electricity your solar PV system will generate.
The power generated by a Solar PV system directly depends on the amount of sunlight that hits the Solar PV panels.
That's why solar PV panels need to be installed in a location and direction which guarantees the highest percentage of direct sunlight for the majority of the day. Solar PV panels can be installed on the roof of a house or building, or they can be installed on the ground.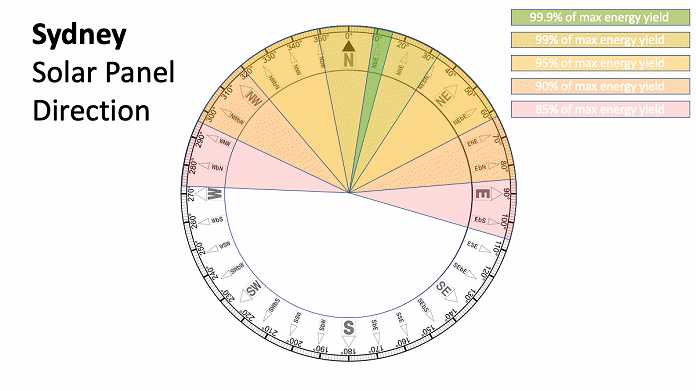 Credit: Solarquotes.com.au
Solar PV systems can also be installed and controlled to allow the PV panels to track the movement of the sun throughout the day, which will increase the amount of electricity generated by the Solar PV system.
What is the best solar panel in Sydney?
There is no one-size-fits-all answer to this question. Solar panels are available in a range of sizes, shapes, and styles and the best solar panel for your application will depend on your specific requirements and circumstances.
Different solar panels offer different output efficiencies. Solar panels with a higher efficiency rating will generate more electricity than those with a lower rating.
Solar panels are also available in a wide price range, starting from a few hundred dollars and going up to several thousands of dollars.
The best solar panel for you should match your specific requirements, purpose and budget.
What should I look for in a solar installation company?
When choosing a solar installation company, it is essential to look for a company that is accredited by the Clean Energy Council (CEC). Solar installation companies should also have a good reputation and should be able to provide you with references from satisfied customers.
You should also make sure that the Solar PV system is installed by a qualified Solar PV installer, who must also be accredited by the CEC.
Solar PV systems must be installed properly in order to function as intended, and minimize disruption to your roof or site.
Solar installers in Sydney can be located either through online searches, or through references and recommendations from friends, family and neighbors.
Solar PV installers must be accredited by the CEC to prove that they are licensed to install Solar PV systems.
E-Green Electrical is one of the most reputable solar panel installers in Sydney. E-Green has a team of qualified Solar PV installers who are accredited by the Clean Energy Council.
---
What are the benefits of solar panels in Sydney?
Solar panels offer major benefits, on an economical, social and environmental level. Solar panels can help reduce your electricity bill, they can increase the value of your property, and can help to protect the environment.
Solar panels can also offer a valuable backup power source in the event of a power outage.
Solar panels are a long-term investment, which can offer recurring and accumulative financial savings over their operation. Solar panels are a renewable source of energy and therefore an environmentally-friendly option for producing and using power, which greatly help to make the earth become greener and more sustainable.
As such, solar panels are a great way to reduce your carbon footprint, since using solar power instead of fossil fuel power can help offset your greenhouse gas emissions.
Solar panels can generate free electricity during the day, which can offset the cost of your night-time electricity usage. Solar panels can also generate free electricity on cloudy days and during the winter months.
As a great way to save money and help the environment, Solar panels are a win-win solution for both you and the planet!
Why choose E-Green electrical in Sydney for Sydney solar panel?
E-Green Electrical is one of the most reputable Solar PV installers in Sydney. E-Green has a team of qualified Solar PV installers who are accredited by the Clean Energy Council (CEC).
Solar PV systems must be installed properly in order to deliver the intended system output, and so as to avoid any damages or future risks.
E-Green Electrical offers Solar PV systems that are specifically designed for the Sydney market. These systems are more efficient and can generate more electricity when compared with systems designed for different markets and geographical areas.
E-Green Electrical also offers a Solar Maintenance Service, which ensures that your Solar PV system keeps running smoothly and efficiently.
If you are looking for a Solar PV installer in Sydney, you should definitely consider E-Green Electrical.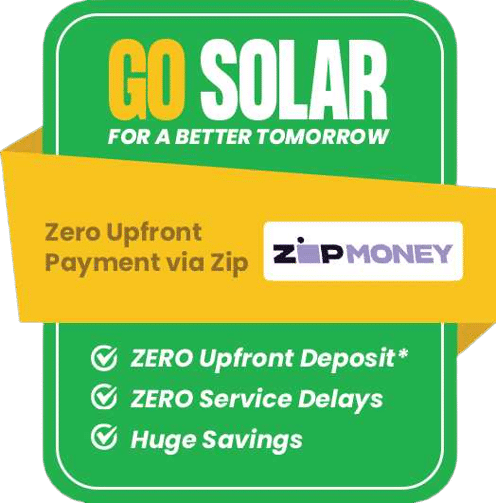 ---
E-Green Electrical solar process
➡ Contact E-Green Electrical through the contact form on our website or give us a call at 1300 326 636.
➡ One of our Solar Power technicians will arrange for a site visit to survey the property. They will accurately map the space dimensions (where the panels will be installed) and make note of any existing structures or windows that need to be avoided during installation. We offer a free design proposal that's customized for your system and your application – irregardless of the size of the system or the system investment, since we believe each person needs their own customized solar system and everyone deserves a clean energy solution
➡ We take care of all the permitting and paperwork for you, so that your solar power system can be set-up without glitches or paperwork hassles. Once approved by us (and based on our inspection), we will get in contact to schedule an installation date.
➡ We understand that you may have a few questions about solar energy. Our highly skilled and Licensed Solar Installers are ready to answer all your queries before, during or after installation! You can expect an impressive finished product at the end of this process – we ensure compliance and proper permitting to satisfy the agreement we have over the different phases of the installation (depending on a number of different factors). Installation can typically be completed on the same day of the purchase if there are no unforeseen obstacles.
➡ The independent assessor will visit your home for inspection and quality control, and once satisfied, they will connect the solar system to the grid. Once connected you can immediately start enjoying low power costs & energy independence!
Is solar power in Sydney worth it financially?
Australia is world-renowned for its warm weather and sunny climate, that's why solar power makes a lot of sense environmentally as well as financially.
Once your panels are installed they start providing all the energy that you need without any additional monthly fees or other operational costs!
Over the operational lifetime of the system, which is 25 years on average, the solar system can offer significant savings on household energy expenses by ensuring a clean renewable resource on a continuous basis.
How do you know which size of solar power is right for you?
The number of solar panels or the size you'll need for your home in Sydney will depend on a few different factors such as:
– How much power do you want to generate?
– The size of your roof
– The angle and direction that your roof faces
– Any shading that might block the sun during the day
To precisely determine what size solar system you need to meet your energy requirements, please contact us Here
What about the warranty?
Peace of mind is essential when it comes to your solar system. All our products are secured with a 25-year performance guarantee that protects the system from water, salt and pollution corrosion on top of the 5-year warranty!
Our inverters meet high standards, as well, as they're encased in a weatherproof housing, and can be secured for 10 years (for an extra fee).
What happens to my solar panels during the blackout?
Your Solar Power system will not operate during a blackout as it is designed to work in conjunction with the grid. However, solar batteries can be added to supplement the system in order to provide emergency backup power during a blackout.
Solar batteries are charged by your solar panels throughout the day and provide power at night or during blackouts.
Does my solar system work on sunny days?
Your Solar Power system will work on sunny days, cloudy days and even rainy days! However, on sunny days they will receive the most sun energy and thus will generate more power on a sunny day than on a cloudy day. 
Do the solar energy systems work during the night?
Your Solar Power system will not work at night, as they rely on the sun to generate power.
However, adding solar batteries to the solar system will allow you to store the excess energy generated throughout the day, which can be used during the night.
Can I install solar panels on a flat roof?
Solar panels can be installed on both flat and pitched roofs. The difference is that the installation on flat roofs will require brackets to incline the panels at a specific angle towards the sun.
On the other hand, solar panels on a pitched roof will require specialized clamps that attach to the tiles or metal sheeting.
Laying the panels flat on a flat roof could actually generate some power, however since the sun's rays aren't hitting the panels at a correct angle, the produced power will be far less than the optimum power expected.
Is there any financial return for a solar system in Sydney?
Research has shown that homes in Sydney can enjoy a financial return of up to $2,704 per year after installing solar panels.
The main reason for this return is the presence of ample sunshine throughout the city, which will allow users not only to save money by reducing electricity bills, but also to exponentially increase their savings in peak times and seasons when the energy costs skyrocket, such as during summer months. All these financial savings are made while eliminating emissions and harmful chemicals from the environment.
Which are the best solar panel brands used in Sydney?
There are a number of solar panel companies operating in Sydney. Some of the most reputable solar panel companies include Solar Shop, Jinko Solar, Trina Solar, Solar City, LG Solar, Yingli Solar etc.
Huawei Solar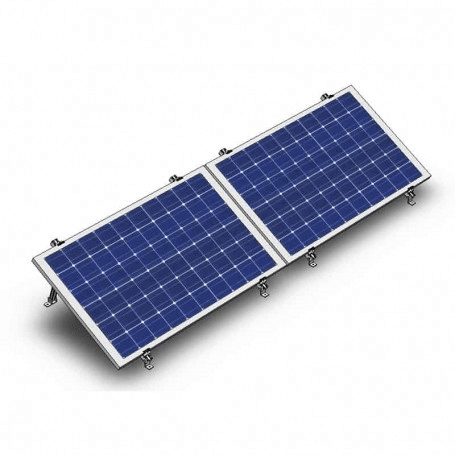 Huawei has been a global leader in Smart PV for over three decades.
They have harnessed the power of digital information technology to create highly efficient and reliable solutions with an active safety concept that is perfect for both C&I applications as well as residential customers!
Longi Solar

The LONGi team is committed to accelerating the clean energy transition with their technological and manufacturing leadership in solar wafers, cells, and modules; they offer high-quality products that meet multiple needs for both residential and commercial spaces.
Trina Solar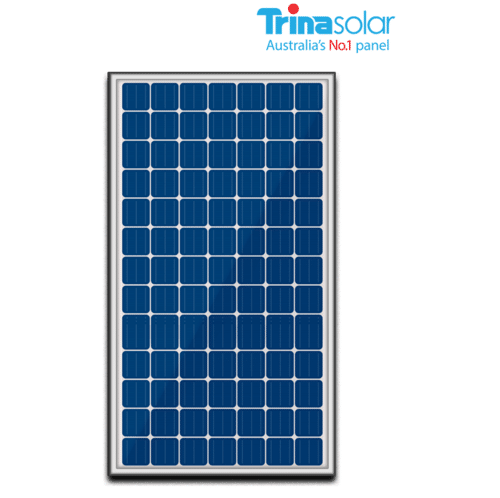 Trina Solar is a global leader in the field of photovoltaic modules and smart energy solutions.
They provide a huge market with clean, renewable electricity through their constantly innovative solutions which drive this industry forward and popularize solar power worldwide.
Jinko Solar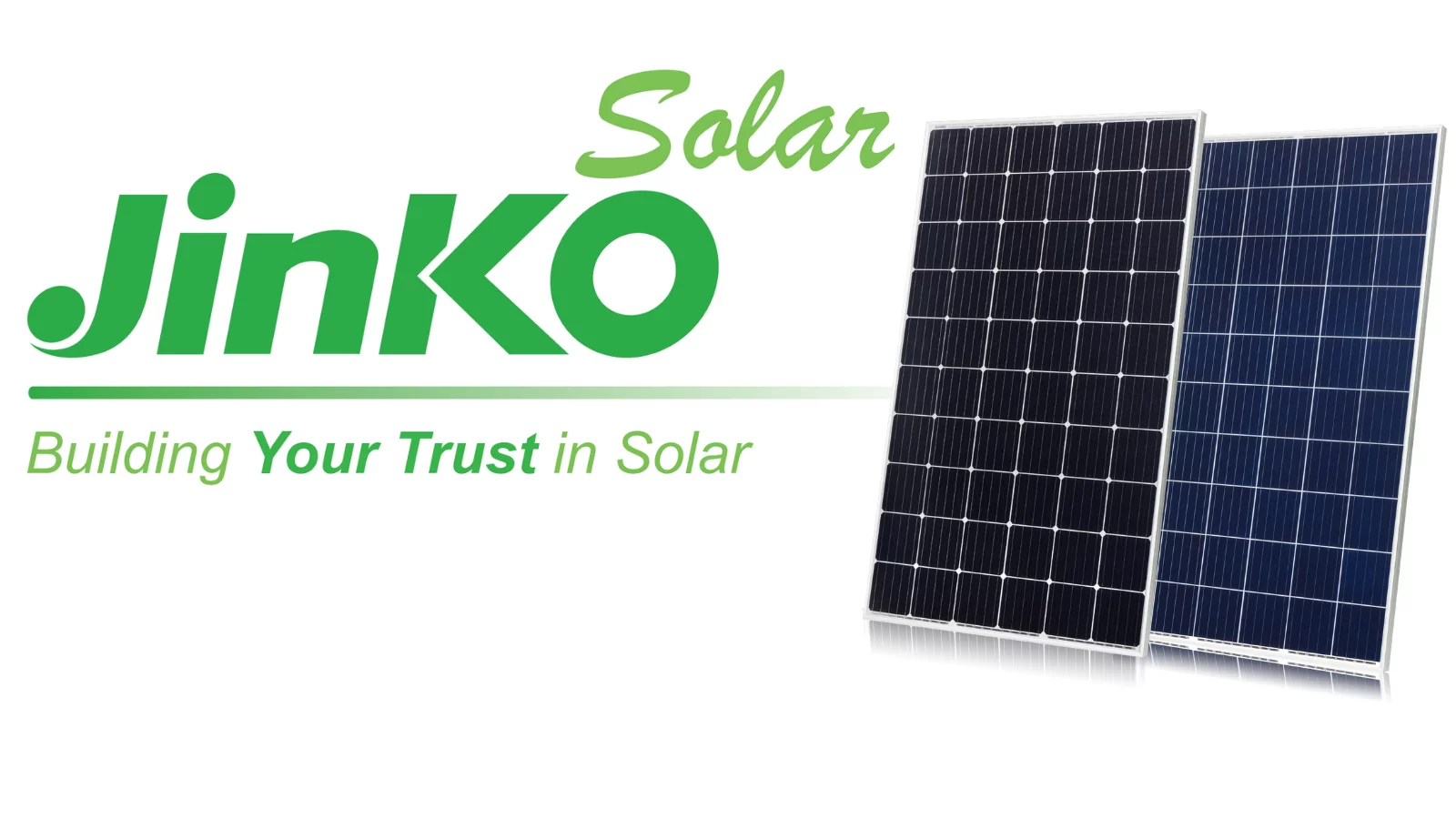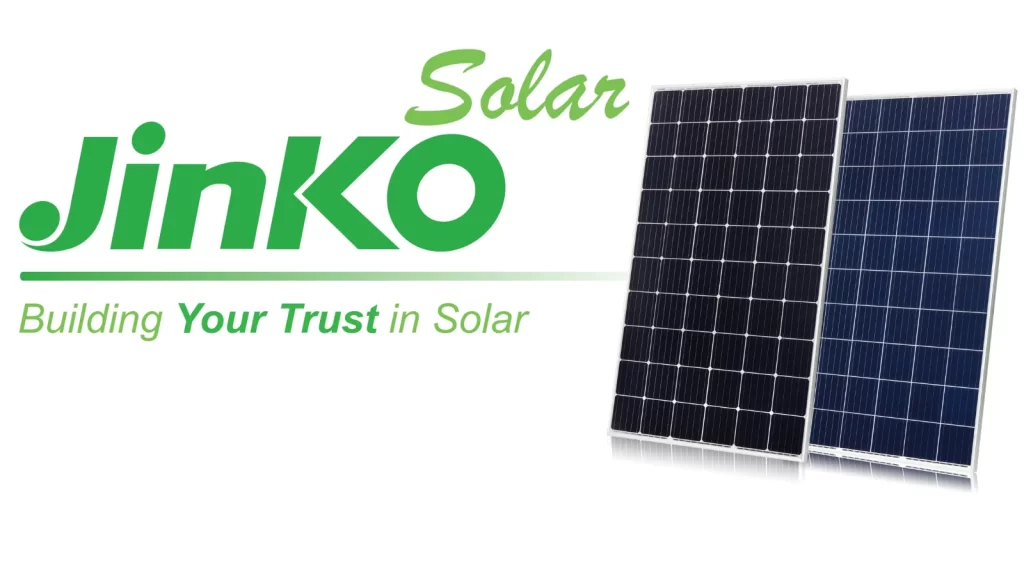 JinkoSolar's mission is to provide world-class solar products and services that meet the needs of diverse international customers.
JINKO SOLAR has a global reach, selling solutions in over 150 countries through their own sales team as well as through distributors and partnerships with leading entities like ABB Ltd., UIICO International Incorporated and many more!
LG solar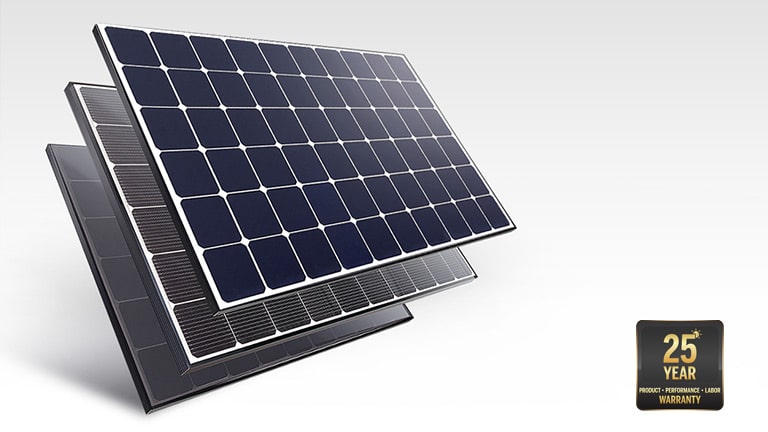 As a world-renowned electronics company, LG Solar is a trusted name in the solar industry.
They provide high-quality products that have been designed to meet the needs of both residential and commercial customers.
LG Solar is committed to helping accelerate the transition to clean energy with its innovative solar solutions.
Yingli Solar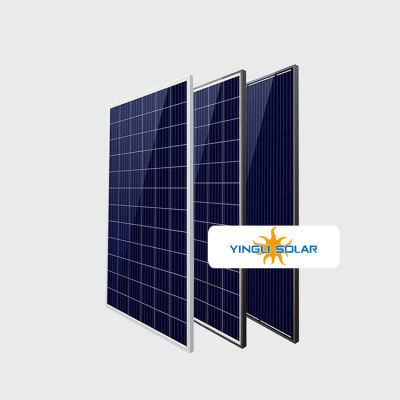 Yingli Solar is one of the world's leading solar panel manufacturers. They offer a complete line of photovoltaic products, including PV cells, modules, systems, and other solar power application solutions.
Yingli Solar is committed to providing affordable green energy and strives to create a sustainable future for our planet.
Q CELLS Solar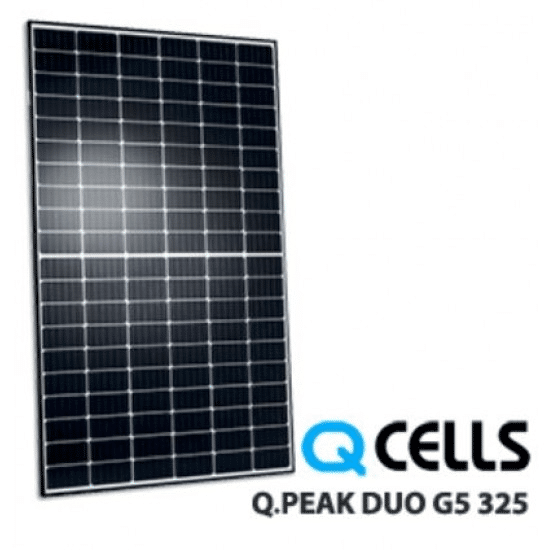 Q CELLS Solar is a leading global provider of photovoltaic solutions.
They offer a complete range of high-quality solar products, including PV cells, modules, systems, and other solar power application solutions. Q CELLS Solar is committed to providing affordable green energy for all.
Why E-Green Electrical for Solar Panel Installation in Sydney
Our expert knowledge and experience in solar installation allows us to offer tailored solutions that match each customer's individual needs.
We also offer a number of services, from fast and efficient installations all the way to operation and maintenance, to ensure a smooth and rapid transition to energy independence!
We provide a step by step guide to get customers familiar with components and solar panel prices, and to understand the details of a complete system and installation.
Our expert CEC accredited installers will ensure direct and constant communication throughout the entire installation process.
And if there are any bumps along your journey or questions left unanswered? Don't worry because our solar energy experts are ready to answer any question you have.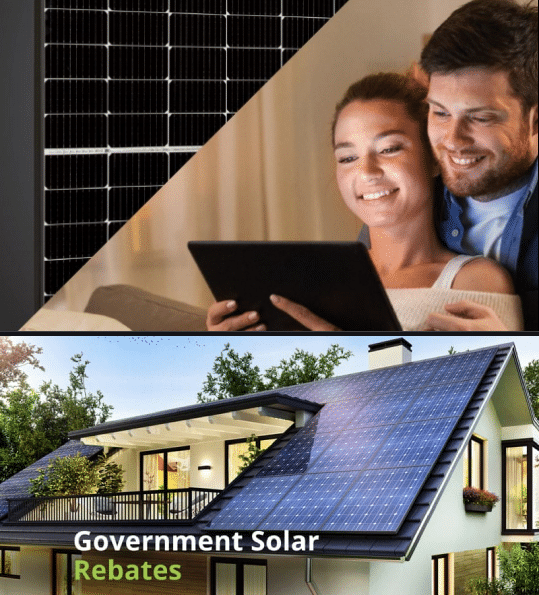 GET SOLAR REBATES
We help you receive a solar rebate by claiming the Small-scale Technology Certificates (STCs).
This scheme enables you to save a lot of money in the installation of solar energy.
Frequently Asked Questions
How much do solar panels for my home cost?
Solar panels are a popular alternative to traditional forms of energy, but they can also be a significant financial investment. The cost of solar panels varies greatly depending on a number of factors, including wattage, size, operation and convenience.
Solar system prices depend on the number and size of panels as well as the wattage they produce. As a result, it is important to consult with a solar expert to get an accurate price estimate before making a final decision.
With careful planning and analysis, however, solar panels can be a great way to save money on your energy bills and minimize your environmental impact.
How many solar panels do I need for my home?
When considering solar energy for your home, one of the first steps to make is to assess how much power you typically use.
Your past power bills can give you a good idea about your household's operation, as they provide a record of your actual usage. It's also important to look for any patterns in your usage, as this can help you anticipate future needs.
For example, if your electricity consumption has been steadily increasing over time, it's likely that you'll need more solar panels than someone whose consumption remains relatively consistent.
Once you have an estimate of you power requirements, you can evaluate how many solar panels you'll need to meet that amount of power. This computation will also take into account factors like the tilt and orientation of your roof, as well as the amount of sunlight it receives.
With this information, our energy efficiency experts can help you determine the best way to integrate solar energy into your home.
What will happen to my solar panels after 20 years?
When considering solar panels for your home, it's important to keep in mind the long-term investment that you're making.
PV solar panels have a warranty of 20-25 years, which is upheld by the solar panel manufacturer's guarantee.
Solar panels degrade at a pace of 1% every year, but this is offset by the guarantee, which ensures 90% production in the initial ten years and 80% by year 25 or 30.
So, even after 20 years, your solar panel will still be over 80% efficient. In other words, you can trust that your solar panel will continue to provide energy for your home for many years to come.
How does solar impact my property values?
If you're considering installing a solar system, you may be wondering if it will add to the value of your home. The short answer is yes – in most cases, installing solar panels will increase the resale value of your property.
Studies have shown that homes with solar energy systems sell for more than homes without them. However, your property value will only increase if you own, rather than lease, your solar panel system.
In most parts of the country, having a solar system will actually increase your property value more than a kitchen renovation.
So if you're thinking of selling your home in the future, installing a solar system is a smart investment. Not to mention, it's also good for the environment!
Can I go off-grid with solar panels?
Solar panels are a popular choice for homeowners who want to reduce their dependence on fossil fuels and save money on their energy bills.
However, it is important to understand that when you install solar panels, you will still be connected to the grid.
This allows you to draw power from the grid when your system is not generating all the power you need, and also to feed power into the grid when producing more than you use.
In order to go completely off-grid, your solar energy system should include battery storage with enough capacity to store the energy produced, in order to meet the demand while the system is not generating any energy. While this type of system gives complete energy independence, it costs significantly more than standard systems and is usually unnecessary for most homeowners.
Therefore, if you are considering solar panels for your home, make sure to take into account the ongoing costs of being connected to the grid.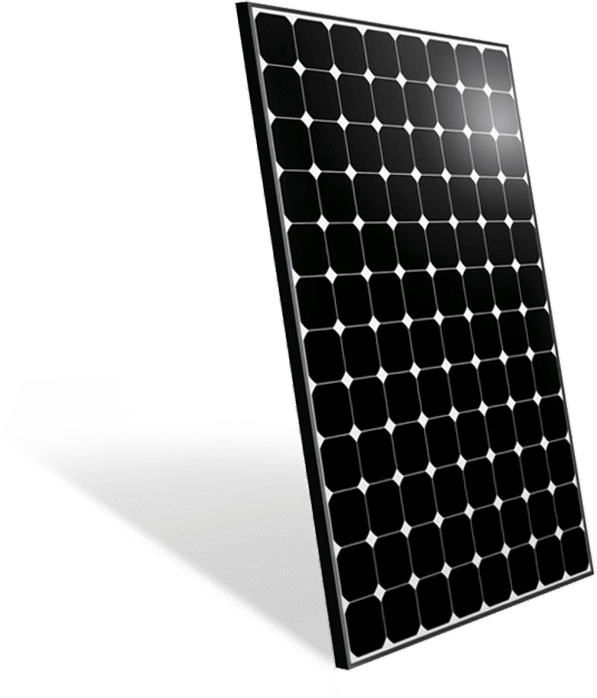 Energize your HOME with SOLAR power and forget about rising electricity bills. FOREVER!