If you are living in NSW and you're looking to install a solar systems in your home or business, then you'll be happy to know that there are a number of solar rebates available to help reduce the cost of your solar panel installation.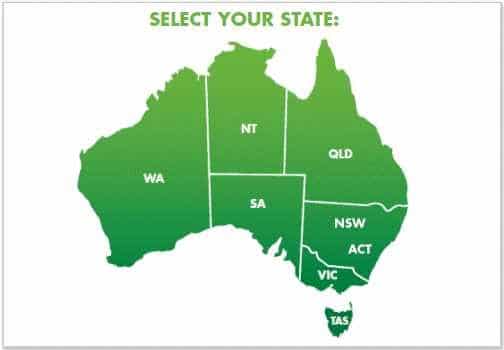 In this article, we will discuss what kind of solar rebates are available in NSW, who is eligible for them, and how they can help reduce your energy bills.
But before we start with the solar rebates, Let's look in to a few things you need to consider before investing in solar panels.
Do you have proper access to sunlight?
Are you planning to sell or lease your home?
Do you know a reputed and licensed solar installer?
Are you aware of the size of solar panel you need?
Is your roof suitable for rooftop solar panels?
Are you aware of the upfront cost?
An insight in to the NSW solar rebate
The NSW Solar Rebates is a great way for households to save on their energy costs. The rebate provides all households with a rebate on solar PV systems of any size.
This system can end up saving households up to $600 per year, as stated by the NSW government.
To be eligible must not have installed a solar PV system within the past 12 months.
How much is the NSW solar rebate?
The solar rebates provide all households with a heavily subsidized solar PV system.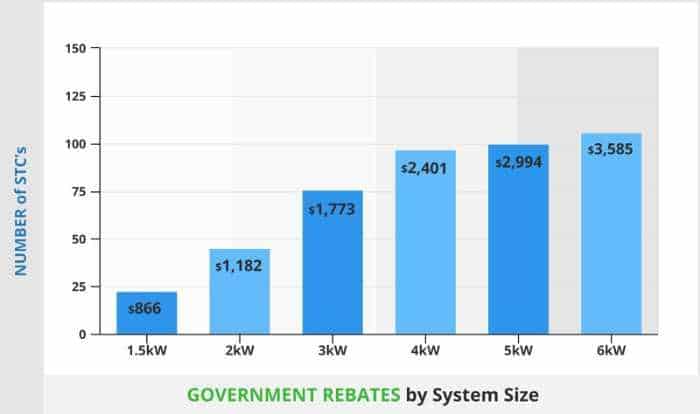 What is an STC rebate?
The Solar Rebate, also known as the Small-scale Technology Certificates (STCs) is a government initiative to promote the use of natural and sustainable energy sources.
The scheme offers a financial incentive for small businesses and households to install solar panels.
The Solar Rebate was introduced as part of the Australian Government's Renewable Energy Target, which aims to reduce greenhouse gas emissions.
The Solar Rebate has created a market for solar power systems, making it more affordable for Australians to switch to eco-friendly energy.
How do I claim my STC rebate NSW?

You can claim your STC rebate NSW by contacting your local solar installer.
If you are considering installing a solar power system, you may be eligible for the Solar Rebate. Contact your local solar installer to find out more.
Australian federal government solar rebate 2022
If you have installed solar panels in Australia, the government will automatically reimburse your solar installation costs for your installation up to 33%.
Australian governments have launched a solar rebate program titled Small Scale Renewable Energy Scheme.
Depending on the type of solar PV system installed in New South Wales, the number of STC awards can be different based on different factors.
In February 2022, STC prices will start at $43 per certificate. It's easy to do that.
The STC program: making solar cheaper
It provides incentives to businesses to invest in small-scale energy projects and generate jobs. The program aimed at encouraging Australian households to adopt energy-efficient technologies such as solar panels.
What's going on? Some of you might be familiar with small technology certificates, or SSCs. Think of these certificates as rebates to help offset the cost of your solar panels.
The number of STC you receive depends upon the amount of energy the solar panel system produces over its lifecycle. It also differs depending on system size and where you live.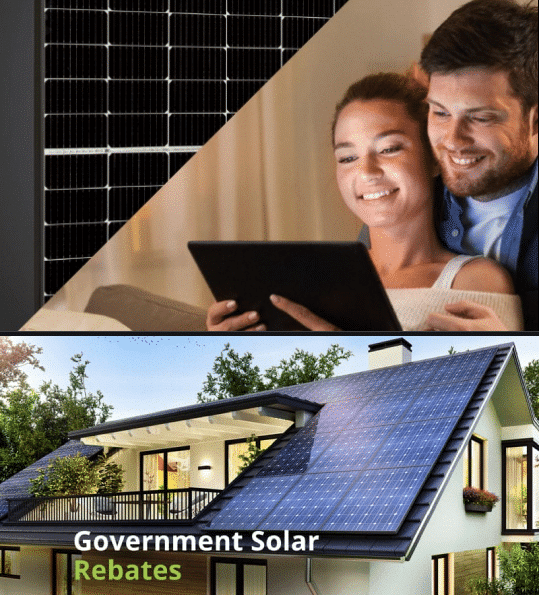 We help you receive a solar rebate by claiming the Small-scale Technology Certificates (STCs).
This scheme enables you to save a lot of money on the installation of solar energy.
An insight in to the NSW solar panels rebate
New South Wales Solar panel rebate program was launched in July 2018 to lower solar panel costs for homes.
This legislation promotes solar panels for homes in all states. The solar rebate program was developed by Environment Australia and the NSW government to increase renewable energy systems.
The program gives homeowners an upfront rebate of approximately $2,000 for the installation of solar panels.
The solar rebate scheme in NSW is free for anyone who lives or rents in New South Wales. The scheme demands that homeowners have a solar panel system installed by an installer.
How much money does solar save?

Typical Australian households spend 355 Australian dollars a month on electricity.
Even with an overall increase in spending in 2020, the numbers could still appear pretty high for poor-end households.
Installing solar panels will help you cut net power bills. In New South Wales, solar panel energy costs will be saved at 400 dollars /kWh. With the average 8kWh solar panel, you will save about $3000.
Furthermore, solar cells with batteries can completely eliminate grid electricity. Australian government Solar rebates schemes are meant to help with installation.
Tell me the solar rebate in 2022?
Depending on whether the solar module has an installed power source in NSW, the costs range from $6.10 for a watt.
This is much lower than 13c/kWh predicted. In some circumstances, your house can cost between five cents to 10 cents per Kilowatt or hour.
The subsidy will vary by house size, property location and types of renewable electricity systems installed. Home solar incentives will be calculated using shared scales.
This is based on the amount that your household generates using energy that is renewable, and how many battery-powered devices you use.
What solar rebates can NSW residents get?
The NSW Government has outlined a plan for net-zero emissions from 2020 to 2030 and a plan to create a net-zero emissions target.
This is a foundational measure to combat climate change in NSW. Installing PV batteries in the home will help them meet the goal, so there's a variety of funding incentives available.
2022 is the right time to invest in solar energy.
The various rebates, schemes and loan options available will allow you to dramatically reduce the costs for your installations.
The Rebate Scheme: This is the primary rebate offered by the NSW Government. The scheme provides a point of sale discount on the cost of solar PV systems.
The maximum amount that can be claimed is $2000.
The following government solar rebates and incentives are available in New South Wales (NSW), with more information on claiming them below:
Small-scale Technology Certificates (STCs)
Feed-in Tariff (FiT)
Empowering Homes – Solar Battery Loan Program
Solar For Low-Income Households
How do I claim government solar rebates?
You must decide which state of your rebate is in which you reside when claiming a solar rebate.
If you do it yourself you need to apply at the appropriate government office for this service. All residents of NSW can apply for a rebate, but some eligibility conditions need to be met.
How much power do solar panels use to generate electricity? The investment in batteries is crucial in determining the eligibility for solar credits.
How much is the rebate on a 10KW solar power system?
The rebate on the 10KW system in NSW costs $4774 according to the STC value of the NSW scheme.
This rebate is calculated on the basis that the solar installation is deemed to be valid for a period between 11 and 38.60.
For an exact figure as of now, you should talk to a company that you prefer. Calculating the STCs for a 10kw solar power plant will help to calculate its energy cost by using this formula: nominal solar wattage.
When installing 10K W solar systems, you might need an upgrade.
How do I apply for a government solar rebate?
It is possible to obtain renewable energy rebates from the government through the Internet by submitting an online form.
The second method that is preferred by most people entails giving the right to obtain an STC to your solar company. The buyer can then calculate the discount on the sale price.
Two ways solar panels can be installed are: state rebate schemes like the Renewable Power System rebate, an application process for these rebates can be found on the NSW Energy website.
To be eligible, the following criteria must be met
Currently receiving the low-income household rebate
Agree not to receive the rebate for ten years
Hold a valid Pensioner Concession Card or Department of Veterans' Affairs Gold Card
Own your house
Not already have a solar system
Live in one of the following regions:
Central Coast
North Coast
Sydney – South
Illawarra – Shoalhaven
South Coast
Is solar rebate reducing?
The solar rebate in NSW is unlikely to increase from the current policy.
The grant is now a minimum of $385 – $375 for each kW. This rebate will decrease from 2023 to 26 years. In 2021 this rebate will be reduced from $320 to $420 for 6.6kW systems.
Solar rebate is now available in NSW. The less money you receive for postponements the less money will be available.
Will the government pay for solar panels?
The NSW government will pay for a solar array for homes and small businesses.
This should make a big difference to the people installing solar power systems. You can still apply for federal subsidies by direct deposit online.
Other disbursements are also dependent on eligibility guidelines, like BTB guide credits.
Can I claim solar rebate more than once in NSW?
You may use this NSW rebate once in a lifetime. You may want to apply to get a second rebate if you are replacing an older Solar Energy System at your home.
Looking to make the switch to renewable energy?
E-Green Electrical is one of the best local Solar installers in NSW. With a passion for quality service and environmental sustainability, E-Green Electrical is driven in making a positive difference using solar technology.
The NSW government solar rebate can offer financial benefits – so why not invest in renewable energy?
Not only will your bank account look healthier, but you will be doing wonders for the environment. Contact E-Green Electrical today and make the switch to renewable energy!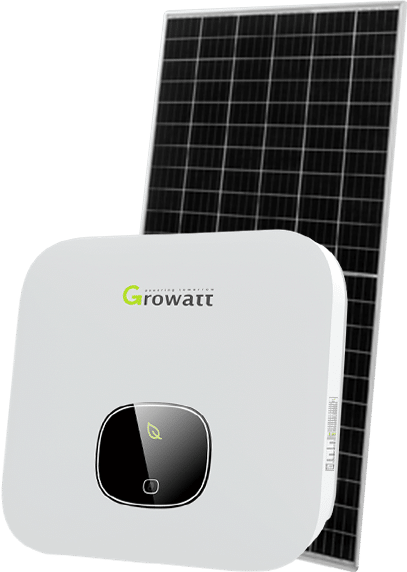 Frequently Asked Question
---
Can I get free solar panels from the government?
While there is no program currently in place that can provide free solar panels to residents of NSW, there are a number of rebates and incentives that can help offset the cost of solar panel installation.
The federal government offers a rebate of up to 50% of the cost of installation, and many local governments also offer rebates and other incentives. As a result, it is possible to significantly reduce the cost of solar panel installation by taking advantage of these programs.
In addition, many utility companies offer discounts for customers who install solar panels, further reducing the cost of going solar. As the cost of solar panel installation continues to fall, more and more people are taking advantage of this technology to save money on their energy bills.
Is it worth installing a solar panel in NSW?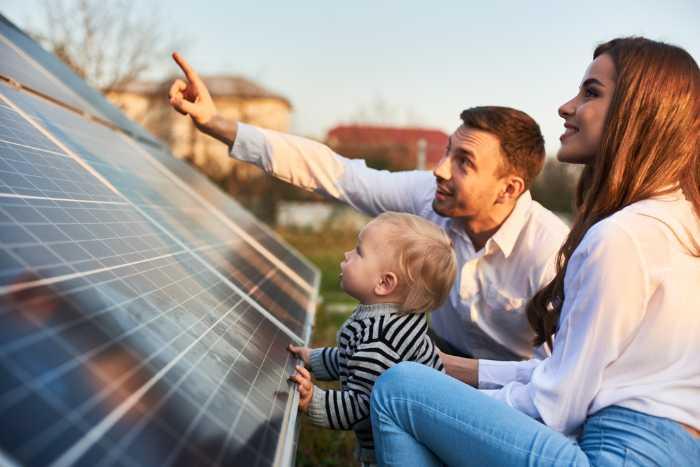 The NSW solar rebate, combined with the federal government rebate and other incentives, makes solar panel installation a very attractive proposition for many homeowners.
In addition, the cost of solar panel installation has fallen significantly in recent years, making it more affordable than ever. As a result, installing solar panels is an excellent way to save money on your energy bills.
Is it compulsory to have solar batteries?
No, solar batteries are not compulsory in NSW. However, they can be a worthwhile investment as they allow you to store energy generated by your solar panels and use it at night or during power outages.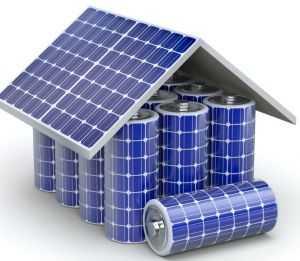 Solar batteries can also help you to maximise the savings you make by reducing your reliance on the grid. If you are considering installing solar batteries, be sure to speak to a qualified installer to find out if they are right for you.
E-Green Electrical is an NSW-based company that provides solar panel installation services and also offers a free consultation to help you determine which solar is right for you.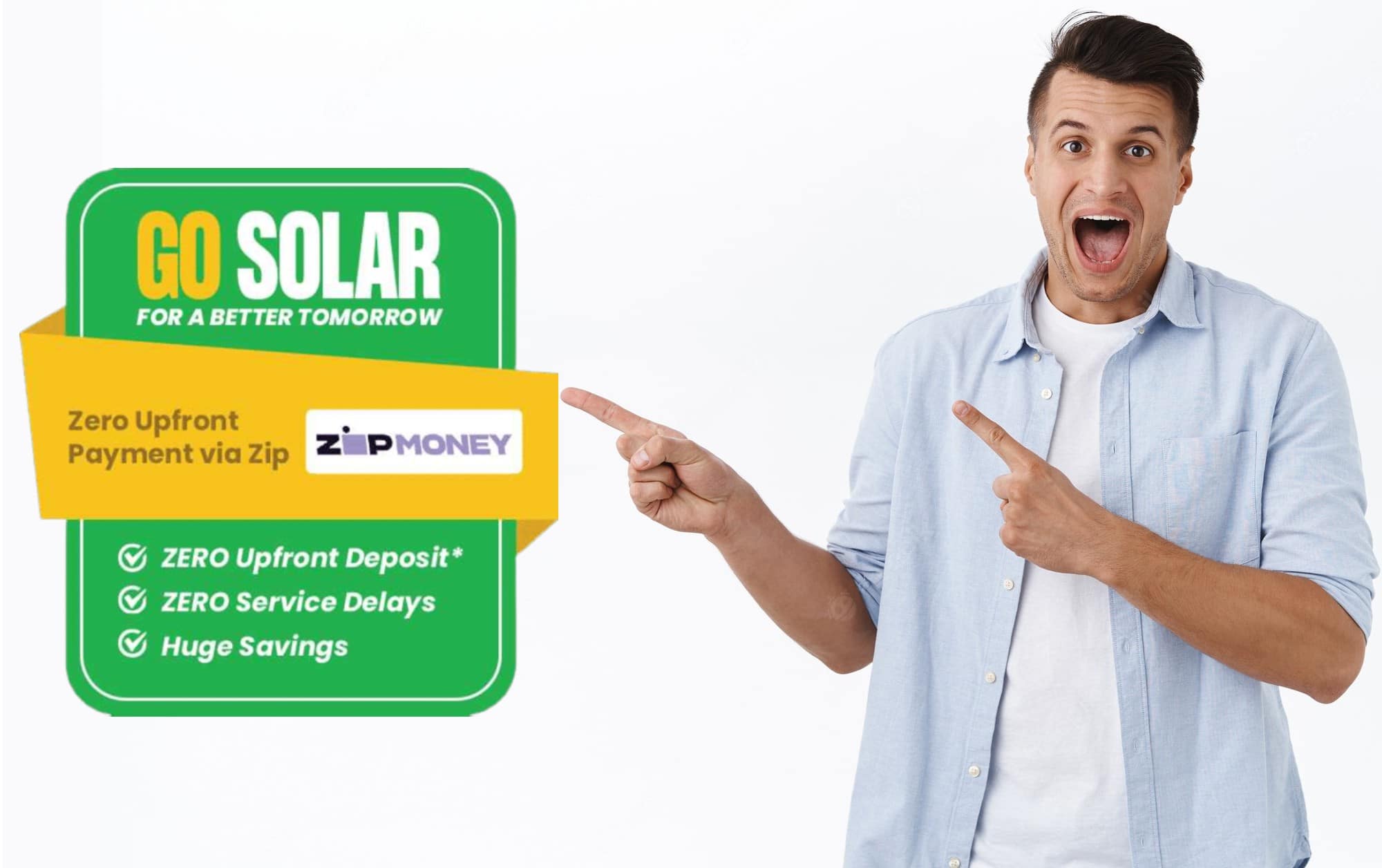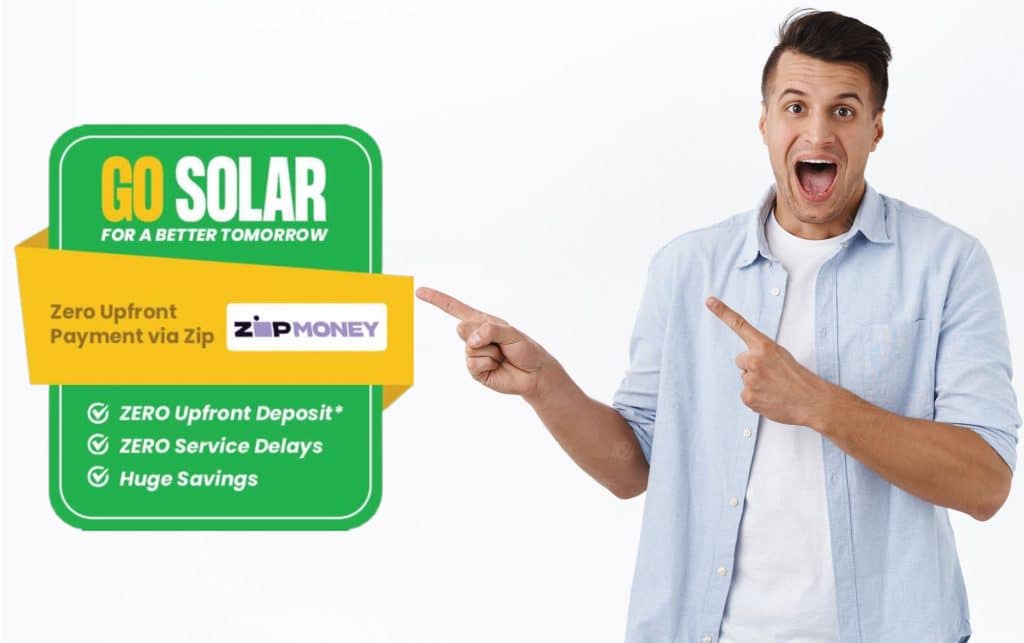 Why E-Green Electrical for solar installation?
Fast Installation
Experienced and Qualified Electricians
We are specialized in solar installation
We have the capability of engineering for your installation
We guarantee the highest standards delivered by our team
We offer special Operation & Maintenance to mitigate a shortage
We listen to our customer's needs & will find the best solution that fits their needs.
Energize your HOME with SOLAR power and forget about rising electricity bills. FOREVER!
We are here for you!
We do solar and we do it right
Our price for solar panels is a good way to get started with familiarizing yourself with the components of a solar power installation.
Starting from the time you call one of our solar experts until our CEC accredited expert installers install your solar system. We will keep you in the loop throughout the process and help you protect yourself against rising energy costs.
Our vision is to help make the solar installation easy and simple. Don't just take our word for it, see what the majority of our satisfied clients have to say. You are safe with us!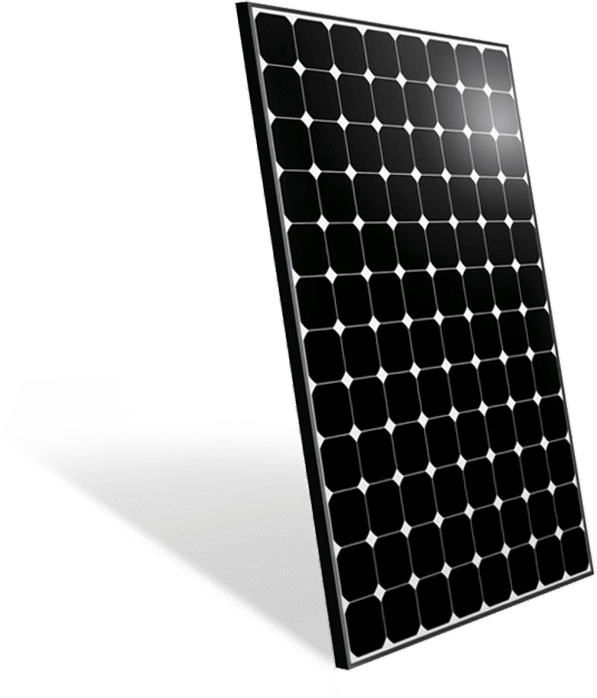 You may be eligible for a DISCOUNTED solar system installed on your home. You will need to meet specific criteria and reside in an eligible location.
Am I eligible?
If you are considering going solar for your home, most people think it is worth it. We understand this dilemma, as it is a big financial investment, especially if you want to get your money's worth when selling your property.
We can help address your concerns and show you that homes with solar panels sell faster than homes without solar panels. 
This blog will discuss the top 5 reasons why a home with solar panels sells faster.
The important thing to note is that there is a lot of public awareness about solar panels and how effectively they work.
People looking to buy a new home to reduce their footprint will be attracted to properties or homes with solar panels systems. 
Tired Of paying high electricity bills? Install solar panels and make your own electricity! Learn More about Government Solar Rebate
Does a Solar Panel System Impact the Resale Value of a Home?
Having a solar panel system does not decrease the value of your home. However, if you have a leased solar panel system, it may plant a seed of doubt in the prospect's mind.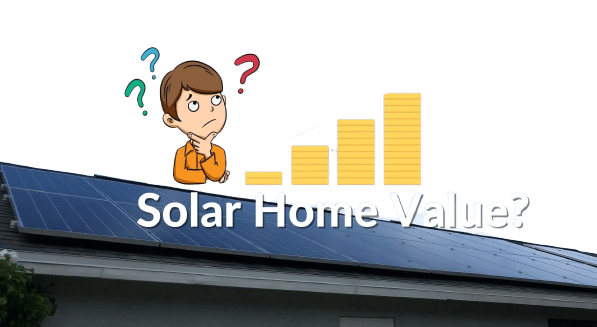 When it comes to buying and installing a solar panel, there are different methods available for you to purchase and finance the panels. 
1. Owned Solar Panels
Owned solar panel system refers to when you buy the panels, install them and have complete ownership over them.
Purchasing solar panels includes paying the total upfront price through personal funds, tax rebates, and government grants.
These panel types are attractive for buyers since they can move in without worrying about ongoing maintenance or expenses while the solar panels are under warranty.
2. Leased Solar Panels
Leased panels are a bit trickier. In the case of leased panels, the homeowners do not pay the upfront price to buy the solar panels. 
Instead, they pay a monthly fee to use the power generated from the solar system.
While this might seem ideal for people preparing their homes for an auction with a lower upfront cost, it can also be a sticky point for prospective buyers.
The reason is that with a lease agreement, the previous homeowner will need to buy out or maintain or transfer the panels to the new house owner, which would increase the paperwork needed for the settlement.
In addition, the third party overseeing the lease agreement might not allow the new owner to enter the deal because of poor credit history.
In short, the owned solar system is the more attractive option for buyers and is definitely a preferred option, so it can become an advantage while selling a home.
Often there are location-specific programs that determine the benefits of the solar system. 
However, we are here to discuss why having solar panels at home can pay off in a big way, regardless of your location.
Here are the top reasons why homes with solar systems sell faster, and why you should consider having a system at your home.
Also Read: 10 home solar system facts you need to know in 2022
5 reasons why homes with solar panels sell faster
---
➡ Take advantage of the predictable electricity bills
Do you ever feel worried about the electric bill getting higher and higher? If you do, it is not just you. The cost of electricity has risen a lot over the last decade, and this trend will probably continue.
Factors including extensive repairs to the rising energy cost, grid infrastructure, and turning the AC or the heat up because of extreme weather conditions can contribute to the high electricity bill.
Different factors can lower the monthly electric bill when you opt for solar panels, including the overall electricity consumption, direct hours of daily sunlight, size of the solar system, and angle and size of the roof.
Additionally, if you live somewhere with high electric rates, you can save more when you go solar.
Several solar plans offer lower rates than what you are currently paying, which means you can lock in savings for years to come.
Regardless of your location, a home solar system and battery storage can help you gain control over increasing electricity charges as you make a low-risk and long-term investment.
Running a home on a solar system can be practically free for the rest of the solar panels' lifespan once you have saved enough on your bills to cover the upfront outlay.
The cost of utilities has risen more than 2.9% on average each year over the last fifteen years. The initial upfront cost can save you money on increasing utility prices for a decade or two.
Also, government and state incentives are available, which enables you to subtract 26% of the total amount, making solar systems all the more accessible to the average homeowner.
➡ The Solar Panels cost is going down
In recent years, the cost of solar panels has gone down dramatically, as they became more popular. It has dropped almost 70% over the last ten years.
In addition, the price of solar batteries has decreased as well. As a result, the number of homes with a solar system increases day by day.
So, you should do quick market research to find the deal that matches your budget, location, and home.
➡ Increase the Value of Home
The cost of an average rooftop solar installation and battery will probably be recouped in the home's sale price.
People will pay a premium for a home with a solar system, where solar systems can raise a home's value by 4.1% on average.
This means that a home that is valued at $500,000 could get a $20,500 increase. Not only do homes with solar systems sell faster, but they sell for more as well.
Installing solar panels at home is a sound investment.
Whether you want to upgrade your home for a sale or make it a forever home, you can expect that the value of your property will increase.
➡ Get a long-term Value
If properly maintained, solar panels can be a long-term solution to clean power for decades.
The solar system is made to last for over 25 years, and typically the manufacturers back their products with warranties and performance guarantees.
Therefore, your solar system should have a lifespan of about 20 to 30 years.
➡ The Sunlight Costs $0
At the end of the day, sunlight will cost you nothing. Renewable, reliable, and abundant. The sun is the best natural resource.
In contrast, fossil fuels such as natural gas and coal can not be replaced, and their prices are at the will of the market forces beyond your control. Unlike fossil fuels, the sunlight is never going away, so you can count on it daily.
This is a huge benefit for prospective home buyers, and people who are in the market for a new home recognize the benefits of a solar system.
Hence, solar homes sell much faster and at higher prices.
➡ Renewable energy offsets the adverse effects of climate change
With increasing awareness about climate change, more and more people care about the environment and are looking for ways to live an environment-friendly lifestyle.
A solar home can offer them just that. The planet is becoming increasingly warm, and this has had a devastating impact on our well-being and economy.
If we decrease our carbon footprint and air pollution, the solar panel systems can save up to $259 billion in climate change damages and save more than 25,000 lives.
Who wouldn't like to be a part of this change?
Finally, there will come a day when almost every home in the world will have a solar system.
If you have a solar-powered home, that is good news. Your investment in solar energy can help you sell your home faster and at a premium price.
In addition, a solar panel system decreases the overall cost of maintaining and operating the home, since you generate your energy and buy less from the utility.
So, why do homes with solar panels sell fast?
The biggest attraction of solar panel systems is that people want to save money on their electric bills, reduce their carbon footprint, and increase energy efficiency.
Hence, there is no surprise that solar homes sell faster.
If you want to sell your home as soon as possible, then having attractive features is important, like solar panels.
You need to advertise such features to increase the price, and get it off the market quickly.
As a homeowner, purchasing a solar system is one of the wisest and safest long-term investment options.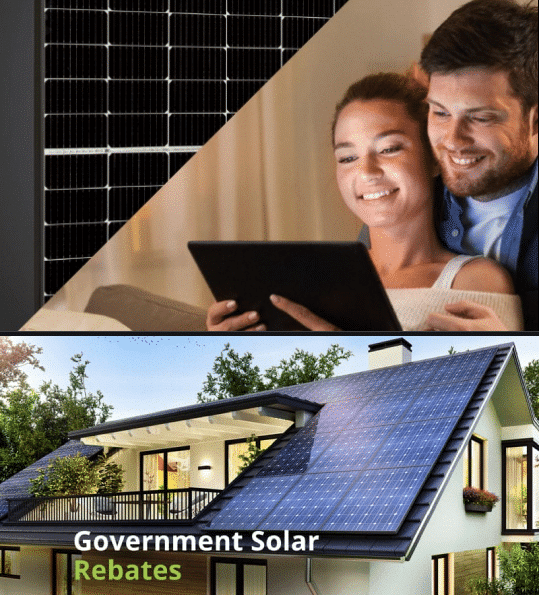 We help you receive a solar rebate by claiming the Small-scale Technology Certificates (STCs).
This scheme enables you to save a lot of money on the installation of solar energy.
If you are still unsure about starting the sustainable lifestyle journey, we have mentioned all the compelling reasons to take the step forward.
In addition, if you want to sell your property in the next few months, then you should think about installing a solar panel, as it may be the trick that gets your home sold quickly at a great price.
Light energy from the sun has made life on earth possible. Almost 30 years ago, energy from sunlight was only beneficial in providing natural illumination during the daytime.
However, technological advancements have enabled humans to harness sunlight energy and use it in numerous ways long after the sun has set.
The energy can now be harvested, stored, and used in solar water pumps, solar lighting, residential power, industrial power, and many more.
While the prices of competing energy sources have been escalating, solar energy is natural and doesn't require any additional production costs making it more affordable.
So, a good number of people can afford to buy residential solar lights such as solar wall lights, solar garden lights, solar security lights, and solar floodlights.
In addition, solar street lights are useful in providing illumination on roads and other public places. Solar street lights are a bit more expensive compared to residential solar lights.
However, they have powerful lumens which can run all night, and their lifespan can go up to 3 to 5 years, especially when you buy a quality one from a reputable seller.
Before buying a solar street light, there are vital things you should know to avoid making mistakes.
Sellers might give you misleading information, if they are only interested in profit making. At the end of the day, it's you as a buyer who will have problems with the solar street light you buy.
Therefore to help you make a sound and informed decision, this article uncovers six things you should know before buying solar street lights.
Consequently, we will explain in-depth how you should choose a solar street light that is perfect for you.
So, without further ado, let's hop in.
1. Determinethebesttype of Solar Panel for you
Among the six things you should know before buying a solar street light, the number one thing is knowing your solar panel type.
So, to let you understand better, let's dig deep into the three available types of solar panels.
Monocrystalline Solar Panels
As the name suggests, these solar panels contain monocrystalline solar cells. They are manufactured from silicon ingot sliced into wafers to form cells.
The silicon ingot is grown from a highly pure single crystal of silicon. Thus, this type of solar panel is commonly considered efficient, as it is the purest.
Amorphous (Thin Film) Solar Panels
The amorphous solar planes are made from non-crystalline amorphous silicon (a-Si). They are the least expensive, since they are the easiest to manufacture.
They comprise three main parts. First, the Photovoltaic Material is responsible for converting sunlight into energy. Second, Conductive Sheets improve conductivity by preventing energy loss, and the third part is a Protective Layer to protect the panel, thus enhancing its durability.
However, this type of solar panel is the least effective hence not commonly used.
Polycrystalline Solar Panels
The Polycrystalline Solar Panels comprise various silicon crystals packed in a single PV cell. This type of solar panel tends to be more heat tolerant and easy to manufacture.
Thereby, they are affordable and effective but not more so than monocrystalline solar panels.
Therefore, you must determine which of the above three types is right for you depending on your preferences.
However, we recommend using the monocrystalline solar panels for solar street lighting purposes, primarily in governmental projects.
The monocrystalline solar panels can get sunlight energy even during cloudy weather. In addition, they are small in size and have a pleasant look compared to the other types.
However, they are more costly, so if your budget doesn't allow you to afford the monocrystalline, the Polycrystalline Solar Panels are the second best option.
Please don't depend on the Amorphous (Thin Film) Solar Panels for solar street lights, because they are the least effective.
2. Lighting Technology
The HID and LED lights are two standard lighting technologies for solar street lights. First, the high-intensity discharge(HID) lights are the oldest in the game.
The HID lamps used on solar street lights involve an inner arc tube(the burner), outer covering(bulb), and gas. The inner arc tube is the one that is supplied with voltage and ionizes the gas, usually argon, mercury, or metal halides.
As a result, the amount of brightness is powerful.
However, the HID lights consume a lot of energy and are consequently energy inefficient. In addition, they wear out faster; hence they will need replacement every few years of service.
So, HID lights are not viable if you need durable and energy-effective solar street lights, making LED lights the best option.
The Light-emitting diodes(LED) lights emit visible light in the diode using tiny microchips. They are very efficient and can produce bright light without burning out.
The only disadvantage is that the LEDs get dimmer over time. However, the dimming process is so slow that they can serve for many years before they need replacement.
Moreover, the LED lights are the most energy-efficient, hence the perfect bet for anyone requiring cost-effective solar street lights.
3. Solar Battery Capacity
Solar street lights use solar panels to harvest energy from the sun and store it in a battery to be used later for lighting purposes.
Both voltage and AH determine the battery capacity. So, some buyers go wrong when they ask about AH only and assume the voltage.
The two are equally essential to have enough battery capacity for holding sufficient energy.
For instance, choosing between two batteries of the same AH, say 30AH, and different voltages such as 3.2 volts and 12 volts, the 12 volts batteries have more capacity.
So, look for a battery that has a combination of high amperes per hour and voltage output.
If you choose the low voltage batteries, they won't have the capacity to support substantial power for led solar lights.
Consequently, the small voltage means a high current needs to be set to reach the optimum power wattage. As a result, the high current requires thick wires and can hurt the solar charge controller.
Generally, the small voltage batteries are ideal for LED power, not more than 20 watts.
Moreover, they are cost-effective, since small voltage batteries are less expensive than larger ones, which need complicated installation accessories.
4. Luminous Efficacy
Luminous efficiency is the lighting efficiency of the solar street lights, and it is measured in lumens per watt(lm/w).
Remember we recommended LED lights, since they save more energy which is used in maintaining sufficient brightness.
Therefore, the luminous efficacy depends on the wattage used.
Unlike the electric incandescent lamp and Fluorescent Lamp fixtures, LED lamp fixtures are ideal if you need high luminous intensity.
For instance, the Fluorescent Lamp has a potential of 50-60 lumens per wattage, while the electric incandescent lamp can produce only 12-24 lumens per wattage. In the case of LED lights, they are available in various lumens per wattage, which all have the potential to produce sustainable brightness.
For example, there are LED light fixtures which can produce 100-110 lumens per wattage, while there are modern ones that have the potential to generate more than 200lm/w.
Therefore, you should consider the various lamp fixtures if you intend to get a more luminous solar street light. Of course, the LED light fixtures are the best bet since they have high luminous intensity ratings.
Also, they can generate much light with minimal energy consumption. However, don't be more focused on the high Lumens per wattage rating and forget to consider how the luminaire focuses its light.
5. Solar Panel Size
As we stated earlier, the energy from the sun is harvested by the solar panel before it is converted to useful forms. So, it's essential to know the size of that solar panel you will be using for solar street lighting purposes.
The enhanced solar energy technology has brought about small solar panels which are more powerful.
So, a solar panel can contain fewer solar cells to maintain a pleasant appearance with its small size. Therefore, never assume a more extensive solar panel can produce more power than the small ones.
Some companies value quantity over quality. They manufacture huge-sized solar panels to attract more buyers, who might be fooled that the bigger size translates to more power.
However, some solar energy companies use broken and low-quality solar chips to lower production costs. In the end, the market gets flooded with poor-quality huge solar panels having a short lifespan.
We don't dispute that the size of solar panels matters. Yes, it directly affects the kind of wattage the panel can produce since the more extensive the panel size, the higher its potential to generate more power.
However, this doesn't apply in any situation, because not all physically large solar panels will have a high power rating.
So, you can select the best size of solar panel based on physical observation, but the most reliable method is by quantifying its power rating.
Just Like we have powerful small batteries, small solar panels can produce more power.
6. Solar Panel Durability
At last, you should understand the service duration guarantee of the solar street light you intend to buy. Suppose you buy a solar panel that cannot withstand harsh weather conditions like heavy winds, snow, and hail.
In that case, the solar panel durability will be compromised, and in less than a decade, you will be required to replace it.
So, to guarantee the durability of solar panels, you need to buy them from reputable manufacturers. Companies that rigorously test and retest the product to ensure it can resist extreme seasonal weather conditions.
Nevertheless, you should also confirm the features incorporated in the solar panel to protect its battery lifespan. For example, a solar panel with a passive infrared sensor(PIR) is a sure bet for a long battery lifespan.
Solar street light: Wrapping up
As you can see, we have covered the most fundamental things to keep in mind when you buy solar street lights. So, you can start by evaluating your lighting purposes and look for a perfect type of solar street light according to your preferences.
While window shopping, don't forget that the monocrystalline type is the best among the available choices of solar panels.
Check if the solar panel has the recommendable LED lights technology, which can generate higher lumens at the lowest energy consumption possible. Once you are set to buy, don't rush for a large solar panel, they might deceive you.
Evaluate the power rating instead, and of course, don't forget to confirm the battery capacity for energy storage .
Finally, make sure to buy solar street lights that guarantee durability to make sure they will have a long lifespan.
Australia is ranked 6th in the world among solar users after Japan, Germany, India, Italy, and United Kingdom. It is an open secret that government agencies and stakeholders in New South Wales [NSW] are doing all they can to actualize almost 100% solar power usage nationally.
In Australia, anyone who purchases a solar panel system is eligible to receive the government of New South Wales (NSW)'s a solar rebate which can cut the cost by up to 33%.
This has been in effect since the beginning of 2017 and will end in the year 2030.
For foreigners who are not acquainted with the concept of the NSW government solar rebate, this is a curious fact.
More enticing is the fact that one is liable to benefit not only from a long-lasting solar system but a warranty that extends as long as a decade!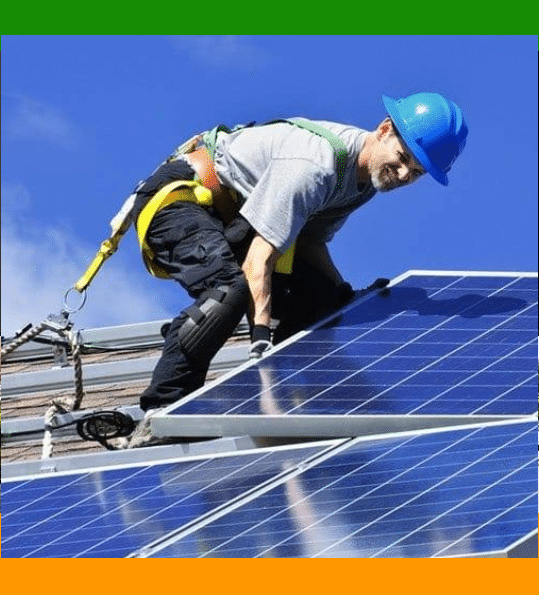 GET SOLAR REBATES
You may be eligible for a DISCOUNTED solar system installed on your home. You will need to meet specific criteria and reside in an eligible location.
Am I eligible?
What are solar rebates?
The federal government under a program called the Small-Scale Renewable Energy Scheme (SRES) offers loans and other financial conveniences to eligible house-owners in approved local government areas to install renewable energy systems such as rooftop solar, solar water heaters, and heat pumps.
Instead of the traditional systems, solar hot water systems make use of the sun to generate power to heat water.
The installment is to be done by an approved dealer, who must have earlier given a quotation to the house-owner.
The process comes with some discount that ranges from 20 to 33% for the house-owners through STC's; though this depends on the size of the panel, location, agreed price, and market conditions.
Small-Scale technology certificates ( STC'S)
For the record, the NSW government solar rebate consists of 'small-scale technology certificates' (STCs) and stands at $825 per kWh up to a maximum of 30kWh.
STC's are the way the two parties render a commodity or service in exchange for money after the installation of solar systems.
House-owners can lay a claim to STC's whenever they install any of the above-listed equipment, and this is determined by the amount of electricity generated.
How To Calculate STC
Calculating the number of STC's you are entitled to and ultimately your solar rebate is quite easy.
kW solar panels x 11 (11-year deeming period) x zone rating (above table 1.2) x Spot STC price
Example: Ana lives in Chester Hill 2162 NSW and wants to install a 6kw system.
Calculation: 6 x 11 x 1.382 = 74 STC
74 x $38.50 = $2,849 rebate.
People call it 'Low-income Households trial scheme' and 'Small-scale Renewable Energy Scheme' too. NSW government stated that the scheme could save households up to $600 per year.
New South Wales Government made this effort to help house-owners access interest-free loans, thereby creating an enabling environment in which everyone uses solar energy.
NSW is geared towards the achievement of 'net zero emissions' by the year 2050.
For instance, if anyone can get clean and renewable energy, this would undoubtedly cut power bills.
It is of immense importance that this is not limited to solar-only options, but it is a pilot and is available in limited regions.
Most people don't see the need for the usage of solar systems, and this is understandable.
Residents are encouraged to use the Solar Battery Calculator (SBC) to decide if they would financially benefit from the usage, or add a battery to the existing solar system.
SBC also helps to know how much a house-owner is qualified for. It is calculated as follows: The size of the solar system x the postal code rating x the Deeming Period.
If the deeming period is short, you will get less STCs. For Example, in 2018, the deeming period was 13 years, but in 2019 it was changed to 12 years.
Among the questions asked in SBC are 'roughly what was the last cost of your quarterly electricity bill', 'how does your household use electricity, what type of tariff do you use', 'would you be interested in joining a virtual power plant', etc?
Eligibility lies in living within the approved local government areas, which are Bathurst, Blayney, City of Blue Mountains, Cabonne, City of Central Coast, City of Cessnock, Dungog, City of Hawkesbury, Kempsey, City of Lake Macquarie, City of Lithgow, City of Maitland, Mid-coast, Mid-Western, Muswellbrook, City of Newscastle, Oberon, City of Orange, Port Macquarie-Hastings, Port Stephens, Singleton, Tamworth, Upper Hunter Shire, and Walcha.
Furthermore, one has to meet the loan criteria, have an income of at least $180,000 per annum, own a house, and have the authority to install the solar system.
To apply, the interested house-owners should contact the approved suppliers to scrutinize needs and organize several financial quotations.
They would then be given what is called a 'quote record number'.
It is created for house-owners whenever an approved supplier gives them financial quotations/statements after they meet the requirements.
Upon approval, the chosen supplier will contact the homeowner to arrange the installation procedures.
Approved Suppliers are also known as ACPs (Accredited Certificate Providers), and they are regulated by The Independent Pricing and Regulatory Tribunal (IPART).
An exception is Family Energy Rebate, which is a government scheme that provides $180 in 12 months for the interested persons "that do not hold a DHS Concession Card or Health Care Card; or, $285 a year to eligible customers that hold a DHS Concession Card or Health Care and also qualify for the Low Income Household Rebate."
It is also designed to cater to the energy bill of NSW family households with dependent children.
It is noteworthy to observe the state of solar system rebate in Victoria, because it is the sole state that offers panels and inverters alongside solar batteries.
It is estimated that house-owners who are eligible get up to 50%; though this is subject to sizes of their choice.
A source says the scheme helps the average household to save at least $ 160 – 400 annum.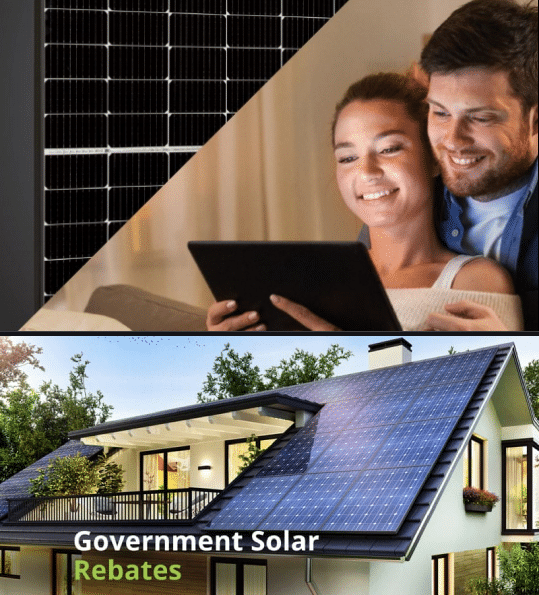 GET SOLAR REBATES
We help you receive a solar rebate by claiming the Small-scale Technology Certificates (STCs).
This scheme enables you to save a lot of money in the installation of solar energy.
---
Western Australia: Solar Wall Block
However, the government of Western Australia says the solar power rebates scheme should be discontinued.
It is affirmed that there are no rebates for a solar set up in the whole of Western Australia.
Interested citizens have to apply for solar rebates by the Federal Government.
Solar system rebates in QLD
Queensland made the solar system rebates juicy by giving out interest-free loans and grants in the installation and storage of solar panels.
Application for the solar grants and loans, which was scheduled to close down on the 30th of June, 2019 – or if the funding is exhausted- has long been extended.
Today, it is speculated that the typical rebate offers a third of the price, but it is based on several factors which include the prospective customer's choice of size, location, and the market price of STC's
Am I Eligible for the Solar Power Rebate in QLD?
The government of Queensland arouses lots of people's interest, and it is not out of context to say almost all residents are likely eligible for the solar rebate.
Unlike other schemes, almost everyone is eligible. Make sure to install your solar system with a Clean Energy Council Accredited Installer (like Captain Green Solar!), in Queensland.
The solar panels and inverters you use must also be approved by the CEC and adhere to Australian and New Zealand criteria.
Conditions, as outlined by the CEC, are:
You must be the primary owner of the place of residence you wish to have solar power installed, and have the necessary documentation to prove your ownership.
Solar systems installed do not exceed 1000W nominal capacity and a 250Mwh yearly production.
Solar systems are fitted within 12 months of claiming any STCs. This can be easier if the right to claim is given to the solar company at the onset.
What About STC's in QLD?
The Solar Power Rebate QLD offers Small-scale Technology Certificates (STCs) as a component of Queensland's Small-scale Renewable Scheme.
The scheme offers all residents arebate on solar power services and installation regardless of the solar system you choose to install.
You can obtain certificates that can be traded on the open market or given to your solar installer, so that you can receive lower installation costs.
While you can choose to trade STCs yourself, it may be easier if you assign the right to claim over to your solar power installer at the point of sale.
They can give you a discount upfront.
The price of an STC depends on the cost of carbon. Costs are subject to fluctuation due to supply and demand.
However, on average, the prices often sit between the $35 and $40 mark
A solar battery is a device used to store excess electricity generated for later use. Solar batteries are pretty popular for domestic use.
Since they go hand in hand with solar panels, they often act as back-up when solar panels don't produce enough electricity.
In addition, the benefits associated with solar batteries are incredible. Some of these benefits include being environmentally friendly, saving on cost, being noise-free, etc.
However, most people don't know what factors to consider when purchasing solar batteries. Purchasing solar batteries, especially for the first time, can be tricky.
For this reason, we have compiled a handpicked list of some vital factors to consider.
1. Capacity and Power
Capacity or size is the total amount of energy stored in the battery.
The measurement of capacity is kilowatt-hours (kWh). While power is the current or electricity supplied by the battery measured by Ampere (Amps) or kilowatt (kW).
The capacity and power of a battery influence the time the battery will run. For example, a 10 kWh capacity solar battery with a 5 kW power will run for 2 hrs.
The amount of power utilized in a day mostly depends on your electrical appliances.
Heavy-consuming electrical appliances like fridges and microwaves tend to deplete your battery's power quickly. This is because these appliances need high current.
A battery with a high power rating and a low capacity rating supplies electricity for a shorter time.
To increase the time supply of electricity, you can add several high-powered batteries. If you have many electrical appliances, high-powered batteries are the best.
A battery with a low power rating and a high capacity can supply electricity for extended periods. However, this applies where there are only a few non-consuming appliances.
Knowing the capacity or power of a solar battery is super easy. All you have to do is check the capacity and power ratings. Two types of capacity are nominal capacity and usable capacity.
Nominal capacity shows the total amount of energy the solar battery can hold.
On the other hand, usable capacity shows the actual amount of energy the battery can store. Most battery capacities range from 2 kWh to 10 kWh.
There are also two types of power ratings, continuous and instantaneous. Instantaneous power rating is also known as 5 – minute or peak power rating.
As the name suggests, continuous rating shows the amount of current the solar battery can supply consistently.
The instantaneous power rating shows the total amount of current the battery can supply at once.
The power ratings help you manage your electrical appliances better depending on their consumption. The power rating range of most batteries is between 5 kW and 7 kW.
2. Battery Chemistry/ Battery Type
When considering the chemistry of your solar battery, check the elements it contains. The components contained in each battery are different. Moreover, the components determine certain things like storage.
The main types of solar batteries are; Flow batteries, Lithium-ion batteries, and Lead-acid batteries. More and more solar batteries are being introduced regularly due to advances in technology.
Lithium-ion batteries
These are the most commonly used batteries, their central component being Lithium. Lithium-ion batteries convert stored chemical compounds to electrical energy.
It all begins when lithium ions release electrons. The ions flow from the negatively charged anode to the positively charged cathode. The electrolytes present in these batteries facilitate this movement.
Lithium-ion batteries are used in almost any electrical gadget, from smartphones to electric vehicles.
The main types of these batteries are Lithium iron phosphate (LFP) and Lithium nickel manganese cobalt oxide (NMC).
NMC batteries have numerous advantages like being more power-dense and cheaper.
However, they are prone to overheating, otherwise known as thermal runaway. Due to overheating, their duration tends to be shorter.
There is also the risk of environmental pollution.
LFP batteries, on the other hand, are long-lasting and lack environmental risks. LFP batteries also have coolers that prevent excess heat and cold. Coolers significantly reduce wear and tear.
The only setback is they are very expensive.
Flow batteries
These batteries are also known as redox flow batteries. Flow batteries function using electrolytes. No metal compound is required to transfer electrolytes as they utilize liquids.
These batteries have not been in the market for long. However, they have good holding power compared to other battery types. Their lifespan is quite long too.
Lead-acid batteries
Lead-acid batteries are better than any other battery for off-grid functions.
However, they take too long to charge. These batteries utilize lead components to function. The setup is two positive and negative plates suspended in an electrolyte.
The electrolyte solution aids in transferring electrons from one plate to the other: the thicker the plates, the more durable the battery.
Lead-acid batteries are well known for their utilization in vehicles.
A more prominent type of lead-acid battery is the Tubular battery. Tubular batteries are found primarily in the city outskirts.
They have a longer lifespan of 3 to 4 years than lead-acid plate batteries. They also have higher charging and discharging power.
Lead-acid batteries can either be flooded or sealed. Flooded batteries have an electrolyte solution that must be topped-up every now then. Sealed batteries lack removal caps and don't require any filling.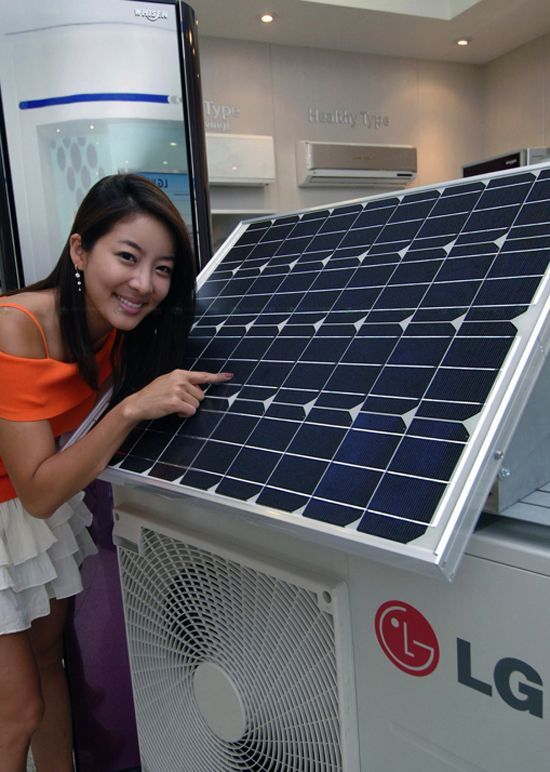 GET SOLAR REBATES
You may be eligible for a DISCOUNTED solar system installed on your home. You will need to meet specific criteria and reside in an eligible location.
Am I eligible?
3. Round- Trip Efficiency
This is the amount of energy present in respect to the amount of energy used by the operating system of the battery. Some energy is continuously utilized within the battery when delivering the energy.
It is essential to check the round-trip efficiency of a solar battery before purchasing it.
Always purchase a solar battery that has a high round trip efficiency. Ensure that you are not losing extra energy that your appliances could have utilized.
For example, if the battery stored energy is 10 kWh but the energy delivered is 8 kWh. Then the round trip efficiency is 80%. The battery's operating system utilizes 2 kWh.
4. Compatibility
When purchasing solar batteries, always check if it is AC coupled or DC coupled. You do not want to buy solar batteries that don't match the wiring of your solar panel.
In AC coupled storage, there are multiple energy changes. While in DC storage, the conversion of energy happens only once. The most common storage system is the AC coupled system.
In AC storage, AC electricity is first converted to DC electricity. The DC electricity is usually utilized by the electrical appliances or serves other purposes.
The remaining amount of electricity is later converted to AC and stored. The stored electricity will again be converted to DC during utilization.
The multiple conversion of electricity consumes a lot of energy unnecessarily. AC coupled storage has several advantages, though.
It can store the full amount of energy in solar batteries.
It does not matter whether or not the solar panels are accumulating enough energy. It is also easier to advance your solar system with an AC system than the DC system.
The DC-coupled batteries store energy directly from the solar panels.
The only conversion occurs when the electricity is delivered to your electrical appliances. This is because most DC-coupled batteries have hybrid inverters.
A Hybrid inverter is a device that converts AC to DC electricity. It functions in both your solar panel and solar battery, so there is no need to have two inverters.
It is highly efficient as it saves on buying two inverters. However, you can purchase two inverters, one for the solar panel and one for the solar battery.
If you already have a solar panel at home, you are likely to purchase an AC coupled battery. This is because most solar panels set up earlier were AC coupled.
However, if you plan to purchase a solar panel together with a solar battery, it will likely be DC coupled.
5. Duration and Warranty
Duration is typically how long the solar battery will last. Different types of batteries have different durations.
A warranty is a written document by the manufacturer promising to repair or replace an item. However, warranties have expiry dates. It would be best to try to get a good warranty before purchase. Warranties that have longer expiry dates are the best.
When estimating the duration of a battery, there are certain factors you should consider. Does the battery have inbuilt protection from heat? If so, it's highly durable.
Overheating tends to burn out necessary cables leading to quick wear and tear.
How many times does the battery charge and discharge? If the battery retains the charge for longer, it is likely to have a long lifespan.
We all know retention of charge is an excellent indicator of durability in any electronic equipment. Other things to consider are expected years of operation and estimated throughput.
Throughput is the production rate of the batteries; high throughput is an indicator of high durability.
Low throughput is an indicator of low durability. Most solar batteries have a lifespan of 5 to 10 years. Lithium-ion batteries are more durable as they have 10 to 15 years.
Lead-acid batteries are the least durable, with a lifespan of 5 years.
On the other hand, Flow batteries can last up to 30 yrs. The life expectancies of these batteries all depend on how well you maintain them.
6. Depth of Discharge
Depth of discharge (DoD) is the capacity available for usage. It is the capacity you can utilize comfortably without straining the battery's system.
Flow batteries tend to have a higher DoD compared to other batteries.
They have 100% DoD, meaning you can utilize this battery until its charge is fully depleted.
Lithium-ion batteries have a 90% DoD. Once you utilize 90% of its capacity, you should recharge it to prevent damage.
7. Cost and Safety
Before purchasing the solar battery you deem fit, consider the cost. Not just the cost of purchasing the battery but the installation cost too.
DC-coupled batteries are more expensive to install than AC-coupled batteries because they are more complex.
You should also ensure the solar battery meets all the safety requirements and criteria.
Safety requirements should be adhered to when installing the battery. Solar batteries with coolers are safer as they can prevent overheating.
LFP solar batteries are super safe due to the presence of coolers. To avoid accidents or hazards that may occur, you should also ensure that you purchase the solar battery from a qualified manufacturer.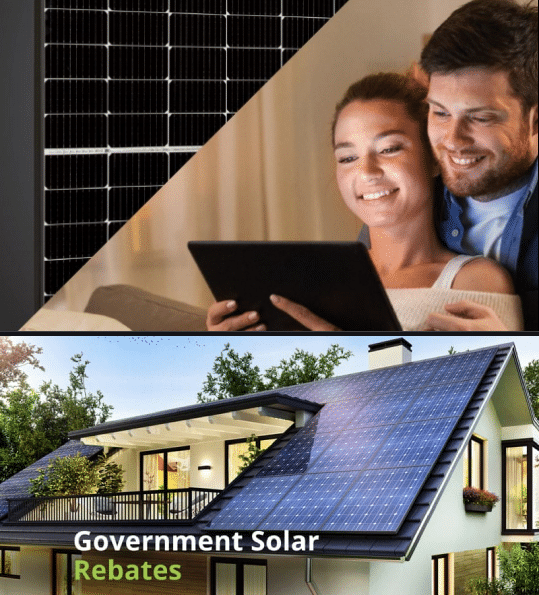 GET SOLAR REBATES
We help you receive a solar rebate by claiming the Small-scale Technology Certificates (STCs).
This scheme enables you to save a lot of money in the installation of solar energy.
Solar batteries: Conclusion
Solar batteries are indeed lifesavers; no more power outages.
To top it up, you can take advantage of Tariff arbitrage; whereby you can recharge your battery when electricity rates are cheaper, thus significantly saving on cost.
Furthermore, utilizing solar batteries helps conserve the environment by reducing carbon footprint. Genuinely, the positive impact of such batteries is enormous.
Every individual ought to take advantage of solar batteries. Besides, you now know the factors to consider when purchasing these batteries.
Solar energy has become a strong driver of global economies, spearheading an energy-based industrial revolution throughout the world.
From being considered as simply a source of light and warmth, solar energy today has become a central aspect in tackling energy, energy independence and sustainability.
True to the old saying "Necessity is the mother of invention", the worldwide energy crisis stemming from environmentally harmful, non-replenishable and ever costlier fossil fuel sources, has created a need and technological advancement of renewable energy sources.
And solar energy constitutes a major source within the global renewable energy source mix, often considered as the main source driving global energy requirements.
What is Solar Energy?
Solar Energy is the light and heat generated from the sun's rays, which holds the potential to be harnessed and transformed into other usable forms of energy.
Solar energy is a clean and abundant renewable energy source that can be harnessed through several measures, to offer multiple benefits of heat, light and power.
Benefits of Solar Energy
Solar energy has become a very popular source due to its diverse benefits, which have reflected on multiple aspects of our daily lives.
Below are some of the benefits that highlight the potential of solar energy, and explain why it became a major player in the energy industry.
1. Renewable Energy Source
Solar Energy is an immensely powerful and natural source of renewable energy. Solar energy is one of the oldest energy sources which has been – and will remain – in existence longer than human existence.
It's a renewable energy source that is always and consistently present and regenerative.
Within the last century, fossil fuels have become the major energy source to meet global energy requirements.
However, with depleting sources and the environmental and health hazards that fossil fuels have introduced, people and governments have started exploring potential sources that are cleaner and more sustainable, to accompany the rapid advancements in technology and energy requirements.
Today, solar energy is considered a solid potential source of renewable energy that can provide consistent and abundant energy.
2. Reduce Electricity Bills
Electricity has become one of the most basic necessities of our everyday life, for our homes, offices, for commercial and industrial spaces and all indoor and outdoor areas.
Public and private energy companies have explored various electricity sources across the globe, to satisfy a growing need for electricity.
Solar energy has become a more and more popular source of electricity across the world, as it's a natural and renewable source of electricity that can be harnessed through various technologies to meet different electricity requirements.
Solar energy provides affordable electricity for different consumption patterns, whether for households, corporations, industries or commercial spaces.
Through the incorporation of photovoltaic panel technology, solar energy can be harnessed to provide a consistent flow of electricity.
The utilization of solar energy as an electricity source is a great way to reduce electricity bills.
Global rising fuel costs coupled with increased demand, has resulted in skyrocketing prices in traditional grid electricity.
Installing solar panel technologies to diversify your sources of electricity is a highly efficient way to reduce your grid electricity bills.
A one-time investment in the purchase and installation of a solar panel system can significantly cut your grid consumption if it's a hybrid system, or can make you completely energy independent.
3. Diverse Applications
The multiple benefits of solar energy stem from the diverse applications where solar can be introduced in a number of domains.
These applications are gradually getting more popular with users who are more aware of the potential of solar energy.
Besides electricity production for households and industries, solar-powered vehicles are growing in popularity and demand.
Solar vehicles are a modification to electric vehicles by incorporating photovoltaic cells to power the engine.
Solar energy can also be used for solar water heating. Solar water heaters circulate water from a collector, through pipes that heat the water by the sun, and pumps back hot water where needed.
These systems can be used for households, industries and commercial spaces, and can also be used for heating outdoor bodies of water, such as swimming pools.
Solar heating and solar ventilation are other common applications of solar energy.
Solar heating helps in warming structures during cold weather, while solar ventilation aids in cooling down the home environment during hot summers.
4. Affordable Energy Source
Another important reason behind the increased popularity and prevalence of solar energy is its affordability and cheap availability.
Solar energy is an abundant and cheap source of energy that is easy to harness and use according to the consumer's needs.
Unlike most conventional energy resources, solar energy does not require the massive exploration needs of fossil fuel, the raw materials, and the extensive cross-border trading.
Solar energy provides a stable and affordable energy source that is available with reduced economic volatility.
A world economic forum report from IRENA states that solar power is the cheapest energy source out there.
The technology is proven to be cheaper as compared to coal and gas, given its availability and simple harnessing techniques, which can lead to cheap power generation.
5. Environment purification
For years, fossil-based energy sources have been used with major consequences on the environment.
Solar energy's potential as an energy source is made more appealing due to its capacity to maintain a clean environment and produce energy with no hazardous effects.
The resultant steam from burning fossil fuels has been heavily utilized to operate equipment, machinery, and power industries.
However, the extraction process and the burning of fossil fuels has resulted in immense damage to the environment.
Solar energy can revolutionize the entire energy industry with its potential to replace the majority of conventional energy sources, produce energy to power the global economy, and do so at greatly reduced impact on the environment.
Reduction in fossil fuel consumption and reduced elimination of toxic products result in a clean environment that makes solar energy a safe, affordable, and clean source of energy that is well-aligned with the 7th sustainable development goal (SDG) of the United Nations.
11 Statistics You Should Know About Solar Energy This 2022
---
Amid this rapidly growing popularity of solar energy, data and statistics have been strongly relied upon to measure the popularity and growth of solar energy over different industries.
This article looks at 11 statistics you should know about solar energy this 2022.
1. Global Value of Solar Energy
According to statista.com, the global value of the solar energy market is expected to reach 422 billion dollars in 2022, while in 2015, the solar power market held a value of approximately 86 billion dollars.
This significant growth is mainly due to the massive adoption of industrial and residential entities of solar energy.
The growth demonstrates a 5 times increase in the market value within a brief span of 7 years.
However, this increasing market value is expected to grow even further in the upcoming years to accompany the new industrial revolution.
2. Worldwide Solar Power Generation
According to the International Energy Agency (IEA) report, the net-zero emissions by 2050 show annual average generation growth of 24% between 2020 and 2030. This would lead to an additional 630 GW in net capacity by the year 2030.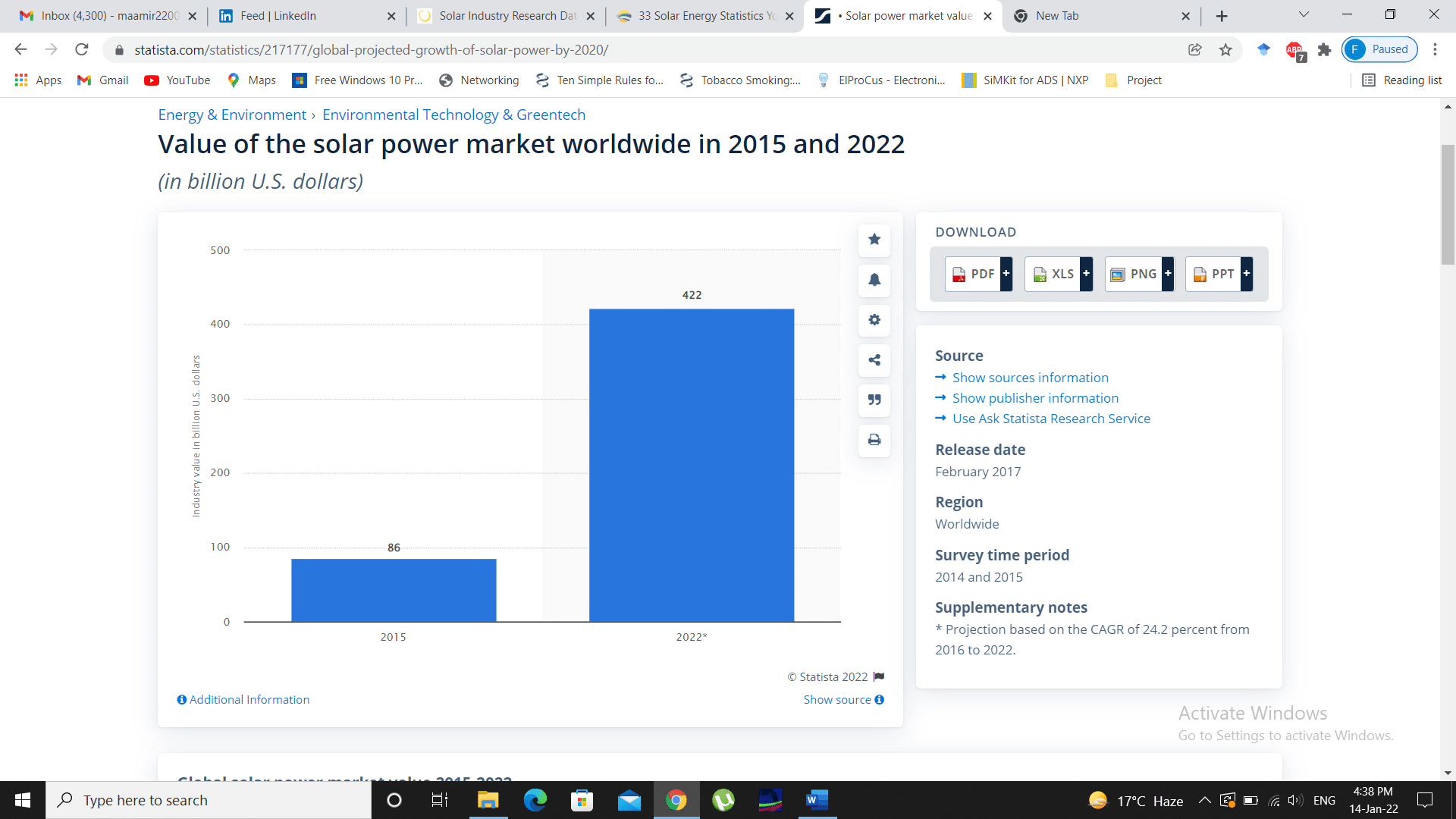 Source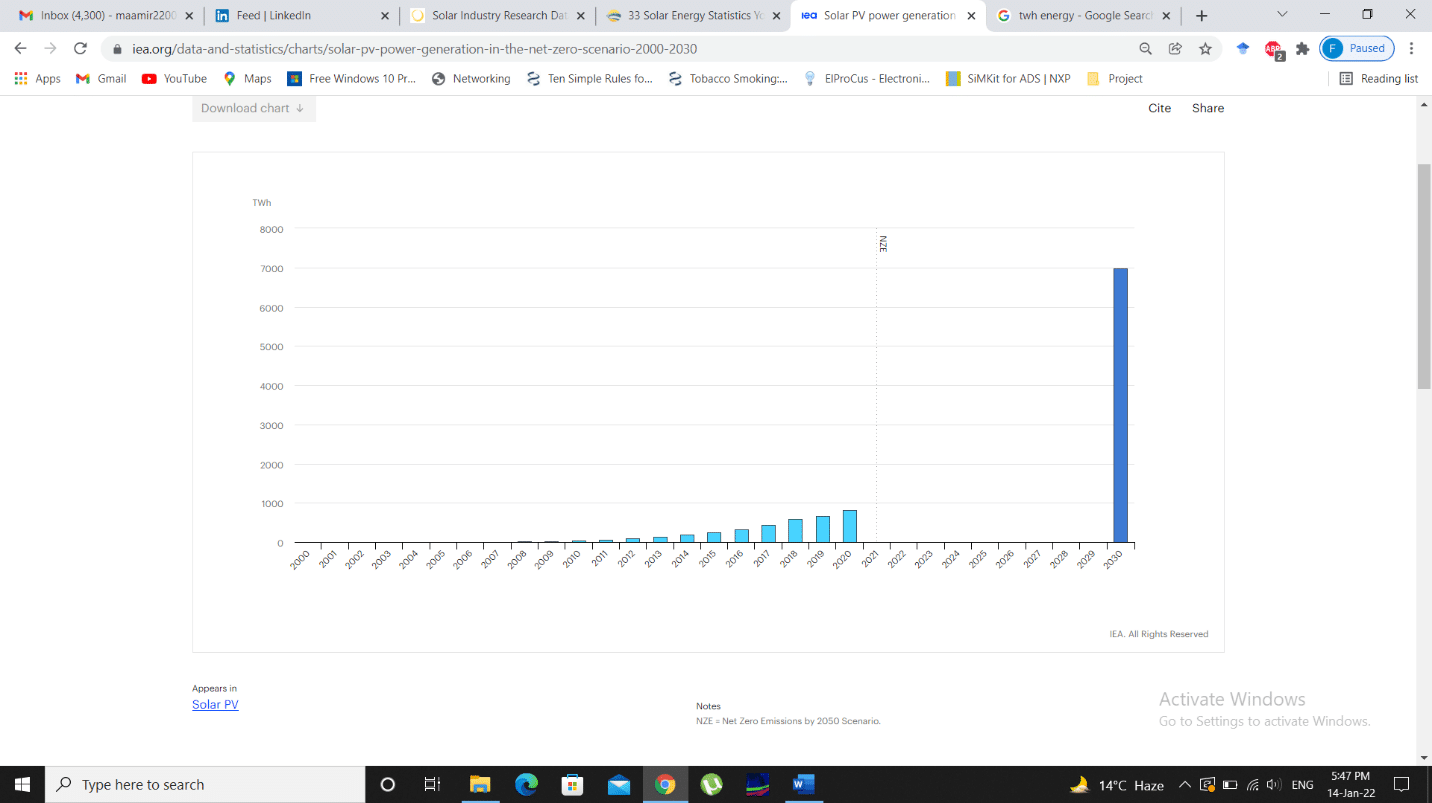 In 2020, solar power generation increased by 23% to reach 821 TWh. This was the second-largest absolute growth in power generation among all renewable sources after hydropower.
3. Affordability and Cost Reduction
Lately, solar energy technology has gained massive popularity and increased demand, which has led to a reduction in installation costs.
Solar power installation used to be costly, however, over the last decade, the overall costs of installation have dropped.
According to the Solar Energy Industries Association (SEIA), the cost of installing solar technology has dropped by 70% over the last decade, which led to a rapid market expansion across the US.
The price of an average solar power system has decreased from $40,000 in 2010 to around $20,000 today, which demonstrates a massive reduction in solar power costs.
4. Solar Energy Storage Technology
Storage of solar energy has been a significant challenge for a long time.
Solar energy can be directly used during the daytime while the sun is shining, however, this energy source is compromised during the night and on cloudy days.
Massive efforts are being placed to reach an optimal storage solution for solar power. Most commercially available solutions to date are either expensive or rely on scarce materials.
Storage is the main obstacle against full scale adoption of solar energy for industries, preventing them from becoming self-reliant in their energy generation, and forcing them to implement hybrid power use combining solar with the state grid power.
SEIA reports suggest that by 2025, 25% of all solar systems will be paired with storage capacity. In 2020, it was under 6% as the majority of the solar power systems were lacking storage facilities.
This would be a significant advancement in the field of solar technology leading to self-reliant power generation.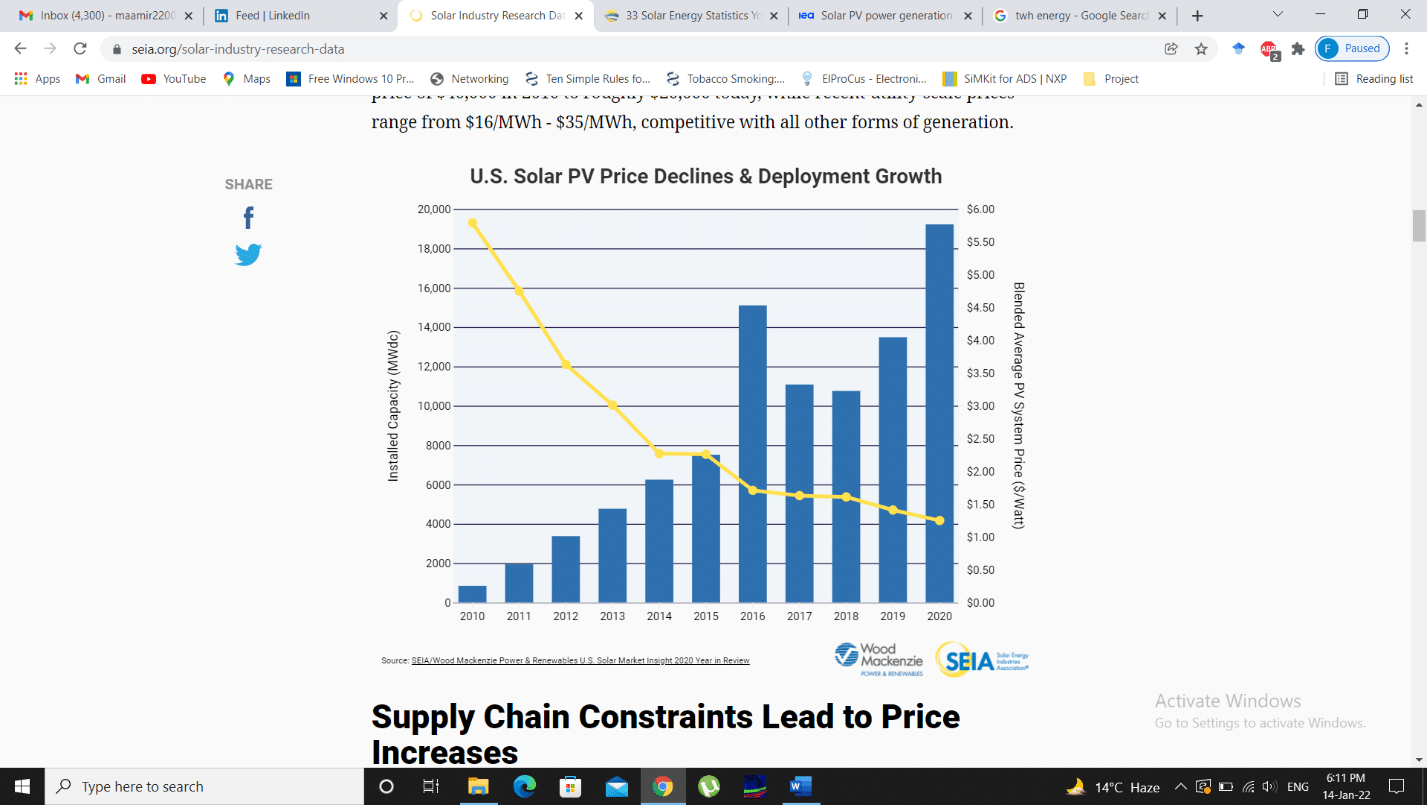 Source
5. Solar Energy and Organizations
Solar energy has become popular among giant companies and organizations, helping them meet a number of targets.
Companies are using solar energy technology to power operations, promote environmental awareness and ensure cost reduction by generating economic electricity.
A report by Solar Means Business indicates that many top businesses and global brands are making significant investments in solar technology, in both on-site and off-site facilities to power their projects and operations.
Among the companies implementing solar power technology, Apple topped the list with 398.3 Megawatt power generation, followed by Amazon and Walmart.
The rest of the companies in the top 10 rankings include Target, Google, Kaiser Permanente, Switch, Prologis, Facebook and Solvay.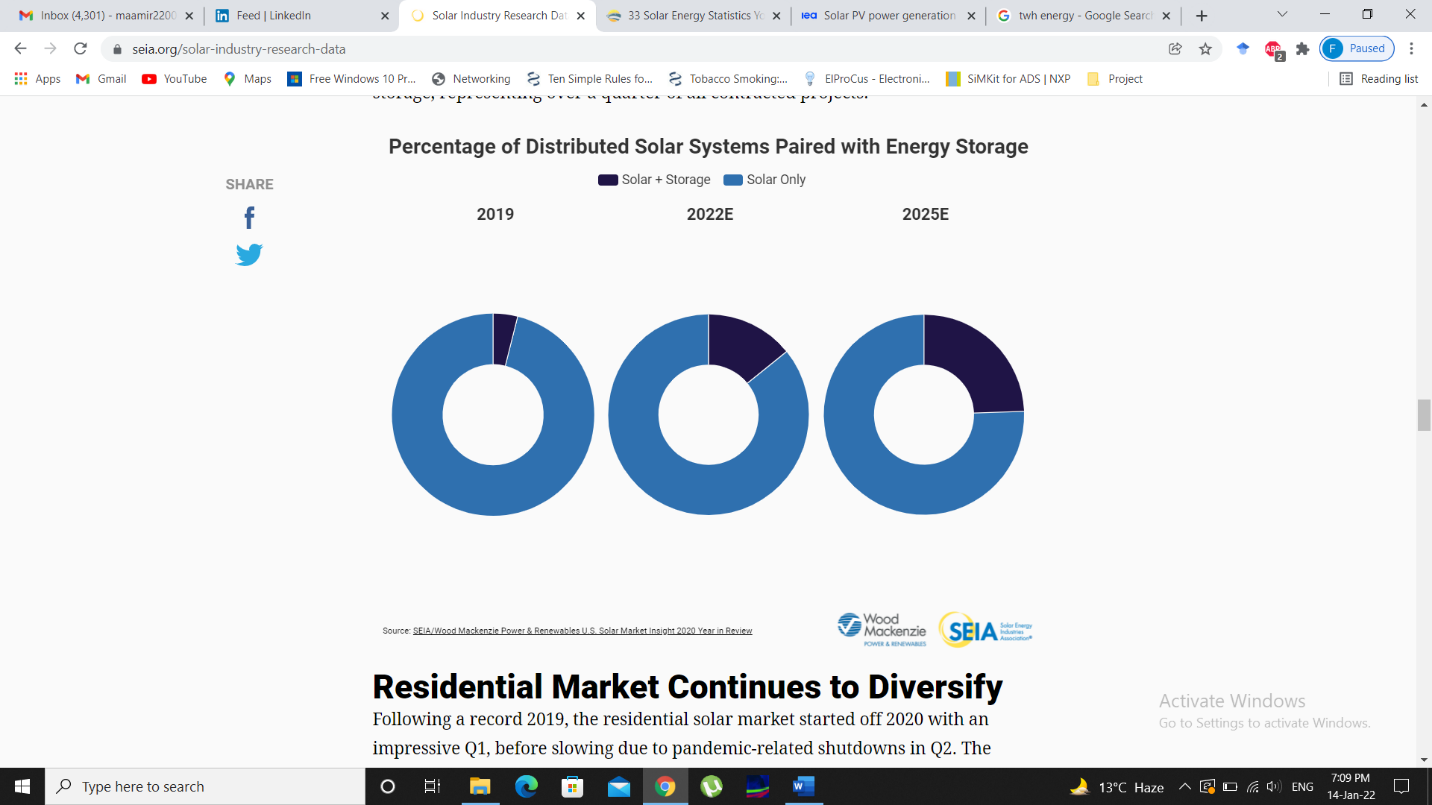 Source
6. Contribution to Global Job Sector
Solar energy technology has greatly contributed to the job sector across the globe, generating new vacancies and opportunities, due to the rapid growth and expansion projects.
Renewable energy, and particularly solar energy technology, holds the future of jobs in the energy industry.
Reports suggest that global renewable energy employment has reached 10.3 million, a 5.3% job growth in the last few years.
According to the sources from Knoema, renewable energy employment has risen 34% since 2013, adding 3 million jobs to the global economy.
The highest employment growth in solar power technology was a 65% increase within the time period from 2013 to 2019, adding 1.5 million new jobs.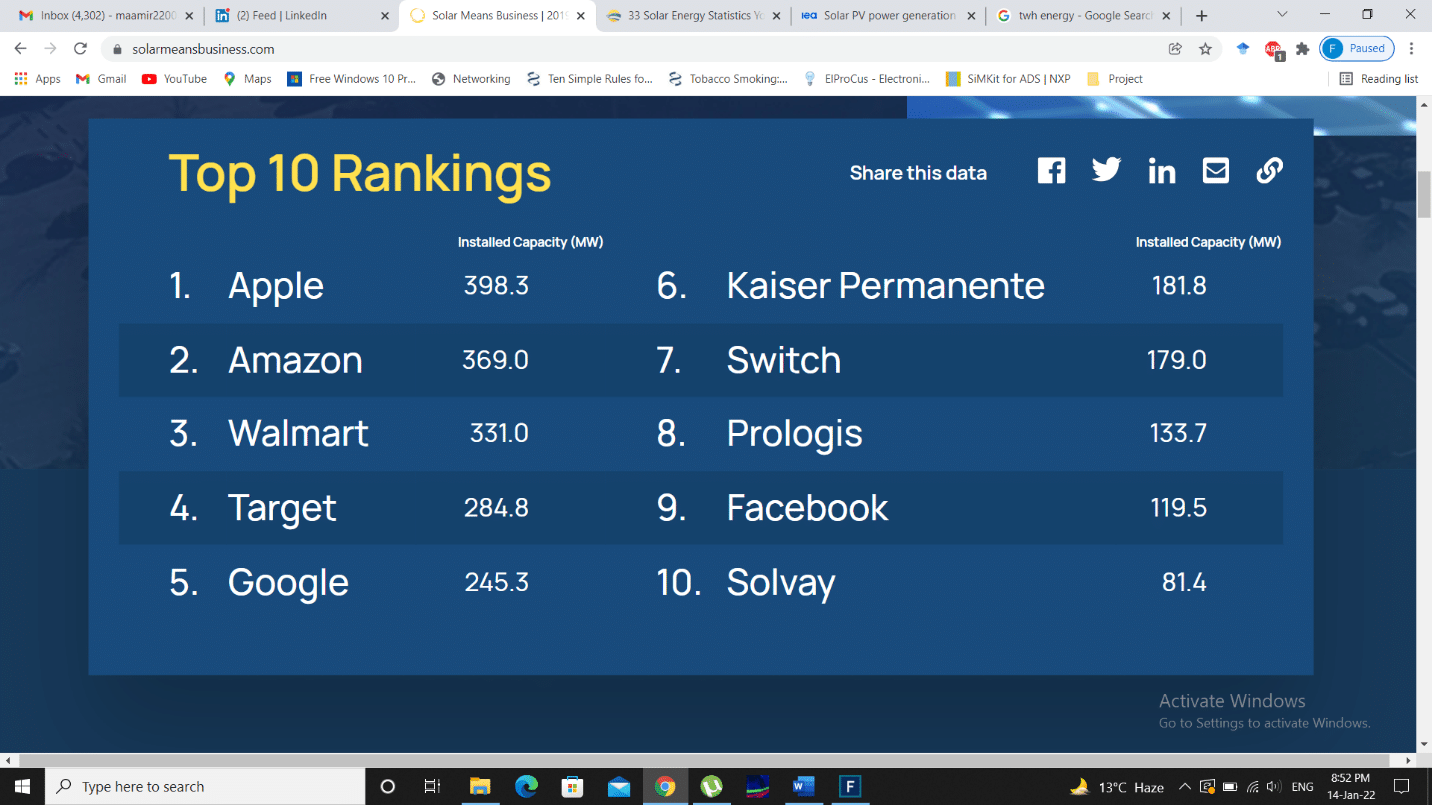 Source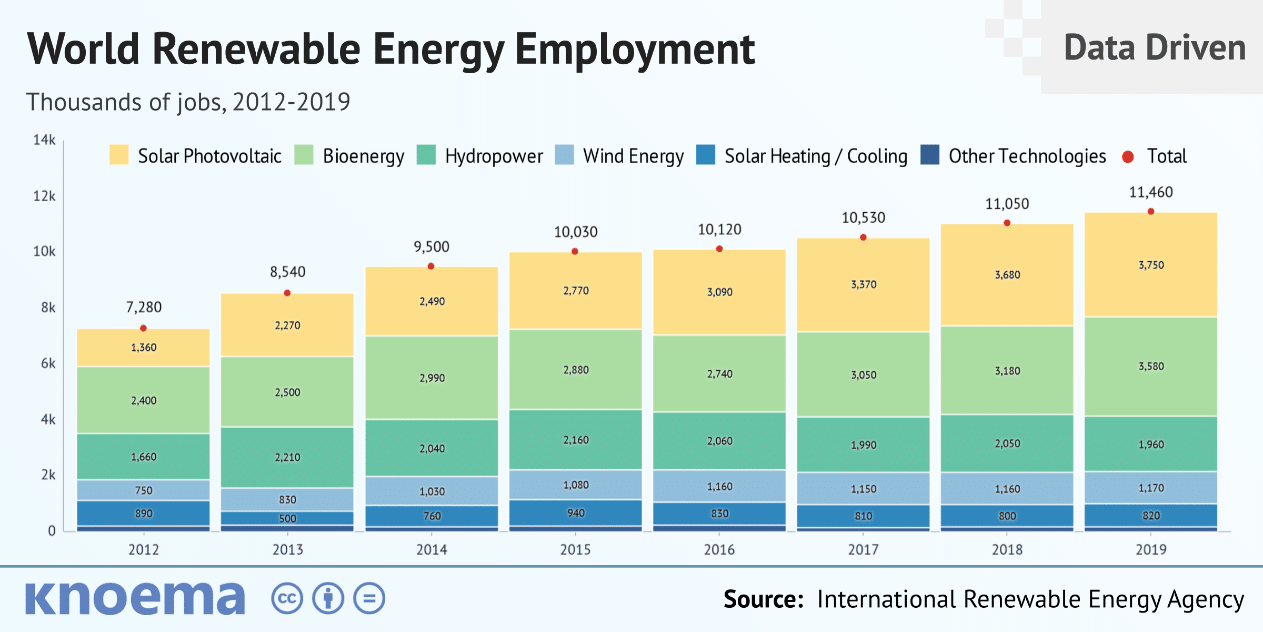 Source
7. Solar Energy and Climate
The increased use of conventional fossil-based power sources has led to a significant increase in pollution worldwide, making traditional energy sources a grave threat to the environment due to their hazardous climatic results.
Solar power, on the other hand, has been a sustainable and clean energy source that can have crucial consequences on the climate crisis.
According to a study, solar technology has helped to greatly avoid greenhouse gasses, particularly since 2011, with improved quality over time that has enhanced solar panels' capability to reduce greenhouse gases.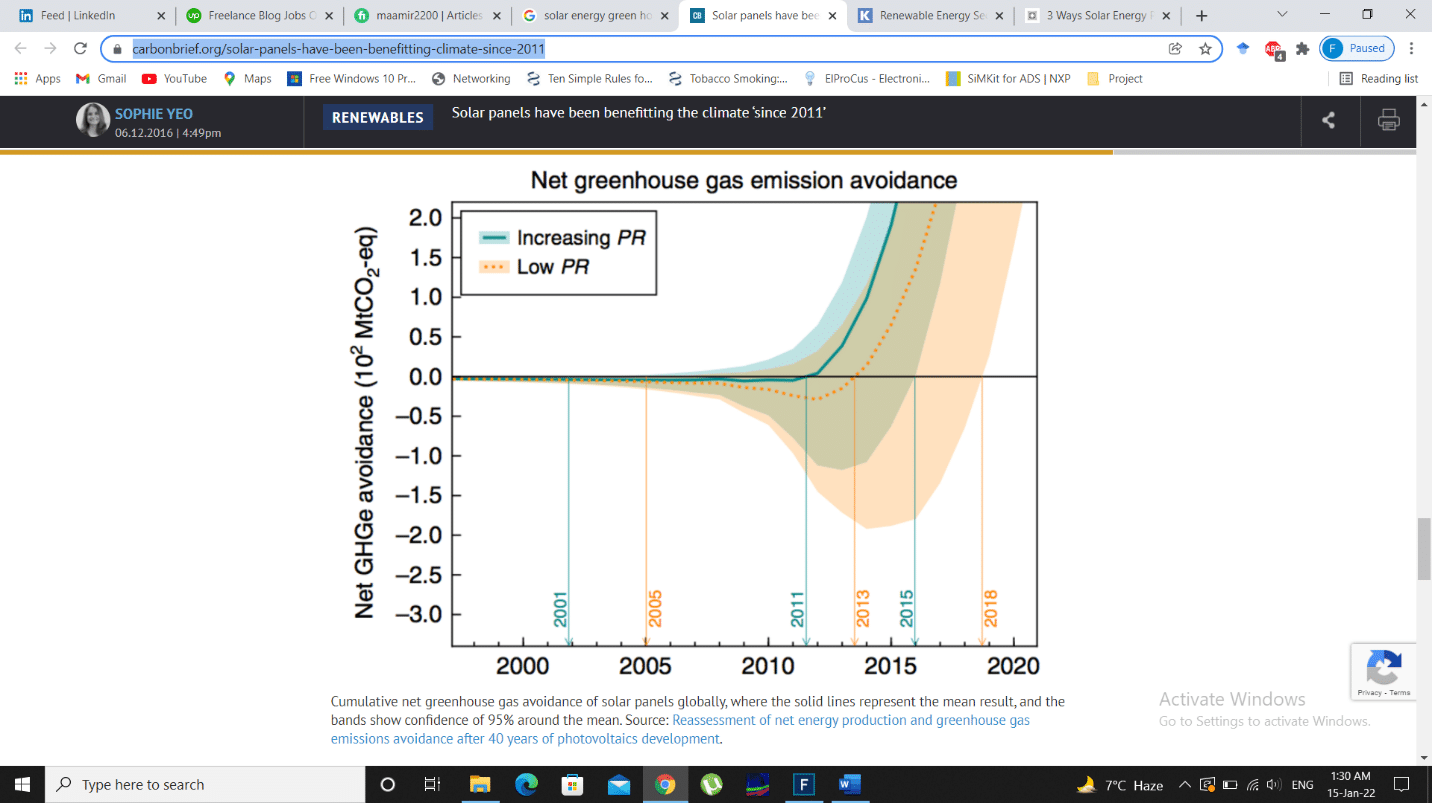 Although the production of solar panels to use in solar energy systems also leads to an emission of greenhouse gasses (GHG), the net GHG emissions that solar energy helps avoid are much more significant and the effect lasts far longer.
8. Solar Energy and Global Economy
From an economic perspective, countries have been competing in the solar power generation race, as the highest producer of solar energy has a great potential to generate cheap power.
Cheap power allows economies and industries to function at much lower costs, which increases production and eventually leads to financial prosperity.
According to the visual capitalist, China is the undisputed leader in solar energy production technology with more than 35% of global capacity.
The US stands at the second position with 10.6% of the total energy generation while Japan ranks third worldwide with 9.4% of the total energy generation.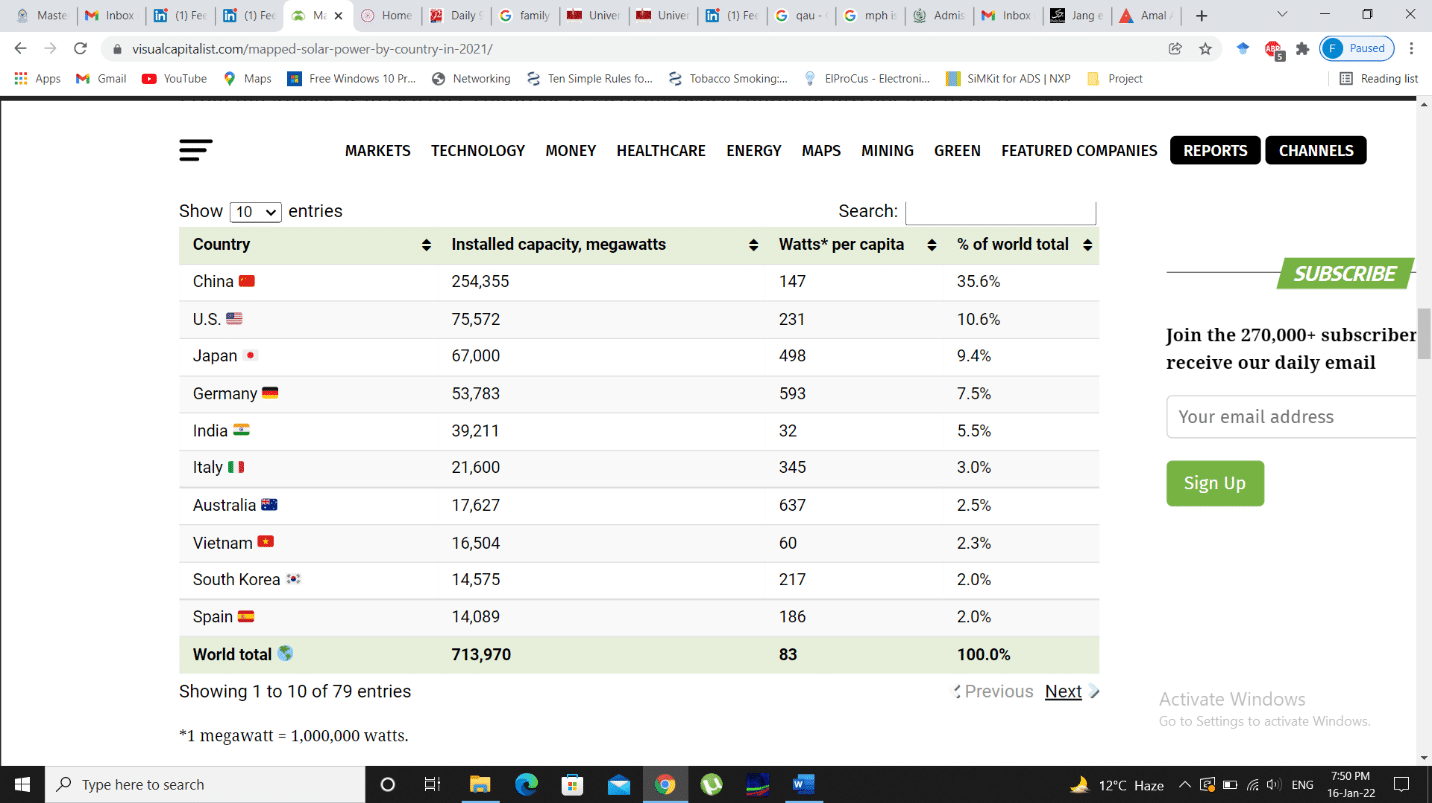 Source
As the global leader, China tops the list with a 2021 production of 254,355 Megawatts of solar energy.
In 2020, President Xi-Jinping stated that China aims to be Carbon neutral by 2060, and their solar mix is a huge step in this direction, as are the significant advances the US is making in this regard.
9. Solar-Powered Vehicles
The polluting effects of fossil fuels are also raising the global demand for solar-powered vehicles.
Conventional modes of transport burning petrol or diesel contribute a lot to pollution and major technological advances are being made in electric and solar-powered vehicles.
According to Allied Market Research, the global solar-powered vehicle market is expected to reach $329.5 million by 2023. It is projected to reach $4,087.6 million by 2030.
This demonstrates a compound annual growth rate (CAGR) of 43.3%.
The cumulative share of North American and European segments would be 77.6% in 2023.
This share is expected to reach around 85.5% by 2030.
Increasing prices of fossil fuels which power car, bus and train engines have effectively increased the overall cost of transportation worldwide.
Solar-powered vehicles help reduce the heightened transportation costs, offering cheap, clean and affordable transportation.
10. Solar Energy and UN Sustainable Development Goals
Solar Energy, along with other renewable energy sources, has a key role in accomplishing Sustainable Development Goals (SDGs) proposed by the United Nations.
These goals have been designed to ensure global development and sustainability.
Solar energy is a major contributor to the 7th sustainable development goal which is Affordable and Clean Energy.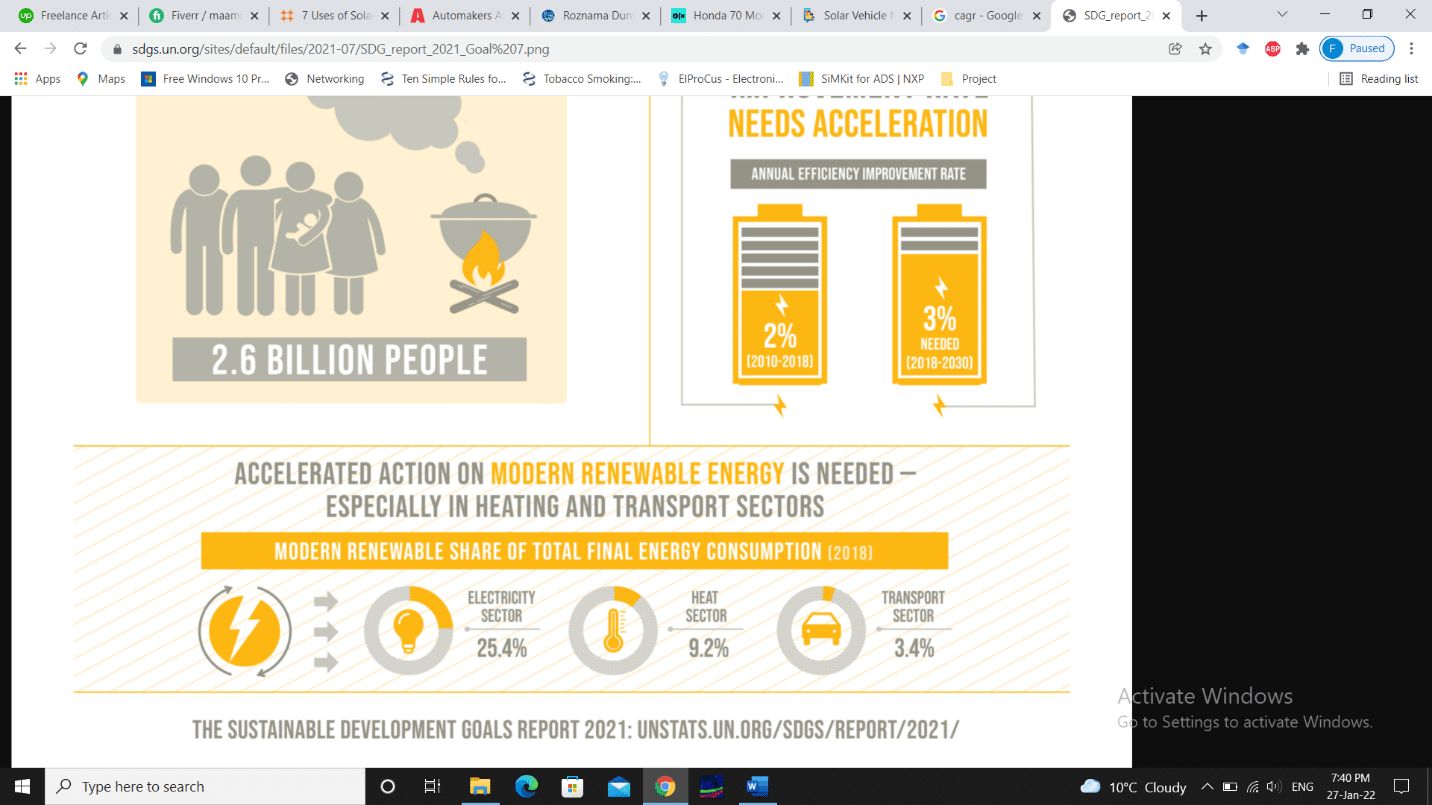 Source
According to the SDG report 2021, renewable energy sources make up 25.4% of the global energy sector, which includes a significant number of photovoltaic cells used for power generation.
This clean energy source is meeting 9.2% of global heating requirements, and 3.4% of global transportation.
Effectively, solar energy, as well as other renewable energy sources are helping fulfill global energy requirements with clean and affordable sources without any threats to the climate or worldwide economies.
11. Solar Energy and Health Outcomes
Apart from its many economical and environmental benefits, solar energy offers major health advantages also.
According to EnergySage, solar energy leads to a reduction in air pollutants and ensures positive health.
The National Renewable Energy Laboratory conducted an analysis which showed that increased solar adoption would lead to reduced levels of nitrous oxides, sulfur dioxide, and other emission of particulate matter.
The report found that the incorporation of solar energy globally can also contribute to fewer cases of chronic bronchitis, respiratory and cardiovascular problems, as well as effectively reducing lost workdays related to serious health issues and sufferings.
Wrapping Up
Solar energy is a renewable source of energy that has been rapidly gaining popularity.
Today, solar energy can be used to satisfy a wide range of applications due to its advanced potential and abundant availability.
This overview of global energy statistics clearly demonstrates the growing potential of solar energy on a worldwide scale, and proves that during 2022 and beyond, solar energy will reach new highs in multiple domains.
Solar energy will drive global economies, fulfill UN SDGs, and power global industries, further enhancing the importance of solar energy and future elevating trends in the global market.
Solar panel installation : How much does it cost?
Be it a B2B or B2C industry, the first question that pops in mind every time one invests money is related to cost. S
Likewise, the global solar power industry has gone through several cost and technology fluctuations over the years.
We'll discuss these trends and patterns in this article with a special focus on the target market-based in Australia.
Solar prices over the years in Australia
Before the solar industry underwent the boom around 2008, prices ranged as high as $20 per watt.
Such a high cost translated to the adoption of this technology by a specific high-income economic group; while, a large segment of the population still hesitated to make the change.
Then, within a year, the government launched high-value tariffs that lured in a lot of new customers. The offer of 60 c/kWh that consumers sent back to the grid became a huge hit and eventually widened the user base by massive percentages.
Around the year 2011, several solar installation companies offering better prices came up, and the federal rebate program was started.
The program, to date, provides a huge benefit to people on the upfront cost of the installation and, in turn, became a big turn point for the solar scene in Australia.
Solar panel installation cost in Australia in 2022
To understand the actual cost of solar power installation in Australia during current times, you must know that the advertised price of a solar power system mostly includes the cost of installation too.
Though, you might get additional benefits after applying for the rebate.
So, suppose an installation company quotes $6000 for a 6.6kWh system, then you won't have to pay any additional amount for the actual installation process.
In fact, customers should beware of companies that claim to charge extra for this purpose.
Another thing one must take care of is that you should avail services from a certified installer only, as the rebate won't be applicable if you do otherwise.
Now, depending on the state you reside in, the actual cost might differ.
Some areas, for example, might charge higher than others. The reason behind this lies in the rebate policy because each state pays different rebate amounts to the center.
Also, the number of PV panels that can generate a specific amount of electricity varies by location.
Hence, one might have to invest in a higher number of panels if they reside in an area where the average power generation per panel is relatively lower.
---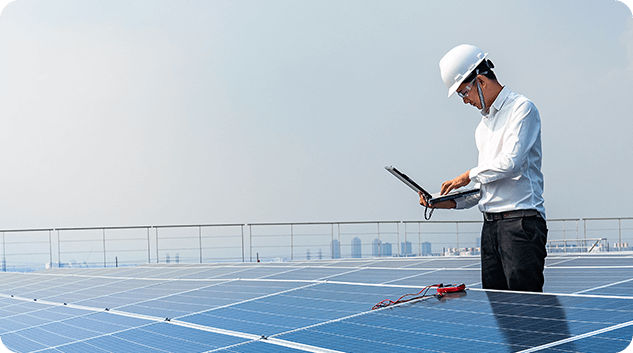 IMAGINE YOUR COMMERCIAL PROJECTS RUNNING ON ZERO COST POWER
Residential and Commercial Solar Systems in Sydney, NSW
Average solar panel costs
Per Watt
To determine the cost of the panels per watt, you first have to consider the overall size of the system and the state-wise rebates offered.
For some context, if you go for a 5kWh system, then the per watt panel price is around AUD 1.04. However, it comes down to AUD 0.92 if the system size is increased to 10kWh.
Per kWh
If we keep the global solar power industry in consideration, the panel cost on a per kWh basis in Australia is one of the cheapest.
All thanks to the government rebates, initiatives, and the flourishing solar scene in the country, the prices have come down to extremely economical for the common man.
For instance, if someone goes for a good quality solar panel system, the price per kWh can be anywhere between $900 to $1000.
Does solar panel installation cost the same everywhere?
It is very important to understand what solar will cost in each state, it is because prices vary tremendously depending on what state you live in.
And, there are many reasons for this and the most important one is system size. Now you must be wondering how does this work?
So, if you have a larger system then the lesser you will be charged per kilowatt-hour (kWh).
It is more like a business thing, if you buy in bulk then you will have to pay less comparatively than buying a single piece.
Cost of solar panels by system size
| SYSTEM SIZE | AVERAGE SOLAR PANEL SYSTEM COST (BEFORE TAX CREDITS) | AVERAGE SOLAR PANEL SYSTEM COST (AFTER TAX CREDITS) | $/W |
| --- | --- | --- | --- |
| 2 kW | $6,822 | $5,048 | $3.41 |
| 3 kW | $9,159 | $6,778 | $3.05 |
| 4 kW | $11,524 | $8,528 | $2.88 |
| 5 kW | $14,111 | $10,442 | $2.82 |
| 6 kW | $16,857 | $12,474 | $2.81 |
| 7 kW | $19,436 | $14,382 | $2.78 |
| 8 kW | $21,968 | $16,256 | $2.75 |
| 9 kW | $24,706 | $18,283 | $2.75 |
| 10 kW | $27,541 | $20,381 | $2.75 |
| 11 kW | $29,657 | $21,946 | $2.70 |
| 12 kW | $32,135 | $23,780 | $2.68 |
Generally, in some states, the homeowners make use of air conditioning more often than the homeowners in other states.
So, large solar panel systems are installed in sunny and warm states, for instance, Florida and Arizona.
Roughly one can say that for warm states it would cost more and for cold states it would cost less.
But if there is a difference in a system size then, it might cost less for a warm state if a larger panel system size, and cost more for a cold state if a smaller panel system size.
In Australia average solar panels cost are around $5250 after government rebates.
Prices vary in different states with Darwin, which is the most expensive and Sydney and Perth are among the most affordable.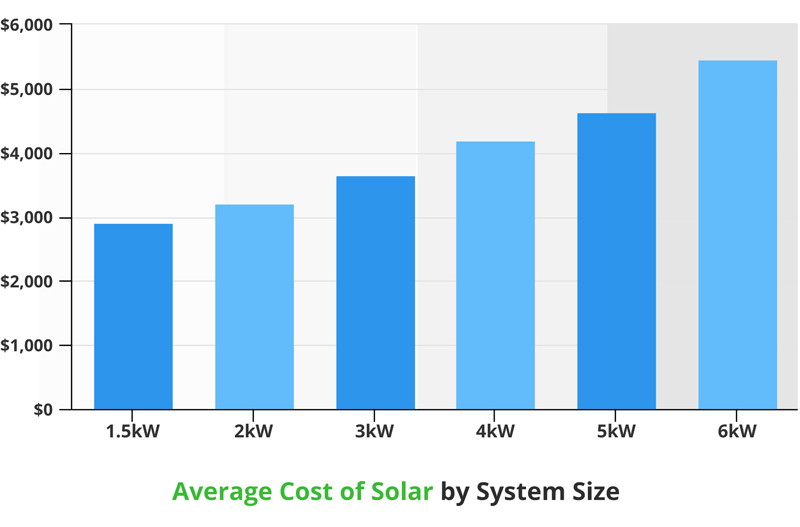 In most states in Australia, a commonly sized 6kW Solar PV System would cost $4,000 to $6,000 and a 10kW system would cost $7,500 to $10,500.
The average solar price for a good quality 5kW solar system in Sydney starts at $5,500. You should expect to pay around $7,000, if you want panel-level output.
$9,000 are required for a high-efficiency panels with all the bells and whistles.
At least 627 GW of photovoltaic (PV) are installed worldwide according to International Energy Agency (IEA).
Solar contributes almost 3% of the total worldwide in 2020, as a percentage of global power generation.
Small-scale solar (systems up to 100 kW) was responsible for 23.5 percent of Australia's clean energy generation and 6.5 percent of the country's total electricity was produced in 2020.
| State | 1.5 kW | 2kW | 3kW | 4Kw | 5Kw | 6Kw |
| --- | --- | --- | --- | --- | --- | --- |
| Western Australia | $2,450 | $2,710 | $3,010 | $3,540 | $3,650 | $4,210 |
| Victoria | $3,215 | $3,478 | $3,984 | $4,599 | $5,440 | $6,650 |
| South Australia | $2,792 | $3,150 | $3,650 | $4,185 | $4,722 | $5,320 |
| Queensland | $3,280 | $3,620 | $3,860 | $4,650 | $4,980 | $5,638 |
| New South Wales | $2,950 | $3,230 | $3,690 | $4,055 | $4,450 | $5,166 |
| Avg. of All combined | $2,909 | $3,211 | $3,655 | $4,201 | $4,633 | $5,466 |
| Aust. Capital Territory | $2,770 | $3,080 | $3,740 | $4,180 | $4,560 | $5,810 |
What affects the cost of solar panel installation?
Not only does your location and panel system size matter there are also many other factors other than these two.
Brand of the equipment
While installing some solar panels, one must make sure to choose the brand of the equipment wisely because this has a huge impact on the final cost you pay.
Characteristics of the roof
Characteristics of the roof of your home matter so much because if your roof has better sun exposure then not many panels are needed which in turn decreases your costs.
It is easier for installers to install panels on such a single roof plane, for instance, a south-facing roof than on a roof with multiple levels, because then it can cause additional installation costs.
Interconnection fee
When you install solar panels, you would also have to fulfill the cost of the interconnection fee and solar permits.
Interconnection is basically getting your solar energy system connected to the grid and this interconnection is obtained by paying some fee, once you obtain your solar permit documents.
So, finding yourself ways to make your interconnection process cheaper and quicker is also a very important factor.
Labor
Since there are different installers and the amount they charge for their services varies.
Finding yourself a well-regarded solar installer providing a premium warranty offer would definitely charge more for their installation job but it will be worth your money.
Solar inverter
A Solar panel provides direct current and our home needs alternating current for usage, therefore a solar inverter is also needed to be installed which can convert the direct current power from panels into alternating current so that you can use it at your home.
Thus, keeping in mind the cost of solar inverters is also one of the factors.
Does sunlight affect solar panel installation costs?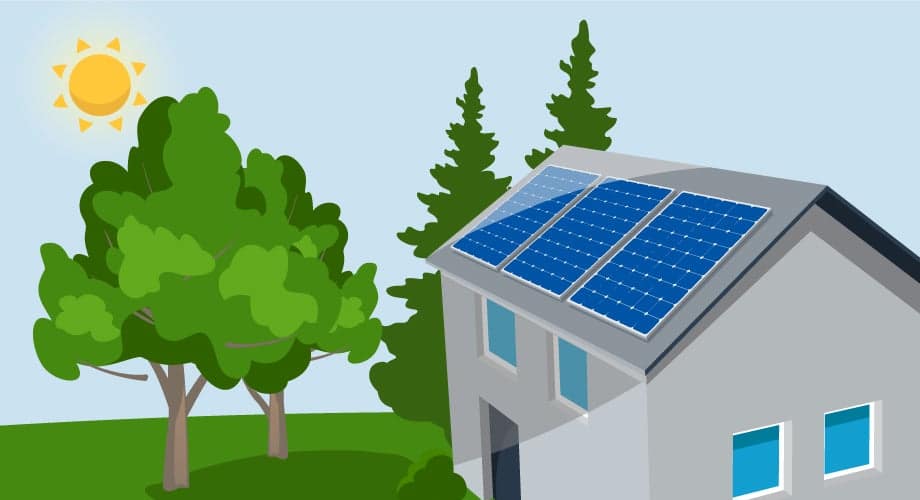 Not always the solar panels will get direct sunlight, sometimes the surrounding trees or buildings might cover the solar panels or maybe the sun is affected by the weather conditions like rain, snow, or clouds.
An installer considers some factors like location, shade, material, or dimensions. This also has a direct effect on the total cost you will incur to install the PV modules.
Ways to pay for solar panel installation
You can pay for solar panel installation in five different ways.
Each of them has its pros and cons. But there are only two ways worth considering for the vast majority of businesses, farms, and homes.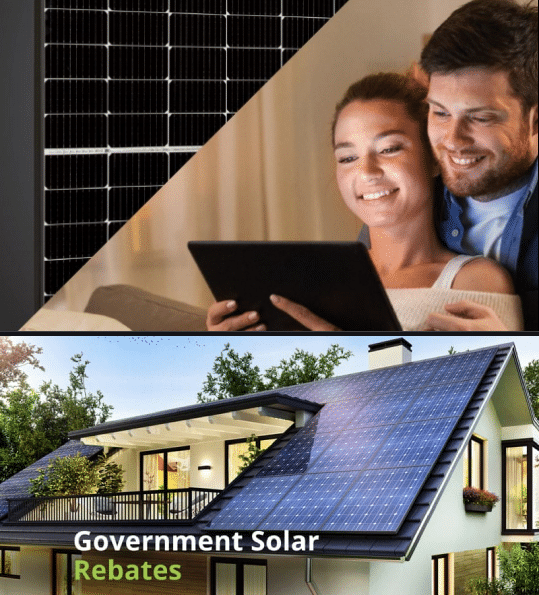 GET SOLAR REBATES
We help you receive a solar rebate by claiming the Small-scale Technology Certificates (STCs).
This scheme enables you to save a lot of money in the installation of solar energy.
---
Power Purchase Agreement (PPA)
To avoid the upfront costs, PPA is the best way. They own your system.
You do not even have to pay a fixed amount every month. In this case, you are supposed to pay for whatever your solar power system generates per-kilowatt rate.
Your traditional power company will give you the power you need to draw from the grid.
The solar panel installer charges you for the power that your system produces, therefore, the solar panel installer is your new power company.
So, it is like having two power bills.
PPA helps you with lowering your rates compared to your normal power company which helps you save money. PPA and lease also help you with zero tax credits.
Solar Panel Kits (Installation is DIY)
It is not very wise to install solar panels by DIY because it is also dangerously life-threatening at worst. Honestly, DIY solar panel installation is not going to cost you less but more.
The main reason is the huge tax incentives. When a solar panel installation is done by a certified professional, then only incentives are given out.
There is only one benefit provided by the solar kit peddlers and that is cost savings, but except for the fact when you later find out, you didn't actually save any money.
Why?
Because the system might not be installed or designed properly.
So, this way you can lose the tax incentives and you might also lose because your installed system might not produce enough energy as it should where you have spent months and a pro would have installed it in less than a week.
Therefore, a DIY solar panel installation is the worst option out of five.
Cash upfront
Cash upfronts have many benefits for your solar panel installation. Some of them are:
. First, you get all the tax incentives
. You can get a maximum value for your panel in the resale, whenever you sell your house.
. You can also get an advantage over inflation because you would see an increase in bill savings over time.
. The system you have will be owned by you from the beginning
. There is going to be no recurring bills
Once you buy an upfront then any benefit of solar energy is yours.
Solar Lease
A solar lease is renting the installed components that you take advantage of.
The solar panel installation company which has installed the panels, inverter, and all the other components own it and you pay rent for it.
You pay a fixed amount per month and this does not depend on the amount of power generated.
This price might not remain the same for a whole 20 years because the owner of solar panels definitely doesn't want to lock the price as same for that long.
Solar leases might seem amazing to some people but the problem lies here:
The real owner gets benefited from all of the tax incentives that is all that money is obtained by the solar panel installation company.
And sometimes there is going to be a lesser sunny month thus lesser power production but you would still have to pay the full price of the lease.
In the end, you might not save enough money.
Solar financing
Solar financing is far better than leasing because of the money that you save.
With financing, you own the whole system and have to pay only once while buying it and with a lease, you would have to pay for it again and again and you do not own it unless you decide to buy it outright – which will cost you even more.
Another important thing is that you get tax incentives, unlike leasing.
You can save 26% to 60% on your solar panel installation bill because of local tax incentives, state, Federal, and also depending upon where you live.
The growing energy crisis and worldwide economic inflation are pushing people to seek renewable energy sources that can replace fossil fuel energy production and maintain a secure and stable flow of electricity to households and businesses.
These recent events, coupled with growing environmental concerns, are further promoting the case for alternative energy sources.
Home solar systems are great alternative sources of electricity that gained a lot of popularity recently.
Households, businesses, transportation entities, as well as giant industries are gradually switching towards solar energy systems to meet a percentage or even all their electricity needs.
According to Energy gov, the amount of light that reaches the earth's surface in one hour and a half is enough to meet the entire world's energy consumption for a whole year.
Solar technology makes use of the potential solar energy to generate electricity that can be regularly and sustainably used.
What is a residential solar system?
A residential solar system is an advanced technology system that harnesses solar energy from the sun and converts it into electrical energy.
The electricity produced can power different operational requirements, applications and machines in households, offices, and industries.
Solar power systems include Photovoltaic panels, Direct current (DC) to alternate current (AC) power inverters, mounting racks for fixing the PV panels, in addition to other accessories and electronics.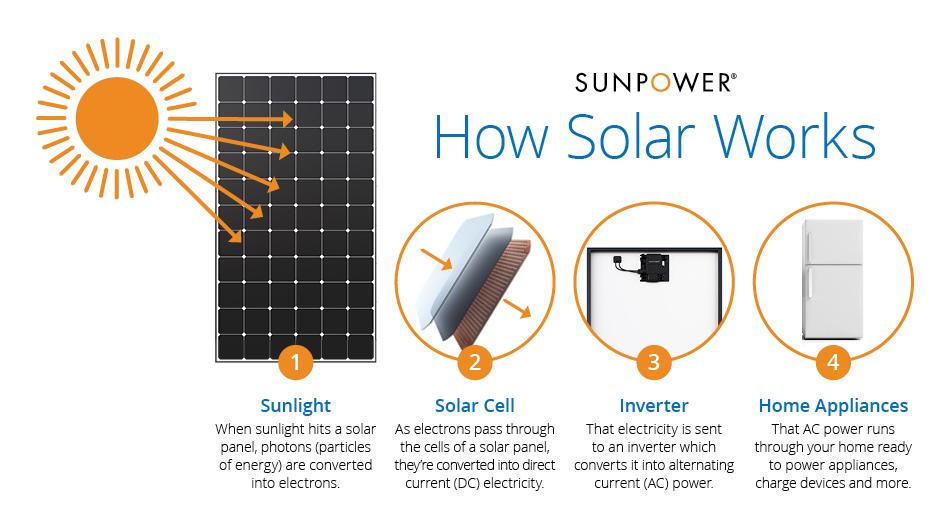 Home solar systems are typically installed on roofs for maximum sunlight exposure, and they are positioned in a way to face the sun to ensure optimal sunlight collection and maximum power generation from the system.
Solar energy within the sun's light rays strikes the surface of PV panels, producing DC current that is converted to alternating current when passed through an inverter, to be used for different applications and appliances throughout the house.
Components of a home solar system
Before proceeding with buying and installing a solar energy system, it is important to understand the details of the system and the individual components, and know how these components communicate and interface with each other. The major components of a residential solar system are:
Photovoltaic (PV) panels
PV Panels also called solar panels are installed on the roof and are the most essential and noticeable component in the system. The panels convert solar light energy into electric energy through a photovoltaic mechanism.
PV panels are available in a number of sizes and capacities, rated in Watts, which determine the maximum power that can be generated from the panel under ideal conditions.
Mounting racks
Solar panels are generally installed in arrays and are mounted on roofs or other free surfaces, and they are fixed to the surface by solid mounting racks that can either be fixed or flexible for tracking purposes.
Fixed racks allow the positioning of the panel in a fixed direction and angle whereas tracking-friendly ones allow the position of the panels to be automatically adjusted to follow the sun direction.
DC to AC inverter
Solar panels and batteries produce power in the form of Direct current (DC), while home appliances require alternating current (AC). Inverters are key components that can convert DC to AC in order to properly operate home appliances.
Connecting wires
Wires transmit the produced electrical energy from the panels to batteries and from the inverter to the main panelboard fuse box, to allow the different appliances and fixtures to draw electricity without the need for new distribution within the house.
All these components are connected to each other to produce a residential solar system that can smoothly and conveniently convert solar energy to electricity that can feed electrical appliances.
Home solar system facts you need to know in 2022
Home solar systems have played a major role in revolutionizing the Global Energy Industry. Apart from specific energy-intensive applications and purposes, they have been frequently used in homes to meet energy demands.
And there is a good reason for their popularity and exponential growth in the past few years.
Most notably, home solar systems are great to ensure an efficient and sustainable energy supply that is also environment-friendly.
This section will tackle the top 10 facts of the home solar system that you should know, to help your decision process on whether you wish to employ such a system for your house.
1. Environmentally friendly energy source
Home solar systems are an environment-friendly source of generating electricity. Power generation through solar panels is a green process that does not emit any smoke, gases or chemicals, and does not lead to environmental hazards.
For over 100 years, several sources of electricity have been used to meet an exponentially growing energy demand. The standard sources have included burning fossil fuels, steam production, nuclear energy, among others.
However, most of the non-renewable sources used over the years have led to high emissions and a worsening environmental crisis. These emissions have aggravated global warming and the worldwide climate crisis.
Greenhouse gases that are emitted from the processing of traditional energy sources have contributed to the phenomenon of trapping heat and CO2 in the atmosphere.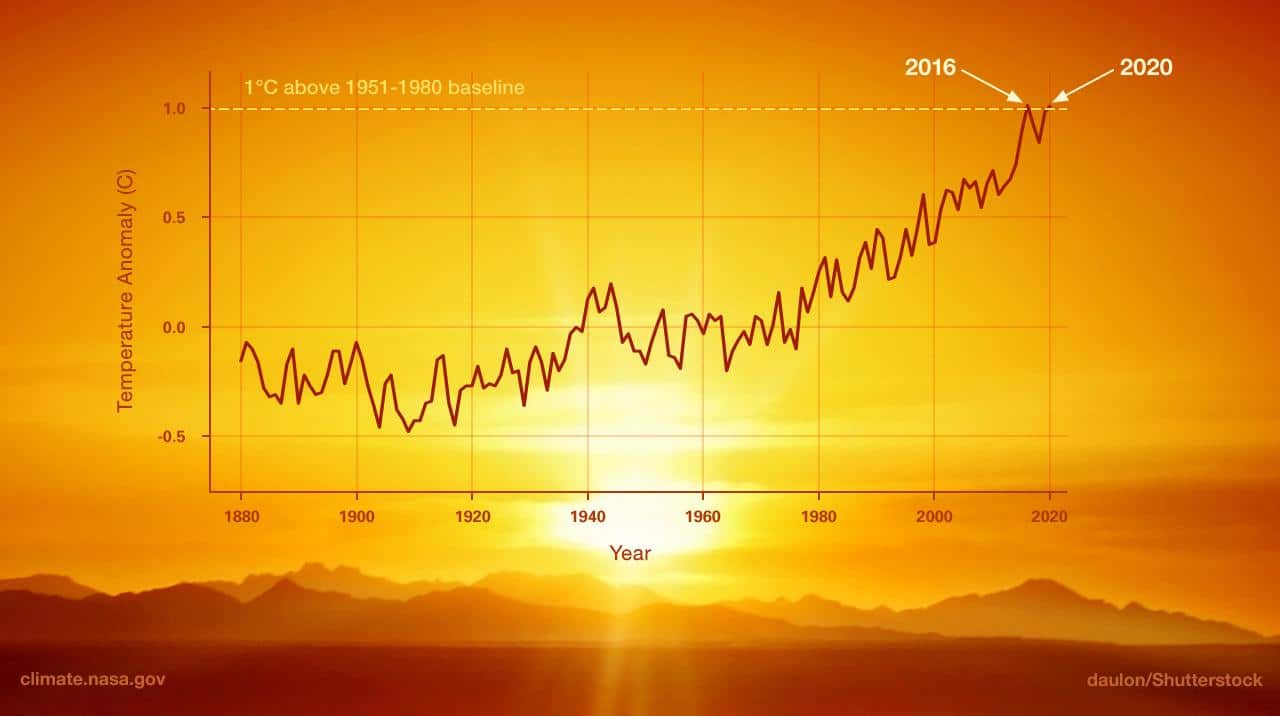 Moreover, the growing worldwide energy demands have led oil companies to explore and extract fuel from land and sea reserves, which results in disrupting natural habitats and destruction of green spaces, worsening the environmental crisis. Fossil fuels are also non-renewable sources of energy that will eventually deplete.
All these downsides of traditional energy sources are met, on the other hand, with safe and environmentally friendly electricity generation from home solar power systems.
The operation of solar panels involves absorbing sunlight and transforming photons into electrical currents that are ready for use, with no harmful effects on nature.
2. Provision of free energy
Some of the best investment options available require a one time financial investment with accumulating and long lasting returns on investment (ROI), and that is the case with solar power generating systems.
People always look for budget-friendly electricity generation sources that are both economical and efficient.
Home solar power systems are "one-time investment" systems for electricity generation, compared to conventional energy sources, that require consistent and regular operational and maintenance expenses to ensure their proper operation.
Traditional sources require a continuous flow of raw materials and their complex transport, shipping and processing, as well as complicated labor and operations needs, and effectively intensive human labor to meet these operational tasks.
As a result, traditional sources of electricity production incur massive expenses.
On the other hand, home solar systems only require a one-time investment to purchase and install the components, but do not require any recurring material or operational costs, and their maintenance is a very simple task.
Effectively, these solar systems shine as highly economical and efficient sources to generate electricity for home use.
According to the World Economic Forum, the costs of renewable energy sources have been consistently dropping, and are expected to drop further, with the cost of large-scale solar projects dropping by 85% over the last decade.
3. Decentralized power supply
It is often confusing for direct customers to understand the cost breakdown of the state electricity bill, or to find justifications for the inflated unit charges and the fluctuating rates.
A major reason behind the complex breakdown is due to the fact that state energy sources have a centralized operation.
Conventional electricity sources run on raw materials, and since many cities and countries do not have self-sufficiency to produce raw materials to meet needs, the materials, fuels and technical tools have to be transported across continents and countries.
This process of procurement, supply chain and transport adds an immense cost to the energy production cost. Solar power systems, on the other hand, avoid all these additional monetary expenses.
Home solar systems are decentralized sources of electricity generation which can be applied to homes, blocks and throughout cities, leading to self-reliant communities on a broader scale.
With solar power systems, you can avoid all the additional procurement and supply chain fees and free your energy cost from fluctuating costs that are outside your control.
4. Off-grid power generation
Off-Grid generation of electricity is a major benefit of home solar power systems, allowing the home to disconnect from the state national grid.
People residing in remote areas, particularly villages, usually suffer from an under-developed power infrastructure.
They either completely lack an on-grid connection of electricity or the infrastructure is very poor, as connection with distant grids leads to large voltage fluctuations and frequent power cuts.
Home solar systems are a great alternative for these areas to ensure efficient off-grid power generation.
Homes powered through solar power systems don't need a connection with the state grid supply, making the homes and buildings self-reliant, instead of being dependent on grid supply.
Off-grid power generation by home solar systems is becoming popular in urban and distant settings, especially for adopting self-reliance and avoiding sky-high utility bills from the state grid.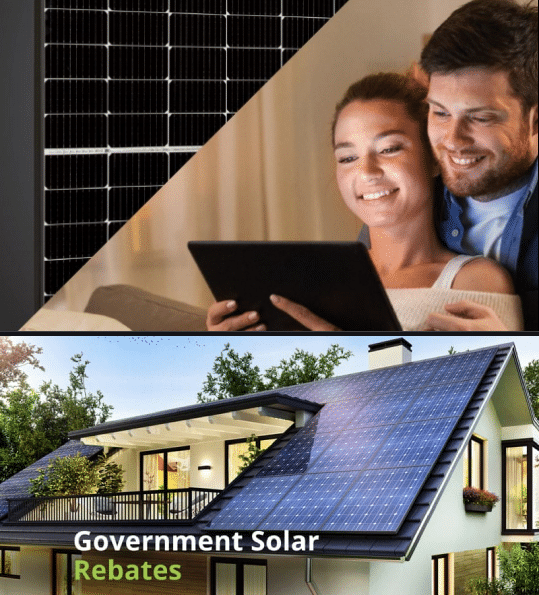 GET SOLAR REBATES
We help you receive a solar rebate by claiming the Small-scale Technology Certificates (STCs).
This scheme enables you to save a lot of money in the installation of solar energy.
5. Job creation by solar technology
The economies of all countries rely heavily on generating jobs and economists and legislators globally struggle to find means for job creation.
Countries with industries that promise consistent jobs and vacancies tend to prosper economically, and the home solar power system industry has become a highly attractive job industry.
Wherever solar technology is increasing in popularity among customers, it is leading to the creation of jobs. Solar power technology is creating jobs in manufacturing, construction, installation, operations, and management.
Research has demonstrated that electricity-related jobs will increase from 21 Million in 2015 to 35 Million by 2050.
During this time, the major job-creating technologies would include Solar PV panels, batteries, and wind power.


A new JRC report shows that in more than half of the coal regions of the European Union where coal is being replaced by clean energy sources, this switch is creating more jobs than what currently exists in the coal sector.
The incorporation of renewable energy technologies can create 3,15,000 jobs by 2030 and up to 4,60,000 jobs by 2050.
6. Reduced impact of global economy
People worldwide suffer from inflation due to increased fuel prices on the international market.
This is a direct result of traditional, centralized energy sources that are vulnerable to shifts in the global economy. This price volatility often leads to increased energy costs and heightened electricity charges.
Home solar systems help avoid the financial impact of global economic crises, as operational systems do not require fuel and raw material, and inflation of fuel prices in international markets has no impact on power generation.
At times, state restrictions and global circumstances, causes impedance for imports and exports, with the COVID-19 pandemic as a perfect example of such a crisis.
Restrictions and affected supply chains also contribute to price increases, unstable demands and worldwide energy crises.
In such a scenario, home solar systems can help prevent the economic impact and the resulting inflation.
They not only provide a constant supply of electricity but also safeguard your finances against global instability.
7. Efficient energy production
7. Efficient energy production
Solar panel efficiency is a measure of the potential of solar panels to convert solar energy to usable electricity. Home solar systems are undergoing ongoing research and advancements to become more and more efficient.
This makes them more capable to optimally transform light to electricity.
According to EnergySage, the most efficient solar panels available on the market have an efficiency rating as high as 22.8%, while the more commonly available solar panels fall within an efficiency range between 16 and 18 percent.


This efficiency allows home solar systems to provide efficient production of electricity, which is particularly useful for rural and remote areas where infrastructure is compromised. In such areas, solar panels provide a consistent and stable electricity supply.
Several factors affect the efficiency of home solar systems. These include:
Panel material
The material of the Photovoltaic (PV) panels greatly influences the efficiency of solar power systems. Panels can be made of silicon, cadmium telluride, or thin films.
Light reflection
Reflection of light away from the solar panel impacts the overall efficiency of home solar systems, which is why silicon solar cells have a glass covering to the panel to ensure optimum efficiency.
Wavelength of solar light
Photons of light striking a panel exhibit various optical phenomena. Some are reflected, some are absorbed and the photons with optimal wavelength pass through the cell and can be transformed into electricity.
Panel positioning
One of the most important factors in panel efficiency is its positioning and angle.
You should properly study the sun pathway in your specific location and position the panels in a way that they face the sun for an extended period to convert maximum solar energy. Tracking systems on mounting racks can be a great addition to optimize and increase the exposure and energy generated.
Climatic conditions
Climatic conditions have a direct impact on the efficiency of home solar power systems. Panels have a lower efficiency in locations with cloudy and rainy weather with reduced sunlight exposure.
On the other hand, places with extended sunny days and dry weather enhance the panel efficiency and generate more electricity.
The specific climatic factors of your location are essential to consider before installing a home solar power system in order to have a high-efficiency energy conversion.
This would generate maximum electricity with minimal costs invested and ensure long-lasting returns.
8. Durable Energy Source
Another great fact about home solar systems is their durability and long lifetimes. Studies have shown that solar panels generally operate for more than 25 years.
They can even operate beyond this time frame, but their efficiency can become compromised.
This long lifetime is a key feature which explains why solar panels have become so popular for meeting energy needs. A one-time investment in the purchase and installation cost, can guarantee a staggering 25 year supply of energy and savings from state electricity bills.
The durability of home solar power systems is further enhanced with accompanying warranties.
According to the renewable energy hub, manufacturers offer warranties of varying time periods, with most companies offering a 10-year limited product warranty that covers both the material and labor cost.
This makes home solar systems safe to use with long lifetimes, and the decade-long warranties guarantee peace of mind for the customer.
9. Lack of Energy Storing Capability
One major obstacle to the widespread adoption of home solar power systems is related to energy storage.
According to solar impact, lack of storage makes solar panels unable to supply electricity in the absence of sun, at night or during storms.
To mitigate this effect, and to ensure that the system provides energy throughout the day and night, and during any conditions, you will need to install external batteries.
On dark days with minimal sunlight intensity, the panel's energy production capability becomes greatly diminished, compromising the energy-producing potential of the panels.
This is a major drawback of using home solar power systems on their own, but systems that interface with the state grid supply do not suffer from this problem as solar panels fulfill daytime needs while the state grid complements nighttime use.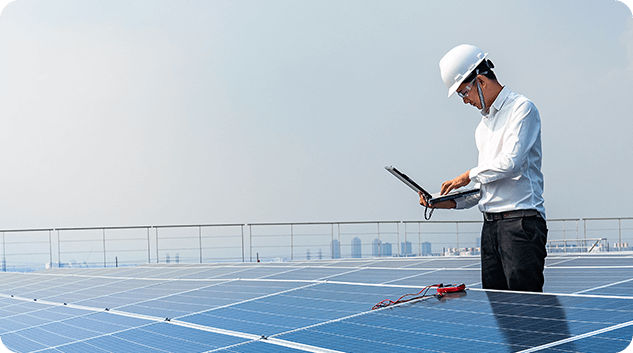 IMAGINE YOUR COMMERCIAL PROJECTS RUNNING ON ZERO COST POWER
Residential and Commercial Solar Systems in Sydney, NSW
10. Health Hazards of Home Solar System
Despite the many beneficial facts and features of solar systems, they do pose certain health hazards that need to be taken into account.
They are considerably much safer and healthier energy sources than conventional energy sources, however, the manufacturing process of solar panels involves some common heavy metals including cadmium, gallium, selenium, etc.
These chemicals, if ingested or inhaled by workers during the manufacturing process, can have negative health implications.That's why ensuring high levels of safety precautions and standards during the fabrication helps prevent such accidents.
According to AFAC National Council for Fire and Emergency Services, solar cells contain carcinogens like cadmium Telluride and Gallium Arsenide, as well as phosphorus. These nanoparticles can result in silicosis of the lungs if ingested.
As such, the chemical compounds in home solar systems can lead to a risk of developing cancer. However, according to the World Health Organization, exposure to low-level electromagnetic fields poses no risk to human health.
Although there are certain health hazards that result from the manufacturing and improper disposal of home solar systems, they are negligible compared to conventional energy sources, and can be easily avoided by practicing safe material handling and relevant precautionary measures.
Wrapping up
Home solar systems can greatly meet household energy use in a time of high energy costs and sky-high global inflation.
These solar panel systems require a one-time investment with consistent returns on investment that last for decades.
Although home solar power systems face certain setbacks from intermittent production, lack of storage and some manufacturing hazards, overall they guarantee efficient and sustainable electricity generation. Home solar power systems are not only an environmentally friendly energy source but can also assist in the development of self-reliant communities.
What are the top solar projects in Australia?
Over the past few years, solar energy has proved to be a great solution in the face of rising energy costs and electricity bills, and more importantly, as a means of fighting climate change and the negative environmental effects.
There is no doubt that renewable energy sources are the main focus and hope for the country's energy demand, providing a huge step forward and crucial power source for any industry, supported by research from centers all over the world.
Let's aside the environmental issues that solar energy tackles, and approach the energy problem solely from an economic perspective.
Growing poverty and stricter financial means for communities worldwide mean a wider population has less energy resources and less spending capacity on these resources.
Awareness here is key to highlight the benefits of solar as a renewable energy source that can also provide fairer spending and distribution, and an improved lifestyle.
Not only does solar energy solve the problem of greenhouse gas emissions but it also boosts the economy by creating new jobs and reducing electricity bills.
Fortunately, Australia is one of the world's sunniest countries. Nature has blessed the country with ample clean energy resources, which like gold and silver, if utilized to the best of their abilities, can make a significant difference.
This article will highlight and detail the top ten solar projects. First, we'll introduce what a solar farm is.
The difference among various solar schemes
This blog will discuss solar farms and renewable energy plants, which make up most of the clean energy operations. Businesses or governments embark on projects that are more focused on the big picture of renewable energy production.
However, our focus here is particularly on solar energy production and as a result, we'll only list solar farms/projects with the highest energy capacity — and, of course, the highest operational and commercial success rate.
Renewable energy generation in Australia
Thanks to the efforts of the Australian energy sector and government incentives, Australia now has more than 100 renewable energy projects, under construction or already operational and generating power.
These include a range of projects, including solar power projects, wind and bioenergy ones.
According to official government reports, the collective worth of these projects is around $18.9 billion with a capacity of 11,335 MW of renewable energy.
A massive power booster for the country indeed! And what's more, these projects are expected to create over 13,000 new jobs.
Solar projects in Australia (state-wise)
In recent years, solar costs have decreased and Australia has taken advantage of the green market building more sustainable energy projects throughout the country.
The following is a breakdown of the number of renewable energy projects in each Australian state:
Queensland: 20
New South Wales: 29
Victoria: 21
South Australia: 25
Northern Territory: 5
Western Australia: 9
Tasmania: 0
Although the number of projects is not huge when compared to those in China or Germany, a simple population comparison proves that on a per-capita level, Australia is one of the leading nations taking solid steps towards renewable energy generation.
Solar projects in Australia
Solar power is the backbone of green energy and provides the highest potential in the mix of technologies. Comparing the Australian solar sector and the projects planned or completed, we realize Australia is not lagging compared to countries like Germany and China.
Although the pandemic has stalled the construction and expected operation of a lot of solar projects, it is worth noting that the 22 projects completed during the pandemic have added an 800 MW capacity to the power pool.
And Australians should be glad to know that this expands the sector's total power capacity to 3.9 GW, which raises the proportion of solar to renewable generation in Australia from 9.3% to 10.9%.
The great solar challenge in Australia
Despite Australia having the best overall radiation when compared to any other continent, solar energy currently contributes to less than 1% of the nation's main energy intake.
As is the case in other countries, the conversation regarding solar power does not meet the potential clean energy has.
Except for hydropower & wind, Australia's renewable energies are largely undeveloped and unfortunately, the country still relies heavily on fossil fuel sources.
If the country is serious about tackling climate change and reducing emissions, the solar potential needs to be properly and thoroughly explored, as solar, along with the various forms of renewable energy offer great potential for clean power.
New solar farms in Australia
Bungala solar farm is one of the top recent Australian solar farms, located in South Australia, and created quite a media buzz lately.
The project got approved in 2020 for an estimated capacity of 110MW power capacity, Upon completion, the project added 220MW energy into south Australian power grids, and has created massive employment opportunities for the area.
The top ten
Far from being the only projects worth mentioning, below is list of the top ten solar projects in Australia:
1. Limondale Solar Project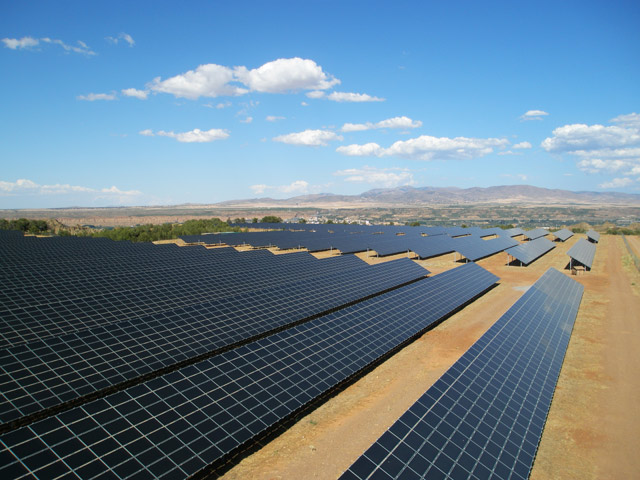 The farm is located in the south of Balranald Shire. It was Australia's largest scale solar plant upon construction. Initially owned by Downer Group, a top-notch solar manufacturing firm, who were the developers, it was later acquired by the German firm RWE, another industry leader in solar technology.
Details:
Nominal Capacity MWac: 313
Direct Capacity MWp: 349
Voltage (kV): 220
Operational Since: 2020
Company: Inoggy
Location: Balranald Shire, New South Wales, Australia
2. Darlington Solar Project
The farm has a 150 MW capacity and is the second-largest solar project in the country. Additionally, one of the key features of this project is its power supply to Australian households.
110,000 homes will profit from its operation when it is completely on the grid, operating over 1 million solar panels, enough to provide cheap yet clean energy to the locals of NSW.


Details:
Nominal Capacity MWac: 275
Direct Capacity MWp: 333
Voltage (kV): 330
Commissioned: November 2020
Company: Octopus Investments and Edify Energy
Location: Murrumbidgee, New South Wales, Australia
3. Bungala Solar Project
The Bungala Solar project has a large power generation capacity. It is located near Port Augusta, which is a prime location for the development of many solar, wind and energy storage projects. The farm consists of 2 stages, each having a 100MW capacity.
Details:
Nominal Capacity MWac: 220
Direct Capacity MWp: 276
Voltage (kV): 132
Commissioned: May 2018
Company: Reach Energy
Location: Port Augusta
4. Sunraysia Solar Project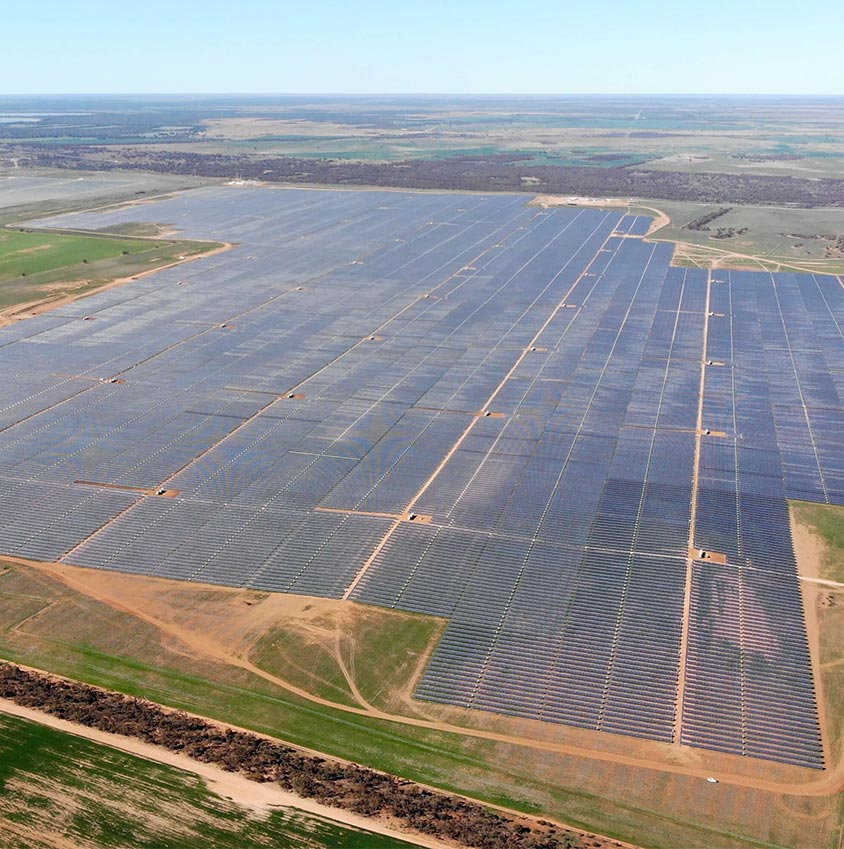 The Sunraysia Solar Farm is another great project in Southern Australia. Although it has been operational since 2019, some parts of the farm are still under construction.
Details:
Nominal Capacity MWac: 200
Direct Capacity MWp: 228
Voltage (kV): 220
Commissioned: 2020
Company: John Laing Group
Location: Balranald Shire
5. Wellington Solar Project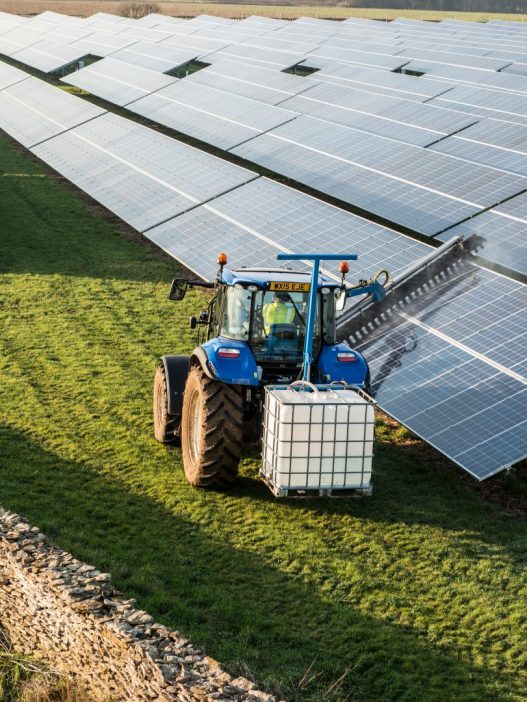 The Wellington solar project in New South Wales (NSW), Australia, is a 400MW project and
is one of the largest capacity solar projects in the region. It was designed by British firm Light-source, which is a famous international firm for solar energy projects.
Details:
Nominal Capacity MWac: 174
Direct Capacity MWp: 213
Voltage (kV): 132
Commissioned: 2020
Company: BP Lightsource
Location: Dubbo Regional Council
6. Daydream Solar Project
Daydream solar farm is a promising solar power project in Australia with immense potential to supply clean energy to the residents in the state. The Daydream Solar Farm is a 180.0 MW DC single-axis tracking installation in North Queensland.
Details:
Generation: 398,000 MWh per annum
Installed Capacity: 180.0 MW DC
Commercial Operation: August 2018
Company: Edify Energy
Location: Whitsunday Region
Household coverage: 55,000
7. Suntop Solar Project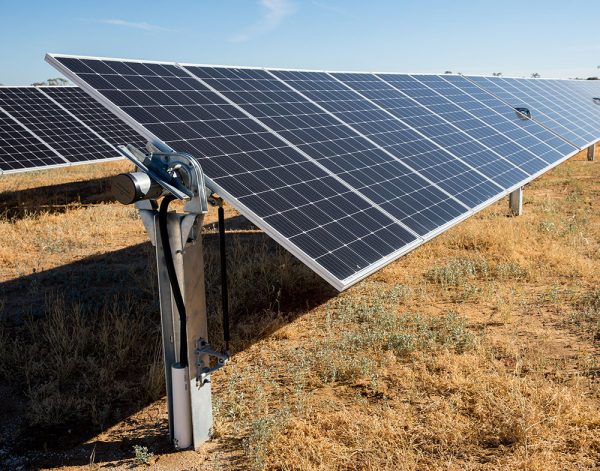 The Suntop is an exceptionally powerful plant with the capacity of large-scale PV solar systems. Large scale PV solar systems are both single axis and ground-mounted and are extremely important for the success of any solar project. Such systems ensure power supply to thousands of Australian households in bulk quantity, raising the capacity of the Suntop Solar plant to 395GWh of clean energy.
Details:
Nominal Capacity MWac: 150
Direct Capacity MWp: 189
Commissioned: August 2021
Company: Canadian Solar
Location: Dubbo Regional Council
8. Coleambally Solar Project
Coleambally Solar Farm is a unique yet powerful solar project in Australia. Its uniqueness comes from its attention to the local community through opportunities provided, as well as a $20,000 yearly community fund. Overall, the solar farm offers many benefits for the locals, such as eco-friendly surroundings in the neighborhood, job creation, and foreign investment.
Details:
Capacity MWac: 150
DC Capacity MWp: 188
Voltage: 132
Since: 2018
Firm: Neoen
Location: Murrumbidgee
9. Finley Solar Project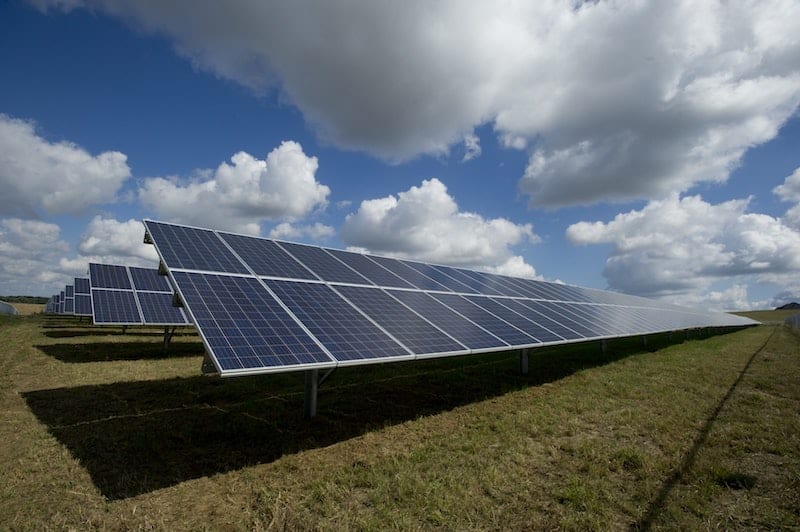 Finley Solar Farm is a PV power station in NSW, Australia and is developed by ESCO Pacific company which invested heavily in the scheme, approximately A$170 million for the development. The plant has a significant potential and can be a benchmark for similar schemes in the region.
Details:
Production Capacity: 170MW
Direct Capacity MWp: 175
Voltage (kV): 132
Operational Since: 2019
Firm: John Laing Group
Place: Berrigan Shire
10. Sun Metal Solar Project
The Sun Metal solar farm is another great project in the state of Queensland. The project is more eco-friendly as it uses the most competitive zinc material. Sun Metals' renewable energy adventure began in 2018 with a $200 million investment in a 143MWAC solar farm.
Details:
MWac: 116
MWp: 148
(kV): 132
Since: 2018
Firm: ESCO Pacific Palisade
Site: Townsville