Exterior residential lighting is just as essential as interior lighting. One should effectively design and planned to provide a comfortable setting that is also safe and fun.
Lighting has a significant impact on the overall appearance of your garden and balcony.
All the lighting details and features from the type of lighting used to the location and orientation of the light make a vast difference in the appearance of the space.
Designers, landscape architects, and lighting specialists have proposed numerous lighting ideas and concepts, giving the public a wide library to choose from for each specific exterior setting.
Thus, outdoor lighting should be functional and aesthetic.
Its purpose is to enhance the productivity of human activities during the night and illuminate developments, transportation hubs, construction sites, as well as public areas, while making these spaces livelier, more productive, safer, more secure, and comfortable.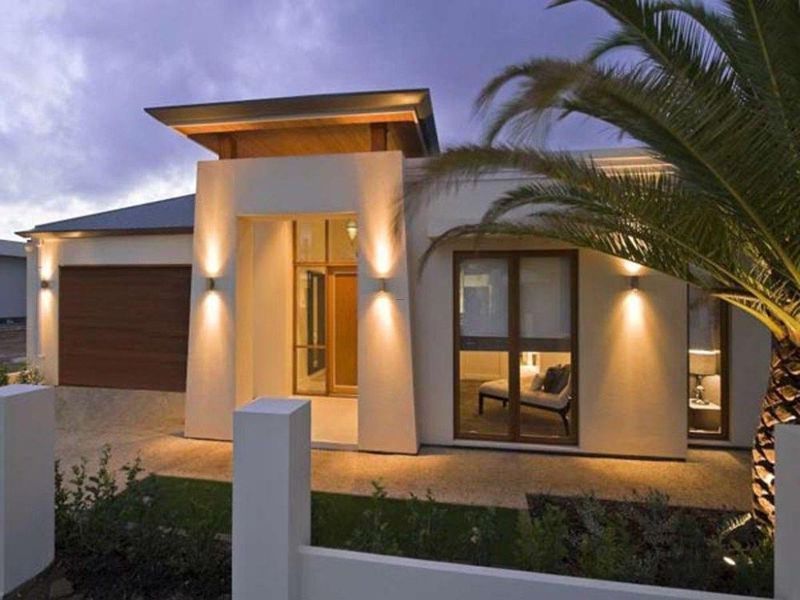 The wide possibilities in terms of systems, types, and installation methods can make the selection process quite difficult.
However, a few simple rules can help you narrow down your options and focus on the exciting aspect which is choosing your light fixtures.
Lighting for Your Outdoor Areas
The exterior of your home is no longer an aesthetic space that has no purpose. People consider their outdoor spaces to be an extension of their home and focus on making them feel more dynamic and versatile.
Furthermore, outdoor lighting is essential in transforming the outdoor space, shifting it from a bland, uninteresting area to a lively and comfortable setting, and using all the types at hand: from landscape lights that compliment a garden or walkway to exterior lighting fixtures that illuminate an outdoor kitchen or patio.
Outdoor lighting systems also contribute to safety as they create a sense of security in the dark and deter burglars from the space, by giving the appearance of an occupied home when the homeowners are away.
Exterior house lighting consists of outdoor wall lights, ceiling fan lights, post lights, hanging lights, and outdoor string lights.
You can use different types to decorate any area, from a small one right in front of the main door, up to the entire patio and garden.
Recent developments in the field
In recent years, LED and Energy Star lighting allowed homeowners to make eco-friendly outdoor lighting choices; especially since standard exterior lights can consume large amounts of energy.
You can use exterior house lighting in a variety of ways, including illuminating a path or steps, lighting a poolside area, highlighting an attractive tree or plant, or providing light in specific patterns over garden elements.
If you find outdoor light fixtures that have exposed bulbs annoying and unattractive, you can select fixtures with frosted glass, seeded glass, wavy glass, or other translucent effects that will conceal the bulb while providing the desired glow.
Landscape lighting complement facade and patio lighting fixtures to further accentuate the home's exterior features and illuminate the garden.
You can use specific landscape lighting types as a path guide to highlight walkways and driveways. Landscape lighting systems have become much more affordable and straightforward to install in recent years.
It is important to note, however, that security lighting is not the same as landscape lighting.
Whereas landscape lighting is more subtle and has a lower brightness level, security lighting floods an area with bright light, primarily to investigate and intimidate intruders.
One can use several types of lighting fixtures for outdoor spaces, and there are numerous ways to use these types, each of which results in a different style and effect.
This article will highlight ideas to make your home look more attractive using exterior house lighting systems.
How should you plan exterior house lighting?
As a general rule, your outdoor lighting should create a welcoming and safe environment outside of your home. Given the variety in types and designs, the decision process might seem overwhelming.
This section tackles the fundamentals of selecting and positioning your outdoor lighting, in any kind of outdoor space.
Lighting your front door
Your exterior house lighting should illuminate the lock in your door's main entrance (usually the front door) and assist you in identifying visitors.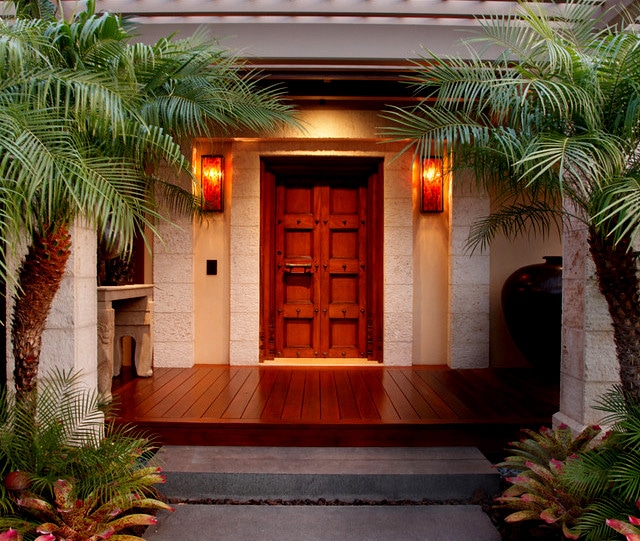 Using an outdoor wall light on either side of the door is a good option. Secondary entrances should also be well-lit, a single fixture should suffice in most cases.
Most homeowners prefer decorative outdoor lights at the front door, however, the most important feature in any fixture is providing ample light without causing glare.
It is advisable to go for a design that allows plenty of light to pass through.
Lighting your balcony or deck
Install exterior house lighting fixtures at the same height as your patio furniture cushions to make your deck or patio a practical social space.
This guarantees that when people sit down to enjoy the area, they will not get an annoying glare in their eyes. Carefully study the installation process and the light effect to avoid any future discomfort.
Moreover, when designing outdoor lighting for your patio or deck, pay special attention to areas where there is a lot of activity, such as around the grill or by the pool, and consider adding additional task lighting where required.
Lighting Passages and Staircases
Make sure that your outdoor lighting highlights steps, slopes, or other grade level alterations to ensure your space safety (Deck and step lights are a great idea to use).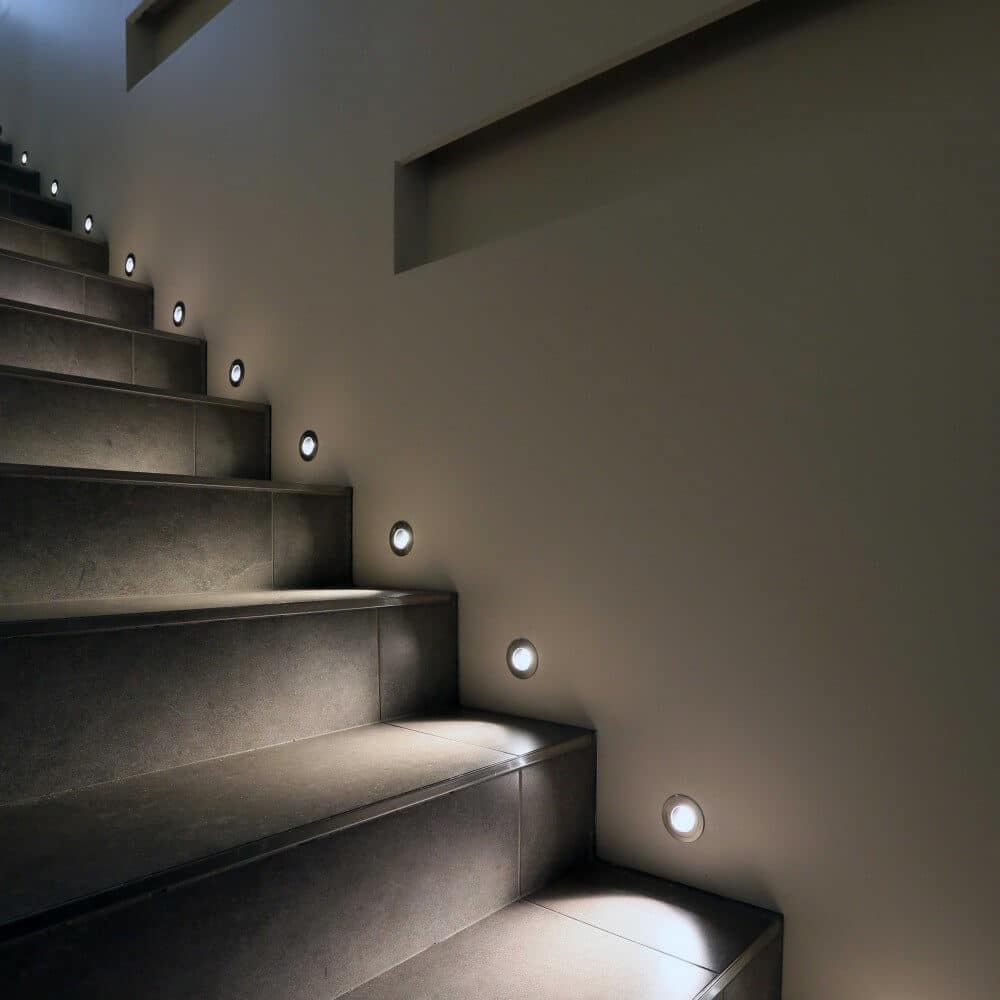 Passage and staircase lights should not be bright but should provide a dim and comfortable effect on the path. This will allow users to walk around with confidence and good visuals.
Choosing a path light that is too bright makes it challenging to see the ground or the surroundings at night. Where required, illuminate these areas with a series of outdoor lighting fixtures, such as landscape path lights.
Lighting your parking area or garage
Consider using a pair of outdoor post lights to define your property at the driveway turn-in.
They do not have to be exceptionally bright to be effective, but you do not want to cut back on quality. Visitors will be able to find your house with the help of these post lights.
Consider installing additional lighting above the garage door for added security. Different light types suit different garage layouts and sizes.
If you have a basketball hoop in your driveway, you can easily illuminate it from the roofline.
Moreover, consider a light with a photodetector or timer that automatically turns on and off, for ease of control and maintenance, and energy savings.
Do You Need Dusk to Dawn Lighting and Security Lighting?
Are there any dark locations on your property that might attract burglars, such as seldom-used side paths or entrances? Security lighting can put your mind at ease.
Motion sensor lights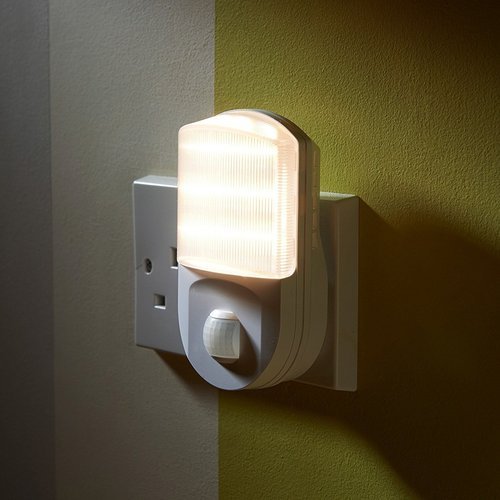 These lights are activated by surrounding activity, making them excellent for security and high-traffic areas of your property, such as entrances and pathways. The range and angle of motion sensors vary depending on the design.
Dusk to dawn lights
These lights are equipped with sophisticated photo sensors that automatically switch them on and off when the sun sets and rises. They are simple electronics, guaranteeing that your outdoor lighting only turns on when needed.
Dusk to dawn and motion sensor lights
These designs incorporate both capabilities in a single light, and these features are not limited to security lighting fixtures. Many types of outdoor lighting are available in both dusk-to-dawn and motion sensor configurations.
Do You Require Outdoor Lights That Can Be Used in Wet or Damp Conditions?
Most outdoor fixtures are designed and manufactured for use in either wet or damp environments. Here is the distinction between the two:
Wet Rated (or Wet Location) fixtures suit areas subject to direct wind and rain. Wet location lighting includes outside wall lights, post lights, and motion sensor lights.
Damp Rated (or Damp Location) fixtures are intended for use in covered patios, pergolas, and other areas that are not directly exposed to rain and moisture. Outdoor ceiling lights and hanging lights are approved for moist use.
How much light do you require?
The look and impact of an exterior house lighting fixture, when lit at night, is the single most significant aspect to consider.
To avoid intense brightness from a single lamp, you should use several outdoor light fixtures simultaneously.
For instance, outside wall lights are installed at the front and side doors, in addition to lighting surrounding the garage door or an outdoor ceiling light in the carport, and path lights to define the approach to the front door.
While transparent glass is used in many outdoor lighting, you may desire a different aesthetic.
Other options include frosted or opal glass, textured transparent glass, or fixtures with integrated LED light sources. Consider RLM lighting, which focuses and reflects the light downwards for more focused illumination.
Is there anything else you should be aware of?
Some states, such as California, require outdoor lighting fixtures to be energy efficient or Dark Sky certified to reduce light pollution.
There may also be local legal restrictions or homeowners' association guidelines regarding the types of outdoor lighting used. Before you buy, make sure you are aware of and comply with the requirements in your area.
How do you select the best place for outdoor lighting?
There are various options available depending on where you wish to add lighting.
Ceiling & hanging lights
Covered Patios and Porches are the best places to use these lights.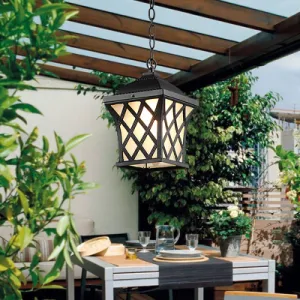 Ceiling lights and hanging lights are excellent choices if you require additional light to your porch, or if you don't have enough space for wall lights.
These lights, designed for moist environments – but not to direct rain exposure – can offer a bright and stunning addition.
Wall lights
Porches, patios, entryways, and garages are the best places to install wall lights.
Wall lights, the traditional front or back porch light, can go on practically any vertical surface.
Wall lights, one of the most widely visible exterior fixtures, are a long-lasting and stylish method to brighten your home and outdoor spaces.
Security lights
These lights go best with walkways, alleys, and garages.
Motion sensor lights are motion-activated and are a great choice for a safe and secure property. Security lights provide a robust and flood-like light that deters potential attackers.
Post lights and pier mount lights
Driveways, walkways, and patios are the best locations for installing these types of lights.
As the name implies, post lights are fixtures that go on top of posts.
Most post lights come "wet rated," which means they survive direct exposure to rain and moisture as they generally function in open-air settings such as driveways and walkways.
The diameter of the post (also known as a pole) required varies depending on the design. You may find specific suggestions on the product description pages.
Pier mount lights are similar to post lights in appearance, but they stand on top of columns or walls.
The use of adaptors allows you to mount post-light fixtures on top of columns or walls.
Landscape lights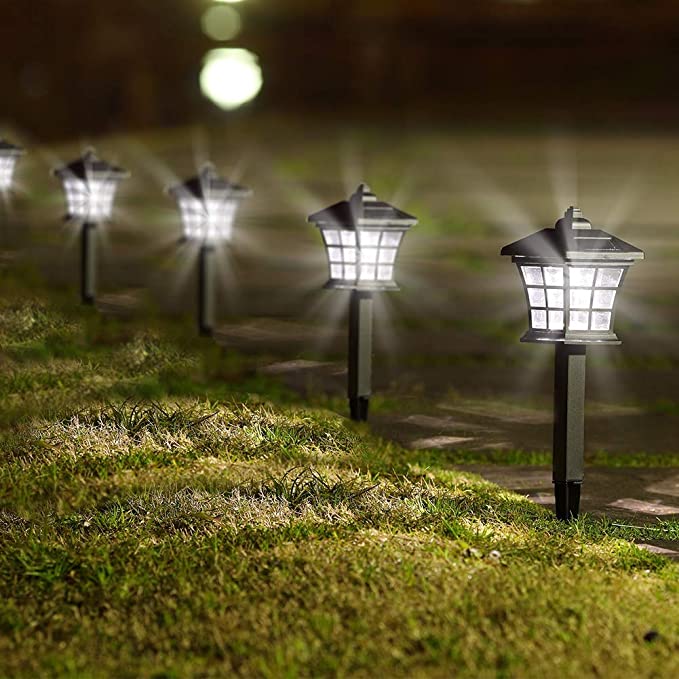 Gardens and landscape features are the most practical locations for landscape lights.
Landscape lighting is generally a low voltage system that covers a range of wall and ceiling lights. You can utilize path, spot, and floodlights in tandem to give your property a rich, layered appearance.
What are the reasons to buy outdoor lights?
There are three main reasons to purchase Outdoor Lighting Systems:
Recognizing the advantages of outdoor lighting can allow you to develop a lighting strategy that fits your needs and desires.
Below are three reasons why you might want to install lights on the outside of your house.
1. Enhances Curb Appeal with Outdoor Lighting:
Outdoor lighting adds a great ambiance to any property.
A post light at the end of the driveway, for example, adds a welcoming touch. Installing lights in various areas and at different levels gives a tiered appearance with optimum curb appeal.
2. Outdoor Lighting Creates a Uniform Aesthetic:
To achieve a coherent look, utilize fixtures in the same style or from the same lighting collection.
3. Outdoor Lighting Improves Safety and Security:
Ensure there is enough light where you need it, particularly near entrances, patios, and walkways.
An ultimate buying guide for exterior house lighting
The days of lighting the exterior of your home with a single wall or post light are long gone.
With growing attention on outdoor areas, proper choice and installation are essential for your home's overall appearance and value.
It is critical to select exterior lighting fixtures that complement your home and provide ample light layers.
Luckily, most exterior light fixtures are available as part of a defined collection, making it simple to match your items if you wish to do so.
Before making a purchase, plan well and determine which types of outdoor light fixtures you want and need, and which of these types can also match your house architecture and your outdoor settings.
1. Exterior wall lights
2. Exterior post lights
3. Exterior ceiling lights
4. Exterior hanging lights
Exterior Wall lights
The most common exterior light fixture traditionally come in pairs to illuminate a home's entrance from the house's outer walls.
Exterior Post lights
These exterior fixtures illuminate areas that are not connected to the house, such as the driveway or sidewalk.
Post lights are an excellent option for homes with long driveways or large outdoor entertaining areas, such as swimming pools. Post lights cast a uniform general light that creates a welcoming ambiance.
Exterior Ceiling lights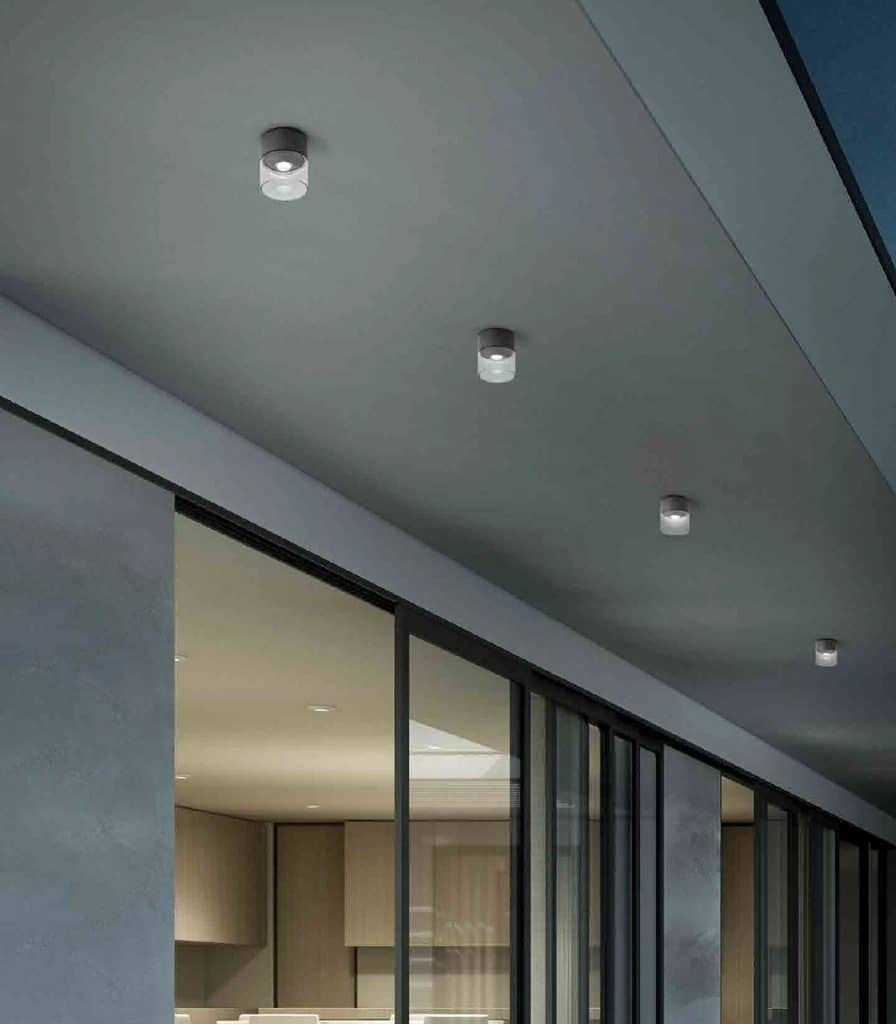 These light fixtures are typically flush mounted and are similar to their indoor counterparts, but more weatherproof.
They are one of the most cost-effective outdoor lighting options for homes with covered porches and can provide ample general light to a space.
Additionally, they can be installed in the ceilings of garages and carports, and above front doors.
Exterior Hanging lights
Covered front porches can accommodate outdoor hanging lights that give the entrance a unique style.
Hanging lights vary in style from simple to elaborate, and from traditional to more modern. In fact, outdoor chandeliers are becoming increasingly popular.
Outdoor hanging lights, as opposed to standard outdoor ceiling lights, are ideal for sloped ceilings and provide more uniform light.
If you are considering replacing your outdoor lighting, you might want to explore models that comply with specific environmental regulations.
A growing number of states and municipalities are enacting legislation requiring energy-efficient lighting or Dark Sky lighting. Even if your local legislation does not have specific requirements, the investment may be well worth it.
Dark Sky
Dark Sky-approved fixtures reduce light pollution, which is a growing problem in urban areas. Light pollution dims the night sky's visibility, disrupts circadian rhythms, and harms ecosystems.
LED
LED outdoor lights are a great way to save money on energy and replacement bulbs. Several LED fixtures have built-in light sources, so you do not have to worry about replacing bulbs and they produce bright and practical light that is great for any environment.
Energy
Outdoor fixtures that use compact fluorescent bulbs come under Energy Star, though not all of them. Indoor and outdoor Energy Starlights have been tested and approved to meet specific energy requirements and can help you save money.
Outdoor lights, in particular, benefit greatly from Energy Star efficiency because they function frequently for extended periods.
Outdoor light fixtures can brighten your entrance area, illuminate a balcony, or shed light on the poolside.
The following section explores the different outdoor lighting styles and highlights types, sizes, features, and helpful hints.
Remember that outdoor lighting fixtures tend to last more than a decade, so it's important to make sure you are making the right decision for your outdoor space.
Explore exterior house lighting designs
There are a variety of designs to study for exterior lighting. Before making a rash purchase, determine which outdoor light design you desire for your space.
Traditional, transitional, and contemporary are the three most common outdoor lighting styles. Additionally, industrial, farmhouse, and craftsmen are the other types.
Traditional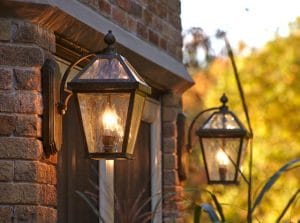 Outdoor lights are frequently ornate, with elegant decorative touches such as curving hooks and flourishes. Traditional outdoor lights have styles inspired by classic decor eras, such as Colonial or Craftsman.
Transitional
These outdoor lights have some design elements in common with traditional lights, but they are not as ornate. As a result, they are very adaptable to a wide range of homes.
Modern
These outdoor lights have a streamlined and minimalist design, often with geometric accents. Innovative designs enabled by LED lighting are standard.
Craftsman
These outdoor lights (also known as Mission outdoor lights) have a clean, simple design with Spanish and Art Deco influences. You can also find amber-colored or specialty art glass options.
Industrial
The style of these outdoor lights takes influence by factories from the early twentieth century. Popular shades are made of solid metal and cage details. Coastal outdoor lighting involves rust-proof items that are also industrial elements.
Farmhouse
These outdoor lights combine traditional and vintage style elements to create a flawless lighting appearance and a popular country flair.
Choosing the right size of outdoor lighting
Wall Lights for the Front Porch:
This is usually the most visible fixture on your property, so it's important to select appropriately. Here is a quick formula:
If you're using only one fixture, the light should be about one-third the height of the door.
Suppose you're going for two light fixtures on either side of the front door, the wall lights you use can be as little as one-quarter the height of the door.
If you have two front doors, go a size up. Remember that most customers select a light too small for their space, particularly when it comes to porch lights and patio wall lights. Use the preceding rules as a guide.
You might find it helpful to cut out a piece of paper the size of the light you are thinking about buying, tape it to your wall, and then stand back to get a sense of how it will look installed in place.
Hanging and ceiling lights
Select a design proportional to the size of the covered porch or patio.
Check if your room is tall enough to accommodate a hanging lamp.
Use a ceiling-mounted light for lower ceilings.
Piers mount lights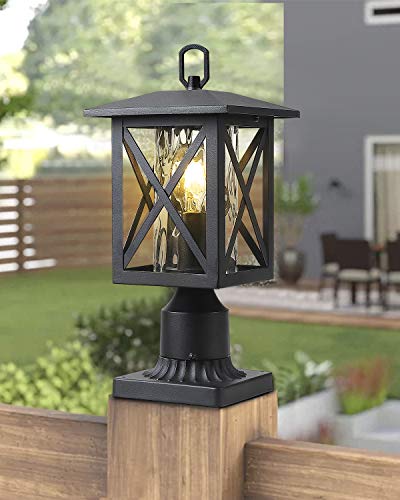 Depending on the number of bulbs, fixtures may be of varying sizes.
The standard height for post-mounted designs is 84″ (or 7 feet).
Anatomy of Outdoor Fixture:
Finial: An ornamental decoration at the top or bottom of a light fixture.
Glass panel: It shades the light sources of the chandelier.
Glass Holder: The glass holder or cup connects the glass panels, the frame, and the light source.
Roof: A stylized roof protects the fixture's lights.
Fitter: Sometimes known as a post cap. It is a device that secures a light fixture to a post (post lights only).
Cage frame: A structural element that holds the glass panels to form the fixture's shape.
Are these lights long-lasting?
If you're going to use an outdoor wall light or post light, make sure it's certified for use in direct rain and weather exposure.
Also, if you're hanging a lamp beneath a covered area, like a porch or a roof overhang, it should have a damp rating.
Choose an exterior house lighting fixture constructed of durable materials for harsh weather environments and high humidity regions such as beach and lake residences.
Other useful information
For lights used in covered locations, look for a UL damp location certification. Wet location ratings are required for lights directly exposed to the weather elements.
If you're lighting a seaside property, choose fixtures with durable marine-grade resin or solid metal, which are more resistant to salty air.
So, before purchasing outdoor lights, check your local and state regulations, as well as restrictions from your homeowner association. There might be specific rules regarding light pollution or energy efficiency about outdoor lighting.
For example, you should use Dark Sky certified fixtures to restrict the overall illumination in your house.
Dark Sky illumination prevents light pollution, obstructing our view of the stars, disturbing ecosystems, and altering human circadian cycles.
Also, you may look for Energy Star outdoor fixtures, which consume significantly less energy and help you save money and the environment.
Conclusion
Exterior house lighting is not simply a light source for a specific lux level, it defines the perspective of your house, and determines the aesthetics and style of your space and environment.
This article offers a guide to help you choose from a wide variety of options on the market, to select several high-quality types that can satisfy your operational, safety, and ambiance desires.