More Information
Reclaim Energy Heat Pumps – Product Review
As energy prices continue to rise in Australia, homeowners are increasingly looking to heat pumps as an efficient and cost-effective way to heat and cool their homes. One Australian company leading the way in heat pump technology is Reclaim Energy.
Based in Melbourne, Reclaim Energy manufactures high-quality heat pumps that leverage the latest innovations to deliver outstanding performance and energy savings for Australian homes.
In this review, we'll take an in-depth look at Reclaim Energy's heat pump models and find out how they can benefit Australian households.
An Overview of Heat Pump Technology
First, let's start with a quick overview of how heat pumps work. Heat pumps move heat rather than generating it directly like traditional heating systems. During winter, they extract heat from the outside air and concentrate it indoors. In summer, the process is reversed – heat is extracted from the indoor air and released outside.
This enables heat pumps to provide up to four times more energy than they consume in electricity. Modern heat pumps use refrigerants and compressors to transfer heat between indoor and outdoor coils efficiently. Variable-speed inverters further optimize the system by allowing it to adjust cooling or heating output to match the current demands.
The result is an extremely energy efficient heating and cooling solution. Heat pumps can potentially reduce total home energy consumption for climate control by up to 50 percent.
Introducing Reclaim Energy's Heat Pump Range
Reclaim Energy offers three heat pump models for Australian homes – the Reclaim REHP, REHP CO2, and REHP R32. All three utilize state-of-the-art components and intelligent controls to deliver superb performance. Let's look at the key features and benefits of each system: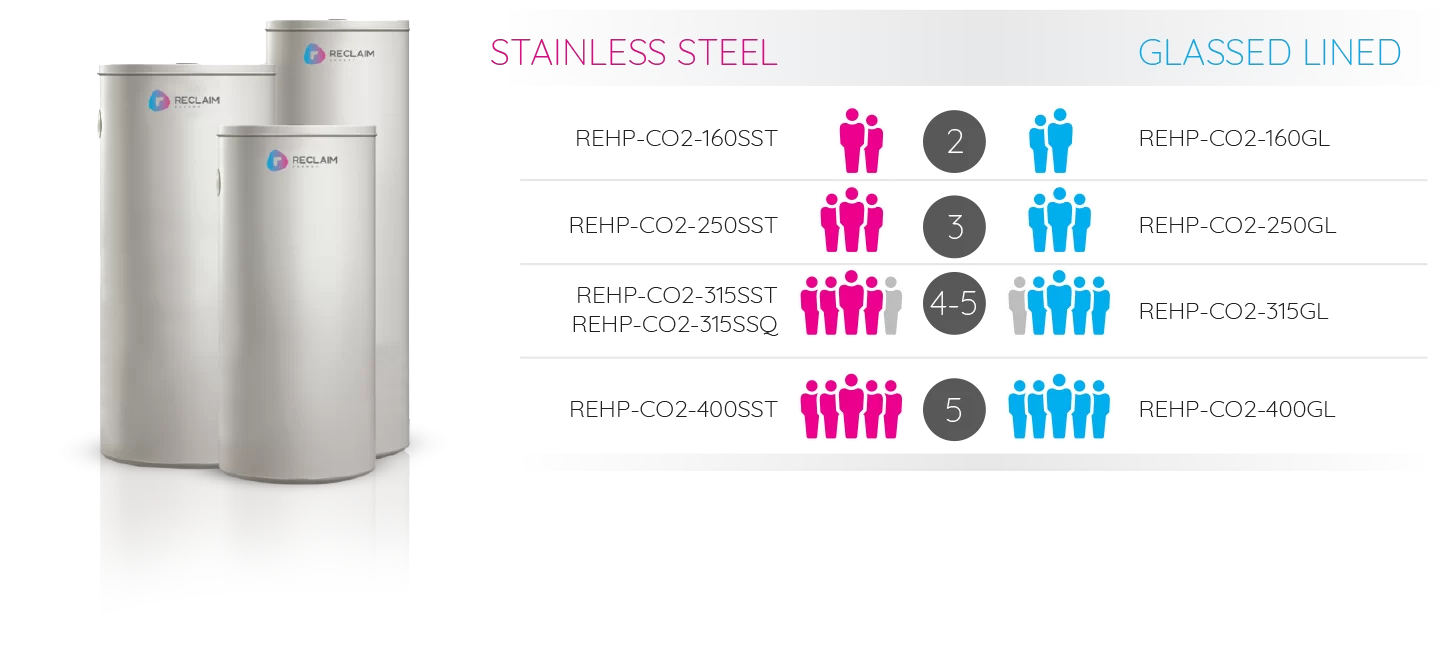 Reclaim REHP
Capacities: 3kW, 5kW, 7kW, 8kW, 10kW, 12.5kW
Refrigerant: R410A
Heating mode temperature range: -15°C to 24°C
Cooling mode temperature range: 10°C to 46°C
DC inverter variable-speed compressor
Whisper-quiet operation (48 dB)
Built-in Wi-Fi for app monitoring and control
The REHP uses the reliable R410A refrigerant and a high-efficiency DC inverter compressor to provide quiet, economical heating and cooling. Impressive operating temperature ranges allow it to cope with harsh Australian winters and scorching summers. The built-in Wi-Fi makes remote control and monitoring straightforward using the Reclaim Energy app.
Reclaim REHP CO2
Capacities: 3kW, 5kW, 7kW, 10kW, 12.5kW, 16kW
Refrigerant: Natural R744 CO2 refrigerant
Heating mode temperature range: -25°C to 24°C
Cooling mode temperature range: 10°C to 48°C
Triple injection inverter rotary compressor
Extremely quiet operation (41 dB)
Seven operating modes
Built-in Wi-Fi and advanced controls
The REHP CO2 sets itself apart by utilizing natural R744 refrigerant (CO2). This provides even greater efficiency with minimal environmental impact. The triple injection compressor and 7 operating modes allow superior temperature control and energy savings. Despite its power, it achieves ultra-quiet operation down to 41dB.
Reclaim REHP R32
Capacities: 5kW, 7kW, 8.5kW, 10kW, 12.5kW, 14kW
Refrigerant: Low global warming potential R32
Heating mode temperature range: -25°C to 24°C
Cooling mode temperature range: -15°C to 48°C
High-density heat exchanger
Two-stage rotary compressor
Built-in Wi-Fi app control
Reclaim's REHP R32 also utilizes an environmentally responsible refrigerant – the low global warming potential R32. Combined with its two-stage compressor and high-density heat exchanger, it achieves high energy efficiency ratings up to A+++ and excellent heating capacity even in freezing conditions.
Advanced Control Features
In addition to built-in Wi-Fi for app monitoring and control, Reclaim Energy heat pumps come with advanced control capabilities. These include:
Auto-restart after power outage
Timer functions
Sleep mode
Adjustable fan speeds
7-day customizable schedule
Air ionization
Self-cleaning and dry mode
Remote temperature sensors
Zoned temperature control
Such extensive control options allow you to set the perfect environment in your home while minimizing energy consumption. Some models even have zoned temperature control so that different areas in your home can be heated or cooled to different levels simultaneously.
Stellar Energy Efficiency Ratings
Reclaim Energy heat pumps achieve stellar energy efficiency ratings thanks to their state-of-the-art design. For example, the 12.5kW REHP CO2 model boasts an A+++ heating efficiency rating and an A++ cooling efficiency rating. This makes it over 500% more efficient than a ducted gas heater!
Such high efficiency translates into dramatically lower running costs compared to traditional heating and cooling appliances, so just how much can you save?
Cost Savings with Reclaim Energy Heat Pumps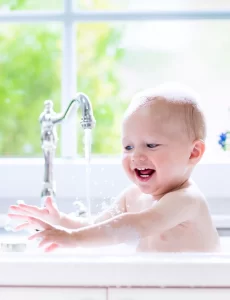 Let's compare running costs between a Reclaim REHP CO2 heat pump and a mainstream ducted gas heating system to demonstrate the savings potential.
For the purpose of this comparison, we'll consider a 200 square meter, 2 story home in Melbourne using a 30kW ducted heater that runs on natural gas with 70% seasonal efficiency rating.
For an average winter's heating in Melbourne, the gas system would consume around 11,500 kWh of gas. With gas prices around $0.20 per kWh, that equates to $2,300 in heating costs for the winter.
Powering a 12.5kW Reclaim REHP CO2 heat pump under the same conditions would consume around 2,500 kWh of electricity. Assuming an electricity rate of $0.25 per kWh, that's just $625 in heating costs for the winter.
As such, you can see that the Reclaim heat pump can cut winter heating bills by around 75% compared to ducted gas. Factoring in lower maintenance and service costs, the savings with a heat pump will be even greater.
Even greater savings are achievable in the summer with the Reclaim system providing highly efficient air conditioning. Let's look at an example summer cooling cost calculation:
Ducted evaporative cooler running costs: $600
Reclaim 12.5kW heat pump running costs: $300
Annual savings on cooling: $300
Adding up winter and summer savings, you could save an average of $1,975 a year on energy bills by switching to a Reclaim heat pump system. With these types of savings, a Reclaim heat pump can pay for itself in just a few years.
Installation Options
Reclaim Energy heat pumps offer flexibility in how they can be installed:
Split system: The outdoor and indoor units are connected via refrigerant piping and power cables. This allows the indoor unit to be positioned in an ideal spot.
Monobloc: A single outdoor unit contains the entire heat pump system. This provides a simpler installation without requiring access inside the building.
Ducted: The indoor unit integrates with existing or new ductwork to deliver heating or cooling to multiple rooms.
Final Thoughts
Reclaim Energy is reshaping home climate control in Australia with its innovative heat pump systems. Harnessing the latest technology and intelligent controls, Reclaim heat pumps set new standards for efficiency, comfort, and convenience.
With the potential to slash heating and cooling bills by 50% or more, a Reclaim heat pump provides a rapid return on investment.
In addition, you'll enjoy whisper-quiet, perfectly comfortable temperatures all year round. So, if you're looking for a world-class heat pump solution made right here in Australia, Reclaim Energy should be your first choice. Contact them today to discuss your needs and find out how much you could save.