Our growing dependence on technology and tech innovations for commercial and personal purposes has greatly increased the global energy demand.
We're consuming energy at an alarmingly increasing rate, for air conditioning systems, water and space heating systems, house appliances, and a wide variety of devices.
Energy is essential and is used for all different establishments and in all sectors. Business operations are always ongoing, infrastructural systems are continuously operational, and vehicles keep on moving.
Moreover, this high consumption and constant energy use are coming at great health and environmental costs and the world is facing a pressing need to transform its energy strategies.
On the other hand, there are large populations worldwide lacking basic access to energy and energy services.
This discrepancy necessitates the need for tech innovations in both consumption and worldwide access to energy. This will effectively and efficiently meet the needs of populations worldwide.
Also, it will contribute to climate change and reverse the detrimental effects on health and the environment.
Effectively, the need to develop and deploy low-carbon technologies has recently become a major strategy for governments and businesses worldwide.
This article will go over seven smart tech innovations that are currently changing the energy efficiency game
Solar panel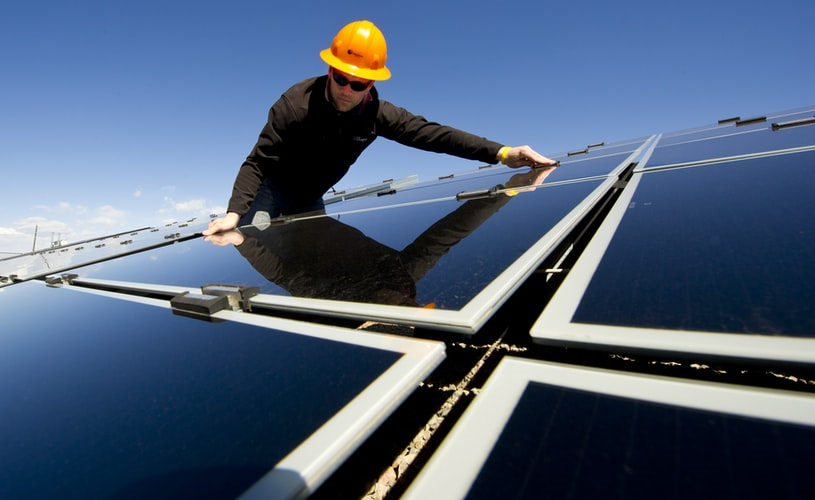 Generating electricity through the conversion of sunlight to energy is no longer a novelty technology.
In many developed countries around the world, solar energy has become a leading source of electricity. It is currently a lower-cost energy alternative as compared to traditional forms of production.
Solar arrays are an assembly of photovoltaic cells mounted on a specific framework structure, converting energy from the sunlight into thermal or electrical energy.
Typically, solar power is generated using ground or roof-mounted. However, thanks to advancements in technology, solar panels are set to become lighter, more flexible, and usable everywhere.
LED lights
Light-emitting diodes are semiconductors that produce light when current passes through them. Led Lights have undergone major improvements over the past decade.
LED lights are energy-saving. Switching to these types will considerably cut down on your energy consumption and reduce the electrical bill.
However, LED lights offer far more benefits beyond reduced bills. They have longer lifespans, offer smartphone control, and the capacity to create and produce innovative light shows.
Some of the other benefits of LED lights include:
To give people the possibility of making their homes eco-friendly, several manufacturers have released plug sockets that can flip a regular light into a smart light. This can help offset the cost of switching to smart technology.
Technology has allowed the commercial production of Wi-Fi-enabled LEDs, along with the development of user-friendly phone applications to operate the lights. Consequently, these features allow for very easy, practical, and smooth control of the lighting fixtures.
A few years back, you needed to shop for colored light bulbs to create a multi-color mood. Today, however, color-changing smart bulbs give you absolute control over the color hue cycle. They work with bulbs offering all colors from white light to full ranges of color.
Home energy monitors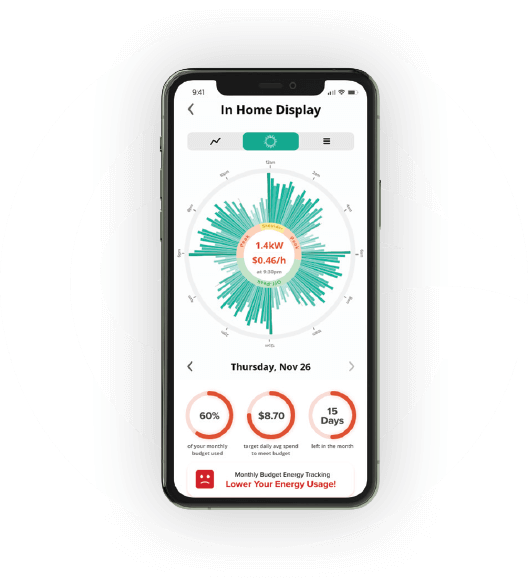 These devices help you monitor your home energy consumption as well as your solar production via phones, tablets, computers…
It also helps control consumption and saves on monthly electricity bills, with major potential savings.
A home energy monitor is a device that fits into your electrical panel. The unit monitors energy consumption throughout the home, displaying energy use patterns and data.
It gives you an accurate picture of the amount of energy your home uses. Hence, this assists you in breaking down your bill and giving you control on where and how to limit the consumption.
A home energy monitor will even provide you with a baseline of electricity consumption once appliances are not in use, as well as data on the percentage energy use of each appliance.
Wind energy power
Wind energy uses natural wind power to generate mechanical motion in wind turbines, in turn spinning electric generators to produce electrical power.
Now, wind power is a popular renewable energy source. It has a much lower environmental impact when compared to fossil fuel production methods.
It is inexhaustible and reduces the utilization of fossil fuels; producing electricity through wind energy contributes to sustainable development.
Longer blades and taller towers are the most significant factors to increase wind turbine productivity.
Electric Vehicle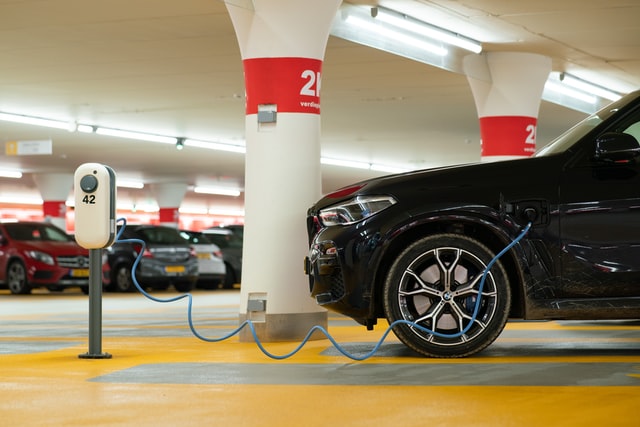 The larger demand for transportation has increased pollution emissions like carbon monoxide, hydrocarbons, nitrogen oxides, volatile organic compounds, and sulfur dioxide.
These emissions have stark health and environmental repercussions and we need to heavily restrict them to maintain good air quality.
So, this necessity has driven the automobile industry to develop lightweight, high reliability, high efficiency, low noise, and low vibration vehicles.
An electric vehicle uses electric or traction motors to propel force. So, we can power an electric vehicle through electricity or self-contained with solar power, fuel cells, and an electrical generator to convert fuel to electricity.
Just like a smartphone, your electric vehicle has batteries that require charging to maintain continuous operation.
The proper infrastructure of EV chargers offers various options for charging either at work or on the road.
Electric vehicles greatly reduce carbon emissions that contribute to global climate change, reduce the environmental impact and improve public health.
Smart Grids
Energy companies and grid operators are always looking for ways to lower the cost of access and transmission of power.
Generation decentralization is offering new business models and processes. This necessitates not only improving the physical infrastructure but also making the grid smarter and better connected.
Smart grids, among recent tech innovations, enhance communications between utilities and customers, and effectively the grid. Its operators share information about electricity use more accurately. Besides, they balance power supply and demand, driving much-needed improvements to grid operation.
A smart grid also allows a two-way flow of electricity and data with digital technology. This highlights and anticipates usage as well as potential problems.
Benefits of Smart grids include:
More efficient transmission of electricity;
Reduction in peak demand, which can contribute to lowering electricity rates;
Accumulated integration of large-scale renewable energy systems;
Hydrogen Cells
Hydrogen and fuel cell technologies have significant potential to modify transition to a clean, low-carbon energy system.
The gas hydrogen produced from renewable sources can be stored at a very high energy density in liquid or gaseous form.
It is combusted or utilized in fuel cells to produce heat and electricity for a wide range of applications. For example, for heavy industries, chemical plants, and transportation.
Hydrogen-powered fuel cells store a lot of energy at low weights.
This makes them an ideal solution for heavy cargo vehicles that travel long distances, and also an option in mobile applications to power vehicles.
In short, hydrogen fuel cells could help the planet meet its goal of decreasing carbon emissions by 60 percent.
Hydrogen-powered vehicles are already available in countries like Japan, South Korea, the USA, and Germany.