While the motor is arguably the important thing to consider while purchasing a ceiling fan for your home, you also want to have something attractive for your guests, and this is where the best LED light for ceiling fans comes in.
Today, many modern ceiling fans have integrated lighting to light your room. This minimizes the flickering effect that results from the fan's blade spinning past the installed lights.
Selecting the right LED light for a ceiling fan is great if you want to enhance your home décor. We have a roundup of quality LED lights for the ceiling you can consider.
How do LED light work on a Ceiling Fan?
Many ceiling fans are wired using a double or single switch. If it has a single switch wiring, the fan's power is controlled using a wall switch. With double switch wiring, the light in the fan has a double switch wall connection that controls the fan's power and the light separately.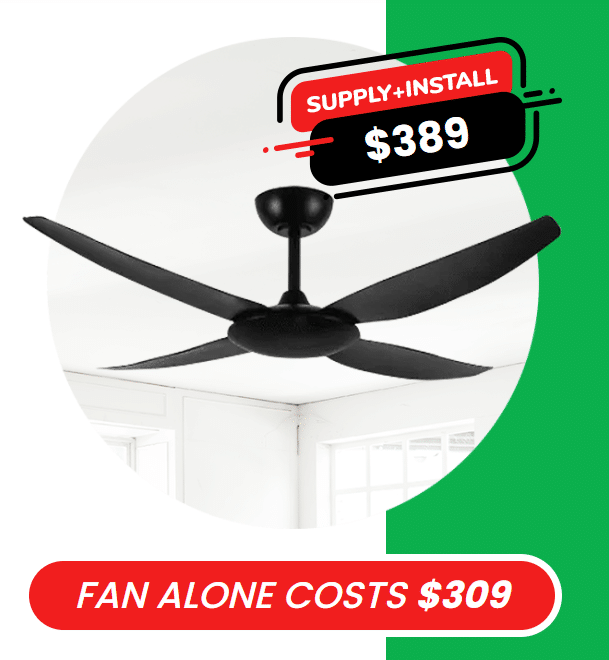 Supply and installation of ceiling fans to simplify the process of getting a ceiling fan installed in your home.
What Are The Benefits Of LED Ceiling Fans?
---
Equipping your living room ceiling fans with LED light has many benefits. Some of these benefits include:
Decorative purposes
Ceiling fans come in different styles and designs for decorative purposes. You can choose the right one to suit your home décor needs. Whether you need ancient roman, Victoria style, or Italian style, you can choose the one that suits your interior décor and give it lighting functionality at the same time.
Maximize space
Installing floor lamps or other types of lights can take up valuable living space. If you want to optimize space, you can install a fan with integrated light. Not only does it provide light, but it also creates extra space for more decorations.
Energy efficiency
Many ceiling fans have energy-efficient lamps so you do not have to spend more.. It works as both a light and fan, which helps in keeping your energy bills low.
Uniform heat distribution
Since many fans are installed at the center of the room, they provide uniform heat distribution. Unlike wall fixtures, ceiling fans with lights provide uniform light distribution to all parts of the room.
Flexibility
LED lights for ceiling fans are flexible to use because you can brighten or dim them as per your requirements.
Reduced power cord
Installing LED lamps on the ceiling destroys the structure of the ceiling. Installing LED lights on ceiling fans provides minimal contact between the ceiling and the lamps. In addition, there are reduced power cords, which helps avoid too many wire connections that are prone to malfunctions.
Other benefits
Long-lasting
Efficient
Great for indoor and outdoor use
6 best-LED light for ceiling fans summary
Best LED light for ceiling fans reviews
---
Choosing the right LED light for your ceiling fans can be overwhelming because there are many options on the market. It is wise to consider the type of fan you have to enable the best choice for your space. Below are top reviews of recommended LED lights for ceiling fans.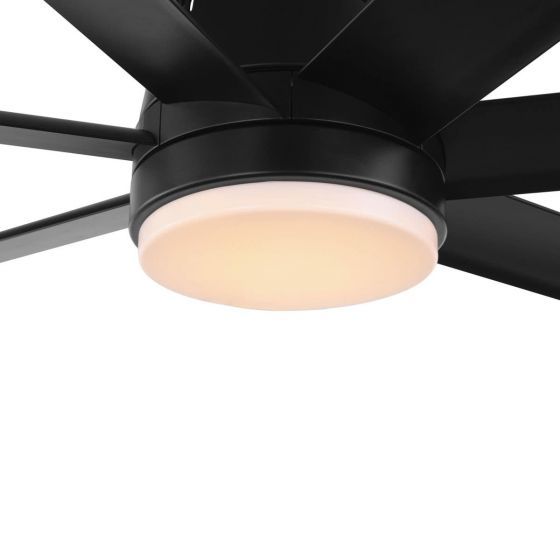 Improve your home's décor with this ceiling fan light kit. It features an energy-efficient 18W LED that produces up to 1300 lumens of brightness. The ceiling fan light kit has a 4000K cook white temperature.
The kit is purposely made for Eglo Tourbillion 60-inch and 80-inch ceiling fan range. Therefore, do not use it for other ceiling fan types. You can find the light kit in different finishes to blend perfectly with your décor.
Key Features
18W energy-efficient LED
4000K cool white color temperature
1300 lumens
Remote control
Different finishes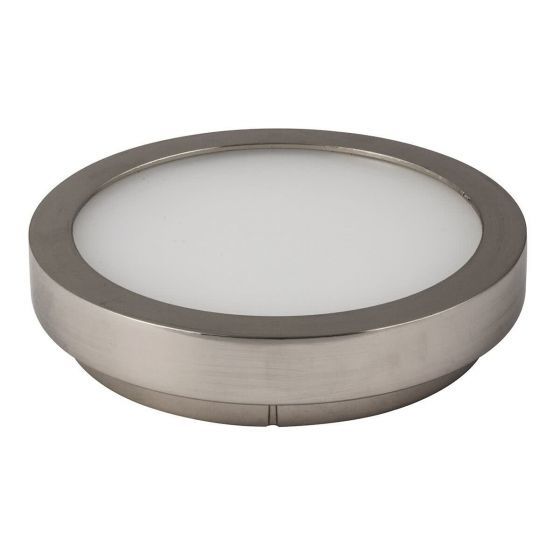 This good-looking LED fan light kit comes in black, nickel, and white colors. The 12W LED light kit works perfectly with Aluma ceiling fans and Brilliant Concorde-II fans. The kit produces a maximum brightness of 750 lumens with 4000k cool white color temperature. It takes the part of the base cap of the ceiling fan motor.
Key features
12W LED light
750 lumens output
IP44 weatherproof rating
4000K natural white color temperature
135mm diameter
If you have Brilliant Hercules ceiling fan, this fan light kit is the one for you. The 18W light kit is powerful and energy-efficient. It provides a maximum brightness of up to 1100 lumens, enough to light up your living room.
The light has a cool white color temperature of up to 4200K. The light is dimmable and has a nice design to enhance the look of your ceiling.
Key features
18W energy-efficient LED
1100 maximum brightness
4200K cool white color temperature
30mm depth
Dimmable
Enhance the look of your Waikiki fan with this beautiful ceiling fan light kit. It provides a perfect way to add a nice central light to your rooms. The light kit has standard E27 globe sockets that make it easy to change the bulbs. In addition to the ceiling fan height, this light has an extra 152mm height.
Key features
374mm diameter
Frosted glass
Easy fitting connectors
3x E27 40W max lamp holders
Upgrade your fan ceiling light kit with this modern slimline design. This fan light kit is designed for Brilliant Como ceiling fans. The 20W LED provides a higher lumen output with lower wattages. It integrates perfectly with the ceiling fan. This light is dimmable and can change from 300K, 4200K, and 6000K to suit your requirements.
Key features
Dimmable
20W LED
Tri-color technology
1200lm brightness output
180mm diameter
54mm height
This is a durable fan light kit made of stainless steel. It is best suited for an Atrium fan. The fan light kit features a modern design with an opal glass diffuser. If you live in coastal locations, this fan light kit is the best for you. It is great for E27 globes up to 40W. Since it doesn't come with a globe, you need to buy one separately.
Key features
Opal glass diffuser
316 stainless steel finish
1 x E27 40W max lamp holder
Things to consider when buying LED lights for ceiling fans
Buying the wrong LED light for ceiling fans can be a waste of money. Therefore, you should select the right product that fits perfectly in your current ceiling fan. Below are some factors you should consider.
1. Bulb size
If you have an already installed fan, it is great to measure its base to help you determine the type and size of the bulb to purchase. You can choose from different types of ceiling light bulbs that include medium, intermediate, candelabra, and mini candelabra.
Intermediate and candelabra are the most common. Mini candelabra works well for new ceiling fans while medium types are for older ceilings.
2. Color temperature
Apart from the brightness of the bulb, you should consider the color temperature. Choosing the right color temperature depends on your individual needs. It can vary from 2700K-6500K. Whether you need warm, white, or yellow light color, you can choose the desired color temperature.
3. Wattage
The wattage determines the performance of the bulb. It is great to choose the right light with enough wattage to suit your needs.
Frequently asked questions
---
How can I make my fan light brighter?
You can do that by purchasing bulbs that provide warmer colors. In addition, you can look for bulbs that emit higher lumens. Check the specifications of the bulb before you purchase.
Do ceiling fans require special light bulbs?
No, you do not require special bulbs when dealing with ceiling fan lights. The regular bulbs can work well if you choose the right wattage and socket size.
How can I tell the type of bulb that works well for my ceiling fan?
You can check your user manual to find out the right bulb that is compatible with your ceiling fan. If no user manual is available, check the socket where it indicates the ideal bulb size and wattage.
Conclusion: Best LED lights for ceiling fans
Upgrading or even replacing your LED light for ceiling fans can be confusing. The most important thing you should consider is the LED light compatibility to your installed ceiling fan.
At this point, I hope you understand how ceiling fan lights work, their features, benefits and how to choose the right one.
We have also given you some top recommended LED lights for ceiling fans that you should consider. With this information, picking the most suitable product that matches your needs should be easy.
The wide range of ceiling fans available on the market provides a large selection of styles and designs, as well as an extensive range of feature-rich components.
Selecting the most suitable fan for your home, both with a sleek and attractive design on one hand and cutting-edge technology on the other, can be a challenging task.
To help you in your selection, we have hand-picked the 10 best ceiling fans to buy in Australia, listing for each the most significant components and style options, to accommodate varying price ranges.
Although most ceiling fans will perform well, there are a few features to consider when deciding to add one to your home. This article will guide you towards the features worthwhile to invest in and point out which features are not worth the investment.
Ceiling fans help you relax by circulating air throughout the room and minimizing humidity. Fans, unlike air conditioning units, have little effect on the room's actual temperature, but still work to make the body more comfortable.
What is a Ceiling Fan?
Ceiling fans are electrical appliances used as means of air circulation. They are installed on the ceilings of rooms and powered by an electricity source.
Over time, ceiling fans have significantly evolved as new and advanced features have been incorporated.
This evolution resulted from changing trends among people and environmental requirements.
6 best places to use ceiling fans
Wherever you go today in Australia, you will come across ceiling fans. The hot weather often drives people to seek sustainable cooling solutions, and ceiling fans fit this bill.
Here are a few places where ceiling fans can be a great fit for space cooling.
1. Bed Rooms
Ceiling fans have become a mandatory part of bedrooms. They not only provide you with a comforting room environment but contribute to overall room décor.
That's why people are leaning towards fancy and stylish ceiling fans to enhance their interior décor.
2. Living and Dining Rooms
We spend a good portion of our day in the living and dining rooms in our homes.
This is where families gather to share worthwhile moments and enjoy meals together.
Such moments in summers are incomplete without refreshing air circulation and cooling.
This is where an efficient ceiling fan comes into play. Having a well-chosen ceiling fan in your living and dining rooms also speaks a lot to your guests about your lifestyle.
3. Corporate Offices
In your offices and corporate spaces, you can fulfill your space cooling needs by installing ceiling fans.
A refreshing space demonstrates a welcoming experience to your staff and clients. This is why corporate offices tend to purchase ceiling fans and other accessories as part of their interior décor.
This enhances the overall outlook of your office setups.
4. Shopping Centers
Ceiling fans are very popular in shopping centers today. Shops often get too crowded with customers, which can lead to a suffocating experience both for sellers and customers.
Having high-performing ceiling fans at shopping spots enhances the customer experience and keeps everyone comfortable.
Such a maintained shop environment encourages customer retention leading to a flourishing business.
5. Classrooms
A comforting classroom environment adds to the students' learning capabilities. In stressful and demanding class situations, good space cooling enables students to have a pleasant learning experience.
Ceiling fans are a must-have for classrooms today. Depending upon the size of the classroom, you can install multiple ceiling fans to cover the entire room dimension.
6. Waiting Areas & Lobbies
Waiting is hard enough as it is—to make a more pleasant experience for visitors, you can use ceiling fans in waiting rooms and lobbies to ease the waiting time.
Be it offices, clinics, or other corporate spaces, lobbies often get too crowded. This projects a negative impression of your organization if the area is stuffy and warm.
Having good ceiling fans installed in waiting areas and lobbies radiates a professional image to your visitors and customers.
10 Best Ceiling Fans Summary
10 Best Ceiling Fans Reviews
A great variety of ceiling fans is available today to enhance your lifestyle. Scroll through to find the ones, that are most suitable for you and your needs.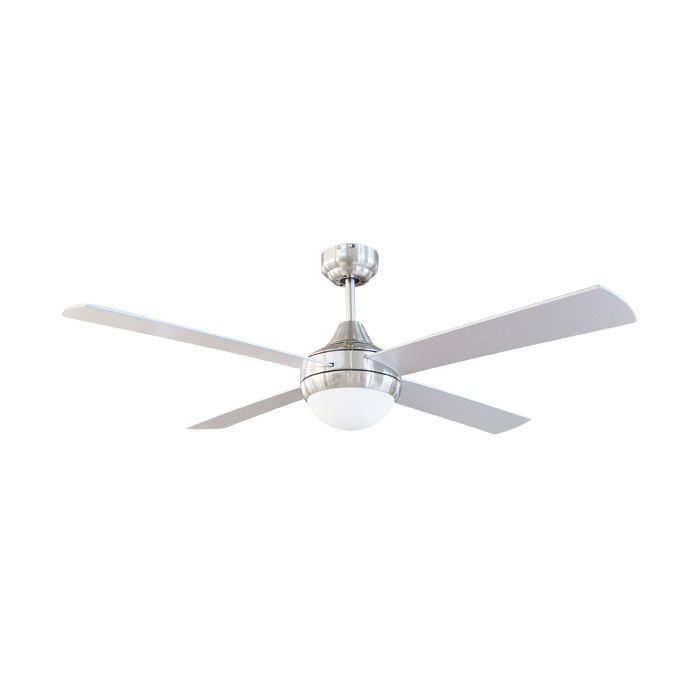 The Tempo ceiling fan is a smart choice for your space cooling needs.
This fan has silver plywood timber blades enhanced with a brushed chrome finish. It comes with a 3-speed switch that is compatible with most Australian wall plates.
It is a fine option, specifically for indoor uses, and it suits traditional as well as modern décor.
Key Features
240v power rating
Frame made of durable steel
Total fan height of 394 mm
Blade size of 48" = 1220 mm from tip to tip
ASA – Australian Standards Approved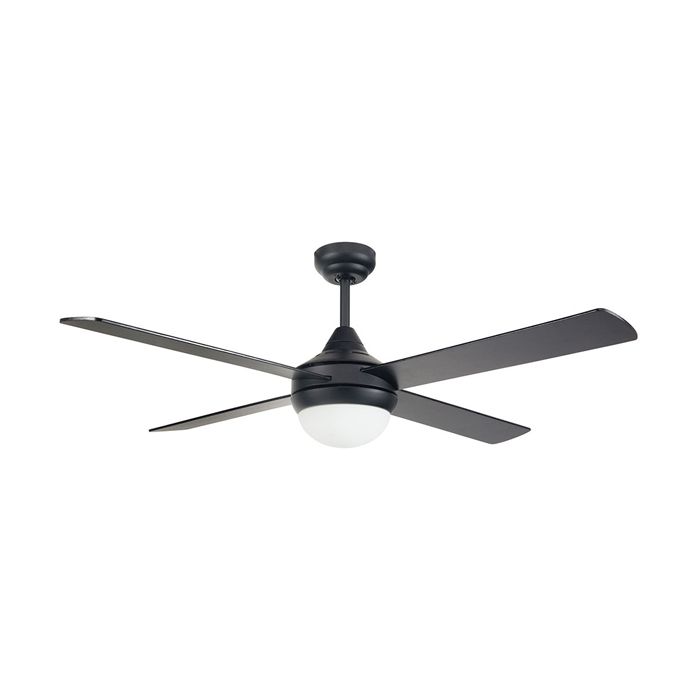 The Azure ceiling fan is a simple and smart option to consider.
It has a white frame that is complemented with timber plywood blades.
The Azure fan also comes with a beautifully incorporated color changing LED to light up your space too.
The appealing blade color and LED light make this Azure fan a great addition to your décor as well.
Key Features
240v power rating
Strong frame made of steel
Total height of 400 mm
Blade size of 48' = 1220 mm from tip to tip
18W color changing dimmable LED globe
ASA – Australian Standards Approved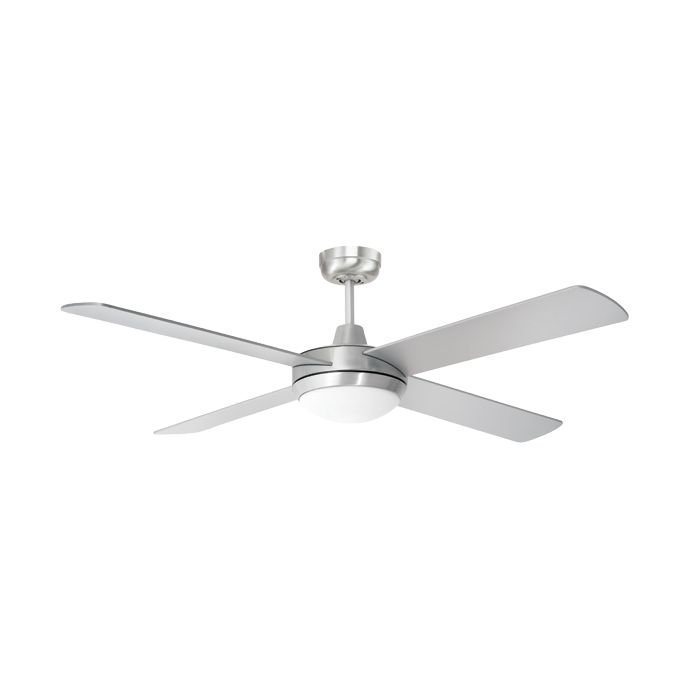 This Tempest ceiling fan is an economical ceiling fan with a brushed aluminum finish.
The Tempest 52" has a minimalistic design that gives it a sleek and modern look.
The addition of a color-changing LED to this fan makes it an alluring item for indoor usage.
This Tempest fan is a great choice for you if you intend to install it specifically in a light-colored interior space. Where it would transform your space décor, the Tempest will be a refreshing solution for your space cooling purpose.
Key Features
240v power rating
Frame made of Diecast Aluminium
Total height of 350 mm
Blade size of 52" = 1320 mm from tip to tip
18W 1600LM color-changing LED globe
ASA – Australian Standards Approved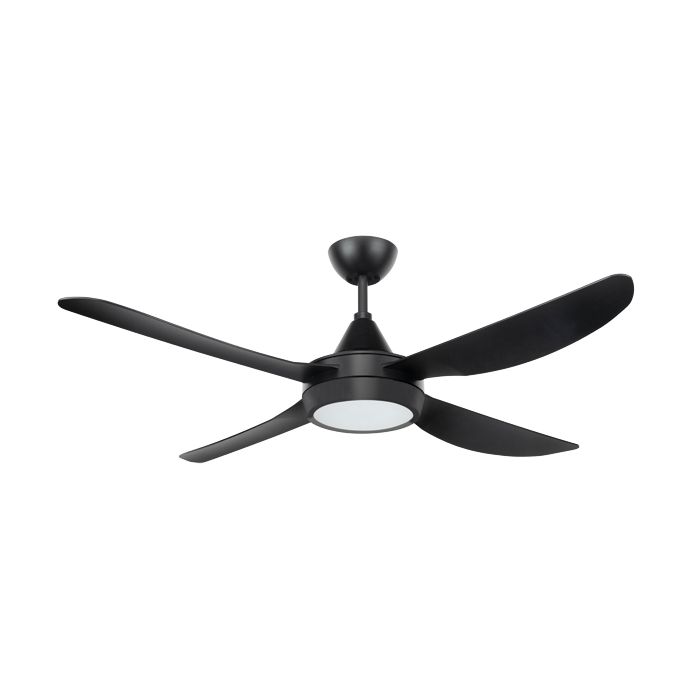 The Vector ceiling fan gives an optimum volume of airflow.
The Vector 52" comes with its body and canopy made up of ABS (Acrylonitrile Butadiene Styrene), which makes it a rust-free appliance. It also comes with an LED that fulfills your space lighting needs too.
This Vector ceiling fan is a preferable option for indoor and outdoor needs. With its dominant black finishing and stylish blade design, it is a fancy item for corporate décor too.
Key Features
240 v power rating
Frame made of rust-free ABS
Total height of 376 mm
Blade size of 52" = 1320 mm from tip to tip
20W 1000LM non-dimmable LED globe
ASA – Australian Standards Approved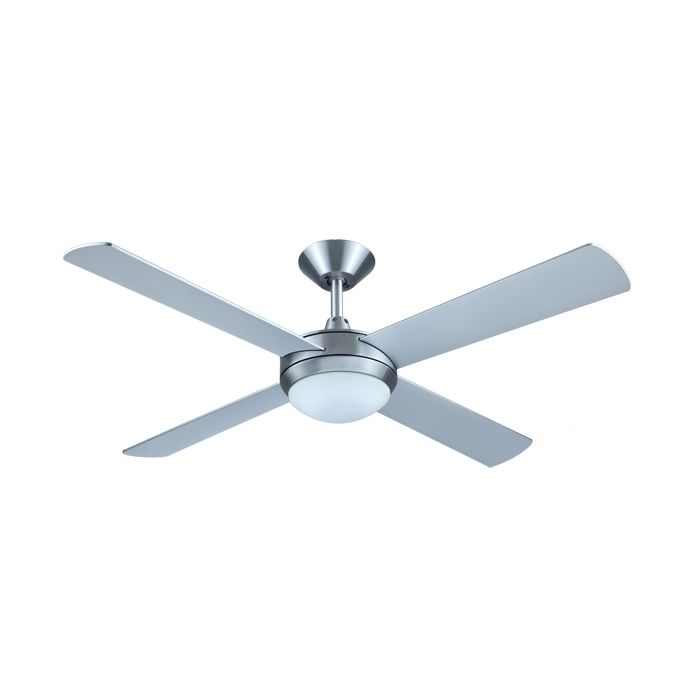 The Intercept2 ceiling fan has a simple shape and design, sure to fit in any space.
Its silver plywood timber blades have a modern touch, which makes it suitable for your personal as well as corporate interiors.
It is among the best options available when it comes to purchasing a fancy ceiling fan. The incorporation of a dimmable LED gives this Intercept2 ceiling fan an edge over traditional ceiling fans in the market.
Key Features
240v power rating
Body and canopy made up of Diecast Aluminium
Total fan height of 293 mm
Blade size of 52" = 1320 mm from tip to tip
24W dimmable color changing LED globe
ASA – Australian Standards Approved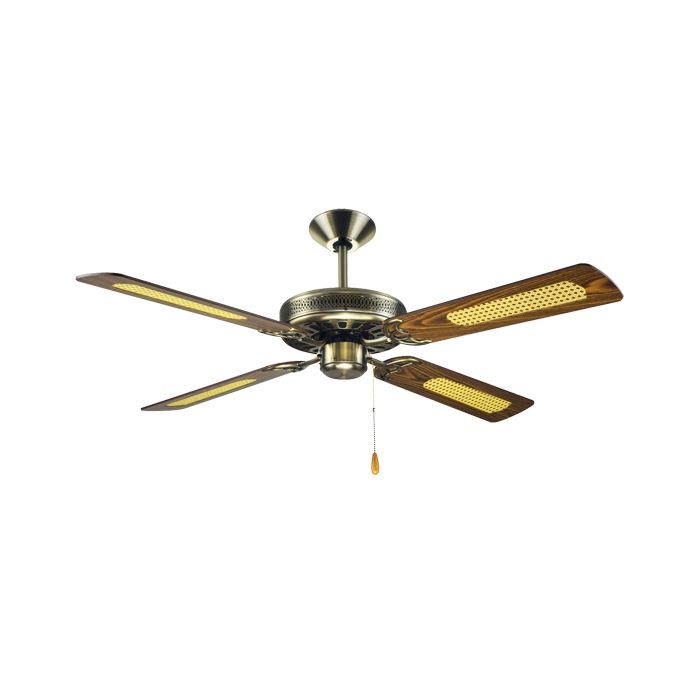 The Majestic Coolah Timber 4 Blade Ceiling Fan is an elegant ceiling fan with a traditional design. The Majestic Coolah has walnut plywood timber blades that give it a regall look to enhance your ceilings. It is a worthwhile option for your indoor needs.
This fan is an economical, yet fancy ceiling fan that offers you elegance and comforting space cooling. It stands out from the rest of the ceiling fans in this budget-friendly price range.
Key Features
240v power rating
Elegant frame made up of pressed steel
Total fan height of 350 mm
Blade size of 52" = 1320 mm from tip to tip
ASA – Australian Standards Approved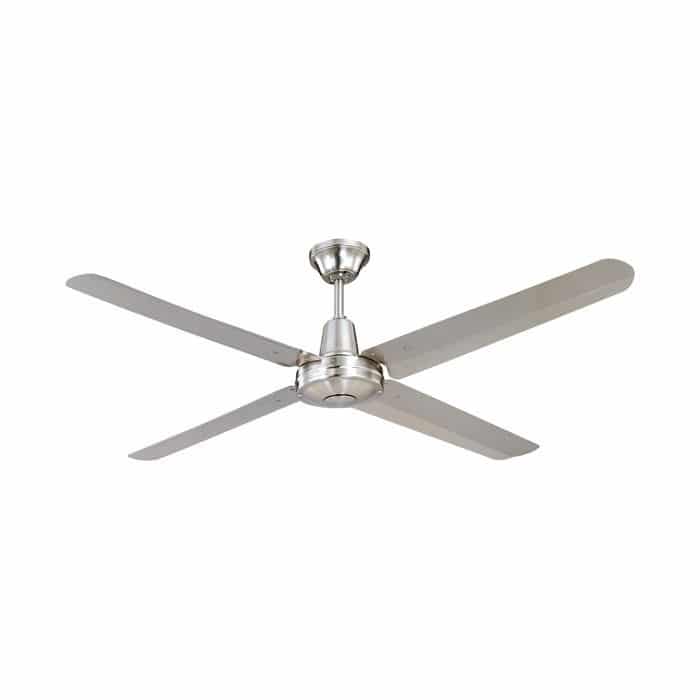 The Typhoon Ceiling Fan is a magnificent ceiling fan with striking, but simple look.
A great feature of this Typhoon fan is its stainless steel blades enhanced with professional 316 stainless steel finishing. This prevents it from the risk of corrosion and pitting.
The shiny exterior and simple design make the Typhoon M3 fan a great option for modern décor. It fulfills indoor and outdoor space cooling needs by providing a relaxing airflow, being a great antidote to blazing hot weather.
Key Features
240v power rating
Frame made up of 316 stainless steel
Total fan height of 335 mm
Blade size of 48" = 1220 mm from tip to tip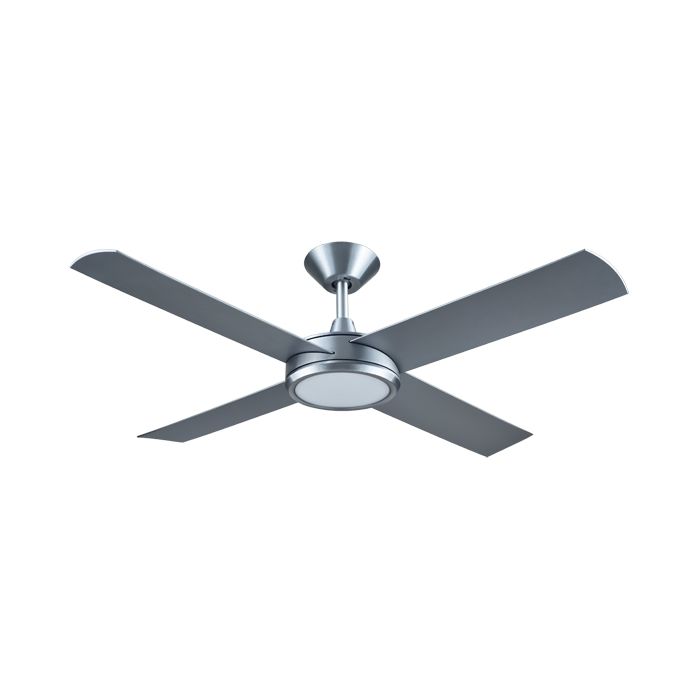 The Concept3 ceiling fan is one of the most efficient ceiling fans available.
The Concept3 is an eco-friendly ceiling fan having aerofil polymer blades. This feature makes it a high performing ceiling fan even in varying degrees of heat.
The Concept3 is an efficient and durable ceiling fan for indoor and outdoor space cooling needs.
Like many other modern ceiling fans, it also comes with a built-in dimmable LED with a color-changing feature. These features make it a great option to purchase for varying weather demands.
Key Features
240v power rating
Body and Canopy made of Diecast Aluminium
Total fan height of 360 mm
Blade size of 52" = 1320 mm from tip to tip
24W dimmable color changing LED globe
ASA – Australian Standards Approved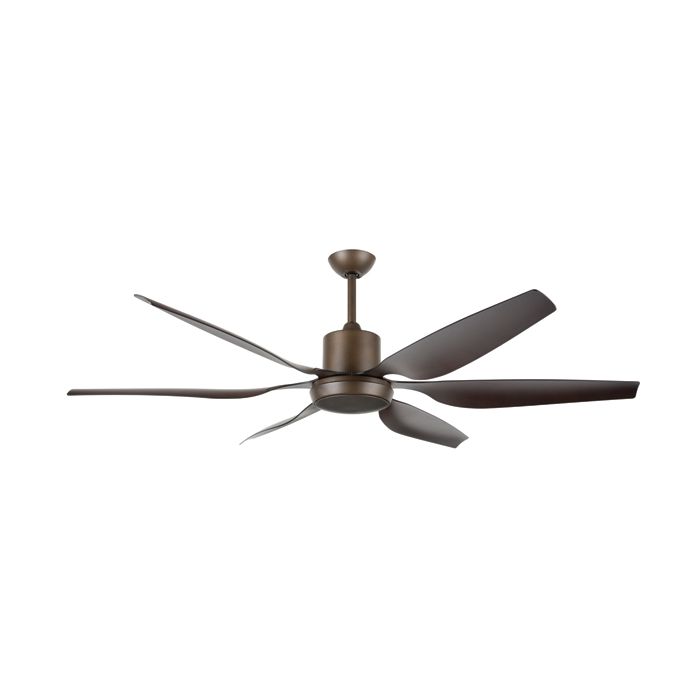 The Aviator Ceiling Fan is a highly advanced ceiling fan.
Its major feature is the incorporation of DC motor technology which consumes much less power than traditional fan motors and is more durable. This feature makes the Aviator a preferable option for power-saving purposes.
The Aviator has a 6-blade stylish design that gives your interior décor an extra edge. It has an oil-rubbed bronze finish on the motor and walnut ABS blades. It also comes with an option for LED upon the customer's choice.
Overall, it turns out to be a power-saving and décor enhancing appliance providing more than adequate space cooling performance.
Key Features
240v power rating
Power saving durable DC Motor
6-speed remote control hand unit and receiver
It has a strong frame made up of metal
Total height of 465 mm. 490 mm if the light cover is attached
Blade size of 66" = 1670 mm from tip to tip
ASA – Australian Standards Approved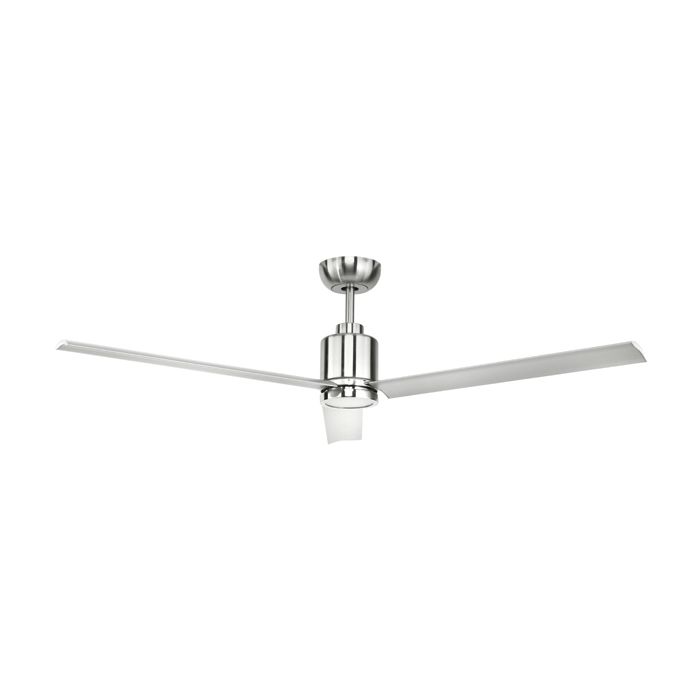 The Aluma fan is a highly fancy 3- blade ceiling fan. A great feature of the Aluma is its DC motor technology which not only saves power but is highly durable too.
The Aluma ceiling fan has Satin Nickel finishing on its motor and aluminium blades which together make it great ceiling décor.
Its shiny look, along with LED fan light, makes it a good fit for the professional and corporate environment too.
The Aluma fan is a good choice of ceiling fan to purchase, because it not only satisfies your space cooling requirements, but also demonstrates an elite image of your interior décor.
It is a good fit for outdoor installation too.
Key Features
240v power rating
Power saving durable DC Motor
6-speed remote control hand unit and receiver
It has a strong frame made of durable metal
Total height of 335 mm
Blade size of 52" = 1320 mm from tip to tip
ASA – Australian Standards Approved
Best ceiling fan with Remote Control and LED Light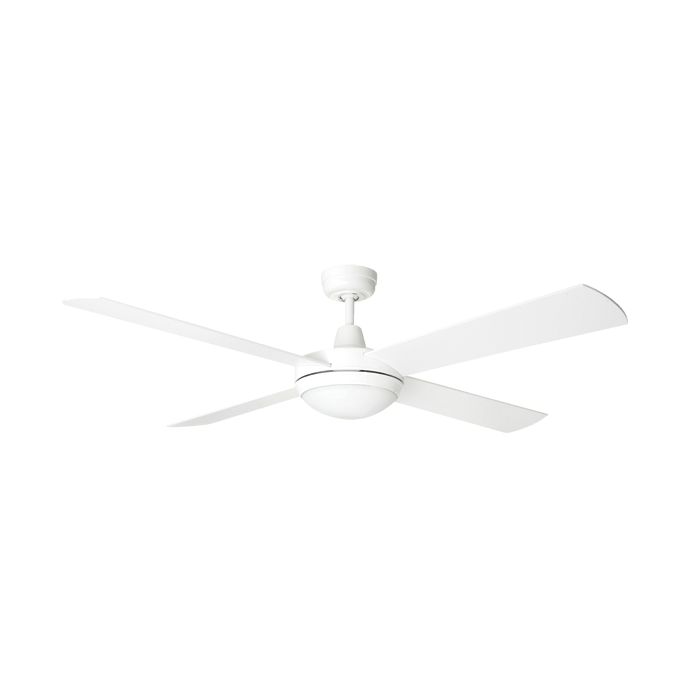 This ceiling fan is one of the best ceiling fans and is a great addition to any household.
If you aim for top quality, performance, design, and technological features with no compromises, this fan is perfect for you.
The Tempest Supreme ceiling fan is equipped with Brilliant's Any Season Super technology that is incredibly reliable. It can be easily controlled by a remote-control device and is designed for either indoor or outdoor applications and for both office and household use.
What's great about this model is that it is budget-friendly and ideal for any buyer. It also offers quiet operation for a very practical size with a sleek design to suit any house interior.
Top Features:
Remarkable Airflow
Great Energy-Efficiency
Multi-colour Options
Top Rated
Quiet Operation
Remote Control Option
Indoor & Outdoor Use
Aluminum Body
Painted Plywood Technology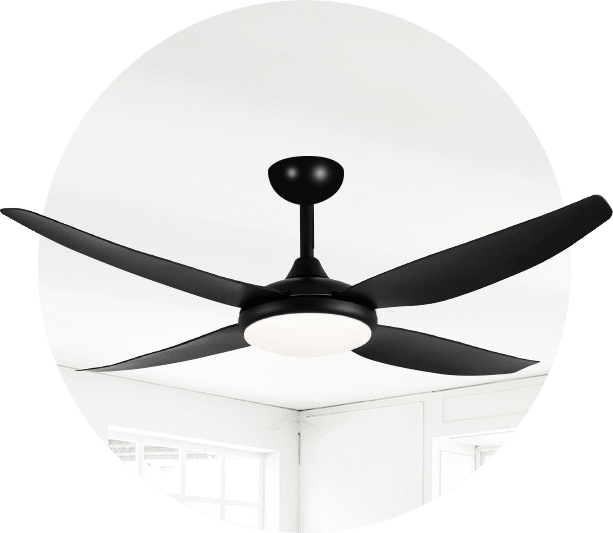 The Amari Ceiling Fan with LED CCT built-in lighting system is another amazing option.
The colour temperature CCT of this ceiling fan is changeable and can range from warm white at 3000K, to cool white at 4200K and all the way to bright daylight at 6000K.
This fan is also fitted with the all-season technology and Brilliant's quick-connect installation guide for great flexibility.
It is suitable for coastal weather settings and contains a light kit with 24W dimmable power and adjustable colour temperature.
Top Features:
All-Seasons Technology
Ideal for Coastal Locations
Brilliant's Quick Connect Plug System Guide
LED CCT Lighting System
Adjustable Color
Remote control with 6 speeds and a light is included.
---
Best Ceiling Fans Buying Guide
Ceiling fans are an integral part of our daily lifestyle which not only fulfil our space cooling needs but add significantly to our space décor too.
Though individual needs vary from buyer to buyer, the following tips can help you buy the most suitable ceiling fan.
Size
Ceiling fans significantly vary in their size.
Always go for the one that exactly fits your space. A too-small fan for a vast lobby is never going to fulfill its meant purpose. Similarly, bigger ceiling fans can never be compatible with smaller spaces.
While buying ceiling fans, have a precise estimate of the dimensions of your space where you intend to install them. This will help you choose a ceiling fan of a size that fits well with your space.
Cost
The cost of ceiling fans can greatly vary between fixtures. From simple economical ones to expensive modern ones, there is always a large variety available.
Purchase ceiling fans which are budget-friendly and match your needs. This will help you fulfill your needs without overburdening your finances.
Material
Ceiling fans are available in a variety of materials ranging from metal to bronze. Give special attention to the material of the fan while making a purchase.
Fans made of sensitive material are good for indoor usage but won't last outside. Similarly, for outdoor installation, go for fans made of rust-free material.
Frequently Asked Questions about Ceiling Fans
---
Where should I install the ceiling fan?
Ceiling fans can be installed almost anywhere. You can install them in your living rooms, bedrooms, corporate offices, classrooms, and lobbies,
Can I use ceiling fans for outdoor purposes too?
Ceiling fans can be used for outdoor space cooling but care must be taken regarding the material of the fans.
Which ceiling fan should I purchase?
The final choice of the ceiling fan entirely depends on your requirements. You must consider associated factors regarding space dimensions, your budget, and style preferences before finalizing your purchase.
Wrapping Up
A great variety of ceiling fans is available in the market today. The final selection of the best ceiling fan is always up to your needs and circumstances.
A carefully chosen ceiling fan will not only offer efficient space cooling but enhance your space décor too.
I hope this guide will help you compare features of top-notch ceiling fans in the market and make the best purchase.
Ceiling fans are a basic necessity for billions of people around the globe. Ceiling fans are essential for relaxing the environment when the weather is hot or humid.
The rotating blades of fans generate cool air, which allows for the circulation of air and the evaporation of sweat, gradually cooling the body and surroundings. Simple yet quite impressive!
Operation of Household Ceiling Fans
Ceiling fans are perfect for households as they help circulate the air uniformly throughout the room. This is achieved through rotating rotor blades which create a wind-chill effect, in turn accelerating the cooling of a room, where breezes generated by ceiling fans can make the space up to 8°F cooler.
Specialists estimate that a ceiling fan is so efficient in decreasing room temperature that you can actually reduce your thermostat setting by 4 degrees without observing a difference in comfort.
According to research, a correctly installed ceiling fan could make people feel more comfortable – without air conditioning – in temperatures as high as 86°F.
Moreover, this wind-chill effect can be put to opposite use in cooler climates. Manufacturers have set up several types of ceiling fans with reverse operation modes, allowing the fan to spin clockwise, thereby gently pulling air upward and away from the space.
Classification of Ceiling Fans
The wide variety of options and ceiling fan types available online can be overwhelming for buyers to navigate and make an informed choice. Terms and technical issues might be biased to steer customers towards a specific brand and could complicate the selection process.
To help guide customers through this process, below is a list of key features to consider before buying a ceiling fan.
Key Features to Consider
1.Motor type
Being the heart of the fan, motor type and rating should be closely studied. The motor should have a wide range of ball bearings and should be selected based on the operation intended for the fan and its ease of maintenance and lubrication.
2.Blades
Most residential fans have four plastic, metal, or wooden blades. Blades should be considered in terms of operation, finish to match the interior and location in the house. For example, metal blades may have sharper edges and with the loud operation.
3.Sound Level
Ceiling fans should also be studied in relation to the sound they produce when running, as loud operation might be irritating in certain spaces like bedrooms or living rooms.
4.Energy star label
Fans with the Energy Star-label typically are typically 20% more efficient than standard ceiling fans. It is always advisable to choose an energy-efficiency certification label, to save on energy costs and be more environmentally friendly.
5.Warranty
Depending on the manufacturer, the warranty period can vary between a few months to a few years. The period and terms of the warranty should be studied well prior to purchase.
6.RPM
RPM refers to rounds (or revolutions) per minute. It highlights the speed at which the fan operates and thus its capacity to cool the spaces. Most fans have at least three-speed settings, measured in RPMs.
7.Custom Settings
Households with elevated tilted ceilings could require further assessment of custom features, such as a sloped ceiling adapter, that make the fan suitable for operation in such spaces.
Importance of Proper Installation
It's best to install fans in the rooms where people spend the longest time in, such as living rooms or bedrooms. The house needs to be surveyed for hot spots and particular locations that get warmer than other areas, such as sunrooms or windowed kitchens.
In colder climates, fans can be installed in rooms with high roofs or over stairways to help to balance the air temperatures. Some experts also advise installing the fans close to wooden stoves or gas fireplaces as the rotating blades will force the warm air into the space, efficiently warming it.
More importantly, when installing fans in households, special attention must be given for ceiling heights and room dimensions.
The blades of the fan must be at least 7 feet above the ground, ideally between 8 and 10 feet to help promote the most suitable airflow in the space. Additionally, the blades should be no less than 18 inches from opposite walls or sloping ceilings for safe operation.
An additional feature for most ceiling fans allows for year-round use by operating on two settings:
Summer
Counterclockwise blade rotation allows the ceiling fan to pull cooler air up during the summer.
Winter
A clockwise rotation forces hot air down during winter, enabling it to flow freely and adjust the space temperature.
These features make ceiling fans a versatile solution for any room within the household. Accordingly, it is important to check the UL rating of the fan which specifies the type of environment where the fan operates and its suitability for wet or dry settings.


UL Approved for Dry Locations
For fans fitted with lighting, the "Dry Places Only" rating is by far the most prevalent of the UL listings. A dry rating or more commonly "UL Listed" rating means the luminaire is suited to use in a place that is rarely, if ever, subject to dampness or humidity. As such, they are typically used indoors in non-damp rooms such as kitchens, dining rooms, hallways, offices, conference rooms, and reception areas.
Special permits might be required for using UL dry-location listed fixtures in areas where temporary dampness may occur, such as building construction sites or above bathroom mirrors
UL Approved for Damp Conditions
Luminaires marked "Suitable for Damp Locations" are good options to install in places with high humidity and moisture.
These fixtures can endure very small levels of fluid on the surface, around or within their electronic systems, however, does not cover direct water contact. This rating also includes areas that are partially water-protected.
You can use indoor, damp location-listed lights in washing rooms, bathrooms, utility rooms, cellars, and similar areas. They can also be used outside in protected areas, such as encased patios or porches, since these areas are generally not exposed to direct snow or rain.
UL Listed for Wet Locations
Ceiling fans and lights can also be listed for wet locations, and allow usage in any space, as they permit liquids to be in direct contact with electronics. The liquid could be a slow drip, a strong flow, or any water type between. T
hey are commonly used outdoors for site lighting, wall packs, open-air decks, walkway lights, gazebos, signs, and holiday lights. Indoor applications range from enclosed showers to pool areas and freezers.
Wet location 3 sub-markings:
● Covered Ceiling Mount Only
These luminaires are only for front-side water contact but not the backside. Proper care must be given during installation to ensure that the fan is not exposed to water exposure beneath the mounting location, such as vehicle washing areas.
● Suitable for installation within 1.2 M (4 Feet) of the ground
This sub-marking allows for intermittent splashing and exposure, such as from a lawn sprinkler, however, is not suitable for below ground use, where it may become completely submerged.
● Suitable for Recessed Ground-Mounted
Fixtures with this sub-marking can be completely mounted underground, with regular immersion safely.
DOE Types of ceiling fans
The US Department of Energy (DOE) defines a variety of ceiling fan types as part of the "Uniform Test Method for Measuring the Energy Consumption of Ceiling Fans."
Standard ceiling fan
Any ceiling fan with a diameter greater than 18 inches but less than 7 feet and where the lowest point of the fan's blades is more than 10 inches below the ceiling.
Large-diameter ceiling fan
Any ceiling fan with a diameter greater than 7 feet falls into the category. Experts refer to them as High Volume Low Speed (HVLS) fans.
Note:
Apart from these two main types of ceiling fans, the DOE describes many other frequently used fan types, many of which fall under the category of small-diameter ceiling fans.
Small-diameter ceiling fan
This category includes ceiling fans with a diameter greater than 18 inches but less than or equal to seven feet, an airflow of at least 1,840 CFM and a rotational speed of more than 90 RPM at its maximum speed.
Any small-diameter ceiling fan
This type of ceiling fan has a blade thickness of less than 3.2 mm at the edge.
Ceiling fan with a small diameter and low speed
Here's a simple thing to think about—a ceiling fan with a small diameter and a blade thickness greater than or equal to 3.2 mm, where thicker blades lower the rotational speed.
Hugger ceiling fan
This fan is a low-speed small-diameter ceiling fan with the lowest point on the blades less than or equal to 10 inches from the ceiling.
Ceiling fan with a minimal diameter
The blades on this fan type have a span of 18 inches or less, an airflow of at least 1,840 CFM, and a rotational speed of more than 90 RPM at maximum speed.
Fans with light kits
In rooms such as living areas or bedrooms, ceiling fans can be both an air circulator and a light source. Fans with a light kit feature a drop-down base with a lamp securely fixed beneath the fan blades.
These fans could also be fitted with general uplighting for ambience and to provide sufficient distribution of light to meet a wide range of activities. The type, intensity and effect of the light kit depend on the space where the light is installed as well as the purpose and operation of this space.
Fans with Downrod Included
For most fan setups, the ideal position of the fan is around 8′ to 9′ above the floor to allow for maximum airflow. When installing a fan in a room with high ceilings, the download, a limited pole section should be used to decrease the fan's altitude.
Downloads are available in 6-inch segments that connect to the outer sheath of the fan from one end and to the ceiling bracket from the other. They are strong enough to support the fan's load against the engine's force and the blade's circular dynamism.
Dual motor ceiling fans
Ceiling fans with dual motors operate by connecting two engines with a sturdy horizontal bar. The motors can rotate the blades vertically, at an angle, or even parallel to the floor.
Industrial versus Commercial ceiling fans
Ceiling fans are classified as either industrial or commercial, depending on the environment where people use them. Typically fans intended for industrial purposes are more durable and powerful, and their motors use gears to power the airfoils that circulate the air.
Agriculture fans
A specific type of fans targeting agricultural applications such as horse barns, dairy or hog farms or poultry houses. Ventilation in these facilities is a critical factor to maintain the health of the animals and the people caring for them.
Summary of ceiling fan types
Larger diameter fans can typically circulate more air than smaller diameter ones. The rotational speed of the fan is limited by the diameter of the blades which increases to prevent excessive noise during operation, particularly near the blade tip.
Furthermore, where fans are mounted at blade heights less than 10 ft, as is the case with almost all standard fans, the rotational speed must be limited to meet safety criteria UL 507 regarding the maximum speed of the blade tips.
Ceiling Fans Blade
Fan blades are essential for the operation and performance of the fan. Fans range from mini fans with a blade span of 18 inches to huge ceiling fans with blade spans of 68-inches and even up to 99-inches. Choosing the correct ceiling fan size will maximize the fan's efficiency, make it more fitting within the space and serve its operation as intended.
Energy Efficiency is Key!
Ceiling fans assist in cooling a room by moving air, causing evaporative cooling. Fans range from 36 to 56 inches and use 55 to 100 watts, with a typical 48-inch ceiling fan using 75 watts. Given their power consumption and periods of use, energy efficiency is essential to study to maintain proper performance, while minimizing energy use.
AC vs. DC ceiling fans
Direct current fans, also known as DC fans, are usually battery operated and use a constant flow or voltage that is the same as that of the battery. Voltage levels for DC fans are typically 5V, 12V, 24V and 48V.
On the other hand, alternating current fans, or AC fans operate by varying the voltage of equivalent positively and negatively charged charges. The shifting voltage has a frequency response form. A typical range of sinusoidal waveforms may vary in size and frequency worldwide, such as: (100VAC, 120VAC, 200VAC, 220VAC, 230VAC, 240VAC, with 50Hz or 60Hz).
Conclusion
Choosing a ceiling fan for the household requires careful study and assessment of your space in relation to the features of the fan, to reach an informed decision on a fan. The details and features highlighted in this article can greatly help in guiding customers through this decision process, to get the most suitable type for every application.
Are you looking for the best remote-operated ceiling fan in Australia?
Given the range of types and variety of options and components offered by fan manufacturers, it can be overwhelming to choose a fan that stands out and meets your specific requirements in its design style, technology features and budget.
This article serves as a user guide by comparing major features, components and quality metrics and listing the top ten remote-operated types.
Why use a ceiling fan?
Ceiling fans can be used for a variety of reasons, below is a list of the seven most important features that make these devices a popular choice:
Energy Efficiency
Interior Decoration Compatibility
Versatility
Practical illumination
Warranty
Durability
Reliability
All these features justify why ceiling fans have been rising in popularity.
Since many ceiling fans offer fashionable texture, exterior and superior quality finishing, many people prefer a ceiling fan to add extra glamour to their home decor.
More commonly, ceiling fans are popular choices because of their design and modernity and many Australians prefer them for their on-trend components, such as wooden textures and sleek finishes.
What is the relationship of design to a fan's popularity? Well, the simple answer would be a lifestyle! Apart from the design factor, people prefer what goes well with their home decor.
Advantages of using a remote-controlled ceiling fan?
---
People typically have a preconceived notion that remote-controlled ceiling fans are expensive, however, competition in the industry has driven many companies to produce budget-friendly options, with the aim of gaining people's trust.
Online research can provide all the details of any system, and allows customers to cherry-pick types to match their preferences and budget options.
However, if we set the cost of a remote-controlled ceiling fan aside for a second and consider the quality and reliability aspects, it is still a very valid investment.
Suppose you buy a fan with smart remote control. It makes your house more intelligent than your counterparts and that is where the social aspect makes a huge difference.
Not only are you buying a fan, but you're also creating a lifestyle that reflects your choices.
Sound reasonable? Let's have a look at some technical features of a remote-controlled fan:
Convenience
You no longer have to walk to the switch to turn the fan on/off and adjust it manually. This means minimized physical movement and added control and freedom.
And this is not intended to encourage laziness, on the contrary, this option adds value to essential activities.
You focus more on critical matters, such as reading or working on the computer, where the last thing you would want is to check your fan manually! Real innovation means practicality, comfort and making lives easier.
Blends with illuminations
If you wish to fit your ceiling fan with light fixtures, then a remote-controlled option will be a life-saver.
The remote control will have a double role of operating the fan and adjusting or dimming lighting illumination levels where it's installed.
Additionally, this system of a remote-controlled ceiling fan with lighting omits the need for supplementary electrical wires and circuiting.
Single remote: many fans
You can use one remote controller to adjust the operation of multiple devices, so where it's not required to adjust all of the ceiling fans at once, having a remote-controlled option is the most suitable solution for different settings for different spaces.
Top ten remote-controlled ceiling fans to buy in Australia
---
Now that we have understood the importance of ceiling fans, and specifically of remote-operated ceiling fans, let's dig further into the technical details. Below is a compiled guide of high-end quality fans for you to choose from.
Amari Ceiling Fan – With remote for superior airflow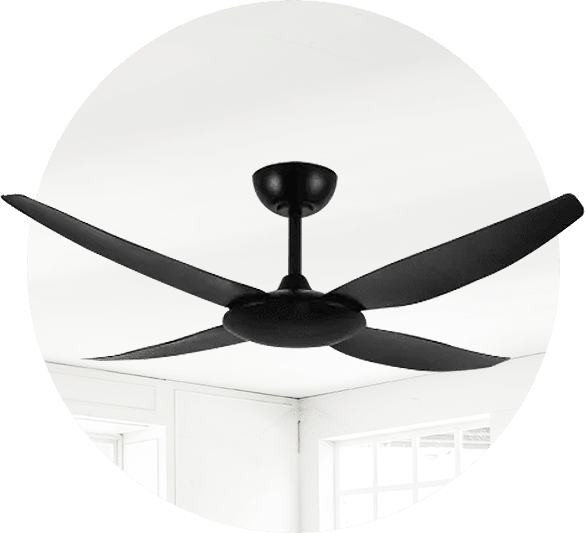 With a sleek body design and a matte black theme, the Amari ceiling fan is far more than just a commodity.
It comes with a whole package of comfy experiences for the buyer, and the aerodynamic technology alleviates the pros to another level.
This ceiling fan is put together using anti-rust and long-lasting plastic variants, which along with being cost-effective, offer superior airflow.
Amari is just the perfect choice for seaside locations and indoor spaces. Besides, it uses a powerful DC motor and minimizes the sound production to almost zero.
Amari offers its users 6-speed levels and comes with remote control for the purpose. It can even provide a natural breezy effect if set on the Windbreeze mode.
That's not it, as the 6-year warranty and the 35-watt powerful motor distinguish it from any basic ceiling fan.
Amari Light – With remote controll and dimmable LED light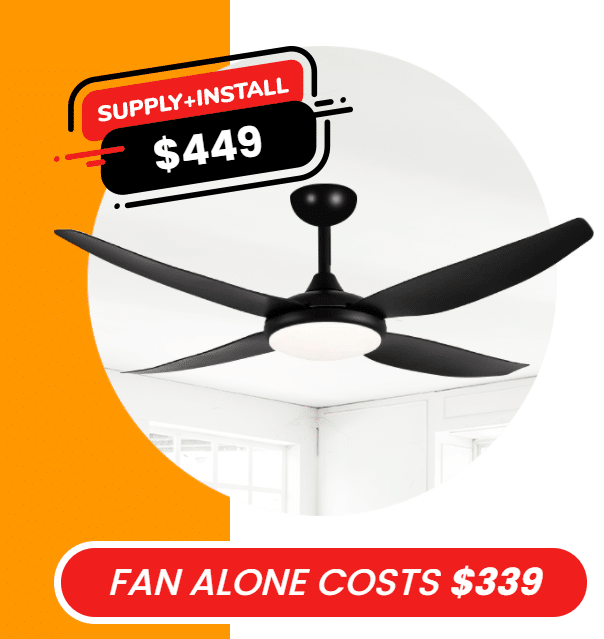 From product supply to installation, we, along with our team of skilled technicians, will take care of everything to ensure a safe, smooth and cool experience for you.
CEILING FAN + LIGHT + REMOTE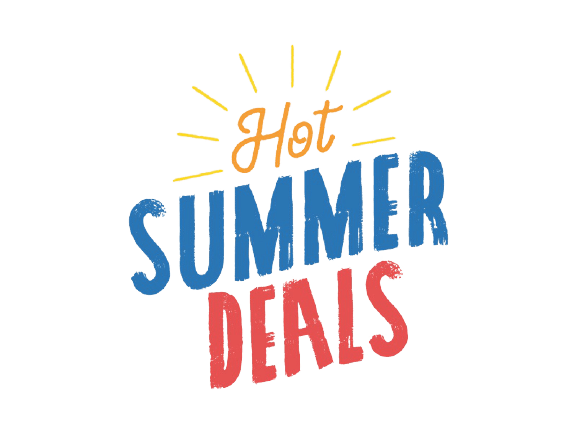 ---
For folks who loved the Amari design but wished for a dash of light in it, there's the perfect fit for you – Amari + Light. You can see it as another variant of the Amari line, but no features have been compromised.
With a corrosion-resistant and durable body, Amari Light will last till you can utilize every penny spent on it.
Besides, it comes with a 6-year warranty! It features a 52-inch sleek body made of rust-free materials, whose ABS blades provide maximum airflow.
The DC motor used in Amari Light ceiling fans is exclusively power efficient, giving you an awesome value for the cash you paid. Furthermore, it boasts features that let users alter the speed and mimic a natural breeze vibe!
Coming to the most important feature, the lights are basically LED fittings, and offer modes for changing the color and intensity of light produced. This makes Amari + Light a wise investment.
Eco Breeze Ceiling Fan
– With Remote by Fanco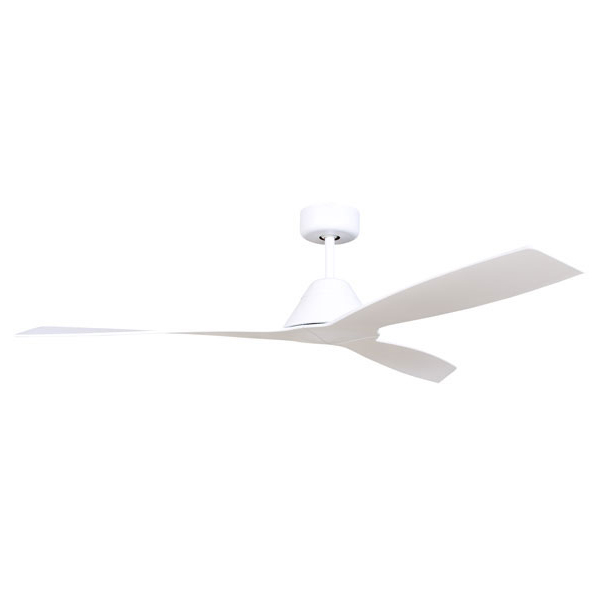 This option is one of the high-end remote-controlled fans to buy in Australia.
The Fanco Eco Breeze DC combines modern aesthetics with a retro look. The dome-shaped motor of the fan projects into its linear canopy.
Its evenly balanced blade propellers turn slightly upward as they're spinning along its 52-inch diameter. The Eco Breeze has three countdown features and five-speed settings, all of which are remote operated.
Key features
Remote control with five different speeds settings
15-degree blade
Timer functionality option
Fully reversible for use in any season
DC Sensorless driver motor
52′′ diameter is readily accessible.
Remote control
Lights available upon request
Quiet operation
Claro Ceiling Fan

– With Timber Blades Remote & LED Light
An outstanding remote-controlled fan with top-class operation and reasonable cost. Why? This is a perfect option for the Australian environment.
Australian summers are sweltering and this fan was made with weather in mind. But wait? What about winters? This fan changes according to the weather.
Overturning the blade spin enables the fan to distribute hot air near the ceiling level during colder months when homeowners turn on the heater.
That said, this fan is most famous for its energy-saving operation, which means reduced electricity bills. Moreover, it uses colour changing technology and offers a wide variety of colours.
Key features
Overall Diameter: 52inch (132cm)
Light: Integrated LED Light
Raked Ceiling: Suitable up to 15 degrees
Control: Remote Control
Reversible: Yes (Via the Remote)
Installation Location: Indoors ONLY
Motor Type: DC
Claro Ceiling Fan
– With Timber Blades, LED light and Remote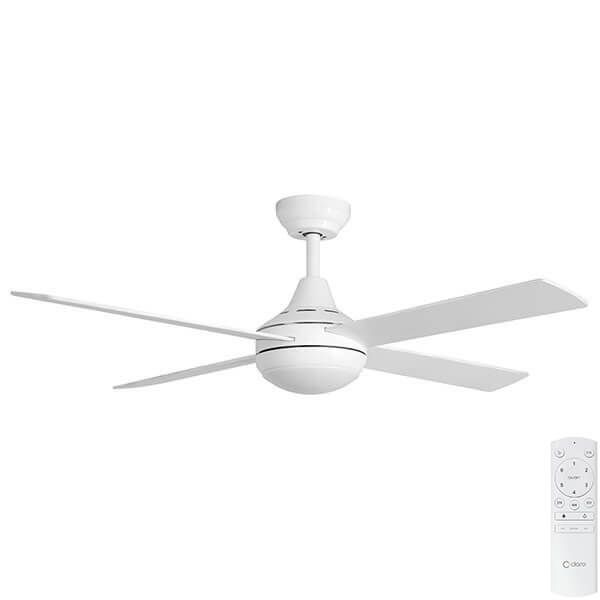 Claro's Summer DC 48″ in white (CFCLSU2WH) integrates a traditional four-blade ceiling fan structure very conveniently.
It gives optimum performance at a budget-friendly cost. In addition, this fan has the sleekest wood blades crafted from high-end timber.
It shines while running, perfectly integrating with the house decor: a universal design with beautiful aesthetics. What's more, this fan also has an ultra-efficient DC motor that uses 19.5W at peak velocity.
Key features
DC Motor, Timber Blades, Remote Control, Reverse Airflow, Reversible Motor, With Light
Technical features:
Power Consumption: 3.5W -19.5W
Number of Blades: 4
Lighting Technology: LED
Voltage: 240V
Fanco Ceiling Fan
– With CCT LED Light & Remote
Fanco's Eco Silent Deluxe DC range complements the brand's innovative 2021 fan line-up. One of the best ceiling fans with a remote-control feature in Australia.
As a solid follow-up to the brand's most popular model, this fan has what many people want in their ceiling fan, premium ABS plastic blades and electro-coated metal components.
Besides, it has gained the reputation of being a champ indoor, outdoor, or anywhere you need it, earning its nickname as a universal fan.
The Eco Silent Deluxe has six-speed settings and is SMART-enabled with a state-of-the-art control system that can be controlled using the Tuya smartphone application.
The speed settings can also be regulated by the remote control or through the app
Key features
Indoor/Outdoor
Undercover & coastal blade installation material
CCT LED light kit
ABS Plastic Blade Length: 52 inch (132 cm)
CCT LED light kit6 speed remote control – comes with a standard remote-control cradle
Remote is ready for use – no setup required
Brushless DC motor technology at an affordable price
Infinity Ceiling Fan

– With LED light and remote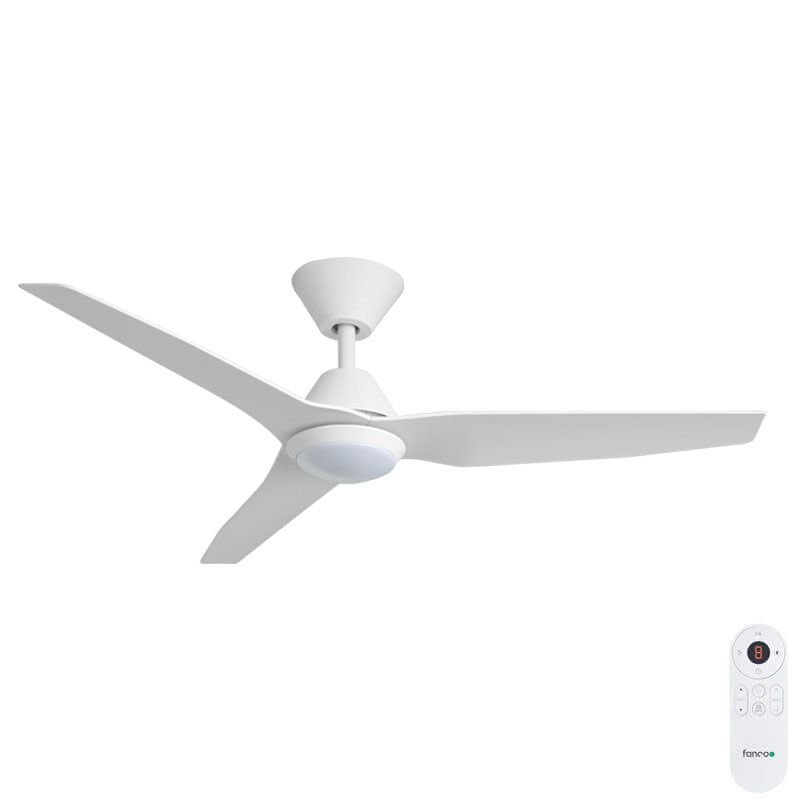 The Fanco Infinity-ID DC range adds to the brand's reinvented 2021 fan line-up and is already another champ with a great value for money. If you are looking for a fan with the best remote-control feature?
This fan should be your bet. It will never disappoint. Here is why?
With this model, the company has significantly improved the productivity and excellence of the already established Infinity range.
The new Infinity-ID keeps its original low-profile character and Scandinavian design but adds premium ABS plastic blades with electro-coated metal components!
Simply put, this means you can use this fan indoors and outdoors, perfect for any space whether it's for home use or for office spaces.
This fan can be controlled through a clever app from your smartphone, earning this fan user appreciation all over Australia.
Key features
Scandinavian design
Quiet DC motor
Popular for bedrooms
With the Infinity-ID, you can install it anywhere, indoors or outdoors (undercover).
The 6-speed remote control comes with a modern wall cradle
You can control the fan with the included remote
Connect to Google Assistant or Amazon devices via the Tuya app
Timer off functionality – choose between 1 and 9 hours before the fan turns off automatically.
New construction and materials – all ABS and electroplated metal
Fanco Ceiling Fan
– With Remote control and plastic blades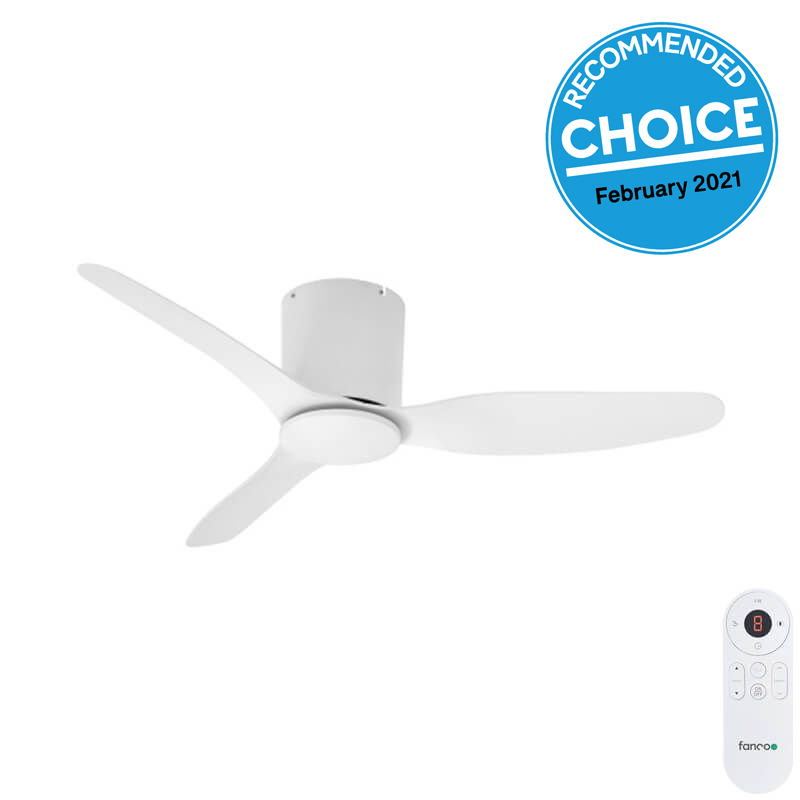 The Fanco Studio DC is yet another clever design creatively manufactured with innovative technological integration.
The fan uses cutting-edge innovations, and the brand reliability is one of the highest amongst competitors. It can also be controlled via the Tuya app on your smartphone.
What makes it unique is its 210mm drop from the ceiling to the edge of the shafts/blades, providing a very sleek design and making the Studio a perfect fit for rooms with relatively low ceilings.
Last but not least, this fan has a brilliant framework that controls the Studio's six fan speeds with reverse components, and a countdown timer (1-9hrs).
Key features
Location: Indoor
Blade material: Plastic
210mm (300mm to the base of light)
Suitable for FLAT ceilings only
Remote Control/smartphone via an app
Suitable for FLAT ceilings
Urban Ceiling Fan
– With LED light and remote controll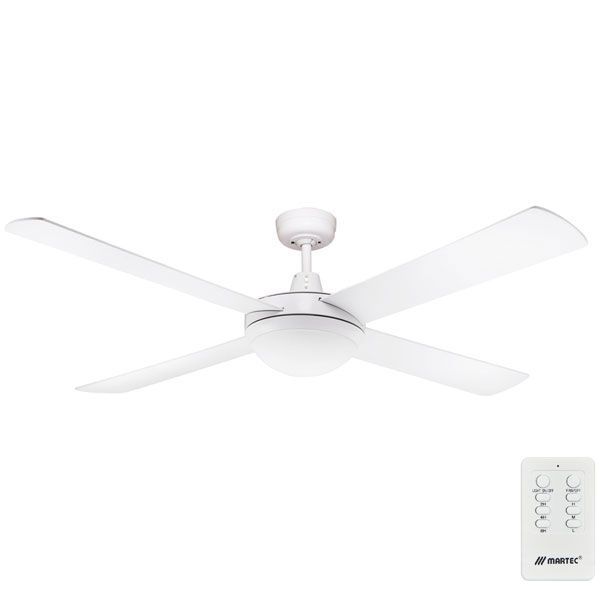 This Fanco white ceiling fan is yet another brilliant metal-based option that can transform your living space.
Integrating top-end components with a sleek yet spotless design gives this fan a contemporary look and makes it a popular choice among many users for its plain white finish.
This fan also contains a light, which fits brilliantly with the structure of the fan.
It's worthwhile to note that the fan's usage on raked walls differs based on the control method. It is appropriate for up to 24 degrees if placed under direct control, but only suitable for up to 12 degrees with a remote option.
Key features
Install Location: Indoor
Blade Span: 52 inch (132 cm),
Motor Type: AC
Operation: Remote control
Summer/Winter Use: Reversible from Motor
Ceiling to Blade Drop: 265mm
Suitable up to 12 degrees.
Integrated E27 light fitting
Claro Ceiling Fan
– With ABS blades, remote control and light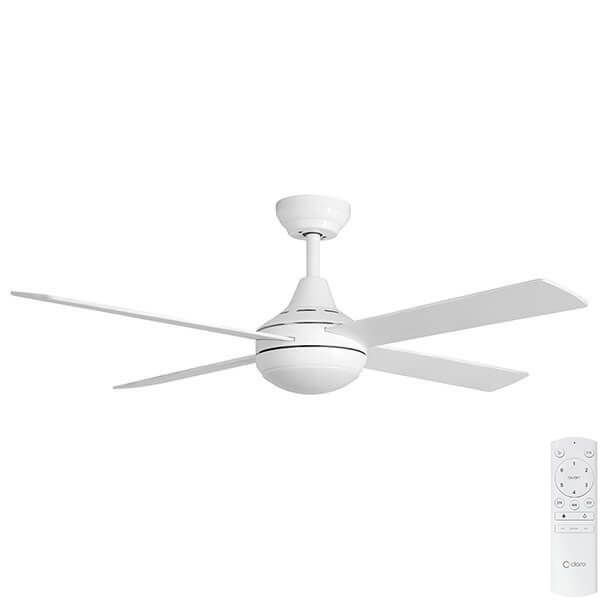 This Claro summer fan is a highly energy-efficient device that is equipped with remote control features and integrates a traditional four-blade fan design with outstanding functionality.
How come? Simply because you can place this ceiling fan in both interior and exterior spaces.
Another great feature of, the Claro is that it's perfectly compatible with extreme climates kudos to its four special ABS synthetic blades incorporating 48′′ (122cm).
Key features
Popular classic design that is ideal for most households
Ceiling fan at a great price
comes up with a 6-speed remote
The timer function is accessible by small (2hr/4hr/6hr)
Eagle Ceiling Fan
– Money value ceiling fan with remote controll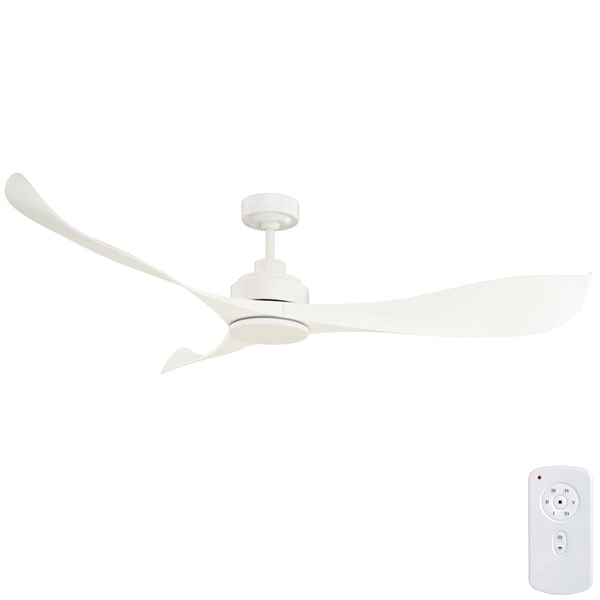 Are you looking for real value-for-money?
But also want a remote-controlled ceiling fan? Check out the Eagle ceiling fan perfect for any Australian household.
Why? Because it has an energy-efficient 35W DC motor, a 55′′ blade span, and a modern design.
What's more, the remote works seamlessly with the fan to adjust between the six configurable speeds and it also allows users to easily change the fan for summer/winter use.
Besides, with a 55inch diameter, the Eagle is a huge fan ideal for large rooms.
Key features:
Location: Indoor
Motor Colour: White
Its Blade Colour: White
Material: ABS Plastic
Blade Span (Diameter): 55″ (140cm)
Light: 12w LED (4000k),
Operation: Remote Control
Fanco Ceiling Fan
– With Remote and handcrafted timber blades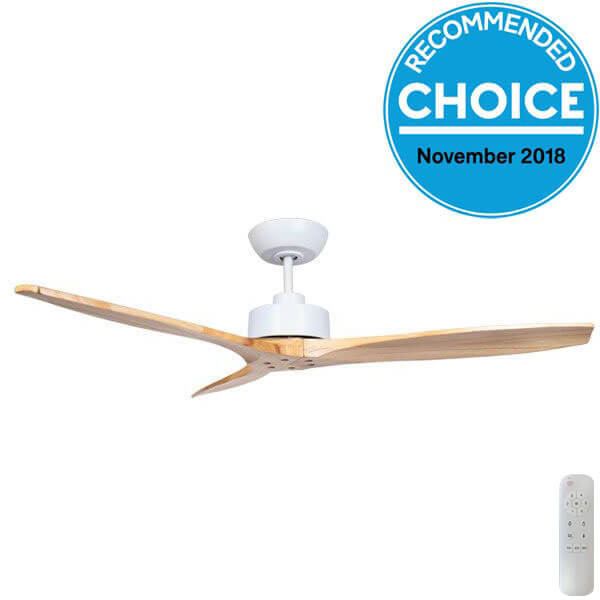 The Fanco wynd fan is the most famous for its visual appeal, sleek design, and futuristic concept for two main reasons. First, it features Wynd's handmade timber blades that streamline ideally with the overall shape.
Second, the instinctual wooden edges around the blades provide lighter colours to interior spaces and shine like diamonds, giving a very elegant optical finish.
In brief, it is an aesthetic and visually appealing machine that utilizes superior and efficient technology.
Key features
Six-speed settings
Aerodynamic blades
Energy-efficient DC motor
Remote control availability
Quiet performance
How to choose the best ceiling fan for your room
---
Ceiling fans are a good way of bringing ambiance to your room apart from their primary aim of cooling the room. Home décor is not limited to painting and other finishes, nor do ceiling fans.
You can play around with various items to bring forth your preference and taste in your room.
While getting to purchase a ceiling fan, here are some factors to consider as ceiling fans are of many varieties, sizes, shapes, and designs in the market.
Energy saving
With the cost of living rising daily, you do not want to increase your energy consumption, resulting in higher electricity bills. It is vital to go for energy-efficient ceilings to help you save on energy and money while enjoying the cool breeze.
Fan blade pitch and size
The size of your room will determine the type of fan to be installed; it is to ensure that air is well circulated in the room. Fan blades assess the amount of air circulating the room.
Fan blades have to be weighted and matched to avoid your fan wobbling. Fan blade pitch is usually between 12-15 degrees angle; fans with less than 12 degrees angle will not circulate air effectively and will be less efficient.
It simply translates to the more significant the degree angle of the blade, the more air circulation, and vice versa.
Budget and cost
Budgeting before making a purchase is essential as it enables you to avoid impulse buying and keep track of your money. Like any item you would budget for, ceiling fans are no different.
Consider budgeting depending on the type, size of the blade, and style you want in consideration of the size of your room.
There are a lot of ceiling fans in the market, and without proper budgeting, you may end up purchasing the wrong items on impulse.
Budgeting helps you keep track of the items you are purchasing, saves money, and gives you control of your money.
Accessories
If you want to have your fan as a decorative piece, you should go for the under-light ceiling fans. You can choose either classic or contemporary lights to compliment the look of your fan and that of your room.
Fans come with other features that should be put into consideration.
Smart home compatibility
New fans can be controlled by using applications on phones or tablets through smart home hubs. It allows customization of light settings and the speed of the fan.
They are also configured to automatically turn the fans based on room occupancy or time of day.
Remote controls
Ceiling fans now come with optional remote control. The remote allows controlling the speed and light setting. They often include a mounting frame to store the remote on the wall.
Wall switches
It allows for simple on/off operation, with speed set by the pull chain off the motor. It also allows the ability to integrate with innovative home systems or be powered by sensor plates that detect movement in the room.
Pull chains
It allows an individual to reach out to the chain attached to the motor causing the ability to change the fan's speed. They are often linked to the fans, even if other ways can control them.
Motor
The motor's primary function is to produce quiet operation while the blades rotate for air movement.
High-quality motors with heavy-duty windings and sealed bearings that are lubricated are silent and do not produce noise.
Imagine purchasing a fan, and instead of bringing the cooling effect, all you hear are noises; it can be annoying. Ensure to check on the motor before purchase.
They are designed to work flawlessly for a more extended period; they should be long-lasting.
Ceiling fans are capable of changing the ambiance of your room. Bring out your room's sophisticated and aesthetic look by purchasing the best ceiling fan.
Frequently Asked Questions about remote controlled ceiling fans
---
1. Are remote control ceiling fans more expensive than traditional fans?
Not always. People do think that remote control fans are always more expensive than traditional fans but you will find so many remote control fans even cheaper than traditional fans. The credit goes to the evolving market competition. Companies are developing products with the addition of new features while minimizing the product price. You can even find cheaper and budget-friendly remote control fans as per your needs.
2. Do I need a wall switch for remote control ceiling fans?
Yes! All remote control ceiling fans need a wall switch for their operation. This is because the actual driving energy for the fan comes from electricity. For that, you need to have a wall switch and an electrical connection for the fan. The remote control feature is just there for labor-free operation and control of the fan.
3. Can remote control ceiling fans be controlled with smartphones too?
Yes! If your remote control ceiling fan has the option of smart controls, then you can control it with the smartphone too. With smart control features, you can use smartphone apps to operate and control your ceiling fan. You can even control them remotely by using such apps and connectivity features as wifi and Bluetooth.
4. Can I use remote control ceiling fans for outdoor use too?
You can definitely use remote control ceiling fans for outdoor usage. In fact, many remote control ceiling fans are a great fit for outdoor usage. However, you must analyze the built quality and features of the product if you intend to use it outdoor. Make sure to prefer such products that have durable strong construction and resist rusting amid harsh outdoor environment.
5. Is there any warranty for remote control ceiling fans?
Yes! Almost every remote control ceiling fan comes with a manufacturer's warranty. The duration of the warranty depends on the product manufacturer. The warranty period may range from 1 year, 2 years, or even more than 5 years. The warranty type varies too as some products come with a replacement warranty while many others offer free or discounted post-purchase maintenance only.
Looking for a Ceiling fan with light
Since their invention in the late 1800s, ceiling fans have evolved from basic palm leaves and cloth hand-held fans, and from water-powered to electrical operated, running on mechanical rotor energy, and having wooden, metal and polycarbonate blades.
Upon making their debut in homes around the 1920s, fans quickly became household essentials, drawing cool air into heated spaces.
Although in the following years, air conditioning systems (ACs) became more prevalent with cooling powers, ceiling fans for homes are still widely prevalent.
Why use ceiling fans with light
They Tend To Be Healthier
Air conditioners (AC) have stronger cooling powers than ceiling fans, and their everyday application predicted the phasing out of the household ceiling fan, as they are more suitable for space cooling, however, this wasn't the case.
The power, capacity and operation of air conditioners meant they were more aggressive in their cooling capacities, with trapped air and atmospheric particulates in the space, becoming a reason for heightened allergies, sore throats, and increased cases of the common cold.
Ceiling fans, on the other hand, never resulted in such effects, and maintained a more comfortable operation of the space.
Air Circulation
Ceiling fans do not create cold air but actually circulate the air in a room. Air conditioning chills the air whereas ceiling fans push it around, and for that reason, they can be used for both heating and cooling purposes.
Saves Energy And Money
A ceiling fan with lights consumes far less energy than any air conditioner, and a ceiling fan running at high speeds consumes even less energy than a 100W light bulb.
Moreover, due to their low energy consumption, ceiling fans are also economical and their operation contributes very little to the electricity bill.
Fans are also good for the environment as they consume less energy and create less greenhouse gas emissions on one hand, and their operation does not release any harmful gases, as does the operation of air conditioners. Using a ceiling fan with lights will definitely reduce your carbon footprint.
Stylish
When selecting a ceiling fan, you can choose from a wide variety to have a stylish centerpiece in any room, and the fans are also available with lights – to give a multi-functional fixture that accentuates the aesthetics of the home or office space, and keeps it cool while saving money on the electricity bills.
They Fit In Most Rooms
When choosing a new or a replacement ceiling fan, you should take into consideration the design and layout of the room, the ceiling height and the width of the room.
Fans are available in different variations and designs including modern, classic, chic unique, matte black, polished pewter, gloss, antique bronze, oil-rubbed bronze, satin and so many more, and they can be made to fit into any room design or size, while meeting a range of budgets.
Here are some recommended mounting options that will work best for your space.
75sq ft Rooms = 29-39 inches
76-144sq ft Rooms = 36-42 inches
144-225sq ft Rooms = 44-52 inches
225-400sq ft Rooms = 52-60 inches
Based on this brief description and details of ceiling fans, the next section will highlight the 12 top rated ceiling fans with lights.


12 Best ceiling fans with light in Australia
1. The Bahama Smart DC Ceiling Fan by Brilliant Lighting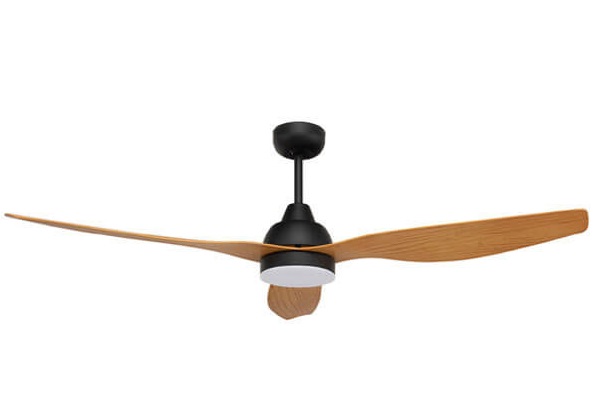 This specially designed ceiling fan has ABS moulded blades, amazing finishes and offers the option to be fitted with a lighting feature, depending on your specific preference. Its most recent model has been improved to now include Bluetooth compatibility, which means you can easily download the easy-to-use smart app on your mobile phone and control the fan from anywhere in your home.
In short, it is a brilliant ceiling fan backed with a 3-year "in-home" warranty and a 6-year "motor" warranty, which is the reason this fan has been Australia's best selling fan for over 3 years.
2. Milano Slider Junior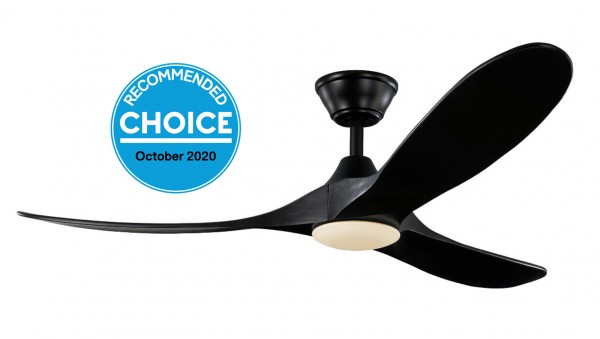 This handcrafted work of art was aerodynamically designed for super silence.
Its high-quality timber blades were created for maximum air displacement with an airflow speed of 15,000 mᶟ/hr. This model of Milano fans is complete with a "3-speed" wall control and light switch and is a perfect combination of style, class and pure genius.
With a noise level of 33db and a low speed of 50RPM, this fan was designed to offer optimum comfort in the bedroom or other spaces requiring stylish and quiet operation.
3. Noosa by Eglo Lighting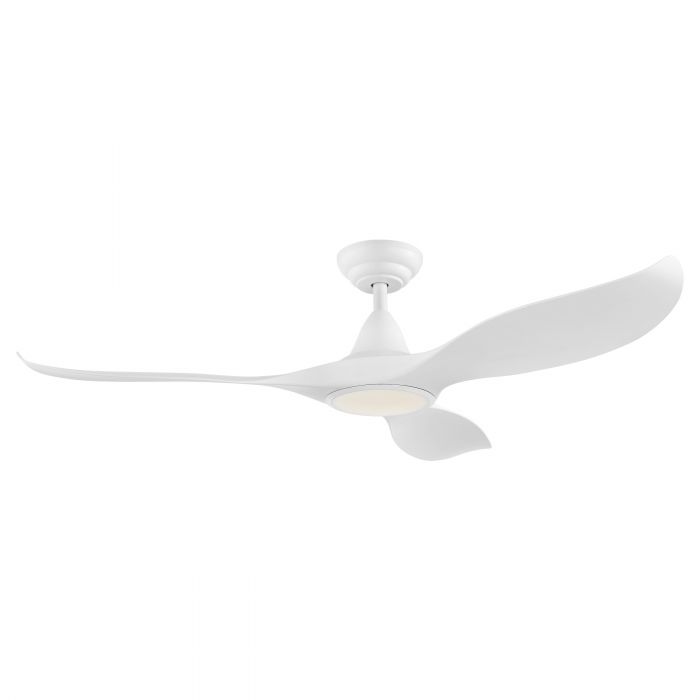 Despite its high price, this ceiling fan is by far one of the most popular ceiling fans with light in Australia, as it offers excellent value due to its great quality.
Saying this fan "hit the ground running" since its release is a bit of an understatement. The factories could not make this fan quick enough to keep up with the high demand.
The fan offers a real point of difference with the style and variety of sizes and finishes available suiting any application you have in mind.
4. The Razor by Martec ceilign fan with light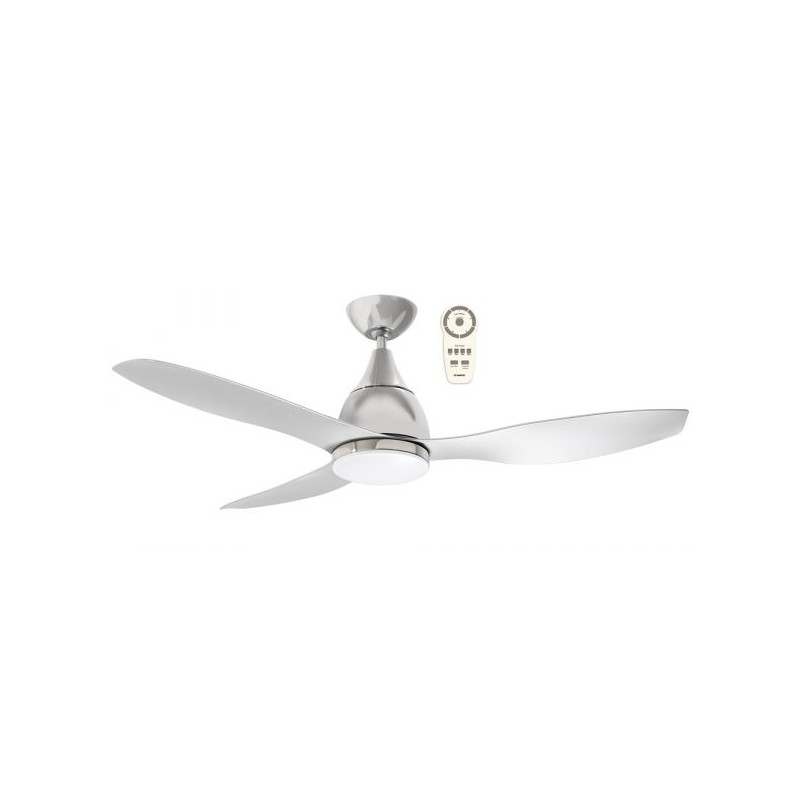 This is yet another ceiling fan that is fitted with lights – oyster lights to be precise.
It has a simple yet sophisticated plywood blade, and a 28W LED panel providing 2000 lumens, which can be adjusted to 3 different colour temperatures to suit your needs.
This fan has proven its high performance ever since it became available on the market a few years ago. Backed by a 3-year "In-Home" warranty, this fan is a must if you want a simple design with a strong light output for your home.
5. The Vantage by Martec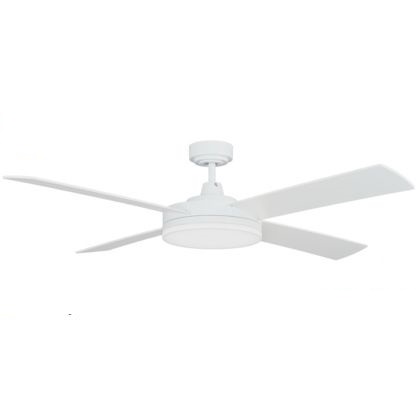 This extremely popular ceiling fan also has a light fitted within, and is perfect for the dining room, living area and bedrooms.
This ceiling fan is equipped with an energy-efficient colour-changing light that can be adjusted using a remote control.
Its slim profile and modern design allows the light to have a wide-angle output which is often favourable for bedroom use.
The vantage not only ticks all the right boxes with its slender blades and wonderful finishes, it oozes high end and great quality.
6. The Urban 2 Ceiling Fan By Fanco Australia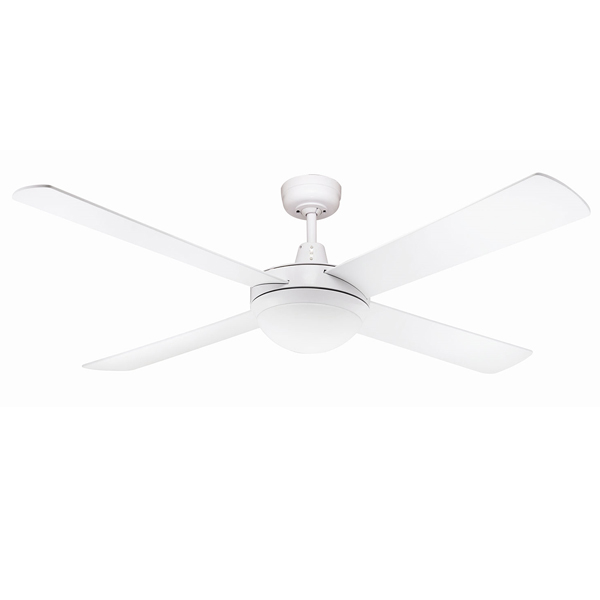 The Urban is a very popular ceiling fan for bedrooms and living rooms as it delivers a high output airflow on high speed and a gentle air movement at low speed.
The Urban 2 DC fan has a modern design and is superbly energy efficient. The DC motor ensures running costs are kept low, as the fan consumes only 2.3W on low speed and 30W at the highest speed.
The Urban can also be purchased with an LED light, which offers cutting edge 'CCT' technology, meaning you can change the colour temperature. The light is also dimmable with the brightest setting offering 1800 lumens. This combination of features makes the Urban a great choice.
7. 52" Aspire Ceiling Fan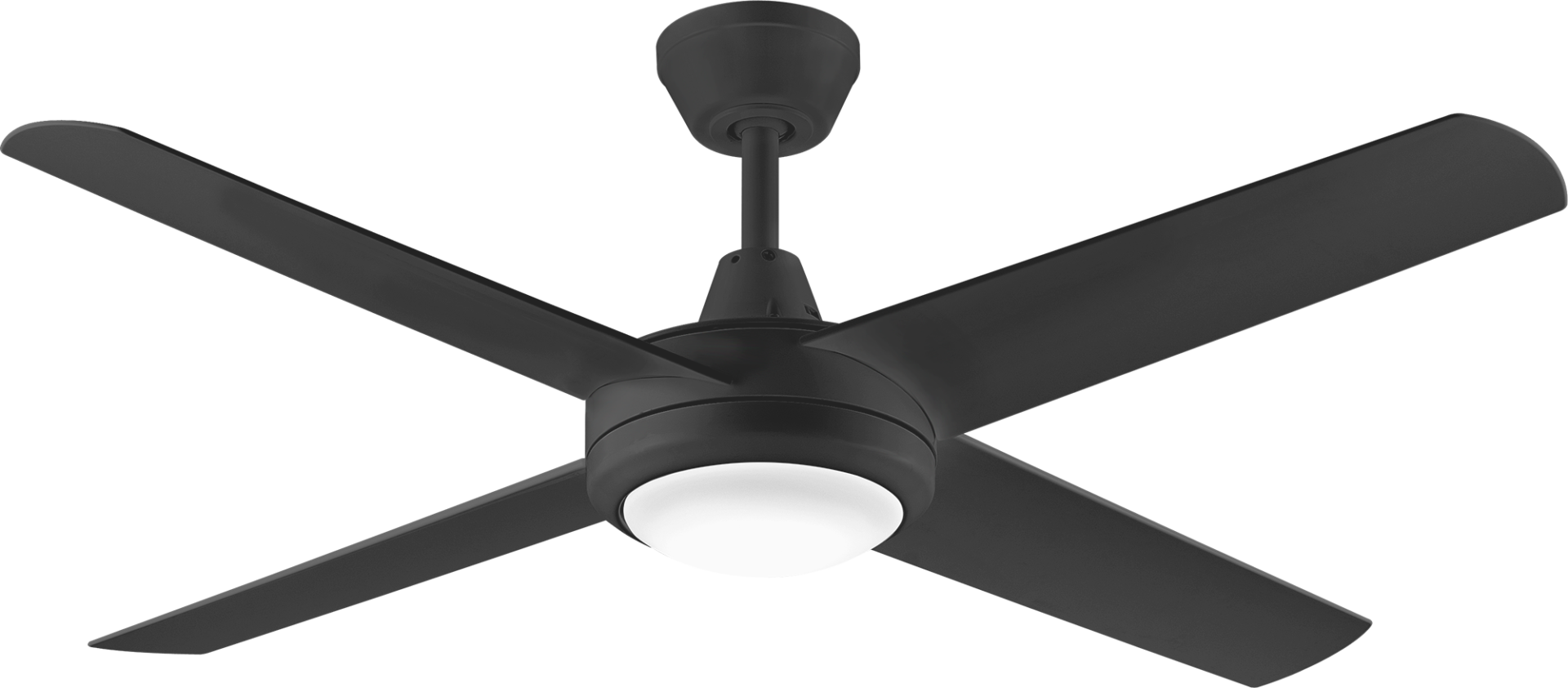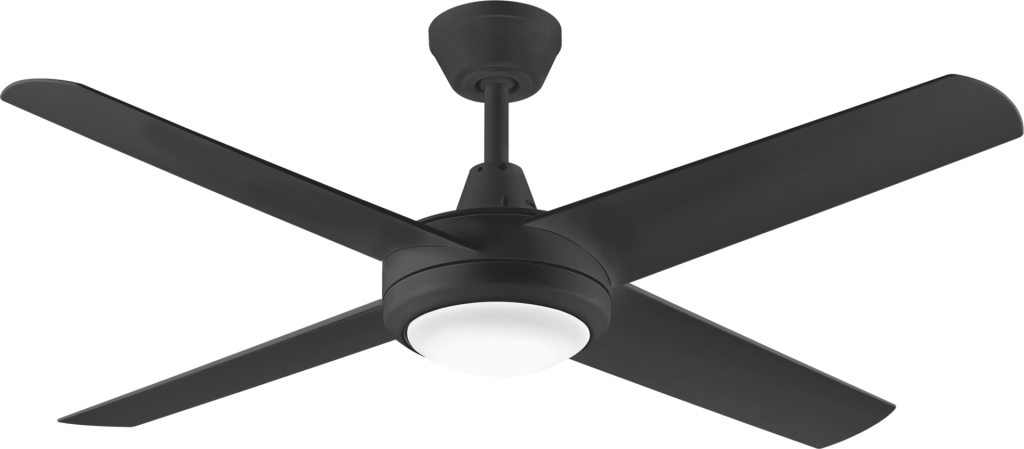 This silent ceiling fan has polymer (ABS) blades, silicone steel AC motors, 18w LED light kit option and a Mi- smart remote control system for light dimming and timer functions for surplus convenience. It is aerodynamically designed to minimize sound caused by air turbulence during its operation.
Standard bedrooms in Australia are between 10-16 square meters, the 52" Aspire, which is (132cm) is a great match for the bedroom space.
8. The Spitfire V2 Ceiling Fan With LED Light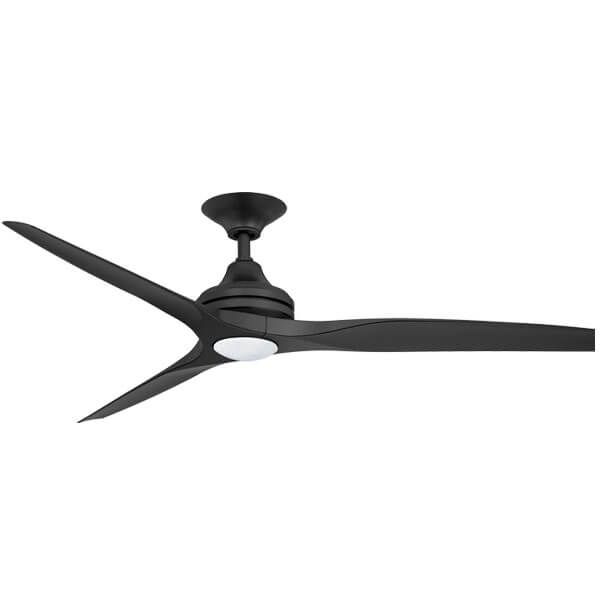 The Spitfire offers a clean aesthetic make-up for an unassuming cooling solution, with its high-quality steel motor and quality polymer blades, which are very durable, in spite of their light weight.
It is perfect for indoor installations as its LED light emits a 3000k warm white colour temperature and has a brightness of 1500 Lumens to help illuminate the space, all while consuming only 17W of energy.
The AC motors are coupled with the sleek contemporarily designed 60" (152) blade span, and offer a nice range of high to low speeds — both achieving high airflow and gentle rotations respectively. It is an elegant ceiling fan you will not regret purchasing.
9. Three Sixty Trinity DC Ceiling Fan with Light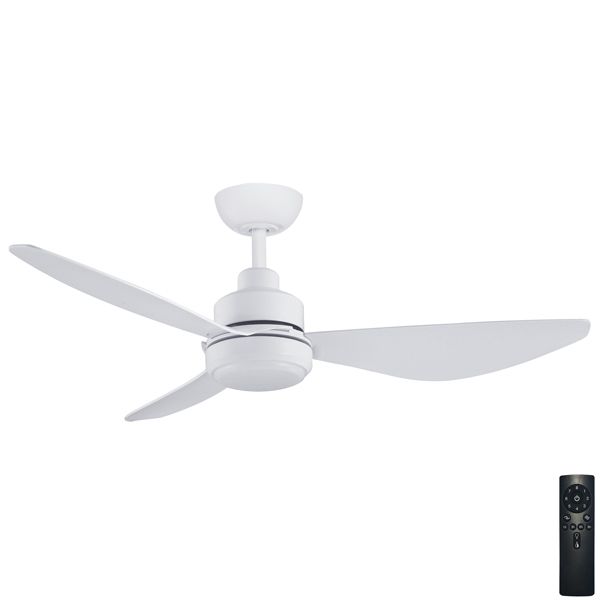 The three-sixty trinity is a great looking fan with three lightweight Koa polymer (plastic) blades, elegantly curved with 8 selectable speeds, in addition to a 'natural wind' mode.
It is powered by an energy-efficient DC motor and integrated into its oil rubbed bronze body is a dimmable CCT LED light that offers a range of lighting options such as warm, cool and daylight.
Its shorter statured 48" blade span is capable of producing an airflow of 11,280 mᶟ/hr at an energy consumption rate of 34 Watts. Overall, this fan is an excellent choice for the bedroom and smaller spaces.
10. Ashton Ceiling Fan With Light and Wall Control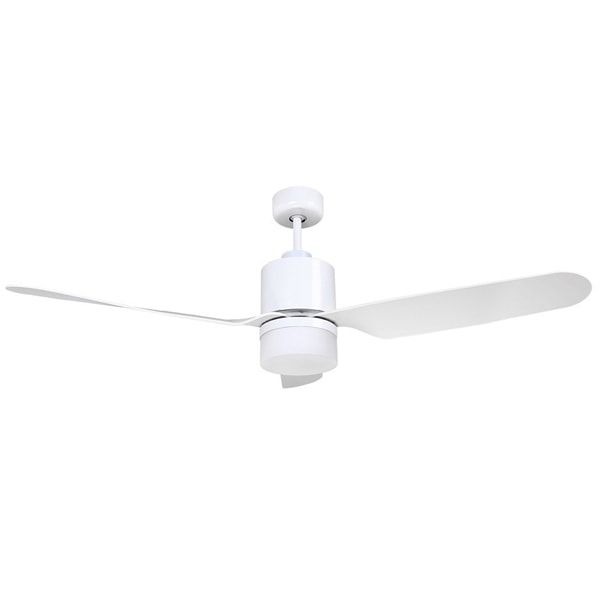 The Ashton is a top-notch ceiling fan produced by ventair.
It is a 52" (132cm) three-bladed fan with a robust ball bearing motor. It is equipped with 3 selectable speeds with remote control included and an 18 watt warm white 3000k LED Light.
Its moulded ABS plastic blades operate smoothly by an efficient 60w motor.This fan is perfectly suited for indoor spaces and is mostly used in the bedrooms or living areas.
11. Harmony II Ceiling Fan with Led Light and Wall Control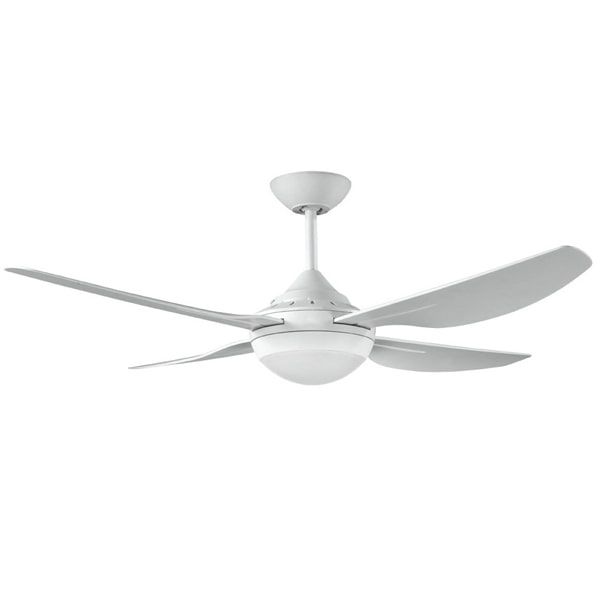 The Harmony is a premium fan produced by ventair and has four ABS plastic blades as well as an integrated LED light.
This high airflow fan is incredibly energy efficient, with an 18w energy consumption rate, 4000k natural LED light, and air movement reaching 10,560mᶟ/hr.
The pre-balanced 75 Watt motor provides you with quieter and smoother airflow.
It can be used during summer and wintertime due to its 48"(122cm) titanium-coloured, reversible blades, having quality bearings for a long-running life and three-speed wall control.
This fan is designed to provide superior performance and to last long.
12. Skyfan DC 60" with Dimmable ceiling fan with Light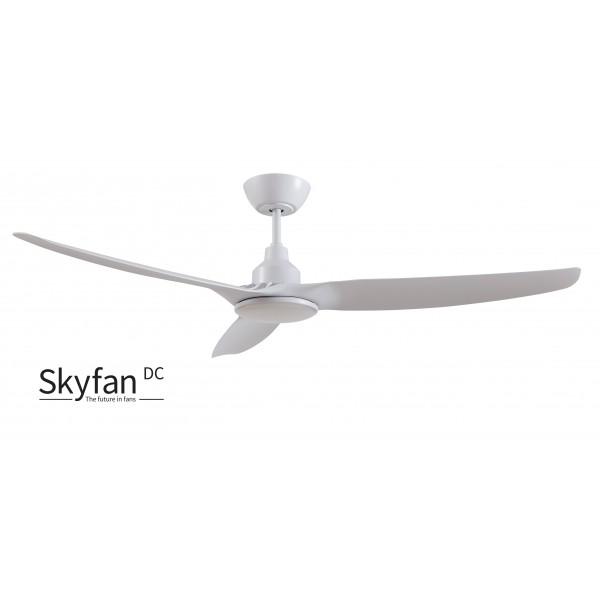 This ceiling fan offers a modern and elegant design with intelligent, energy-saving DC technology of up to 70%.
It comes with an LCD remote control unit consisting of six-speed options for operating the three glass fibre-composite blades that add strength and durability to the fan.
Its blades are reversible, meaning it can be used during summer and winter weather for heating and cooling your space and can be fitted indoors as well as outdoors.
Its high airflow capacity makes it perfect for living rooms and its extreme silence coupled with its in-built anti-vibration system make it also a great choice for bedrooms. This is a fan built for all the home spaces and beyond.
Fighting the summer heat is everyone's top priority, driving people to invest in excellent cooling systems to keep the temperatures balanced on a hot afternoon.
But before you make your purchase, you need to consider a few things that will influence your decision.
This article lists the 7 features you should look out for when looking for ceiling fans.
Things to know about ceiling fan
---
1. Your budget influences the quality of fans you buy
The market is packed with manufacturers supplying a wide variety of ceiling fans. Both established and new companies fight for consumer attention and market share.
Consequently, you can find a vast array of these ceiling fans available online as well as in physical stores.
For most consumers, the allocated budget is a key factor in their decision of the fan to buy.
Some of the features that influence the price of a ceiling fan include the size, automated features, built-in bulb holders, design, and adaptability to withstand harsh conditions.
It is worthy to note that established brands may charge even more for their products because they conceptualize high-quality and long-lasting fans.
If you only have a limited budget, you should prepare to sacrifice some of the features and to keep your selection simple.
If your focus, on the other hand, is on automated features and a multitude of specifications and design styles, then you have to raise your budget to accommodate accordingly.
The budget allocated can also vary if you're buying a ceiling fan for one room, or for the entire house, and whether you want to maintain the same standards and specs all throughout the house or not.
2. They are available in different styles and colours to match home décor
As with other home additions, fans are available in a variety of styles and shades.
Styles can satisfy the desires of minimalists who prefer plain, simple items, all the way to fashion-focused experts who like décor pieces to grab the attention of onlookers.
Manufacturers use a variety of colours, designs and materials to construct the fans and meet the different consumer tastes.
Wood, aluminium, stainless steel, glass, plastic, nylon, and nylon-filled glass blades are some of the available materials used.
Some people prefer energy-saving fans, so they go for shorter fans with minimal blades. Others are more focused on functionality and operation, so they choose fans with long blades.
If you like to satisfy your cooling and lighting requirements in one item, you can get a fan with built-in light fixtures.
These items relieve consumers from coordinating their ceilings and attempting to relocate the ceiling lights to install a fan.
These options are available in a variety of styles to suit your taste and blend with your home décor.
3. You can get them in varying sizes to suit your preferences
Different individuals have different requirements and reasons to choose between a wide range of fans.
If, for instance, the house is not well ventilated, it will require additional units to help circulate cool air, and ultimately you have to select a fan that can do multiple functions.
In this case, the fan blades have to be large enough to circulate cold air, which is essential in the cooling process when it is hot.
Additionally, the fan should be capable of flushing out the air in the space, to replace it with fresh air from outside. This is also a requirement that only large blades can handle.
The size of the room is also a key factor in determining the length of the blades and the size of the fan.
Rooms with multiple users and frequent activity such as living rooms, kitchens and patios typically require fans with larger blades, as they need to cover large surface areas and also to operate at a higher capacity to compensate for multiple users.
Generally, fans with blades in the range of 10"-14" would work perfectly in such places.
On the other hand, private rooms, toilets, bedrooms and study rooms have reduced requirements as the room sizes are smaller and these spaces are often used by one or a maximum of two people.
Therefore, you could choose a fan with a smaller size, a shorter blade range and more importantly that operates on minimal noise.
4. The bigger the fan, the more energy it consumes
The size of the fan, its shape and the length of the blades all affect the energy consumption of the item.
Long, heavy ceiling fans are bound to use a lot of energy, specifically if they're equipped with metallic, glass, and nylon-filled glass blades.
Blades that are longer than 10 inches also drive the energy consumption a little higher.
For example, if you install a metallic ceiling fan, most of the fan parts will be made out of metal, which is quite a heavy material.
For the fan to operate at a specific speed, it requires a strong motor that can spin the heavy fan load and sustain prolonged, high speed operation.
Such motors ultimately consume high amounts of electricity. Some fans use only one centralized motor, whereas other types can use up to three motors for one fan.
Each additional motor can increase your electricity consumption by three times.
Your weather and living conditions will also affect your energy consumption.
If you live in an arid to semi-arid area, you will have to keep the fans all throughout the day during seasons of extreme heat.
As such, before purchasing a fan, you have to consider the type, operation time and size.
Make sure your fan is properly sized to your space, and carefully assess the expected operation and energy consumption, to avoid surprises on your bills.
5. Some fans are fitted with ceiling lights.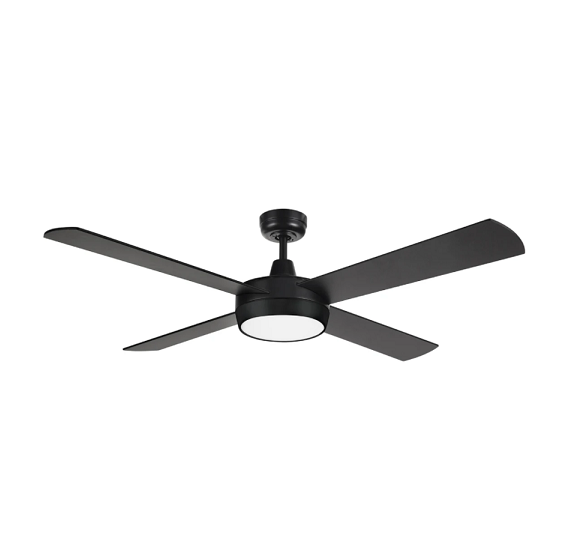 A major deciding factor in the purchase and installation of ceiling fans is the coordination and interference with ceiling lights.
If the lights are installed in the top and central area of the ceiling, you will need to shift their locations before fixing the ceiling fan.
This shift will require significant work, especially if the lights are recessed in the ceiling, and would need a professional electrician to move the lights and handle the wiring.
If you haven't allocated a budget for such a renovation, or simply do not want to change your existing ceiling layout, you can always choose a ceiling fan with built-in lighting fixtures.
The good part is that you do not have to look for different bulb holders. You can easily find on the market fans that can accommodate any bulb, whether it's a bayonet, Edison screw, or the push and pin cap.
It is recommended to hire a specialized installer to match the existing scenario with the fan details and to choose correctly.
Professional input can help you plan and manage your finances better, to be able to equally allocate your spending budget to the requirements of your space and ceiling.
6. They are built to withstand different weather conditions
Summer is a hot season that is characterized by extreme dry spells, as humidity levels in the environment drop significantly at the onset of the season.
When selecting a ceiling fan, it is important to determine the weather patterns and where the fan will be installed.
The fan requirements for a unit installed on the patio is very different from the requirements for indoor installation. This is because the humidity level outside is not the same as that inside the house.
You should also note that due to rising temperatures, you might need the fan for your outdoor spaces not only during summer but also during periods of spring and fall.
This will necessitate a longer operating time for the fans and more prolonged exposure to outdoor weather conditions.
Fans manufactured for the outdoors should be manufactured from stainless steel or other durable material that will not deteriorate due to constant exposure to wind and humidity.
As such, wooden fans would not be a suitable outdoor option as they would wear out quickly and collect mould during the humid seasons.
7. You can get remote-controlled fans.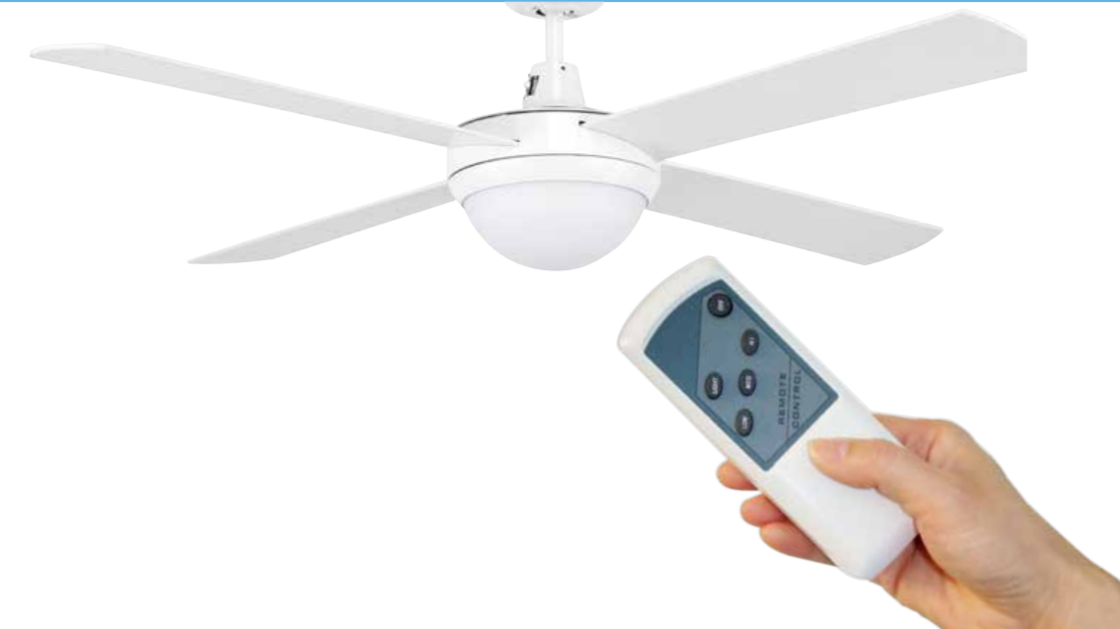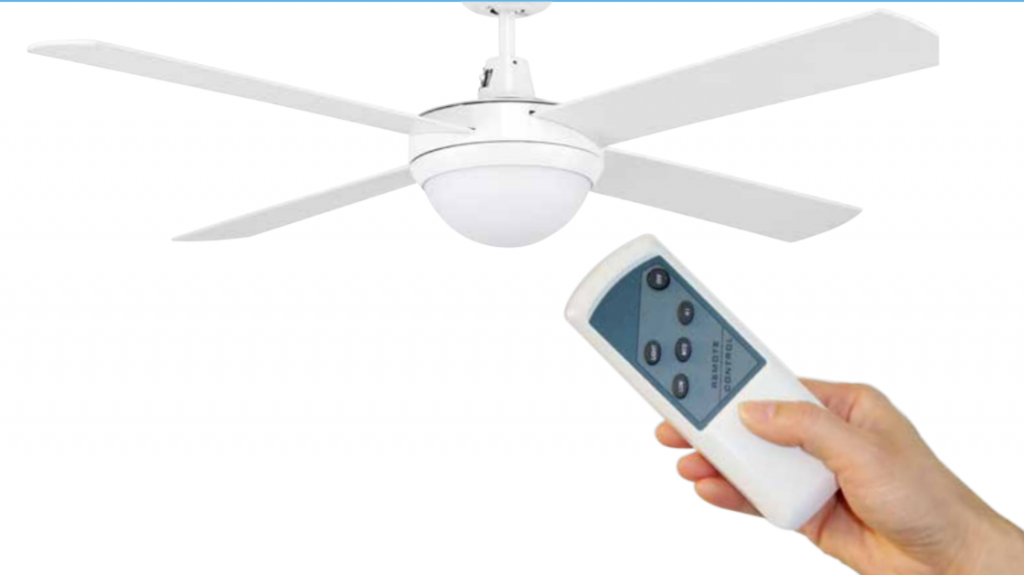 With improved technology, you can find remote-controlled fans on the market that eliminate the inconvenience of walking back and forth to the switch to turn the fan on and off, or to adjust the speed settings.
Nowadays, you can find multiple fans with built-in automation systems, with a variety of control features to meet your requirements.
Ceiling fans are items that generally do not get outdated. While newer and more efficient home cooling systems are taking over, some people may not be able to afford them, while others enjoy the old-school style that ceiling fans create.
---
Ensure that you consider the following key features when looking for fans:
The energy consumption. You do not want to pay a very high electricity bill from your fan operation. Fewer motors and shorter blades guarantee low energy consumption and low electricity bills.
Built-in features. Are you going to get those with bulb holders, or do you have an entire budget for new lighting fixtures? Check with your dealer or installer for specific details before you sign the contract.
Fan warranty. The warranty guarantees the product if the fan malfunctions within the first year or first three years after purchase. You should be doubtful of fans with no warranties, as they may stop working after a few months, and might have poor parts that could malfunction and even cause electric shocks or fire hazards.