Looking for a Ceiling fan with light
Since their invention in the late 1800s, ceiling fans have evolved from basic palm leaves and cloth hand-held fans, and from water-powered to electrical operated, running on mechanical rotor energy, and having wooden, metal and polycarbonate blades.
Upon making their debut in homes around the 1920s, fans quickly became household essentials, drawing cool air into heated spaces.
Although in the following years, air conditioning systems (ACs) became more prevalent with cooling powers, ceiling fans for homes are still widely prevalent.
Why use ceiling fans with light
They Tend To Be Healthier
Air conditioners (AC) have stronger cooling powers than ceiling fans, and their everyday application predicted the phasing out of the household ceiling fan, as they are more suitable for space cooling, however, this wasn't the case.
The power, capacity and operation of air conditioners meant they were more aggressive in their cooling capacities, with trapped air and atmospheric particulates in the space, becoming a reason for heightened allergies, sore throats, and increased cases of the common cold.
Ceiling fans, on the other hand, never resulted in such effects, and maintained a more comfortable operation of the space.
Air Circulation
Ceiling fans do not create cold air but actually circulate the air in a room. Air conditioning chills the air whereas ceiling fans push it around, and for that reason, they can be used for both heating and cooling purposes.
Saves Energy And Money
A ceiling fan with lights consumes far less energy than any air conditioner, and a ceiling fan running at high speeds consumes even less energy than a 100W light bulb.
Moreover, due to their low energy consumption, ceiling fans are also economical and their operation contributes very little to the electricity bill.
Fans are also good for the environment as they consume less energy and create less greenhouse gas emissions on one hand, and their operation does not release any harmful gases, as does the operation of air conditioners. Using a ceiling fan with lights will definitely reduce your carbon footprint.
Stylish
When selecting a ceiling fan, you can choose from a wide variety to have a stylish centerpiece in any room, and the fans are also available with lights – to give a multi-functional fixture that accentuates the aesthetics of the home or office space, and keeps it cool while saving money on the electricity bills.
They Fit In Most Rooms
When choosing a new or a replacement ceiling fan, you should take into consideration the design and layout of the room, the ceiling height and the width of the room.
Fans are available in different variations and designs including modern, classic, chic unique, matte black, polished pewter, gloss, antique bronze, oil-rubbed bronze, satin and so many more, and they can be made to fit into any room design or size, while meeting a range of budgets.
Here are some recommended mounting options that will work best for your space.
75sq ft Rooms = 29-39 inches
76-144sq ft Rooms = 36-42 inches
144-225sq ft Rooms = 44-52 inches
225-400sq ft Rooms = 52-60 inches
Based on this brief description and details of ceiling fans, the next section will highlight the 12 top rated ceiling fans with lights.


12 Best ceiling fans with light in Australia
1. The Bahama Smart DC Ceiling Fan by Brilliant Lighting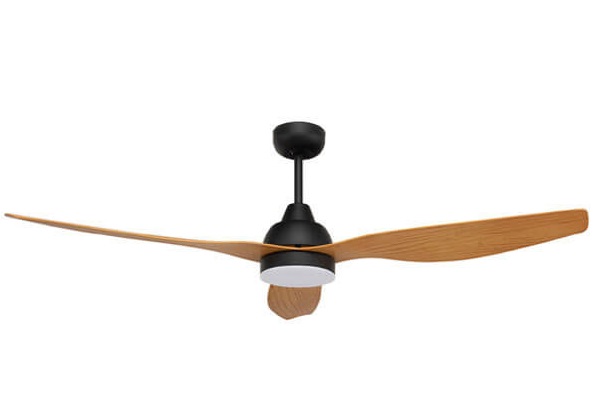 This specially designed ceiling fan has ABS moulded blades, amazing finishes and offers the option to be fitted with a lighting feature, depending on your specific preference. Its most recent model has been improved to now include Bluetooth compatibility, which means you can easily download the easy-to-use smart app on your mobile phone and control the fan from anywhere in your home.
In short, it is a brilliant ceiling fan backed with a 3-year "in-home" warranty and a 6-year "motor" warranty, which is the reason this fan has been Australia's best selling fan for over 3 years.
2. Milano Slider Junior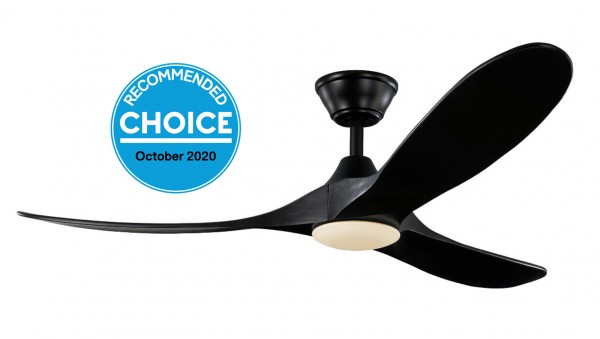 This handcrafted work of art was aerodynamically designed for super silence.
Its high-quality timber blades were created for maximum air displacement with an airflow speed of 15,000 mᶟ/hr. This model of Milano fans is complete with a "3-speed" wall control and light switch and is a perfect combination of style, class and pure genius.
With a noise level of 33db and a low speed of 50RPM, this fan was designed to offer optimum comfort in the bedroom or other spaces requiring stylish and quiet operation.
3. Noosa by Eglo Lighting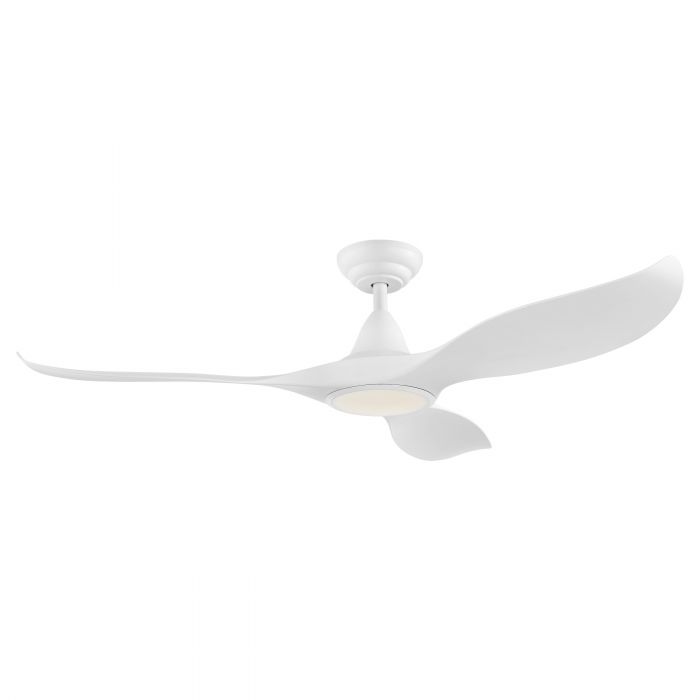 Despite its high price, this ceiling fan is by far one of the most popular ceiling fans with light in Australia, as it offers excellent value due to its great quality.
Saying this fan "hit the ground running" since its release is a bit of an understatement. The factories could not make this fan quick enough to keep up with the high demand.
The fan offers a real point of difference with the style and variety of sizes and finishes available suiting any application you have in mind.
4. The Razor by Martec ceilign fan with light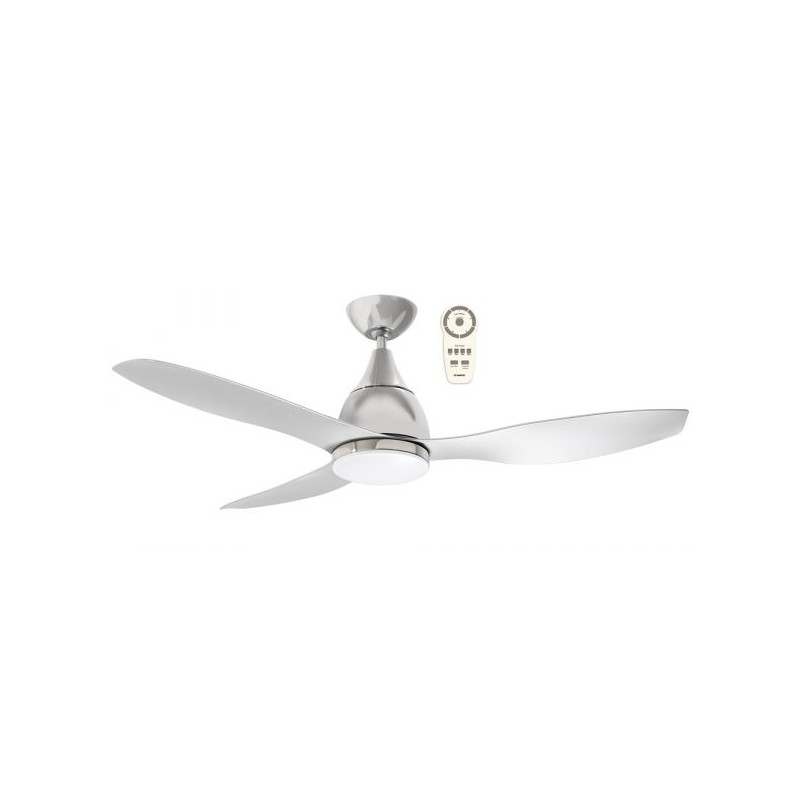 This is yet another ceiling fan that is fitted with lights – oyster lights to be precise.
It has a simple yet sophisticated plywood blade, and a 28W LED panel providing 2000 lumens, which can be adjusted to 3 different colour temperatures to suit your needs.
This fan has proven its high performance ever since it became available on the market a few years ago. Backed by a 3-year "In-Home" warranty, this fan is a must if you want a simple design with a strong light output for your home.
5. The Vantage by Martec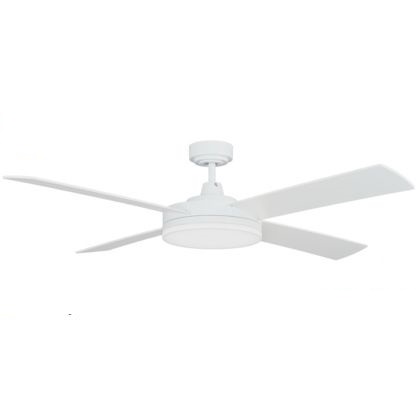 This extremely popular ceiling fan also has a light fitted within, and is perfect for the dining room, living area and bedrooms.
This ceiling fan is equipped with an energy-efficient colour-changing light that can be adjusted using a remote control.
Its slim profile and modern design allows the light to have a wide-angle output which is often favourable for bedroom use.
The vantage not only ticks all the right boxes with its slender blades and wonderful finishes, it oozes high end and great quality.
6. The Urban 2 Ceiling Fan By Fanco Australia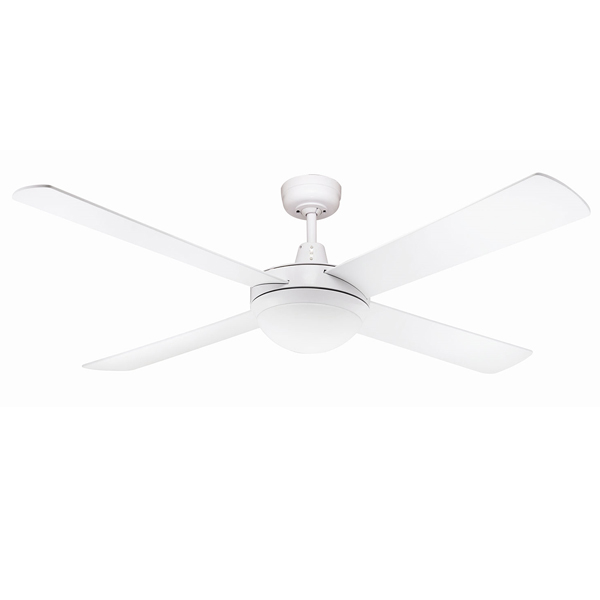 The Urban is a very popular ceiling fan for bedrooms and living rooms as it delivers a high output airflow on high speed and a gentle air movement at low speed.
The Urban 2 DC fan has a modern design and is superbly energy efficient. The DC motor ensures running costs are kept low, as the fan consumes only 2.3W on low speed and 30W at the highest speed.
The Urban can also be purchased with an LED light, which offers cutting edge 'CCT' technology, meaning you can change the colour temperature. The light is also dimmable with the brightest setting offering 1800 lumens. This combination of features makes the Urban a great choice.
7. 52" Aspire Ceiling Fan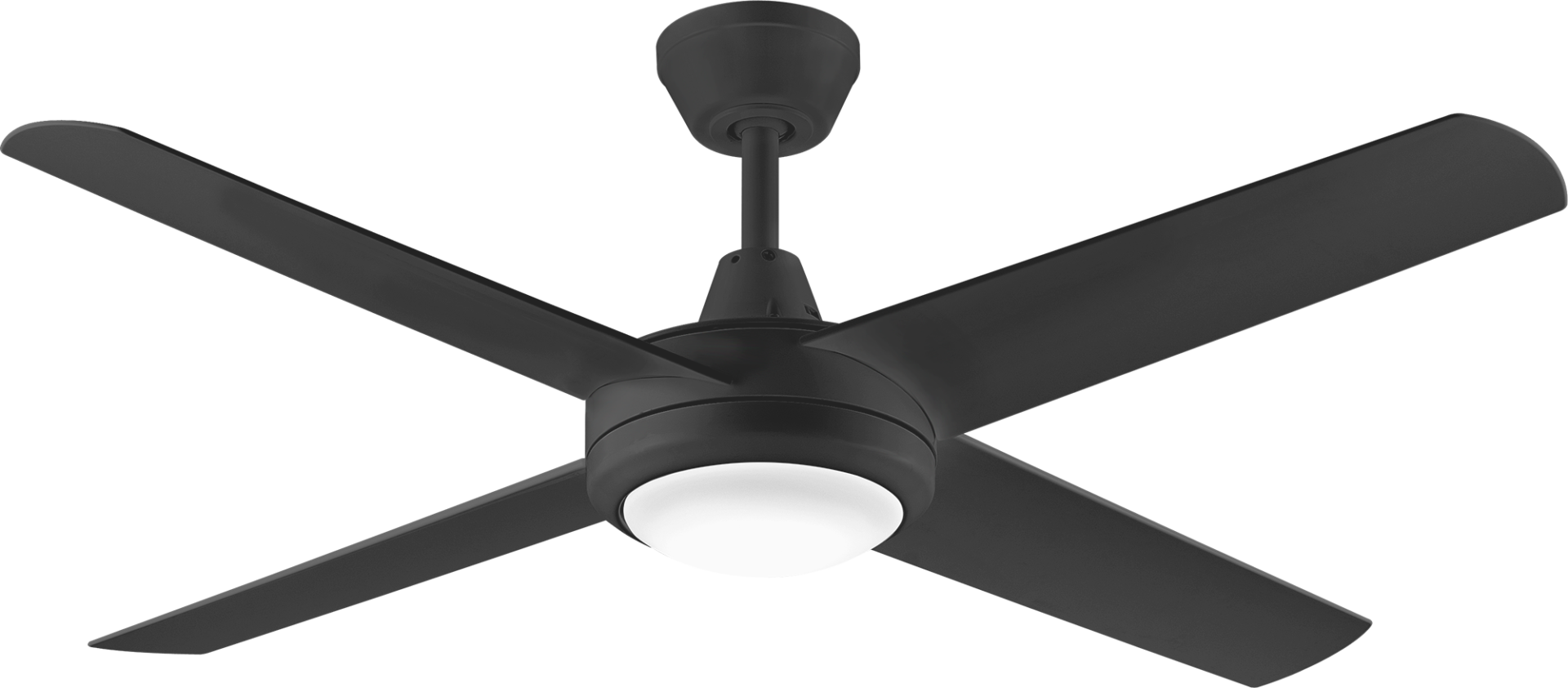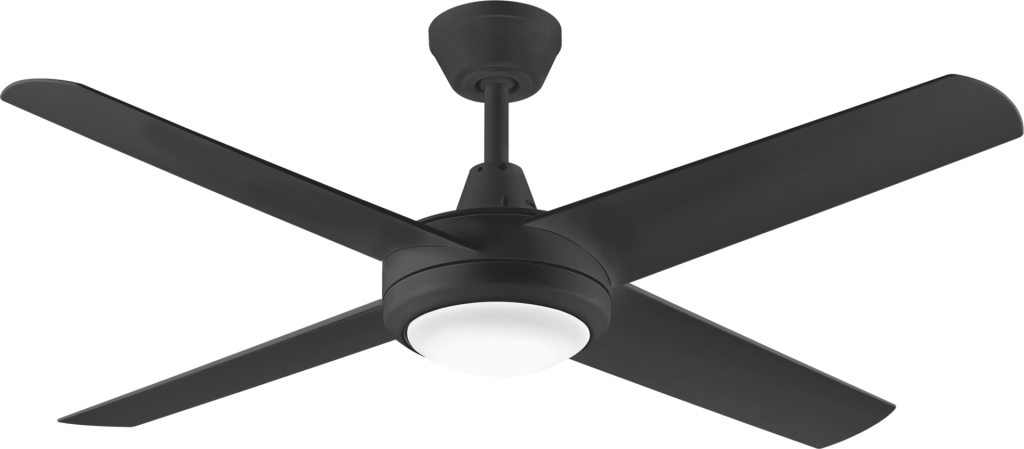 This silent ceiling fan has polymer (ABS) blades, silicone steel AC motors, 18w LED light kit option and a Mi- smart remote control system for light dimming and timer functions for surplus convenience. It is aerodynamically designed to minimize sound caused by air turbulence during its operation.
Standard bedrooms in Australia are between 10-16 square meters, the 52" Aspire, which is (132cm) is a great match for the bedroom space.
8. The Spitfire V2 Ceiling Fan With LED Light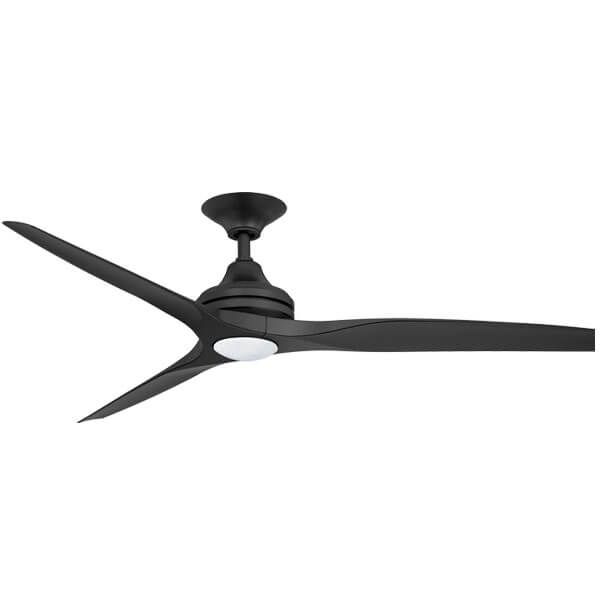 The Spitfire offers a clean aesthetic make-up for an unassuming cooling solution, with its high-quality steel motor and quality polymer blades, which are very durable, in spite of their light weight.
It is perfect for indoor installations as its LED light emits a 3000k warm white colour temperature and has a brightness of 1500 Lumens to help illuminate the space, all while consuming only 17W of energy.
The AC motors are coupled with the sleek contemporarily designed 60" (152) blade span, and offer a nice range of high to low speeds — both achieving high airflow and gentle rotations respectively. It is an elegant ceiling fan you will not regret purchasing.
9. Three Sixty Trinity DC Ceiling Fan with Light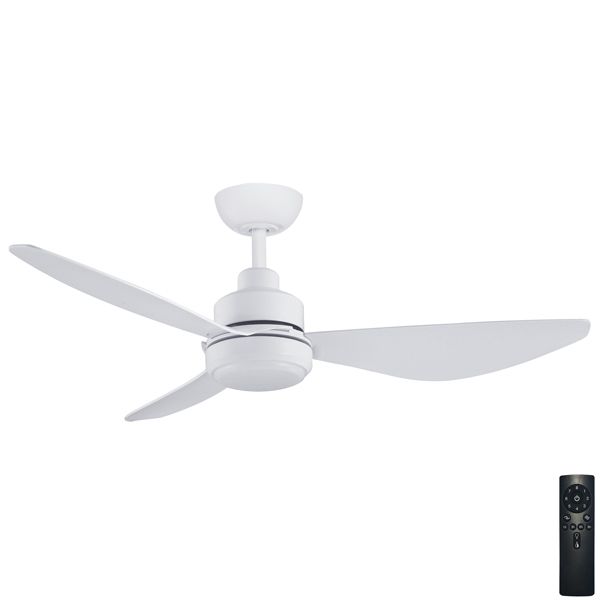 The three-sixty trinity is a great looking fan with three lightweight Koa polymer (plastic) blades, elegantly curved with 8 selectable speeds, in addition to a 'natural wind' mode.
It is powered by an energy-efficient DC motor and integrated into its oil rubbed bronze body is a dimmable CCT LED light that offers a range of lighting options such as warm, cool and daylight.
Its shorter statured 48" blade span is capable of producing an airflow of 11,280 mᶟ/hr at an energy consumption rate of 34 Watts. Overall, this fan is an excellent choice for the bedroom and smaller spaces.
10. Ashton Ceiling Fan With Light and Wall Control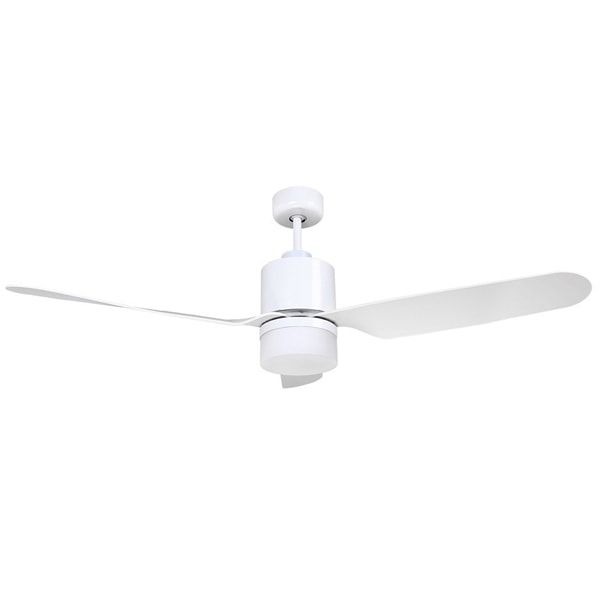 The Ashton is a top-notch ceiling fan produced by ventair.
It is a 52" (132cm) three-bladed fan with a robust ball bearing motor. It is equipped with 3 selectable speeds with remote control included and an 18 watt warm white 3000k LED Light.
Its moulded ABS plastic blades operate smoothly by an efficient 60w motor.This fan is perfectly suited for indoor spaces and is mostly used in the bedrooms or living areas.
11. Harmony II Ceiling Fan with Led Light and Wall Control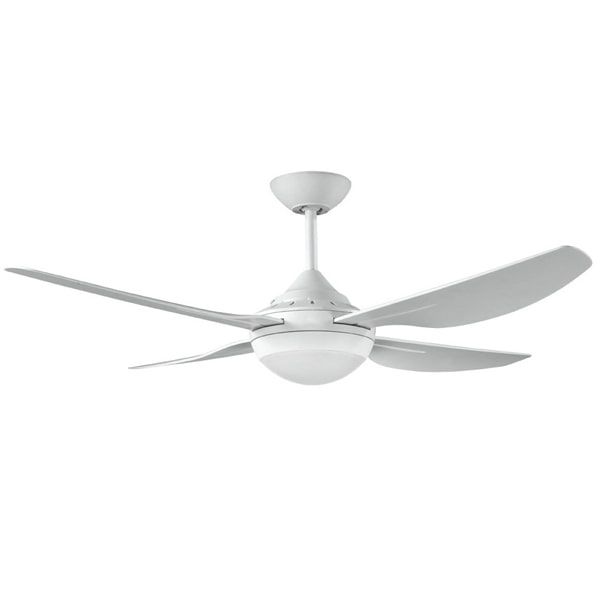 The Harmony is a premium fan produced by ventair and has four ABS plastic blades as well as an integrated LED light.
This high airflow fan is incredibly energy efficient, with an 18w energy consumption rate, 4000k natural LED light, and air movement reaching 10,560mᶟ/hr.
The pre-balanced 75 Watt motor provides you with quieter and smoother airflow.
It can be used during summer and wintertime due to its 48"(122cm) titanium-coloured, reversible blades, having quality bearings for a long-running life and three-speed wall control.
This fan is designed to provide superior performance and to last long.
12. Skyfan DC 60" with Dimmable ceiling fan with Light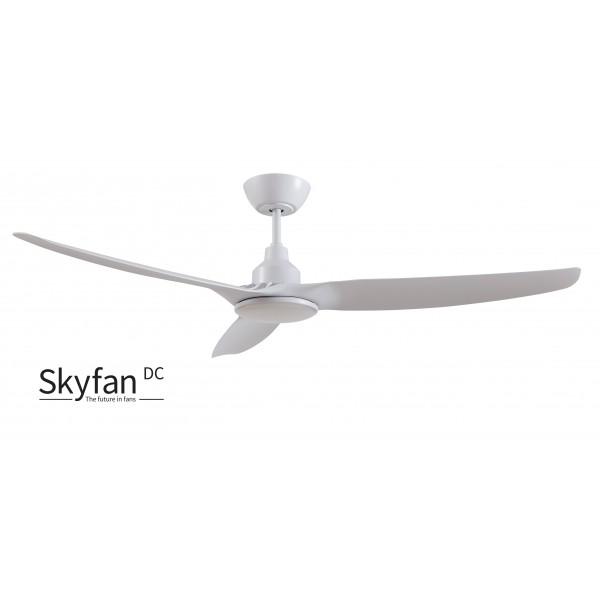 This ceiling fan offers a modern and elegant design with intelligent, energy-saving DC technology of up to 70%.
It comes with an LCD remote control unit consisting of six-speed options for operating the three glass fibre-composite blades that add strength and durability to the fan.
Its blades are reversible, meaning it can be used during summer and winter weather for heating and cooling your space and can be fitted indoors as well as outdoors.
Its high airflow capacity makes it perfect for living rooms and its extreme silence coupled with its in-built anti-vibration system make it also a great choice for bedrooms. This is a fan built for all the home spaces and beyond.