Do you wish to replace your existing lights with energy-efficient LED downlights for your project in Sydney? This article will guide you through the replacement details.
The recent increase in electricity prices has led many households to consider replacing their old downlights with new, more energy-efficient models. However, downlight replacement can be a difficult and costly process if not completed properly.
There are a few issues that need to be studied and determined before going through with the replacement and making the switch. This article will guide you towards a smooth replacement and will help you avoid the common errors and mistakes.
What Are The Downlights?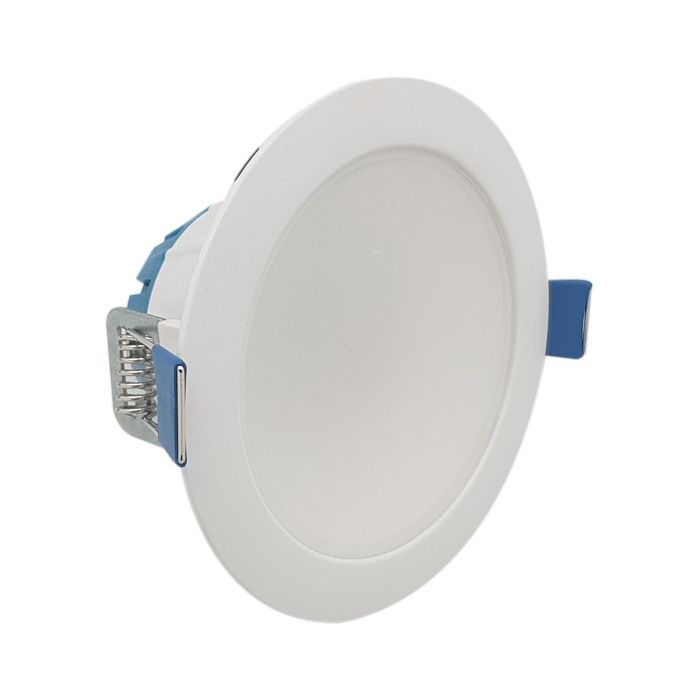 A downlight is a type of light fitting that is installed within the ceiling. Downlights provide ambient and task lighting and can be used for both general and specific lighting purposes.
Complete LED Downlight upgrade from as little as $33 – Saving up to 93% off your lighting costs! Learn More
Where are downlights commonly used in Sydney?
In Sydney-based households, downlights are most commonly used in living rooms, bedrooms, kitchens, and bathrooms. Downlights are also often used to highlight specific areas or pieces in a room such as a painting or a piece of furniture.
Halogen to LED Downlight Replacement in Sydney – FREE Under Government Scheme
Under the NSW Government Rebate Scheme, you may be eligible for a FREE downlight replacement from your local electrician. The process must involve replacing an old incandescent or halogen bulb with a new energy-efficient LED option.
NSW residential lighting upgrade offer
The NSW HEER program reimburses the cost of the upgrade
All products are deemed safe for humans and must have passed Australian testing
LED downlights to reduce your lighting cost by up to 80 percent
All of our downlight upgrades are available with a 2-3 year manufacturer's warranty
All of our complete downlight upgrades are provided with a 12-month labour warranty, which means that if anything goes wrong with the installation in the first year, the installer will fix it for free
What are the benefits of downlight replacement in Sydney?


There are many benefits of downlight replacement in Sydney. Some of the benefits include:
➜ Reduced electricity costs:
New energy-efficient downlights can save you up to 80% on your lighting costs, by reducing energy consumption. They provide a higher return on investment.
➜ Increased home value:
Homes equipped with energy efficient downlights consume less energy that their counterparts with traditional lighting systems, making these homes in high demand. A downlight replacement can add considerable value to your home.
➜ Improved lighting quality:
New LED bulbs emit better lighting quality than existing halogens or filament light bulbs.
➜ Increased safety:
LED and energy efficient downlights are safer than older types as they don't heat up and therefore reduce the risk of fire. They also have less impact on human health since they don't emit harmful UV rays.
➜ Environmentally friendly:
New downlights are more environmentally friendly than traditional options since they use less energy and last longer. Additionally, they are manufactured with nontoxic elements, making them safe for the environment.
What is the downlight replacement process?
The downlight replacement process is simple.
➜ First, you need to find your local downlight replacement specialist in Sydney.
➜ Once you've located the replacement specialist, they will arrange for a home visit to assess your downlight situation, upon which they will then recommend the best downlights for your home and provide a free quote.
➜ Once you approve the quotation, they will send their LED installation crew to your home and depending on a variety of circumstances, the installation process should take 1-2 days.
➜ They will also help you claim the available government rebates as a result of which your downlight replacement becomes heavily discounted.
How to choose the perfect LED downlight?
When choosing LED downlights, there are a few things you need to consider:
Light output (lumens):
The light output of an LED downlight is measured in lumens. The higher the lumen output, the brighter the light.
Colour temperature (CCT):
The colour temperature of an LED downlight is measured in Kelvin (K). Warm white is around 3000K while cool white is around 5000K.
Beam angle:
The beam angle of an LED downlight is the angle at which the light is emitted from the fitting. The larger the beam angle, the wider the area that will be lit up.
Dimmable:
Not all LED lights are dimmable so if you want to be able to dim your downlights, you should select dimmable types.
CRI:
CRI is a measure of the downlight's ability to render colors accurately. A downlight with a higher CRI will render colors more accurately than one with a lower CRI.
Energy efficiency:
The energy efficiency of an LED downlight is measured in terms of its power consumption (watts) vs its light output (lumens). The higher the lumen output per watt, the more efficient the downlight.
Installation:
Some LED downlights offer a simple and straightforward installation process, while others require an electrician. If you're not comfortable installing the downlights yourself, make sure to choose types and solutions that offer installation as part of the price.
What Are The Types Of Downlights?
There are two main types of downlights: recessed downlights and surface-mounted downlights.
Recessed downlights are installed within the ceiling so that they are flush with the surface. This type of focused light is ideal for areas that require a light distribution that is directed within a specific space. Surface-mounted or ceiling downlights are installed on the surface of the ceiling. This type of downlight is ideal for areas requiring diffused light over a larger area.
There are different types of bulbs that illuminate downlight fixtures. The most common are halogen, fluorescent and LED. Downlight bulbs are available in a variety of styles and shapes. Several types of downlights exist, each with different advantages and disadvantages. The different types are:
MR16 –This is the most common type of bulb, used in numerous spaces and settings. MR16 is also known as GU5.3 bulbs and are low-voltage, omnidirectional downlights. These connections had a halogen bulb connected to them, with an approximate power consumption of 50 W or 35 W
GU10 LED – Unlike GU5.3, GU10 bulbs are connected directly to the main voltage and do not require transformers. They may be installed by twisting and pushing them in. Spotlights, range hoods, recessed fittings, and track lighting systems are all examples where GU10 bulbs are used.
MR11 – The MR11 or G4 bulbs are a variation to the MR16 type. These bulbs are also known as bi-pin low-voltage downlights. This category is most common for kitchen and cabinet applications.
G4 and G9 Globes– The G9 Globes are connected to the mains voltage of 240V. All these bulbs are in compact capsule form factors commonly seen in some of the fittings in this category.
AR111 – The G53 bulb, also known as a 12V spotlight is one of the larger types. These types are most commonly used in commercial shops, facades, hotels, and some residential applications. The GU10 connection is also part of this line of bulbs, which is why it's vital to check the socket before replacement with a GU10 bulb.
E27 Bulbs– The reflector globe is attached to the base of the fitting with an Edison Screw. The fittings are frequently used as R80 or similar lamps.
PL lamps– These large diameter bulbs are useful for commercial applications.
Can LED downlights save on my electricity bill?
One of the main reasons to switch to LED downlights is their energy efficiency compared to other traditional light sources. Moreover, LED downlights last longer, guaranteeing a long lasting financial saving on your electricity bills.
Do LED downlights heat up?
LED downlights do not get as hot as traditional downlights, which makes them safer to use, with minimal risk of a fire hazard.
Are LED Downlights more expensive than halogen downlights?
Although LED downlights are more expensive than halogen downlights, they last longer and consume less energy, which means lower operational costs over a longer period, resulting in long term savings.
LED downlights replacement service in Sydney
Are you looking for a downlight replacement specialist in Sydney? Look no further than E-Green Electrical. We are the leading expert in LED lights in Sydney and we can help you choose the perfect downlights for your home. We also offer a free quote and can help you claim the available government rebates. Contact us today to learn more!
Some Of The Most Popular Downlights Used In Sydney
---
1. (HALO) LED Downlight by Teknik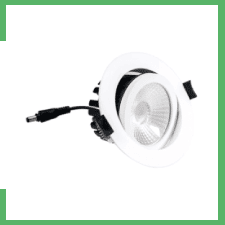 The [HALO] Teknik downlight is a high-end downlight with an advanced front lens that minimizes glare and maximizes light output. The downlight has a unique heat sink design that sets it apart from the competition. This gimbal fitting allows 30 degrees of angle adjustment, making it suitable for a variety of applications.
Features
One of the most popular and adaptable in its market.
The front lens is meant to minimize glare and has a higher optical quality.
They can be used in both indoor and outdoor settings.
2. IP40 Tri-SeriesDownlight by Emerald Planet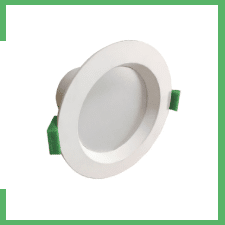 The High Performance (HP) Eclipse Downlight is the gold standard in energy efficiency and is available in a variety of cut-out sizes and wattages, meeting various residential and business applications and installations.
The HP Eclipse Downlight gives you the freedom to match required lighting hues, while also providing high flexibility due to its highly-convenient changeable tri-color temperature technology.
Features
Switchable tri-color(3000K, 4000K and 5000K)
Different size and wattage options are available.
Rated IC-4 (can be covered by insulation)
Flex and plug 0.8m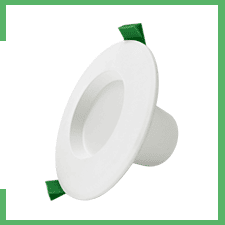 The Luna Downlight is a highly efficient light that is available in five and ten-wattage options, and also in 70 and 90-degree cut-outs. The Luna Downlight's switchable tri-color temperature technology allows you to shift and adapt to different lighting color settings, while also providing your clients with additional choices.
3. Colour Selectable Dimmable Downlight by Teknik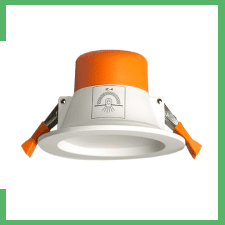 The Shift is an advanced color-selectable LED Downlight with a 3000K, 4000K, or 5700K color temperature manual option, that is enabled via an inbuilt dip-swtich. The downlight has an IC-4 rating.
Features
Cost-effective
Easy installation
Aluminum body
Low-glare diffuser
Frequently Asked Questions
How do I know if I need a downlight replacement?
If your downlights are more than 10 years old, it's probably time for a replacement. A replacement is necessary if your downlights are flickering or are not working as well as they used to. If you are hesitant or unsure, you should get in contact with a downlight specialist for a professional assessment.
How much does it cost to replace downlights in Sydney?
The cost of downlight replacement varies based on the number of downlights that need replacement and also on the type of new downlights to use. Generally, LED downlights are more expensive than traditional downlights, however their longer lifetime and high energy efficiency will lead to significant long-term money savings.
Do I need an electrician to replace my downlights?
If you are not an experienced electrician, it's recommended to hire a professional to replace your downlights. Although replacing downlights is a generally simple process, it's advisable to let professionals handle the electrical work.